Confused about which makeup brushes do what? Get the 411 on all makeup brushes here!
The industry is flooded with makeup brushes and the choices are overwhelming! From the different names to the different tasks that they do, they can throw anyone off balance!
Here we've put together everything that you need to know about the different types of makeup brushes and their uses.
1. Powder Brush
Use: For dusting setting powder to finish your makeup look.
Use a powder brush for loose, pressed, or baked powders. Of all the types of makeup brushes, powder brushes are well-suited for adding light, subtle colours like blushes and setting powders.
It's a brush that is generally thick and full. It has the versatility to perform a number of makeup jobs, but it is mostly used for finishing off your makeup look.
---
2. Angled Powder
Use: A sloped powder brush gives you more control and precision.
Since the brush effortlessly follows the contours of your face, sloped powder brushes are good for cleaning or polishing up your look, especially on angular areas. Your nose, your cheek area, and jawlines.
You can apply more or less product on an area that needs touching up with a sloped powder brush without disrupting the surrounding skin.
---
3. Blush
Use: For applying blush to achieve a rosy glow.
A blush brush is surprisingly similar to a powdered brush. Brushes for blush are generally a bit stubbier, however, they cover a smaller area than a powder brush.
They're usually tapered or angled to have more even coverage on your cheeks and to achieve a more gradual blend.
---
4. Foundation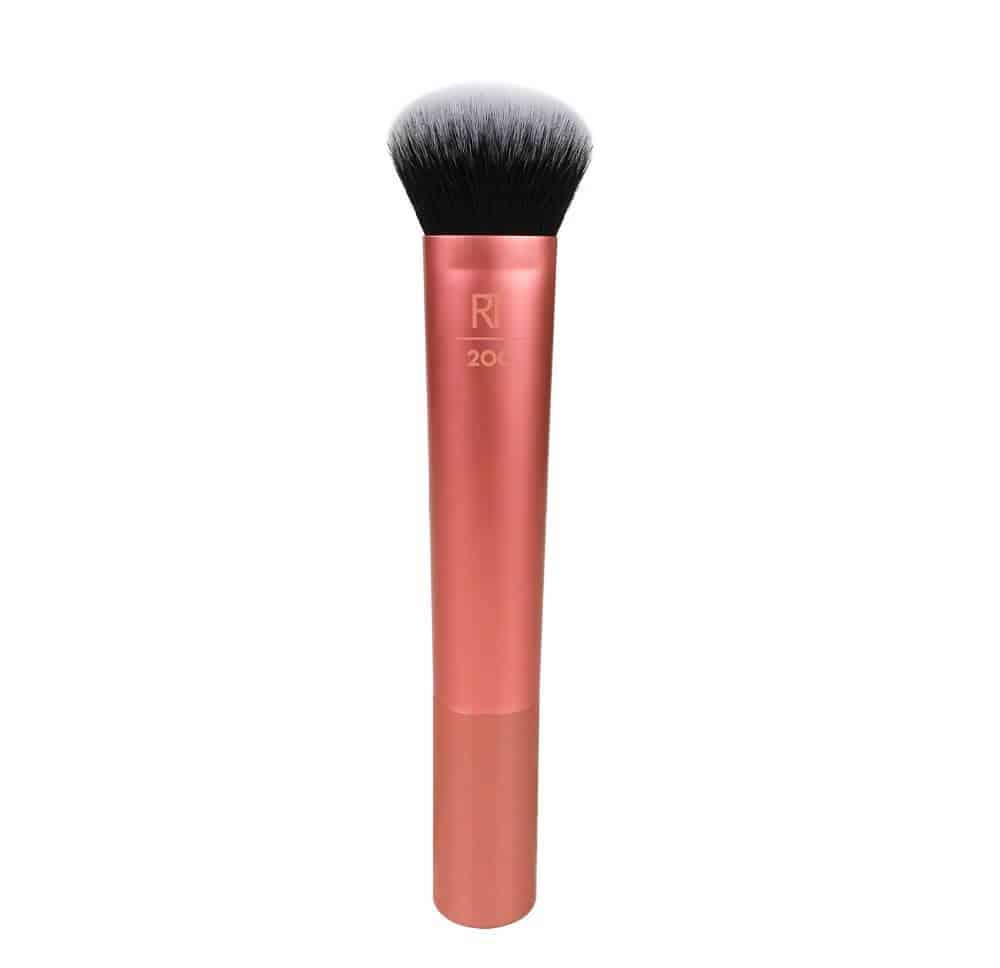 Use: For applying foundation.
While using a foundation brush for your liquid makeup is optional (you can use a sponge or clean fingers too), you do need to use some sort of brush for your mineral or powder foundation.
They are a necessity for powder foundation because a brush ensures that no makeup transfers, whereas, a sponge or beauty blender does tend to. Foundation brushes are typically dense or full, rounded, and dome-shaped.
---
5. Tapered Foundation Brush
Use: For precise application of foundation, highlighters, or blush.
Tapered foundation brushes are usually flat, and less puffy in form with a slight taper. They're much thinner and more tightly packed than your standard foundation brush. These brushes are best for liquid foundation and other liquid makeup.
To apply makeup using a tapered foundation brush, paint the brush along your face in even strokes, literally like a canvas.
Make sure that your makeup is blended in and that no harsh lines are left behind. But don't worry too much because the next brush will finish up the job.
---
6. Stippling
Use: Create a seamless airbrushed foundation look, or simply settle your foundation on your skin.
A stippling brush has a distinct appearance. While in hindsight, it looks like a flat-top condensed brush, its fibres consist of two different lengths. The bulk of the brush is full, and tightly packed with longer fibres inserted in the bunch.
This is to help push your makeup product into your skin's crevices, so it doesn't look like an obvious strip of painted product.
Stippling brushes are great for layering different levels of makeup like your primer, foundation, and blush. They can be worked together with this brush for a more natural texture.
While stippling brushes can be used with powders, their best use is for a liquid cream foundation or cream blush products. This brush helps you achieve a more realistic filter.
---
7. Kabuki
Use: For the application of loose powder, body shimmer, and other fine-grain products.
A Kabuki brush is slightly similar to the standard powder brush, however, it is more tightly packed. It's kind of like your powder brush and stippling brush merged into one. They're best to use with loose powders on your body, face and neck.
---
8. Concealer Brush
Use: Perfect for applying liquid or cream concealer and other liquid products in smaller amounts.
Think of concealer brushes as a smaller version of foundation brushes. Whether you're looking to pack on the product under your eyes or cover up a discoloured spot, these brushes are ideal for targeting small, specific areas that you want to be concealed.
Of course, you can use the applicator that already comes with your concealer tube, but a brush like this one is not only more hygienic but also offers a more realistic, even finish.
---
9. Angled Contour
Use: For applying products on angular areas of your face like forehead, cheekbones, jawlines, nose and brow contours.
Contouring is a makeup application skill that's a must to master, it is fun and extremely effective. A good angled contour brush allows you to follow the natural curves of your face.
They can be used for powder or liquid contour products, and their usage lies mostly in your control over your features. That's why it's much better to have an angled one so it makes for an easier time customising your contour makeup to your facial features.
If you're considerably skilled with using a contour brush, you can blend out the product using the same brush. You can also use a powder brush or a kabuki brush to seamlessly blend out your applied contour.
---
10. Fan Brush
Use: For applying highlighter, brushing away excess pigmentation, or even blending (usually for precise details like eyeshadow, contours, or blushes).
A fan brush is shaped like- you guessed it, a fan. Their shape makes them useful for applying products in sharp or linear shapes.
They're a must for those glowing streaks of highlight on your nose, browbones, and cheekbones. And they work exceptionally well as a sweeper ('cause, y' know, fans aren't the only ones shaped like triangles!).
They can be used to gently brush away excess powder products like your eyeshadow. To blend out your product, do a sweeping motion for a natural blend. You can also use fan brushes to diffuse colour.
---
11. Lips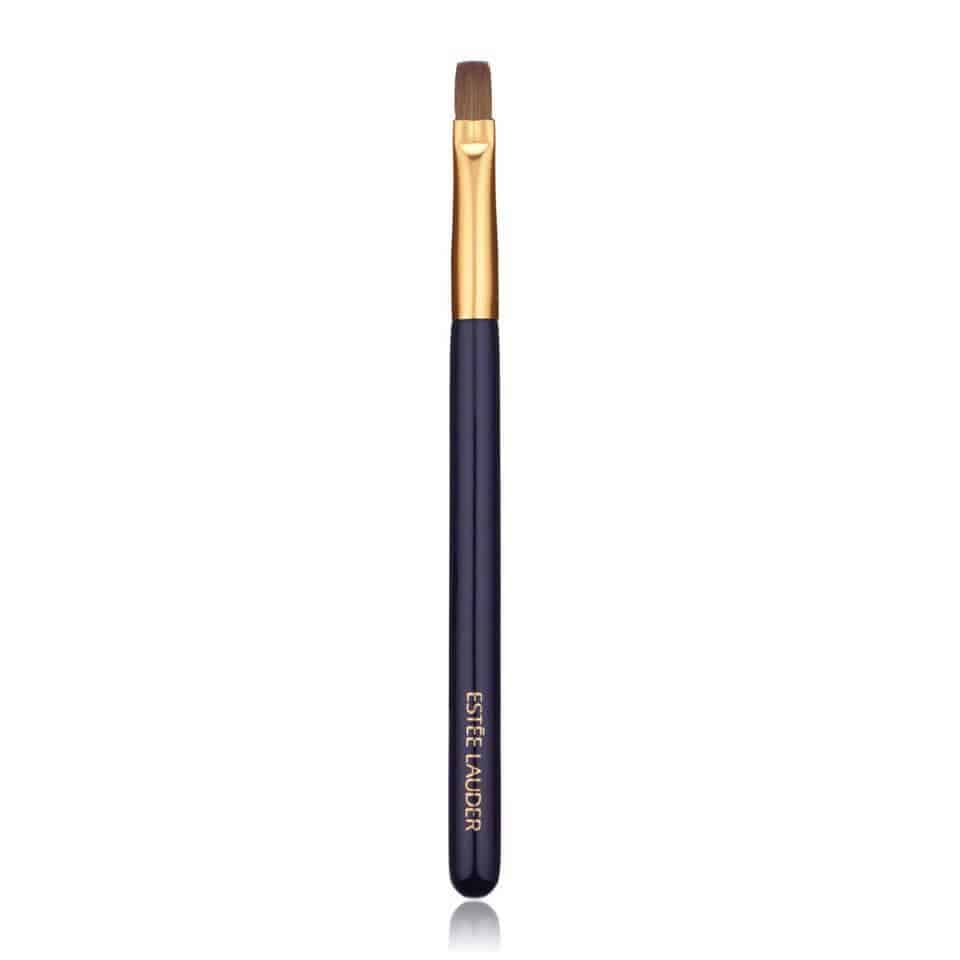 Use: For precisely applying lipstick, gloss and other lip products.
This is especially useful for pot or re-potted lip products that don't have an applicator. It can also be used as a concealer blush for much smaller areas that need correction.
---
12. Lip Liner
Use: For applying lip liner, lipstick and lipgloss.
It works just like your lip liner would, but offers more flexibility in styling your lip looks with other lip products.
---
13. Stiff Dome Eyeshadow
Use: For applying larger areas of eyeshadow.
A typical eyeshadow brush is a small, usually stubby brush meant for dabbing eyeshadow all across your lid and upper eye area.
This is a great tool to use for eyeshadow primer too and a go-to brush for applying your base eyeshadow colour.
---
14. Tapered Blending
Use: For blending and contouring eye makeup.
For the more experienced makeup enthusiasts, an angled eye shadow brush is a perfect addition and a must-brush for any beginner's set.
It's used for adding intense colours and shapes to the corner of your eye. It can be used for a precise cat eye smudge, cut crease look, smokey eye and for blending out the colours in general.
---
15. Pencil Brush
Use: For detailing and smaller, precise product applications.
A pencil brush is an essential multi-functional small brush. It can be used for applying cream eyeliner, tightening eyeshadow on your lashlines, and for precise blending on your cut crease, transition colours, etc.
When the other brushes are too big or too fluffy, grab this densely short brush for the perfect solution.
---
16. Angled Eye Brush
Use: For eyebrow shaping, eyeliners, and sharp eyeshadow lines.
This is similar to the pencil brush but with a more defined angle. It can definitely be used for eyeliners and brow products too.
---
17. Mascara or Brow Brush / Spoolie
Use: For taming and styling your brows, applying mascara, and grooming your lashes.
Mascara wands are handy tools to have. They help separate, shape, and define your lashes. If you have the time to clean out the spoolie that comes with your mascara then you don't need to buy a separate one.
---
18. Fine Eyeliner
Use: For eyebrow detailing, eyeliners, and sharp eyeshadow lines.
This is the eye version of your lipliner. You can use it to do a fake feathered brow look, or for simply applying your potted liners. This is generally a nice brush to use for experimenting with eyeshadow looks too.
---
Final Thoughts
That's it for now! I'm sure there are loads more brushes but honestly, these are the main brushes that you'll come across and need.
The big question is do you need all of these brushes? Well, it depends entirely on how much makeup you actually wear.
I'm quite an avid makeup wearer and I'll be honest, even though I have all these brushes, I use the same 4 to 5 most of the time. So yes, you can definitely get away with less and still have beautiful makeup!
UP NEXT: Silicone Makeup Applicator Review: A Game-Changer for Flawless Makeup Application?
Hollie xx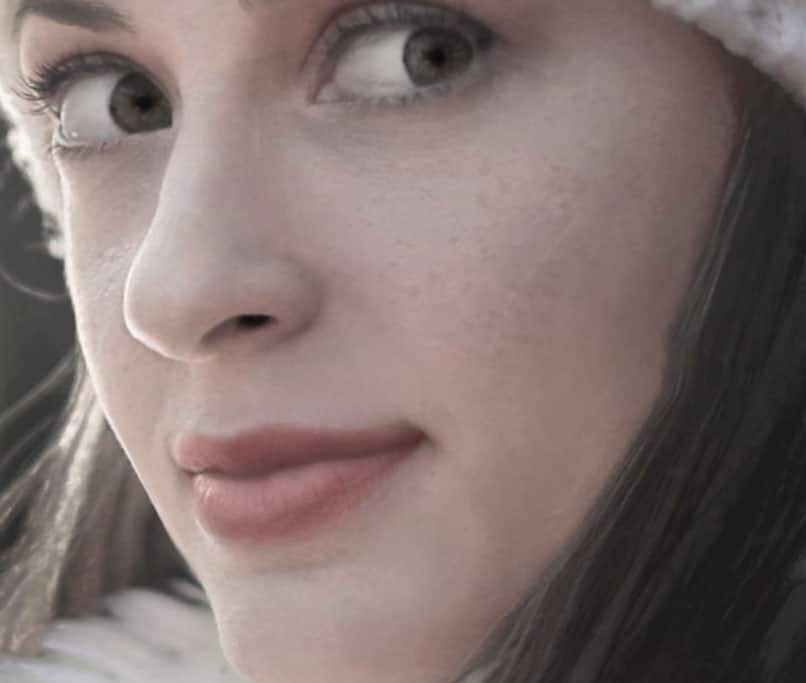 Hi, I'm Hollie, and I own BeautywithHollie.com. I love everything to do with beauty and love sharing my knowledge, advice, and beauty finds! Makeup and beauty are here to enjoy, and Beauty With Hollie is here to take the stress out of it!
---
---
Anastasia Beverly Hills bareMinerals Benefit Cosmetics Bobbi Brown CeraVe Chantecaille Charlotte Tilbury Clarins ColourPop Dermalogica Dior e.l.f. Cosmetics ELEMIS Estée Lauder Fenty Beauty First Aid Beauty Fresh Giorgio Armani Hourglass Jane Iredale L'Oreal Lancome La Roche-Posay Laura Mercier LORAC MAC Makeup Revolution Mario Badescu Maybelline Morphe Nars Natasha Denona Neutrogena NYX Origins Peter Thomas Roth Revlon Sigma Beauty Smashbox Stila Tarte Cosmetics The Ordinary Too Faced Urban Decay YSL
---