Best Full-Coverage Foundation for Oily Skin 2023! No More Grease and Shine!
The struggle of a greasy and shiny face is real! Having an oily complexion isn't all bad, you need to know the simple tips and tricks to make it more manageable, and one of them is to use the correct type of foundation for your skin.
Oily skin can be frustrating, especially when halfway through the day your makeup starts to disappear or slide off! But worry no more, I have just the right makeup hacks so you can have the perfect shine-free day.
At the end of the review, make sure to read my tips and tricks on how to make foundations last throughout the day. With these effective tips and tricks, you will be able to manage your oily skin better!
Let's dive into the best full-coverage foundations for oily skin. I've brought you both high-end and drugstore options so that there's something for everyone's budget.
Disclaimer: As an Amazon Associate I earn from qualifying purchases on Amazon and other affiliate programs. This means on some purchases, I make a commission. It doesn't mean you spend more, it simply allows me to keep this blog going!
IN A NUTSHELL
Shades: 55
Finish: Natural Matte
Coverage: Medium-full
SPF: 10
Cruelty-free: No
Is it for you?
Estee Lauder Double Wear Foundation is the best long-wearing full coverage foundation for oily skin. It keeps the oil at bay and gives your skin a seamless matte finish.
The Estee Lauder Double Wear Foundation is one of the best long-wearing foundations on the market that happens to be great for oily skin too! There are plenty of foundations that claim to be 'long-wearing', but they end up breaking apart or disappearing on the skin. Not the Double Wear Foundation. I find that it lasts beautifully without any oil or shine appearing, even in the heat.
You can even go to the gym wearing this foundation, and it won't budge or transfer. The only time it moves is when you remove it with makeup remover!
Another thing I love about this foundation is how it thoroughly covers acne scars, leaving you with flawless-looking skin. It is not too heavy on the skin, even with it being a full-coverage foundation! If you prefer a lighter coverage, you can apply the foundation with a sponge instead of a brush. A little goes a long way, one pump is usually enough for medium coverage. 
Estee Lauder Double Wear Foundation helps with time-saving too, once it dries you don't need to use a setting powder, it sets itself beautifully! The Double Wear Foundation isn't the cheapest, but with all the benefits you get from it, it's excellent value for money!
PROS
Extensive shade selection
Great for oily skin
Long-wearing
Transfer-proof
---
Moving on to a drugstore find, the L'Oreal Infallible Pro-Matte Foundation is a must-have! This foundation is almost a dupe to the Estee Lauder Double Wear Foundation. I say almost a dupe because the one major difference is that it's a lot cheaper!
Over the years, the L'Oreal Infallible Pro-Matte Foundation has become a staple foundation for those with oily skin. This is because the foundation helps to keep all oiliness at bay, it doesn't feel heavy and it looks flawless.
This drugstore foundation applies easily and smoothly and has a matte finish that stays matte throughout the day! L'Oreal Infallible Pro-Matte Foundation comes in 22 shades.
You can build it up to full coverage, and you still have a weightless application on the skin. A little goes a long way with this foundation and you will find that it hides dark blemishes and acne scars really well. It stays matte for up to 24 hours!
PROS
Affordable
Keeps oil at bay
Buildable with medium to full coverage
Longevity
Transfer-proof
CONS
Fewer shades compared to Estee Lauder
Sets really fast
Oxidises
---
By now, many of you will know how Rihanna changed the beauty game with her super-inclusive line of foundations. The Fenty Beauty Pro Filt'r Soft Matte Longwear Foundation has over 40 shades!
This foundation was made to help those who struggle to find a shade to match their skin. Not just that, this foundation also caters to those who have oily skin. Right off the bat, you will notice how lightweight it feels on the skin.
You don't have to pack on the product because, with just one pump, you get lovely coverage. The coverage is buildable from medium to full coverage. It dries down to a beautiful matte that will cater to anyone with oily skin. Best applied with a sponge, this foundation blends beautifully and smoothly, it keeps the oil at bay throughout the day.
The Pro Filt'r Foundation also comes in a powder formula which is very similar to the liquid one. Read more about the Pro Filt'r Soft Matte Powder Foundation.
PROS
Keeps oil at bay
Good colour choice
Lightweight feel
Long-lasting
Very pigmented
---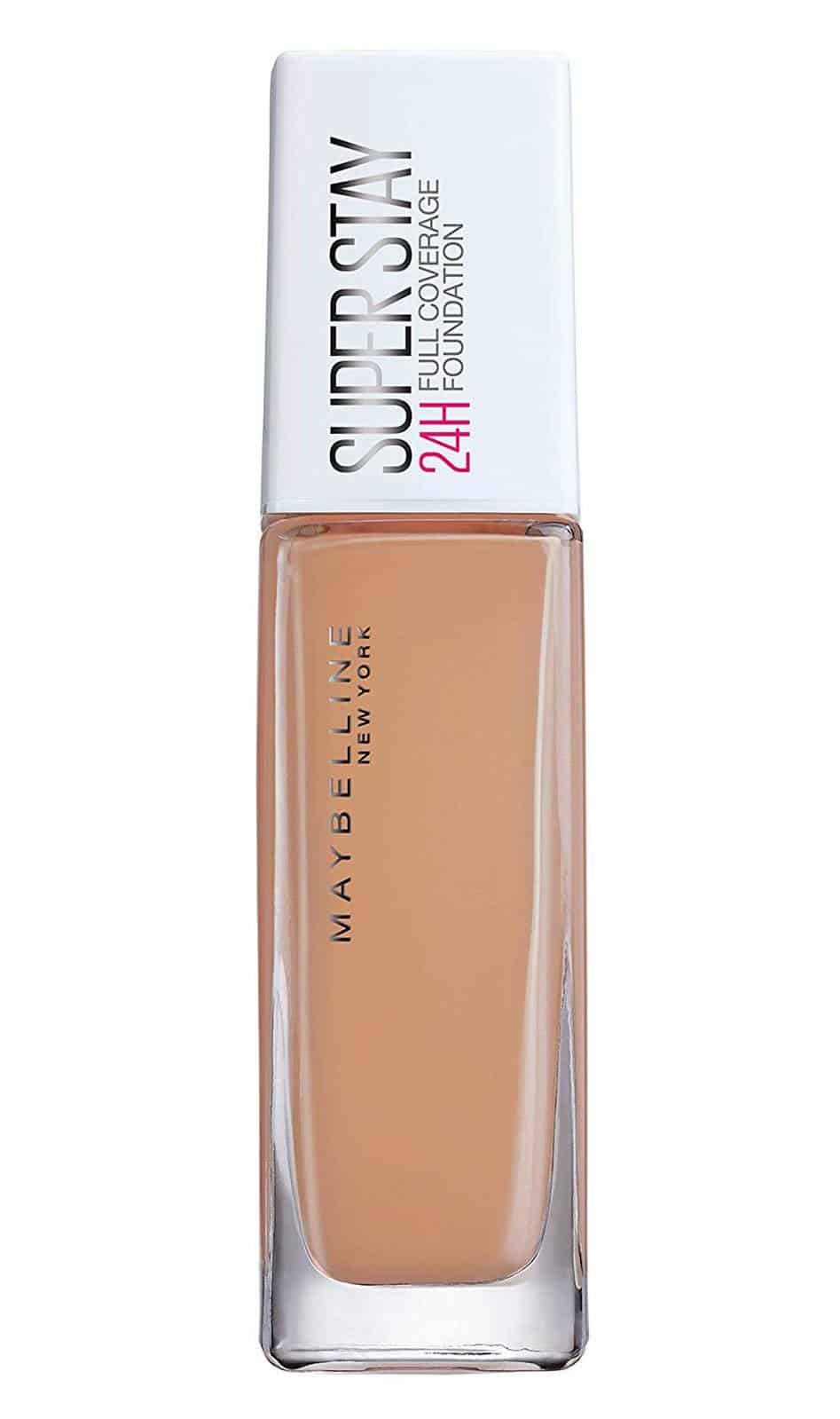 Maybelline Superstay Foundation comes in 28 shades. Although its range isn't too impressive, the foundation itself is! Unlike their Maybelline Fit Me Foundation, this has a pump (phew), so there will be less of the product going to waste.
With a little amount of foundation, you get extremely full coverage. Bye-bye discolouration, redness and acne scars! Although it's not as long-lasting as some of the other foundations mentioned here, it still gives a pretty decent wear time.
The Maybelline Superstay Foundation is a great affordable option if you're in the market for a cheaper foundation! You are getting more for what you pay for. Compared to other higher-end products, this really makes your face less oily and controls the greasiness throughout the day.
Even though the foundation is a full coverage foundation, it doesn't feel heavy on the skin and nor does it get tacky over time. It has a lovely demi-matte finish.
PROS
Affordable
Natural-looking
Controls oil
Has a pump
CONS
Made from glass so not travel-friendly
Not transfer-proof
---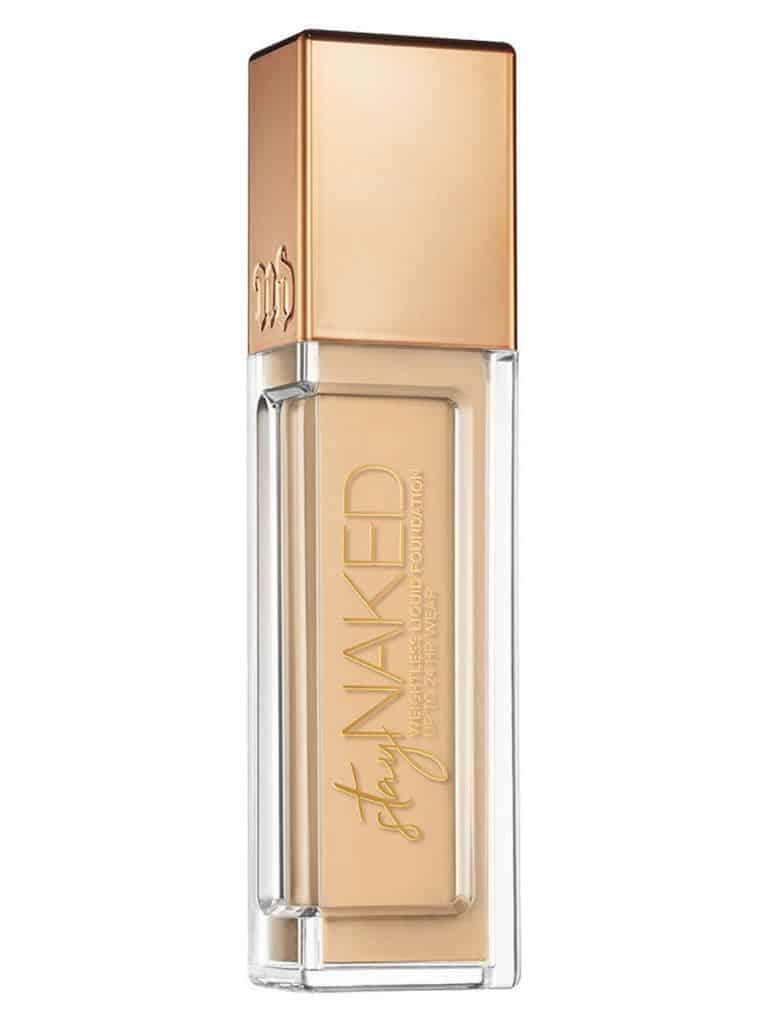 Urban Decay Stay Naked Weightless Liquid Foundation is one of the best full-coverage foundations for oily skin. It has a 50-shade range making it easy to get a precise colour match. What sets this apart from other foundations is how natural looking it is, yet still has impressive coverage! It has a liquid consistency that blends seamlessly into the skin. 
The Stay Naked Foundation is the perfect union of the other Urban Decay Foundations; the All Nighter Foundation and the Naked Skin Foundation. All Nighter is a full-coverage, thick foundation and Naked Skin is more of a BB cream. Stay Naked is long-lasting and has full coverage like the All Nighter but it is weightless and skinlike like the Naked Skin. It has the perfect balance of the two foundations.
Stay Naked Foundation has a medium coverage which is very buildable. If you want full coverage all you need to do is add more and it will look just as flawless.
Perfect for your oily skin, it leaves a natural shine-free and smooth finish with the foundation staying in place for even the oiliest of skin! There is little to no transfer when you blot your face. Even though this has a higher price tag, this is worth every penny.
PROS
Great shade selection
Lightweight
Buildable
Lasts the whole day
Minimizes appearance of pores
---
PÜR 4-in-1 Love Your Selfie Longwear Foundation & Concealer is one of those products that don't get enough attention. With over 100 shades you have a huge choice to choose from! Their range goes from very fair to the deepest shades!
Not only that, this foundation has a unique applicator. It features a pump at the top AND a doe-foot applicator, not only is that genius, it's pretty unique too!
The foundation is loaded with good stuff, it's packed with ingredients that will help your skin against ageing as well as skin damage. PÜR Cosmetics is a brand that prides itself on using good-for-you ingredients.
I recommend this foundation if you have aging or oily skin that is also sensitive. With fewer chemicals and unnatural ingredients, the PÜR 4-in-1 Love Your Selfie Longwear Foundation & Concealer is ideal for sensitive skin.
Like its claims, it is truly non-greasy on the skin! The finish is more of a satin-matte finish but it doesn't look shiny even if you have oily skin, nor does it cake.
Its lasting power is pretty good, but not as good as when compared to Estee Lauder. However, it's still a great foundation that has many benefits for you and your skin.
PROS
Huge choice of colours
Soft matte finish
Vegan
Safe for sensitive skin
CONS
May enhance lines and wrinkles
---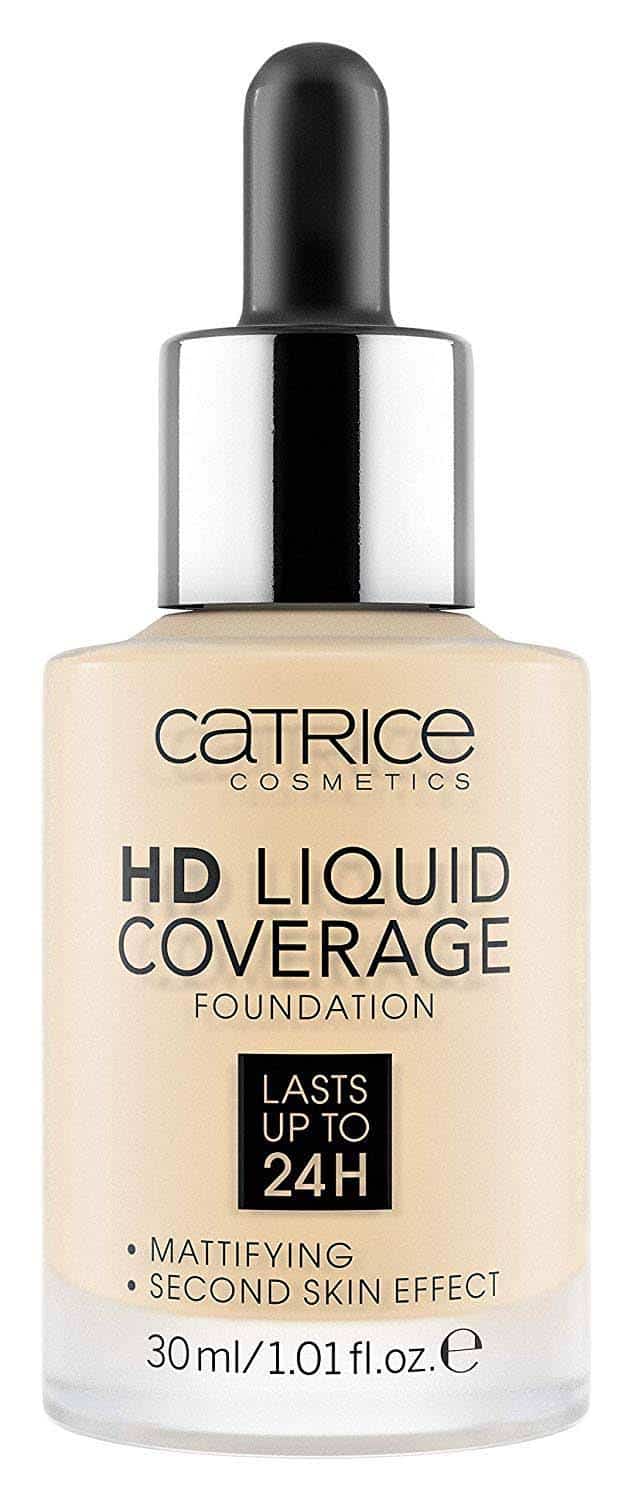 Catrice HD Liquid Foundation comes in 7 shades, which I know is disappointing since it's 2023. Brands should know better by now. Nonetheless, this foundation is on the list because it sets a good standard for foundations for oily skin. In addition to that, it's highly affordable! 
This foundation comes with a dropper that will let you control the amount you are applying. The texture is so liquidy but it's nothing to be afraid of. For the application, it's the easiest to work in sections on your face as it dries really fast.
Once you blend it out, it gives a beautiful full coverage that hides your blemishes and acne. When you use a brush, it provides more coverage than a sponge.
The foundation has a satin-matte finish that looks really natural yet at the same time full coverage. As for longevity, 24 hours may be a little stretch, but definitely, with a bit of blotting and setting powder, the wear time will be extended.
PROS
Affordable price
Perfect for oily skin
Luminous finish
Long wearing
Full coverage
CONS
Not enough shades
Poor dropper design
Needs a lot of foundation to get full coverage
---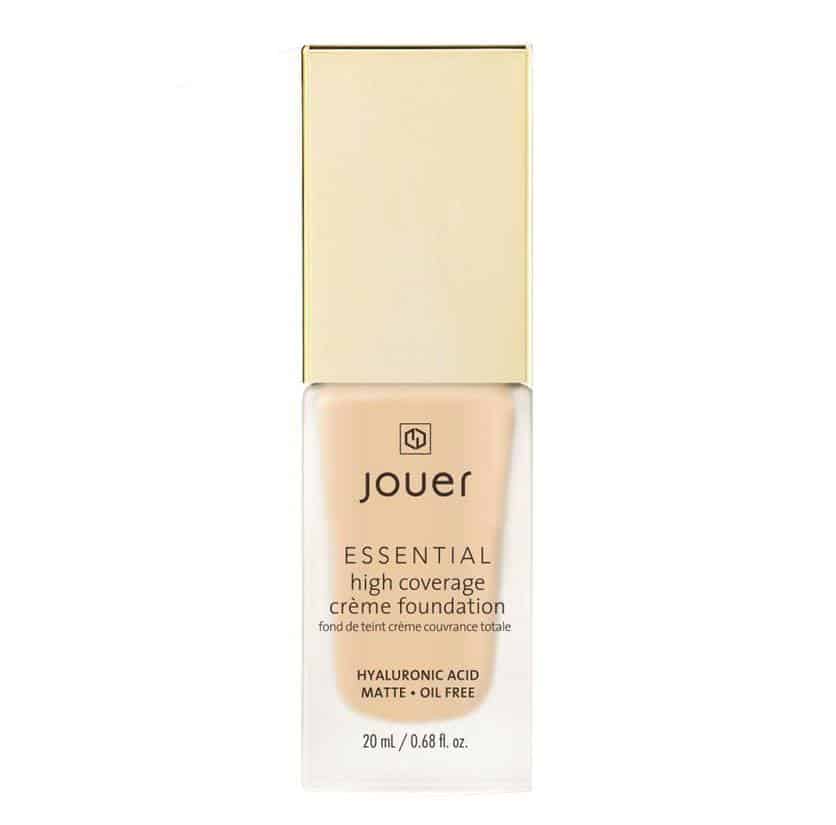 Last but not least, we have the Jouer Essential High Coverage Foundation. This comes in 50 shades. With just one swipe on your face, you will have a full coverage foundation.
The finish gives you a beautiful airbrushed look. It is matte all the way, and if you're all about that, you need this foundation! It comes with a pump, which makes it easier to use with less mess involved!
Be wary when applying this foundation because a little really goes a long way. Half a pump is more than enough to cover your face and give you full coverage. There will be a tendency for this foundation to cake up when applied too heavily.
This foundation has great longevity, again I recommend choosing a shade lighter since this foundation oxidizes over the day. Even with a pricier tag, this is worth splurging on because it delivers a full coverage foundation without any oil appearing.
PROS
Excellent range of colours
Comes with a pump
Full coverage
Airbrush finish
CONS
Pricey
Quite a thick formula
---
Tip & Tricks For Lasting Foundation in Oily Skin
No to "Oil-Free" Claims
Be wary of foundations that say "oil-free". I know it seems contradicting. But sometimes it's the products that claim to be oil-free that tend to dry out the skin even more. This, in turn, causes your skin to produce more oil.
Avoid Cream-Based Products
Since cream-based products have heavier formulations, this won't go sit well on your oily skin. Cream-based products tend to slide off your face and leave you with extra grease.
Do a Double Take on Mattes and "Shine-Free"
You may have the prenotion that mattes will be best for oily skin. And yes, it is right, to some extent. Watch out for foundations that are overly matte and claim to be shine-free because they tend to cause your foundation to cake up.
Choose Lightweight Foundations
Your foundation should be lightweight with the right liquid consistency. Don't go for a mousse type of foundation as it can get a little thick on your face. 
Before getting started with your makeup routine, make sure that your face is thoroughly cleansed. I'm not talking about just wiping it with makeup wipes or micellar water. I mean the real deal, wash your face with a facial cleanser.
Wait For 10-15 Minutes After Skincare
When you apply your morning skincare, like serums and moisturizers, give it all about 10-15 minutes to fully sink into your skin. Only after should you apply your foundation.
Since serums and creams are creamy on the face, not giving your skincare some drying time will cause your foundation and other makeup to slide off.
Choosing The Right Primer
To help makeup stay on longer and better, using the right primer will do wonders! When choosing a primer, choose one that is lightweight and hydrating. I always recommend avoiding illuminating primers and silicone-based primers.
Nice and Slow Application
As you apply your foundation, make sure that you are not layering it heavily. Try dotting the product on your skin surface and then blend. Layer your foundation slowly as you go.
Use a Setting Powder
A neat trick to help your foundation last longer is to spritz some setting spray before your translucent powder. This way, it will lock in your foundation making it budge-proof.
After, powder down with an ultra-fine powder and spray a little more setting spray to lock in your makeup completely!
Carry Blotting Papers
As the day progresses, you may have some oil build-up, that's a pretty normal reaction for oily skin, especially when you are hot and sweating. Keep some blotting paper in your purse so that you're never stuck when you're out and about.
Once you blot your face, retouch your base with a little powder. Avoid adding more foundation when retouching as it will make your face a little cakey.
My Thoughts
With the right guidance, oily skin can be controlled and the oil can be kept at bay. Although it is not possible to completely eliminate oil, there are tricks to make it easier for you.
The right foundation will allow you to have perfect makeup that will last you the whole day! The most important point is that you'll be able to go along with your day knowing that your skin is not turning into a ball of oil.
With both high-end and drugstore options included in this guide, I'm sure you have found the best full-coverage foundation for your oily skin.
Hollie xx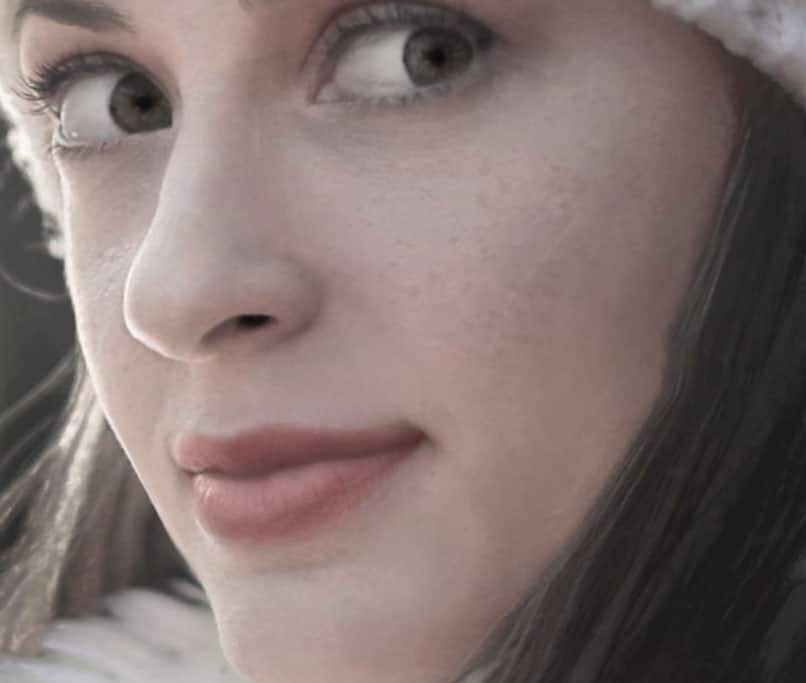 Hi, I'm Hollie, and I own BeautywithHollie.com. I love everything to do with beauty and love sharing my knowledge, advice, and beauty finds! Makeup and beauty are here to enjoy, and Beauty With Hollie is here to take the stress out of it!
---
---
Anastasia Beverly Hills bareMinerals Benefit Cosmetics Bobbi Brown CeraVe Chantecaille Charlotte Tilbury Clarins ColourPop Dermalogica Dior Dyson e.l.f. Cosmetics ELEMIS Estée Lauder Fenty Beauty First Aid Beauty Fresh Giorgio Armani Hourglass Jane Iredale L'Oreal Lancome La Roche-Posay Laura Mercier LORAC MAC Makeup Revolution Maybelline Morphe Nars Natasha Denona Neutrogena NYX Origins Peter Thomas Roth Revlon Sigma Beauty Smashbox Stila Tarte Cosmetics The Ordinary Too Faced Urban Decay YSL
---