Best Oil-Free Moisturizers for All Skin Types in 2023
Did you know that oil-free moisturizers aren't only for those with oily skin? Actually, most people can benefit from them, especially during hot, humid weather when everyone's skin is prone to getting a little oilier. That's right. Even those with really dry skin can benefit from a good oil-free moisturizer.
The job of a moisturiser is to soften and hydrate the skin, so whether you have oily skin or not, the goal is the same. Do you know how your skin feels like an oil machine after eating pizza? Well, that's what oily moisturizers feel like for many.
I've put together the best oil-free moisturizers in 2023 for all budgets and ages. Get your skin feeling how it should, soft, hydrated and oil-free!
Disclaimer: As an Amazon Associate I earn from qualifying purchases on Amazon and other affiliate programs. This means on some purchases, I make a commission. It doesn't mean you spend more, it simply allows me to keep this blog going!
I love a hydrating moisturiser that doesn't clog pores and the Mario Badescu Oil-Free Moisturiser is precisely that. It's a versatile moisturiser for everyday use as it is also formulated with broad-spectrum SPF. It does the job to keep your skin moisturized during winter and summer!
Infused with Lemongrass extract, it brightens your face giving your skin a natural glow. This moisturiser contains stearic acid that helps protect the skin's natural barrier. It's an oil-substitute ingredient that has been shown to protect the skin's surface against water loss.
With this moisturiser, you won't need to switch products come summer when your skin gets pretty oily. It's got SPF, water-retention properties, and pore-friendly extracts. The one feature I don't love is that it smells a bit like suntan lotion. But if you don't mind the smell, you'll love this moisturiser!
The Mario Badescu Oil-free Moisturiser is lightweight, easy to apply, non-greasy (well of course!) and dries quickly. Another key point, it goes under makeup beautifully!
The gel-like texture provides a nice base as a good primer will. It blots your pores like a mask and prevents any buildup of oil. Your makeup can now look natural, and your skin stays nourished.
Pros
Broad Spectrum SPF 30
Lightweight
Quick-drying
Non-comedogenic
Hydrating
Brightens skin and evens complexion
Soothes redness
Fragrance-free
---
Get ready for woke skin with the Origins Ginzing Ultra-hydrating Energy-boosting Gel! It's a moisturiser that contains caffeine to boost your skin's regenerating capabilities and it's 100% vegan.
It's formulated with blends of Grapefruit, Lemon & Spearmint oils to revitalize your skin's senses. Filled with great skin food that will get your skin out of exhaustion, almost like your morning coffee for your brain.
The moisturiser feels super luxurious and works as a hydrating gel. Although on the thicker side in terms of texture, it goes on ultra-lightweight and sinks into your skin beautifully and quickly.
It leaves your skin feeling refreshed and hydrated and definitely lives up to its ultra-hydrating name. If you want a piece of this amazingness, grab yourself a tub, you won't regret it!
It's a gel moisturizer that is perfect for oily/combo skin but not limited to. It also works wonderfully on all skin types including dry, normal and sensitive.
If you're not into citrus scents, this moisturiser's orange aroma will convince you otherwise. The scent has a heavy punch but fades away after a while. Overall, it does exactly what it says. Your skin is delivered into an oil-free paradise and I can't rave enough about this product.
Pros
Lightweight and quick absorption
Suitable for dry skin as well as oily
Good for all skin types
Targets dryness, redness, and dehydration
Moisturising and hydrating
Vegan
---
If you've been skipping your moisturizer for a while due to all the ones you've tried making you feel greasy, then you obviously have not tried the First Aid Beauty Ultra Repair Oil-Control Moisturizer.
This cream formula provides First Aid in beauty mishaps. It gives instant matte skin, while at the same time locking in all your hydration stopping your skin from drying out.
It is a cream moisturizer that is packed with unbelievable ingredients to both hydrate and control oil. The moisturiser includes a special oil control technology as well as hyaluronic acid and other impressive ingredients.
It absorbs super quickly and gives your skin a true matte finish that you thought you can only achieve through a foundation. First Aid Beauty has yet to disappoint!
Pros
Non-comedogenic
Matte finish
Lightweight
Quick Absorption
Minimizes pores

Good for normal, combination, oily and sensitive skin
---
Read my favorite Must-Know Skin Care Tips For Oily Skin
Neutrogena may be a drugstore brand, but it ranks right up there with high-end skincare products in terms of their effectiveness and results. Especially when it comes to their Neutrogena Oil-Free Acne Correct & Cover Pink Grapefruit Moisturizer.
It comes in a tinted version and a regular version. And both contain active salicylic acid to eradicate your annoying acne. It is a brilliant moisturiser that targets two birds with one stone. This moisturiser balances your oils and effectively erases your blemishes.
As for the tinted version, not only does it cover your skin beautifully and naturally, but it's also not cakey or heavy on your face. At the same time, it literally destroys the blemishes under it and, of course, gives your complexion a nice even colour.
It's easy to apply and blend, and it leaves your skin with a fresh clean feeling. More importantly, there is zero oily feeling or texture. It's extremely effective for acne and is an affordable drugstore moisturizer!
Active ingredient
Salicylic Acid 0.5%
Pros
Contains Salicylic Acid acne treatment
Non-comedogenic (won't clog pores)
Non-greasy formula
Lightweight
---
The Peter Thomas Roth Water Drench Hyaluronic Cloud Moisturiser is one of the loveliest lightweight moisturizers out there! After using the Water Drench Hyaluronic Cloud Moisturizer, you will wake up to the softest skin. That's all thanks to the 30% Hyaluronic Acid complex that attracts and retains water from moisture in the air.
It also contains Pentavitin, which provides up to 72 hours of hydration and can help replenish your skin's moisture depleted by outdoor heat and sunlight.
What's great about this ingredient is that it doesn't get washed away, unlike hyaluronic acid. This means that you really get lasting hydration with this moisturizer, even for a few days! How amazing is that?!
The product really feels like a cloud on your skin. It's one of the most soothing SPF products to wear and apply. It's just absolutely glorious. Upon application the cream instantly spreads and sinks in, leaving no sticky residue, and making your skin feel supple and moisturized.
This product should earn a spot in your beauty arsenal. This is, in my opinion, one of the best hyaluronic gel moisturisers to ever become available!
Pros
Lightweight, quick absorption formula
Hydrating and moisturising
Soothes and reduces irritation
Fragrance-free
Targets fine lines and wrinkles
Evens out complexion
SPF 45
---
Looking for a moisturiser that will add colour? Check out these best-tinted moisturisers for sensitive skin!
This greaseless face lotion lightly hydrates and smoothes oily skin, preventing any dryness around the clock. It contains aloe and chamomile to calmly maintain your skin for a more supple and healthier appearance.
It's formulated with glycerin and vitamin B5 to condition your skin into becoming your charisma-boosting coach. It's lightweight formula absorbs quickly and is super effective and nourishing for the skin.
This moisturizer can seem expensive at such a small size. But a little goes a long way and I recommend applying it to the areas that need intense moisturizing. That may not happen too often, once you've used this moisturizer on your skin, the effects last a really long time.
Pros
Lightweight, quick absorption formula
Hydrating
Soothes and reduces irritation
Reduces wrinkles and fine lines
Hypoallergenic
---
The NARS Aqua Gel Luminous Oil-free moisturiser absorbs fast, gets rid of flakiness, causes no irritation, has no fragrance, lasts all day, and works fantastic during both summer and winter! That's like a checklist of everything you need in a good moisturizer!
The moisturizer balances your skin with Dynamic Aqua Technology. With a heavy-weight formula, it hydrates and plumps while Japonica Root Extract strengthens the skin and prevents moisture loss.
NARS also infused this moisturizer with their exclusive Light Reflecting Complex™ which restores youthful radiant skin. In other words, it brightens your complexion as it reflects light.
In addition to all that, it contains a load of antioxidants, cell-renewing and collagen-boosting properties. Wild thyme extracts, plankton extracts, and beech bud extract name a few of their star-studded list of quality skincare ingredients.
This moisturizer is a pretty bold take on skincare for a makeup brand. However, they got it spot on and this moisturizer is as good as it sounds!
Pros
Non-comedogenic
Dermatologist tested
Ideal for normal to oily/combination skin
Moisturises and hydrates
Gets rid of flakiness and irritation
Paraben, alcohol and synthetic free
Fragrance-free
---
Ideal for acne and clogged pores, the Paula's Choice Clear Oil-free Moisturizer is like a mix of gel and cream. It goes on a little thick and gradually turns into a cream as you spread it onto your face.
It's packed with ceramides, niacinamide, hyaluronic acid and antioxidants to keep your skin feeling refreshed throughout the day. It has a lovely matte finish that doesn't feel thick or tacky on the skin. It gives a plump, firm hydrated feeling without causing breakouts.
The blueberry ingredients calm any redness, while its ceramides strengthen your skin's surface. It also contains niacinamide to help you improve your tone and eliminate dryness.
Pros
Minimizes breakouts
Moisturising and hydrating
Targets dryness and dehydration
Fragrance-free
Suitable for combination skin types
---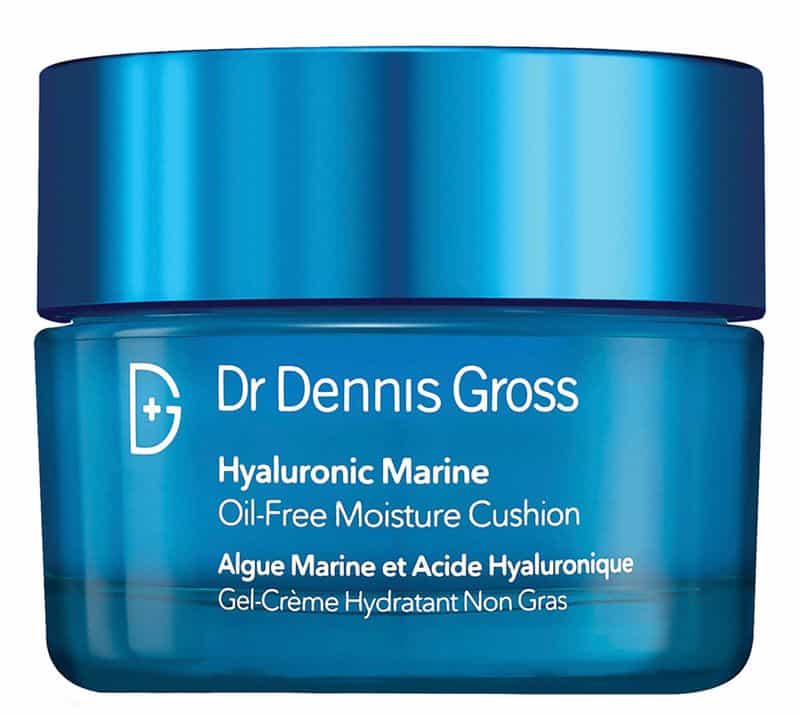 Going out with a bare face without any worries is a dream of mine and I'm sure for many others too. The Dr Dennis Gross Hyaluronic Marine Oil-Free Moisture Cushion is set out to help women get that goal.
It's your solution for dullness and uneven texture, loss of firmness and elasticity, fine lines and wrinkles.
It is a marine-enriched moisturiser infused with unique Japanese marine algae. These are commonly referred to as "sea grapes" or "green caviar", and this Japanese alga is fortified with essential amino acids and B vitamins to enhance skin's elasticity and moisture content.
The texture, colour, smell, feel, and coolness of the product speak for themselves. Soothing, soft and hydrating, it seals in all your skincare and dries quickly while leaving you feeling very moisturised.
It balances your skin with lightweight hydration. Aiming to smooth your fine lines and experience a dewy, healthy complexion without looking greasy.
Pros
Smoothes and firms skin
Targets fine lines and wrinkles
Hypoallergenic
Fragrance-free
Good for all skin types
---
This moisturizer is hands down one of the best oil-free moisturizers to have ever been formulated! It's very gentle on the face and extremely rejuvenating.
Less is more and that's exactly what this moisturizer is, it gives your skin what it needs without adding unnecessary ingredients. Its main ingredients are niacinamide, glycerin, and citric acid which all help give glowing skin.
It's suitable for sensitive and oily skin without irritating your skin and is light and comfortable to wear. The texture is thin, applies easily and stays flawless under makeup.
It doesn't have any luxurious or indulgent attributes necessarily that are fun to have in skincare. However, I think a clear radiant face is all the indulgence you'll get and need, as that's the ultimate purpose of skin care, no?
Pros
Targets acne, oiliness, and redness
Fragrance-free
Good for oily, and combination skin types
Suitable for sensitive skin
Provides lightweight hydration
Soothes itching and irritation
---
Benefits of Oil-Free Moisturizers
Oil-free moisturizers don't clog your pores as much as oil-based ones
Certain oils can be incredibly hydrating and nourishing for the skin but if you have oily skin and you're worried about breakouts, you should definitely look for water-based moisturizers instead.
Water-based, oil-free moisturizers are formulated to sink deep into your skin without clogging your pores and causing breakouts.
Chances are, oil-free moisturizers won't have a battle royale with your natural oils, because water-based ones easily slide and seep inside without a fight with your sebum.
They are abundant with Vitamin C & Other Anti-Oxidants
Hydration is essential when you want to help your skin out with forming and retaining collagen. And while there are many moisturizers out there with tons of anti-oxidants, oil-free moisturizers can get away with ditching the oils and still give you all the moisture your skin needs.
On top of that, all the nutrients are given the limelight in oil-free moisturizers. No need to market this oil and that oil to hydrate your face.
They protect your skin just as much as oil-based ones
The summer heat is upon us all! And this is why it's so important to ensure your skin is protected before heading outdoors.
An oil-free moisturizer, rich in vitamins and nutrients (vitamin C, vitamin E, aloe vera, and green tea are all amazing protectors for your skin) will help to form a protective barrier against these pollutants, and antioxidants will help to ward off free radicals and UVB/UVA rays.
Even more, aloe vera and green tea, which are almost always the main ingredients in oil-free moisturizers are known to be treatments for sunburn and light sun damage!
How Do Oil-Free Moisturizers Work
Before we get into oil-free moisturisers, let's get a general view of oil-based moisturizers first. For dry skin, oil-based moisturisers are great at preventing water from evaporating from the deeper layers.
And oil (like petrolatum, lanolin, and mineral oil) is a really great sealant for those with dry skin so the moisture doesn't leave the face all too quickly. But if you have oily skin, you know you don't want a moisturizer that has a lot of heavy oils, which is why you should go with an oil-free version.
Oil-free moisturizers have ingredients that work the same way oil does. They provide the skin with a barrier to help seal in moisture. You'll see ingredients like hydrogenated polyisobutene, isodecyl laurate, dimethicone and trisiloxane on the label.
They don't feel as heavy as oil-based moisturizers and are best suited for people with normal, combination, to oily skin types.
Both oil-based and oil-free moisturizers also use ingredients called humectants (think glycerin), which pull moisture from the environment instead of sealing in the moisture.
Humectants plus one barrier ingredient create the perfect balance of moisture for your skin type. Oil-free moisturisers have that same balance just with non-oil humectants like aloe vera.
Who Are They For?
Oil-free moisturizers aren't exclusively for oily skin types. They have just as many benefits as oil-based moisturisers have for all skin types.
And before you pass, yes, they can also be made with SPF properties so there's no need to worry about your skin feeling a little too thin and light under oil-free moisturisers.
Keeping your skin hydrated is a no-brainer if you deal with dry or flaky skin. However, we've been told again and again that even people with oily or acne-prone skin need their daily dose of moisture. And that will always remain true!
However, instead of applying a thick heavy cream, which may clog oily skin types, the goal is to apply an oil-free, water-based moisturizer that sits lightly on top of your skin.
Two things to keep in mind when trying to determine if an oil-free moisturizer is for you
The first is your skin type. The second more critical factor is climate and weather, which brings all skin types want to consider using oil-free moisturisers.
Those with oily, acne-prone or combination skin tend to prefer oil-free moisturizers because many oil-free moisturizers are non-comedogenic, meaning that they are less likely to cause acne breakouts. People with oily skin don't often need the extra hydration provided by thicker oil-based moisturizers.
If you live in a climate that's hot and humid all year round then lighter, oil-free moisturizers that quickly sink into your skin will probably feel much better and will give you less clogging and acne to worry about.
For those who have normal or dry skin, an oil-free moisturiser is a way to go, depending on the season. This is because summer can bring humidity which will entail a high-moisture surrounding.
Also, skin is often less dry than it is during winter, thus the need to switch to lighter, oil-free moisturizers during the summer months.
Bottom line, oil-free moisturizers can be your seasonal friend if you have dry skin. And for those with oily, normal, combination, and even acne-prone skin, I'm pretty sure you have already found your skin confidant in oil-free moisturisers!
My Thoughts
Oil-free moisturizers are for everyone and anyone regardless of skin type! This list of the best oil-free moisturizers has something for everyone- from budget to skin concerns, we've got you covered!
Hollie xx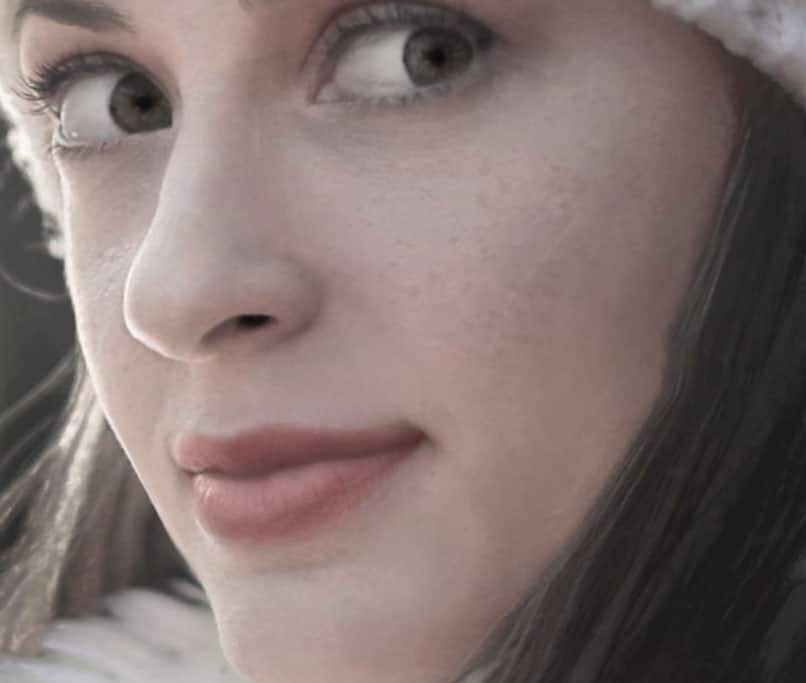 Hi, I'm Hollie, and I own BeautywithHollie.com. I love everything to do with beauty and love sharing my knowledge, advice, and beauty finds! Makeup and beauty are here to enjoy, and Beauty With Hollie is here to take the stress out of it!
---
---
Anastasia Beverly Hills bareMinerals Benefit Cosmetics Bobbi Brown CeraVe Chantecaille Charlotte Tilbury Clarins ColourPop Dermalogica Dior Dyson e.l.f. Cosmetics ELEMIS Estée Lauder Fenty Beauty First Aid Beauty Fresh Giorgio Armani Hourglass Jane Iredale L'Oreal Lancome La Roche-Posay Laura Mercier LORAC MAC Makeup Revolution Maybelline Morphe Nars Natasha Denona Neutrogena NYX Origins Peter Thomas Roth Revlon Sigma Beauty Smashbox Stila Tarte Cosmetics The Ordinary Too Faced Urban Decay YSL
---