30 Best Ulta Beauty Holiday Gift Sets For Every Budget
If you love makeup and beauty, chances are you love Ulta too! It has a ton of affordable beauty brands that are trendy, but it's not missing on the luxury ones either! It has everything you need in beauty under one roof (even if it's online)!
When it comes to shopping at Ulta you have loads of options that can sometimes be overwhelming! That's why we've sifted through far too many beauty gift sets and come up with the best ones worth buying!
This Ulta gift guide has something for everyone, from budget to luxury and everything in between! Happy shopping:)
Gifts for the makeup lover
Available in 5 different color options, this Morphe Multi-Palette does not only boast an original design but it's also extremely useful! The Morphe 2 Quad Goals Multi-Palette makes for a really practical gift. It comes in stackable packaging of 4 shades designed for the eyes, cheek, lips and a highlighter.
Ideal for a friend who loves compact and all-in-1 makeup. It's easy to travel with and is small enough to fit into one's handbag, making it perfect for touching up on a night out!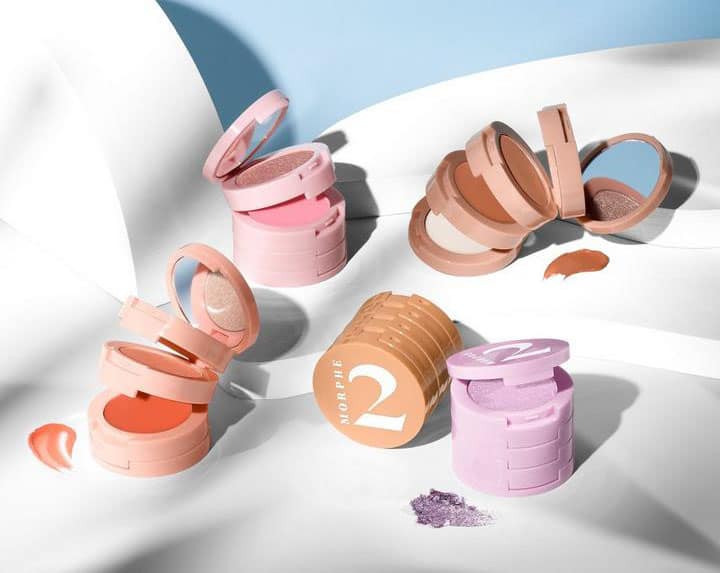 The palettes are:
Violet Vibes- purple shades
Stay Golden- bronzey-golden shades
Pink Please- baby pink shades
Oh So Nudie- nude shades
Fresh Peach- peach shades
---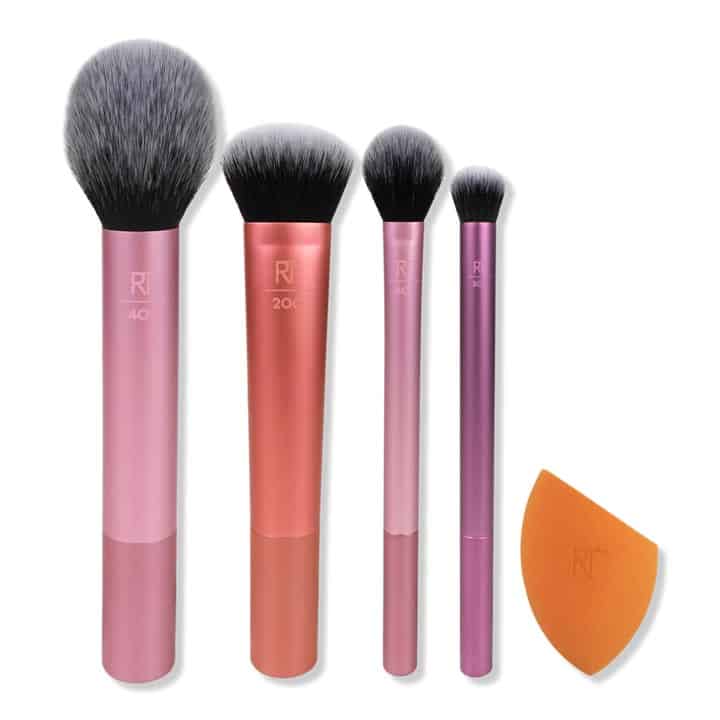 Every beautiful makeup look needs good tools! This makeup brush set by Real Techniques is affordable and includes all the essential brushes that you need for an everyday look.
This makes a great gift because anyone who wears makeup regularly needs makeup brushes. In my opinion, you simply can't have too many makeup brushes!
This 5 piece set comes with a foundation brush, a concealer brush, a powder brush, a setting brush and a makeup sponge. They are not only practical but also easy to use and clean as well as vegan and cruelty-free!
---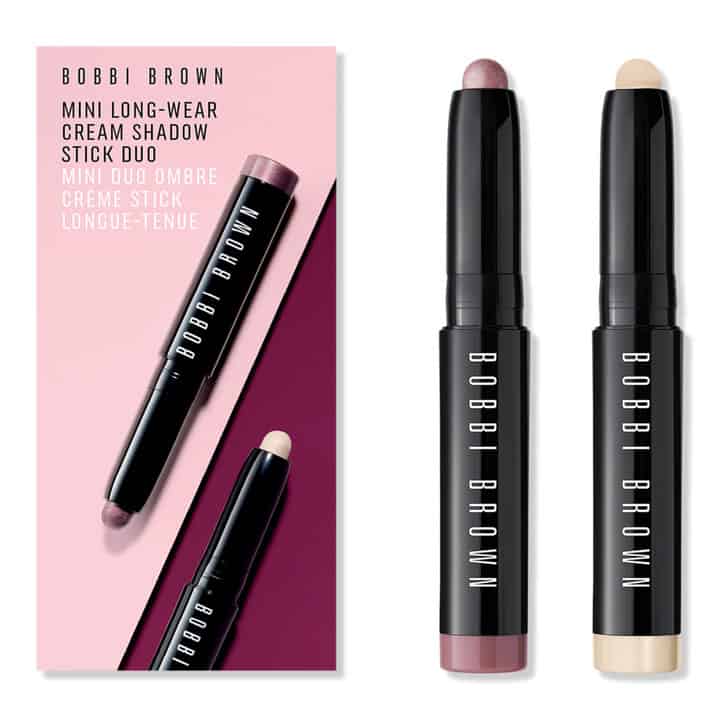 Bobbi Brown Long-Wear Cream Shadow Sticks are a bestseller and now you can get them in this cute set of 2 mini sticks!
They are a quick and easy way to apply eyeshadow that always looks fab and never lets you down! They may be cream in texture, but they are still budge-proof, crease-proof, and fade-resistant. That's the kind of quality you can expect from Bobbi Brown!
This shadow stick duo set makes a great gift because the shades are neutral and flatter all skin tones. It's a gift you can't really go wrong with!
---
This gift set is the ideal gift for your complexion-obsessed friend! It comes with everything you need to achieve flawless, natural-looking skin.
Included in the kit is:
One finish of CC+ Foundation which you need to add separately
CC+ Cream with SPF 50+
CC+ Cream Illumination with SPF 50+
Your Skin But Better Setting Spray
Travel Size Superhero Mascara
This kit gives the skin a flawless finish with some added luminosity for the perfect glow-up!
---
Get volumized lashes with this bangin deal of a full-sized Bag Girl Bang mascara, along with a free mini one!
One of Benefit's bestselling mascaras, the Bag Girl Bang gives the lashes an ultimate lift without weighing them down or leaving them feeling heavy. If you love the fake lashes look, but don't want fake lashes, this mascara will do the trick!
---
Makeup cases are always fun, especially when it's as affordable as this one! The Caboodles Take It Tote is the ideal size to carry everything you need and still small enough for on-the-go.
Included in the caboodle are:
Eye Shadow & Face Palette (9 Eye Shadows, 2 Blushes, 1 Bronzer, & 1 Highlighter)
3 Lip Glosses
2 Lip Oils
1 Eye Shadow Primer
Of course, you can also fill it with the makeup of your choice too! Get this for your nostalgia-filled friend who loves anything from the 90s!
---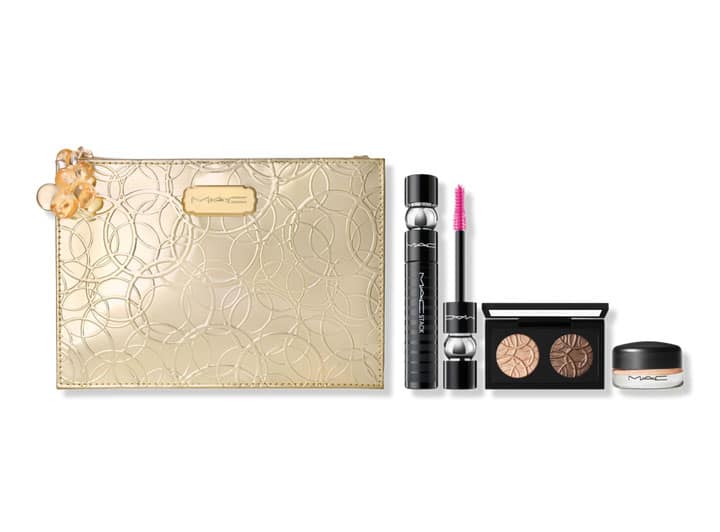 Get sparkling eyes with this gorgeous gift set! You can never go wrong with a MAC gift set. Practical and pretty, it's easy to see why they sell out so quickly!
The Sparkling Stare Eye Kit comes with a mini eyeshadow palette of 2 shades, a cream eyeshadow and a Magic Extension 5mm Fibre Mascara. They all come in a pretty gold bag which is ideal for storing makeup, or for travelling with.
While it doesn't seem like a too-generous kit, you're actually saving about $50, which is why gift sets in the holiday season are always worth it!
---
Stila is known for its liquid eyeshadows and there's a reason for that. They apply seamlessly, they're highly pigmented and they have impressive lasting powers!
It's the time of year to sparkle and shine and these eyeshadows give you exactly that! Now you can get 3 beautiful shades in one set.
Included in the set:
Travel Size Glisten & Glow in Kitten Kaleidoscope
Travel Size Glitter & Glow in Diamond Dust
Travel Size Shimmer & Glow in Starlight
---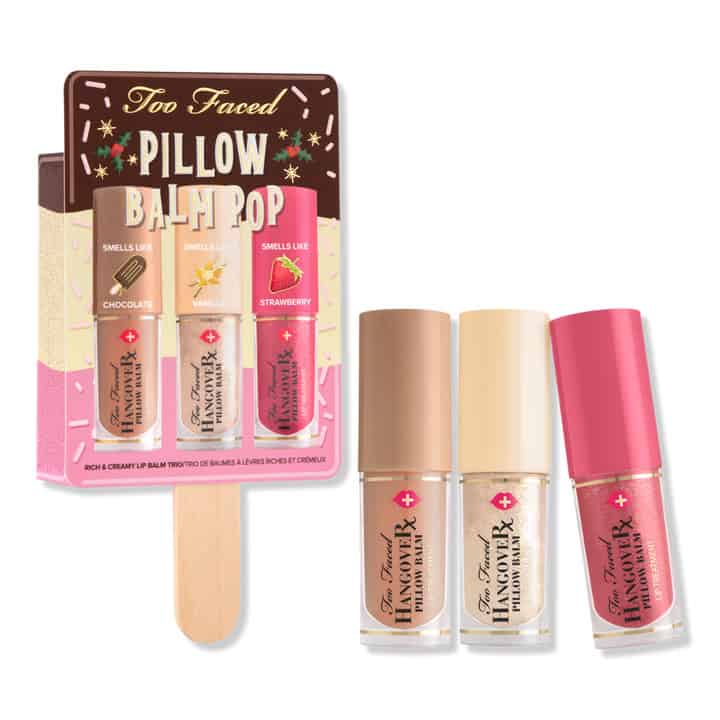 When it comes to the holiday season, Too Faced always has some of the most fun and original packagings and this gift set is no exception!
The Too Faced Hangover Pillow Talk Lip Balms Set comes with 3 lip balms in chocolate, vanilla and strawberry scents. The scents aren't their only claim to fame, they are also intensely hydrating, adding instant moisture to your lips.
This is the perfect gift for the winter months when our skin is drier and needs as much hydration and moisture as possible!
---
Makeup Erasers are the way to go if you want to remove hard-to-remove makeup in an easy and fuss-free way!
A makeup eraser is not in place of a cleanser, but rather instead of makeup wipes. Removing your makeup with wipes is drying on the skin and is not eco-friendly. 1 MakeUp Eraser is equal to 3600 makeup wipes and this set comes with 7!
After using a makeup eraser, always cleanse and continue your skincare routine as normal. A makeup eraser is simply an easy way to get rid of every trace of makeup without irritating the skin.
The makeup erasers go in the washing machine, are suitable for sensitive skin and are 100% vegan.
---
Get juicy lips with the Tarte Maracuja Juicy Squad Lip Set. This gift set actually contains 2 gift sets in one, and two of the lipsticks are free!
The set contains 2 individual boxes that each come with 2 lip products. They are:
2 full-size maracuja juicy lip balms in limited-edition shades of ginger (warm nude) & cranberry
1 full-size maracuja juicy lipstick in rose (soft pink beige) + 1 full-size maracuja juicy lip plump in cherry blossom (pale pink)
These lip products are everything you need for healthy, fuller and plumper lips. They are loaded with vitamins and antioxidants giving the lips the ultimate booster as well as beautiful coverage!
---
Anyone who knows their makeup knows Urban Decay Naked Palettes! They're good-all-round palettes that are easy to use and have beautiful colors.
Urban Decay has spoilt us this holiday season and released this limited-edition eyeshadow palette set. It includes 3 mini Naked Palettes that were released in 2022. They are Half-Baked, Sin, and Foxy.
All 3 palettes are neutral-based palettes, each one featuring 6 shades.
The palettes are:
"Half-Baked", featuring six blazed, bronzed-toned neutral eyeshadows
"Sin", featuring six forbidden, blush-toned neutral eyeshadows
"Foxy," featuring six funked-up, olive-toned neutral eyeshadows
These Urban Decay Mini Palettes are the perfect gift for any makeup-obsessed friend simply because you can never have too many eyeshadow palettes!
---
If you love cookies and makeup, why not combine the two with this adorable cookie-inspired jar filled with fake lashes that also look like cookies? You've got to love delicious packaging!
The cookie jar comes with 4 pairs of reusable vegan lashes. With a combination of lashes, from everyday to glam, there's a lash for every occasion and every person in this jar!
---
When it comes to setting powders, Laura Mercier got it right! Its setting powders are all the way up there and that's because they are simply fab!
If you want a setting powder that sets makeup to a matte finish, without it looking cakey or dry, Laura Mercier Setting Powders are the ones you need.
Available in translucent, translucent honey or translucent deep, for different skin tones, these setting powders are hard not to love! Lightweight and comfortable to wear, the Translucent Loose Setting Powder lasts for up to 16 hours. Get your favourite setting powder and its matching puff in this festive packaging for a limited time only!
---
Get rose-colored lips and cheeks with this ABH gift set. The gift set and products have gorgeous packaging which reflects the gorgeous makeup!
Included in the gift set is a Stick Blush, Satin Lipstick and a Satin Lip Liner. The shades are flattering for all skin tones and the products are super easy to use, even for beginners!
---
Ofra Cosmetics long lasting liquid lipsticks are a bestseller due to their comfort and lasting powers! Extremely comfortable to wear and non-drying on the lips, these lipsticks are everything you need for the perfect lipstick experience!
The Gone MIA Mini Lip Set comes with 4 mini lipsticks in the shades:
Sanibel (rose nude)
Miami Fever (burnt terracotta orange)
Aventura (true cool brick red)
Wynwood (reddish-pink)
The lipsticks have a matte finish and last seamlessly for up to 5 hours with minimal transfer. They have a delicious vanilla scent to top it all off!
---
HipDot is all about originality and out-of-the-box makeup. It's fair to say they achieved it with this Monopoly eyeshadow palette! It's fun, creative and definitely not your everyday eyeshadow palette!
Even if your friend isn't obsessed with makeup, this is an eyeshadow palette that anyone can appreciate! The only drawback to this eyeshadow palette is that to use it, you'll inevitably fade the writing on the eyeshadows;)
---
Classy and elegant, this Lancome gift set comes with 5 hydrating lip glosses that give you 4 hours of ultra-shiny hydrated lips!
Makeup with skincare benefits is the way forward and these lip glosses are on trend. Infused with vitamin E to hydrate and soften the lips, you get the benefits of a lip balm in your lip gloss!
This makes a perfect gift before the dry winter months when we all need that extra hydration!
---
Gifts for the skincare obsessed
Sunday Riley has put together 2 of their bestselling skincare products into one fabulous skincare gift! Called the Power Couple, that's exactly what this gift set is.
Good Genes Lactic Acid is a hydrating AHA that gently exfoliates the skin and removes dead skin, which then prevents oil buildup and the like.
But, it's not like any old exfoliator. That would be far too typical. Good Genes Lactic Acid is loaded with ingredients that help soothe the skin and improve and brighten the complexion.
Luna Sleep Oil is the number 1 face oil in the US, according to Sunday Riley. It's clinically proven to improve skin radiance, fine lines, and smoothness in 4 weeks. Now, that's some feat! It contains retinol which explains how it gets such impressive results!
---
Why buy one when you can buy two? The Estée Lauder Advanced Night Repair Synchronized Multi-Recovery Complex Serum comes in doubles. Yep, that double goodness for your skin!
This serum is another bestseller! Any product that claims to fight the signs of aging and actually does what it says and quite literally flies off the shelves. And that's exactly what this serum is.
It reduces lines and wrinkles in just 3 weeks and leaves you with smoother, more radiant youthful-looking skin. It hydrates the skin and helps repair the skin barrier.
That's a load of impressive claims but what's even more impressive is that they're all true! This serum may be pricey, but if it's within your budget, it's worth the splurge!
---
This gift set by The Ordinary is gold for those that suffer from regular blemishes. With 3 super powerful products, blemishes and pimples will be a thing of the past.
Although, if you're buying it as a gift, make sure the recipient won't be offended that you're buying them a blemish control gift:)
Included in the gift set is:
Niacinamide 10% + Zinc 1%
Salicylic Acid 2% Anhydrous Solution
AHA 30% + BHA 2% Peeling Solution
What's lovely about this gift set is that it includes products from The Ordinary that are so often sold out online and difficult to get hold of. Make the most of the holiday season to stock up on your favourite beauty products!
---
If you are looking for simple and straightforward skincare products that get the job done in an affordable manner you need CeraVe! Fuss-free yet made from impressive formulas, you can never go wrong with a skincare routine that consists of CeraVe.
This gift set is all about restoring the skin's barrier, which usually fixes a lot of skincare problems in the process. When the skin's barrier is damaged you can experience many problems from infections to itchiness and acne.
Looking after your skin barrier is super important and this kit has made it super easy! The kit comes with 3 essential products:
CeraVe AM Facial Moisturizing Lotion SPF 30
CeraVe Resurfacing Retinol Serum
CeraVe PM Facial Moisturizing Lotion
Gentle and non-irritating, these products are packed with ceramides and other nourishing and hydrating ingredients that turn your skin from dull and drab to healthy, calm and radiant!
---
Moving from one fab brand to another, quite literally! First Aid Beauty AKA FAB, is another fuss-free brand that's full of good-for-you ingredients and without any of the unnecessary ones.
Head-To-Toe-FAB Kit contains essentials for the face and body, giving you brighter and happier skin! The kit contains:
Pure Skin Face Cleanser
Ultra Repair Face Moisturizer
Facial Radiance Pads
KP Bump Eraser Body Scrub with 10% AHA
KP Smoothing Body Lotion
With calming ingredients like colloidal oatmeal, these products are ideal for sensitive skin and honestly, it's a gift you can't really go wrong with! Everyone needs skincare products and anyone can benefit from FAB skincare!
---
Korres has taken the skincare world by storm with its natural Greek products inspired by homoeopathic ingredients. They're a clean beauty brand and don't use harmful ingredients in their products.
But it's not just what they don't use that's impressive. Their Greek Yoghurt Foaming Cream Cleanser is a bestseller and is made from pre and probiotic greek yoghurt.
We all know how beneficial pre and probiotics are for the body. Well, they also do wonders for the skin. This cleanser does everything a cleanser should do plus more!
It removes makeup and dirt, moisturises the skin, cleans out the pores, tones the skin and reduces redness in sensitive skin. It's a pretty awesome product and the gift set contains 2 of them!
---
Having sensitive skin can be quite a chore. Luckily there are brands like Dermalogica that have products designed for the ultra-sensitive. And in this case, it's all in one gift set!
Included in the gift set is:
UltraCalming Cleanser: gentle cleansing gel/cream
UltraCalming Mist: soothing, cooling spritz
Calm Water Gel: weightless water-gel moisturizer
This gift set works wonders for those with redness, dryness, dullness and uneven texture! You can expect calm, soothed and hydrated skin from this rescue kit!
---
Coming up the winter months, there's no better time to hydrate your skin and this Kopari duo will do exactly that. The gift set comes with an Organic Coconut Melt, Koparis bestselling moisturizer, along with an Ultra Restore Body Butter.
The Organic Coconut Melt can be used anywhere, from the face to the body and hair! It does wonder wherever you apply it! Combine it with the body butter for double the hydration.
---
If you want a fake tan that doesn't look fake, the number 1 brand for that is St. Tropez!
The gift set comes with St. Tropez's 2 award-winning products, the Self Tan Express Bronzing Mousse and the Gradual Tan In Shower Lotion in Medium. It also comes with an applicator mitt.
St. Tropez products are ideal for those with no tanning experience. Yes, it's that hard to get the tan wrong. Easy to use, along with clear instructions, getting a healthy glowing tan has never been so easy!
---
Gifts for the hair addicts
Dyson hair stylers are some of the priciest on the market. But, they are also the best!
They really are a cut above all others, and while not everyone needs that, nor appreciates it, for those with difficult hair, a Dyson Airwrap can be life-changing!
Dyson hair products are unique in the sense that they don't use extreme heat to style the hair. They use Coanda airflow, which in simple terms means you style with air, not heat.
But all you need to know is that the fabulousness of the Airwrap is not exaggerated. This hair styler is the gift that keeps on giving. It gives beautiful hair without any of the usual drawbacks that come with styling!
This special edition Airwrap Multi-Styler comes with 6 different attachments for all your hair needs in one product! It also comes with a travel pouch and storage case.
---
When it comes to fixing your hair from the inside out, there's no brand quite like Olaplex. And I mean that in the literal sense. There's no other brand out there that has managed to actually fix broken hairs.
With Olaplex's patented ingredient-Bis-Aminopropyl Diglycol Dimaleate, the impossible is possible. Each hair gets fixed from the inside out, and this isn't just a claim. Their treatments actually work!
Included in the gift set is their bestselling No.3 which repairs and strengthens the hair, along with No.6 which hydrates and smoothes the hair.
No.3 is a pre-shampoo treatment aimed at reducing breakages and split ends. No.6 is a leave-in cream that smoothes the hair and leaves it frizz-free for 72 hours!
---
Primers are not only used for underneath your makeup, give your hair the care it deserves by using a primer on it. Especially before styling it! Eva Nyc Mane Magic 10-in-1 Primer gives your hair all the vitamins and nutrients it needs in 1 bottle!
Clinically proven to reduce split ends, control frizz and give stronger hair, this is an easy way to care for your hair. The results are well worth the effort.
Loaded with nourishing ingredients for the hair, like argan oil, and vitamins A, C, and E, your hair will look and feel better than ever!
---
My Thoughts
The fun thing about holiday gifts is that they are often more affordable, and because they're sold in sets they're worth more than their actual value.
It's the perfect time to stock up on your favourite beauty products for you and your loved ones!
While there are hundreds of gifts out there and on Ulta alone, we've narrowed it down to the best 30 to make the holiday shopping that bit easier! Happy shopping!
Check out more holiday gifts for every makeup and skincare lover!
Disclaimer: This article contains affiliate links. If you purchase using these links, you don't pay more, I simply earn a small commission!
Hollie xx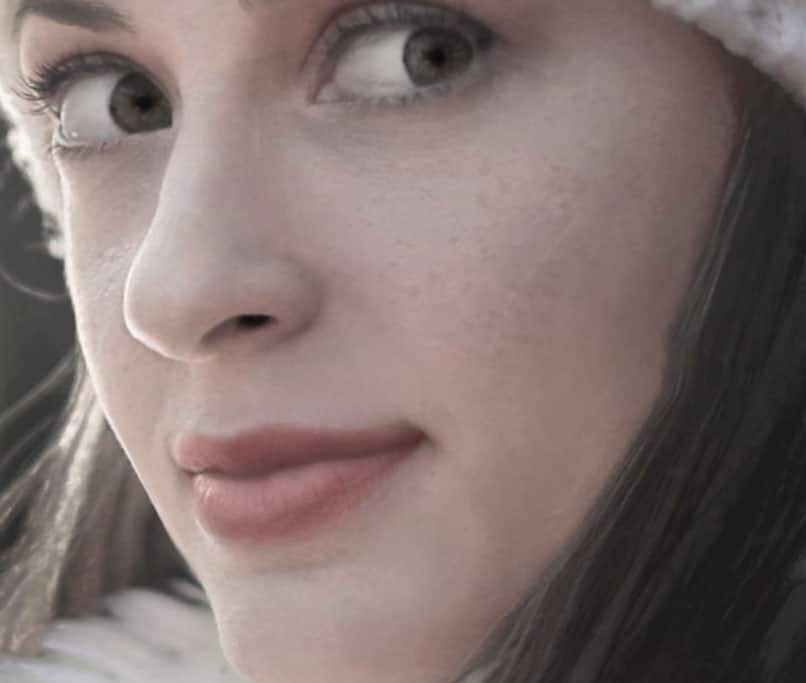 Hi, I'm Hollie, and I own BeautywithHollie.com. I love everything to do with beauty and love sharing my knowledge, advice, and beauty finds! Makeup and beauty are here to enjoy, and Beauty With Hollie is here to take the stress out of it!
---
---
Anastasia Beverly Hills bareMinerals Benefit Cosmetics Bobbi Brown CeraVe Chantecaille Charlotte Tilbury Clarins ColourPop Dermalogica Dior e.l.f. Cosmetics ELEMIS Estée Lauder Fenty Beauty First Aid Beauty Fresh Giorgio Armani Hourglass Jane Iredale L'Oreal Lancome La Roche-Posay Laura Mercier LORAC MAC Makeup Revolution Mario Badescu Maybelline Morphe Nars Natasha Denona Neutrogena NYX Origins Peter Thomas Roth Revlon Sigma Beauty Smashbox Stila Tarte Cosmetics The Ordinary Too Faced Urban Decay YSL