CurrentBody Skin Radio Frequency Device Review- Does it Actually Work?
Imagine a device that rewinds the years off your face, reduces fine lines and wrinkles, tightens and firms the skin, increases brightness and improves sagging skin, all from the comfort of your home.
It sounds almost too good to be true, and as a natural sceptic, I don't fall for just any product or device. Does the CurrentBody Skin Radio Frequency Device really work? Clinically proven, science and dermatologist-tested, let's find out if it lives up to its claims!
I was really excited to try out and review the Radio Frequency Skin Tightening Device, but in all honesty, my 35-year-old skin doesn't have too many wrinkles, meaning the results wouldn't have been too noticeable.
To see if the device really works, I decided to try it out on my mother's 60-year-old skin, which has all the aging signs that a 60-year-old usually has, much to her dismay!
Disclosure: This post is sponsored by CurrentBody, but all opinions are 100% my own. This post contains affiliate links, and each purchase helps cover the cost of running this blog at no extra cost to you! Full disclosure policy
What is the RF Skin Tightening Device?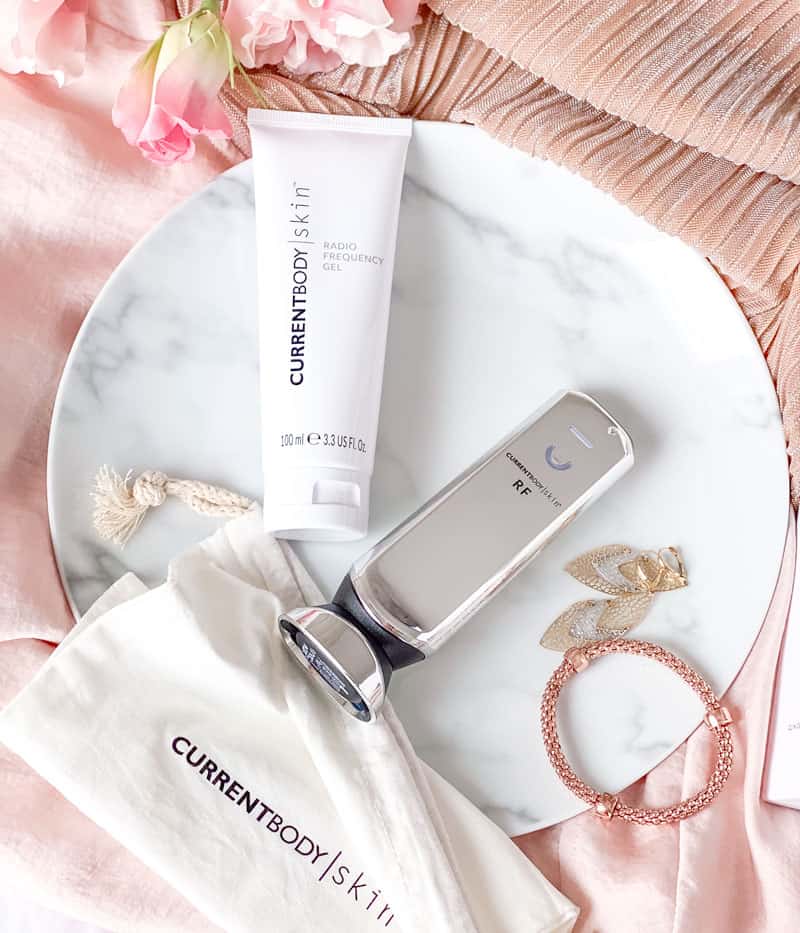 The Radio Frequency Skin Tightening Device works to reduce wrinkles by stimulating collagen production. Radio Frequency, also known as RF, is a form of electromagnetic energy that has been used in clinics for many years with lots of success. With this device, you can enjoy the same youthful results from the comfort of your home.
| | |
| --- | --- |
| Targets: | Crow's feet, brow 11's, smile lines, jowls and sagging skin |
| Genuine Results: | Reduces fine lines & wrinkles, tightens & firms skin, increases brightness & radiance, targets sagging skin |
| Usage: | Once a week |
| Settings: | 3 levels. Level 1 takes 30 seconds to reach 43˚C and level 3 only takes 18 seconds. |
| Temperature: | 43°C |
| Price: | £299 |
| Money Back Guarantee: | 60-day |
| Warranty | 2-year |
How Does Radio Frequency Work on the Face?
This non-invasive device comes with 4 electrodes that contract collagen fibres and stimulate the natural production of collagen. The result is younger-looking, less wrinkled, tighter skin! After just one use, you may see noticeable results. Continue reading my review to see whether we saw instant results!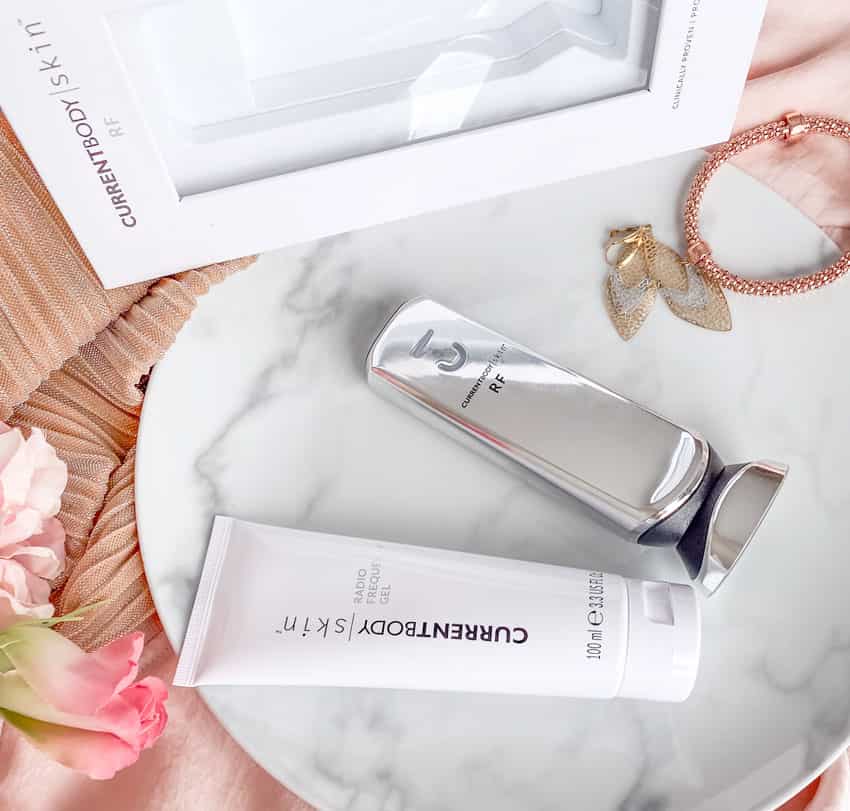 How to Use
Using the Radio Frequency Skin Tightening Device is super easy. You don't need to be a professional to be able to use it correctly. Follow these simple steps:
Sensitivity test: 48 hours prior to using the device, test the area you intend to treat for 3 minutes. You can start a full treatment if the tested area feels and appears normal.
Prepare your skin: Before using the device, make sure your skin is dry and clean. Remove all moisturizers and other topical products. Also, remove all jewellery from the treatment and hand areas.
Apply the gel: Apply a generous even layer of the Radio Frequency Gel that comes with the device. You need to apply the gel to any area you wish to treat.
Operating the device: Plug the device in and turn it on. Select your energy level, for new users, start with level 1, and increase once comfortable. Move up a level by pressing the button again.
Using the device: Place the device on the area you want to treat. Once the green light starts blinking, move the device over the area. You will feel a warm sensation. When the temperature is reached the green light turns solid. After 5 minutes, the light will turn orange signalling that the treatment for that area is complete.
Aftercare: Wipe the device down, rinse off the excess gel from your skin and continue with your regular skincare routine. Use a high-factor SPF for 2 weeks following treatment. Avoid using hot water on your face.
Usage: Use once a week for 8 weeks for instant, dramatic and long-lasting results
Where to Use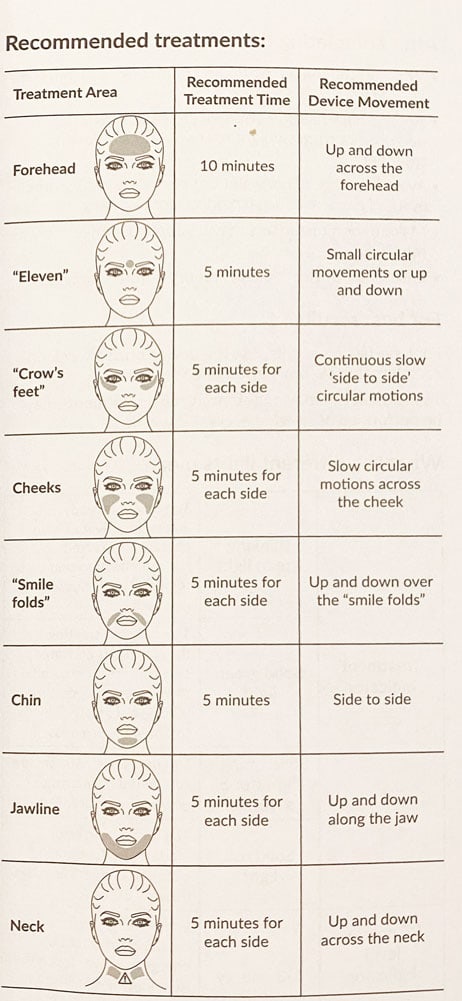 Use the device on any of the recommended areas in the image above, but avoid contact with your eyes, eyelids, nose, lips, and the centre line of your neck over your thyroid.
What's in the Box?
CurrentBody Skin RF Radio Frequency Skin Tightening Device
CurrentBody Skin Radio Frequency Gel (100ml)
Travel Bag
Mains Power Cable
Adapter Plug
User Manual
My Review of the Tightening Device
My first impression of the device is how luxurious it looks and feels. It comes in a beautiful box that's compact yet, with everything you need inside. But, it's not only the box that feels this way, the actual device is also top-notch quality, from the design to the way it works.
Using the device is really easy. It comes with an in-depth manual on everything you need to know on how to operate it, but truthfully, it's pretty straightforward.
Once I turned the device on, I placed it on the skin and slowly moved it over the targeted area. The 4 electrodes heated up fast, giving the skin a warm sensation. One thing to note is that if you move the device too quickly, it struggles to get to the right temperature. Move it slowly along the skin up and down or in a circular motion.
It felt almost like a face massage, at no point did my mother feel any pain, only a comfortable warm feeling. Keep a lookout for the orange indicator light that tells you when the treatment is complete. I found this a little tricky because it's only on one side of the device so I had to constantly check it. It also meant I couldn't multi-task (i.e. watch TV!). Perhaps a small sound instead of a color change would be more practical.
My only complaint from using the device is that after a while my arm got pretty tired and I didn't even do a full treatment.
Radio Frequency Before and After
The results really wowed me and my mother! The 'after' picture was taken about 5 minutes after using the device on my mother's jawline and smile folds. While the smile folds are still visible, which is to be expected, they are not as deep and the same can be said for the jaw area.
I haven't yet used the device enough to see long-term results, but I am very impressed with it so far.
Does the Radio Frequency Work
I think the results speak for themselves, the Radio Frequency Skin Tightening Device does indeed reduce wrinkles, tighten the skin and give a younger appearance.
While I haven't used it enough to see what the long-term results are, I can definitely say that even after a couple of uses, my mother's skin looks more youthful and it's made a huge difference to her wrinkles!
It's perfect for anyone looking for a younger, more youthful appearance. It's also ideal for a quick fix before a night out. Since the results are immediate, use it before a party or event to shave some years off your face. Give yourself about half an hour to let the redness subside.
In Summary
The device is easy to use, but time-intensive for a full treatment. Of course, it's up to you what areas you wish to treat, if it's only one or two areas, you won't find it too time-intensive. Given that it's an investment, it's essential to evaluate whether you will genuinely commit to using it on a consistent basis before purchasing.
You can expect fewer wrinkles and tighter skin from this device. I only used it a couple of times and already saw results. Skin feels plumper and smoother.
The quality is really impressive, from the packaging to the device and everything else included. I love how it comes with adaptors for different countries making it very versatile and easy to travel with.
Eventhough the device is pricey, it scored a 10 out of 10 for value of money, because compared to professional treatments, it's highly affordable!
Pros and Cons
Pros
Easy to use
Heats the skin fast
Only once a week treatment
Painless
Gel lasts a long time
Instant results
Cost-effective
CE & UKCA certified
Cons
Device can get heavy on the arm
Visual indicator only visible on one side
Can't use it directly below your eyes
Not yet FDA-cleared
Common FAQs
My Thoughts
Overall, I was very impressed with the CurrentBody RF Radio Frequency Device. It gives instant results in a pain-free way. It's an easy way to get rid of some wrinkles and get tighter more youthful skin!
Before buying, be sure to read the contraindications to check if the device is for you. They're written above in the FAQ section, but you can also find them on the CurrentBody website.
Unfortunately, the Radio Frequency Device is not yet available in the US. It still needs to be FDA-cleared, which they're working on. I've linked below where you can buy it in the UK.
Get 10% off your device with the code HOLLIECB
Hollie xx
UP NEXT: Is the Ziip Beauty Nano Current Skincare Device Really Worth All That Money?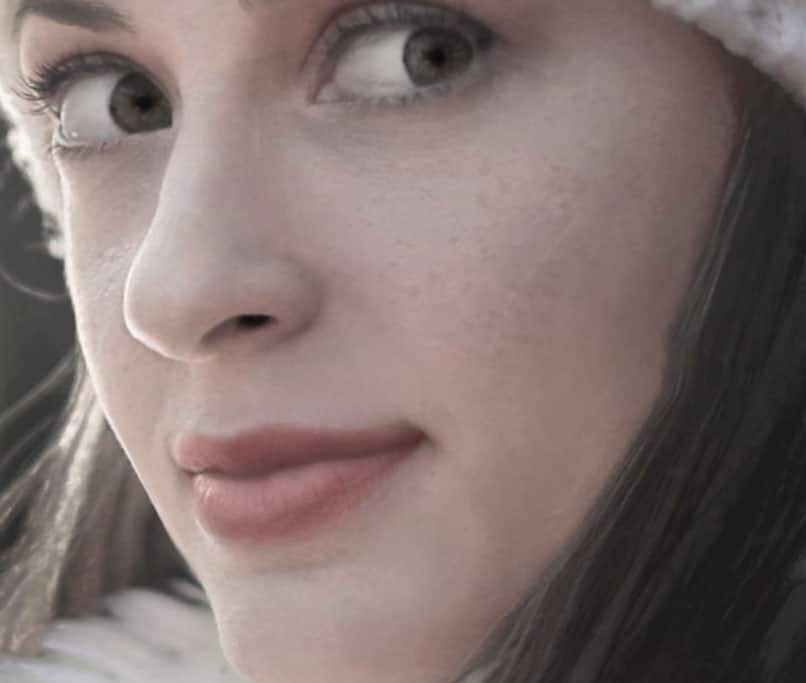 Hi, I'm Hollie, and I own BeautywithHollie.com. I love everything to do with beauty and love sharing my knowledge, advice, and beauty finds! Makeup and beauty are here to enjoy, and Beauty With Hollie is here to take the stress out of it!
---
---
Anastasia Beverly Hills bareMinerals Benefit Cosmetics Bobbi Brown CeraVe Chantecaille Charlotte Tilbury Clarins ColourPop Dermalogica Dior Dyson e.l.f. Cosmetics ELEMIS Estée Lauder Fenty Beauty First Aid Beauty Fresh Giorgio Armani Hourglass Jane Iredale L'Oreal Lancome La Roche-Posay Laura Mercier LORAC MAC Makeup Revolution Maybelline Morphe Nars Natasha Denona Neutrogena NYX Origins Peter Thomas Roth Revlon Sigma Beauty Smashbox Stila Tarte Cosmetics The Ordinary Too Faced Urban Decay YSL
---