If you love glitter products then these Magnificent Metals Glitter & Glow eyeshadows are for you! They are the best quality glitter eyeshadows that I've ever tried. They have a metallic foil finish which looks AMAZING. It was love at first sight for me! If you too love glitter I'm sure you'll quickly become a fan of the Stila Liquid Eyeshadows.
Magnificent Metals Glitter & Glow
I was a bit confused as to how many colours The Stila liquid eyeshadow has. Sephora has 13 colours, but they are the only shop that stock so many colours, so I assume that some of the colours are exclusive to them. On Stila's website, there are 10 colours. However, I was only able to get hold of 8 colours. Oddly enough most shops only stock 8 colours so these are the ones I'm going to review.
Each liquid eyeshadow comes separately. They come is a clear tube with a doe foot applicator. Stila's signature colour is gold so naturally, these liquid eyeshadows feature a gold lid with the writing also in gold. They are all really easy to apply and there is very little fallout. This is quite unique with glitter, usually, when applying a glitter product, glitter falls everywhere. I love that I can apply my foundation first and then apply my eyeshadows and glitter and it doesn't ruin my foundation:)
The Colours
The 8 colours I'm reviewing are all beautiful neutral colours. If you've been following my blog for a while then you'll know how I'm obsessed with neutral colours. They go with every outfit and they basically just enhance your natural beauty. When I saw these Stila liquid eyeshadow colours my heart did a little flip!
From L-R the colours are Bronzed Bell, Diamond Dust, Gold Goddess, Kitten Karma, Molten Midnight, Rose Gold, Smokey Storm and Smoldering Satin.
Trying Them Out
The biggest surprise I had when trying out the Magnificent Metals Glitter & Glow eyeshadows was how opaque they are. Most of the colours are fully opaque. I would never have believed it to be possible to make such opaque glitter. This is something that no other company has managed to pull off. If you don't believe me go and check it out yourselves, prepare to be amazed!
The best way to apply the liquid eyeshadows is to softly dab your eyelid with the doe foot applicator. Don't rub hard as this will cause fallout. Once you have applied the glitter with the applicator you can blend it softly with a brush. Do this quickly as there is only a small window of time until the glitter dries. Once it's dry if you try to blend the glitter there will be fallout. However, if you apply it correctly you won't have any issues. You can apply a lot for a full-on glittery eye, or if you want a more subtle look with a shimmer you can apply only a bit. These eyeshadows are very versatile.
The glitter feels incredibly light on the skin- you'll barely notice you're wearing it at all. They also stay in place the entire day.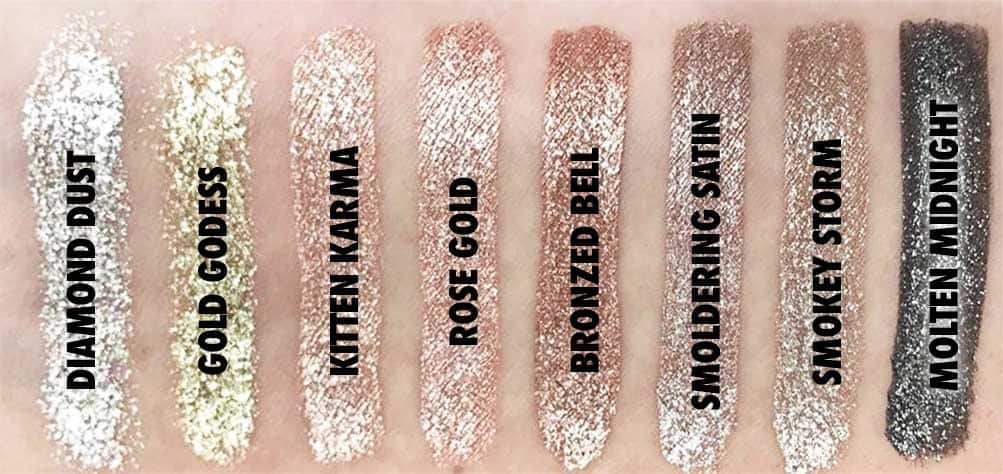 My Thoughts
The Magnificent Metals Glitter & Glow Stila Liquid Eyeshadows are worth every penny. The colours are beautiful, the application a dream, and how they stay on is simply amazing. I don't have a bad word to say about these eyeshadows. What I particularly love about the glitters is how they wash off so nicely. Usually, when you wash off glitter you can feel it scratching against your skin. These glitters are so fine that they wash off like all other makeup products. They don't irritate the skin at all! I love them and I think anyone who wants that added sparkle in their life will love these too.
I hope you have enjoyed this review on Stila Liquid Eyeshadow. If you have any questions or thoughts please leave them in the comments below:)
Magnificent Metals Glitter & Glow Liquid Eyeshadow can be bought here for £23/$24
Hollie xx
Related Posts