A tinted moisturizer is a perfect solution for the summer heat. What makes it even better is a tinted moisturizer with SPF! Your face will feel lightweight and comfortable, it will be protected from harmful rays and most importantly, it will have a gorgeous natural glow to it!
I don't think I'm alone in this but the last couple of months have really given me a lot of food for thought and adjustments to my routines. My skincare and makeup routine has been no exception to that. Makeup solutions that are easier and more comfortable have definitely been the way for me, and a good multi-use product fits the bill! There aren't many products that do that better than a tinted moisturizer! A tinted moisturizer has all the necessities of skincare and the benefits of makeup!
I've put together here the best tinted moisturizers for sensitive skin, and all these moisturizers have SPF!
Disclaimer: As an Amazon Associate I earn from qualifying purchases on Amazon and other affiliate programs. This means on some purchases, I make a commission. It doesn't mean you spend more, it simply allows me to keep this blog going!
Best Tinted Moisturizers for Sensitive Skin in 2022
Shade Range: 16 Shades
SPF Count: 20
Sunscreen type: Mineral
Active Ingredients: Titanium dioxide 5% and Zinc oxide 5%
Tint Coverage: Medium
The Pur Minerals 4-in-1 Tinted Moisturizer is your moisturizer, primer, foundation and broad-spectrum SPF all in one! If you like simple, no faff routine for your skin then this is the product you need! It will save you time and space in your cupboard.
It's an innovative formula that infuses dry sensitive skin with sodium hyaluronate and Pur's exclusive Ceretin Complex. What it does is it renews your skin elasticity guaranteed without irritation. It also contains active ingredients titanium dioxide (5%) and zinc oxide (5%) to shield your skin from harmful rays, and it evens out your complexion in the process.
It's a very lightweight, comfortable tinted moisturiser. Sensitive skin can get away with it because of its nourishing ingredients like Chamomile, Aloe Vera, Shea Butter and Vitamin E. All these help to prep you for a smooth makeup look.
The product has some fine shimmers in it, that once on the skin, reflect light and give a very dewy appearance. If you are going to work or going to be outside in the heat, you can layer a small amount of powder afterwards to avoid being too shiny (if shine isn't your thing). Even with a powder on top, it still won't irritate or weigh down on your skin!
It's an ideal solution for when your out and about in the sun. You can count on the SPF to give you enough protection from damage. You can use it alone for a one-step, ultra-natural complexion base or as a hydrating, broadspectrum sunscreen base for mineral makeup application.
Pros
4 in 1 tinted moisturizer
SPF 20
Evens complexion
Lightweight dewy finish
Hydrating and moisturising
100% cruelty-free
Vegan
Ocular tested (ensures it won't irritate eyes or interfere with contacts)
Great for dry, sensitive skin
Fragrance-free
Cons
Not so great for oily skin
Pur 4 In 1 Mineral Tinted Moisturizer SPF20 can be bought from Look Fantastic UK | Amazon
---
Shade Range: 20 shades
SPF Count: 30
Sunscreen type: Mineral
Active Ingredients: Titanium dioxide 6.2%
Tint Coverage: Medium
Created to help you do more with less, the bareMinerals Complexion Rescue Hydrating Gel Cream packs a powerful punch as a moisturiser, foundation and sunscreen. Multi-use is definitely the trend this 2022, just as being multi-functional is! 
This tinted moisturizer is an adaptive hybrid for sensitive skin. I can't even label it precisely because it's touted as a tinted moisturiser but adored as a moisturising foundation too. This mighty mineral makeup tube provides the wonderfully hydrating benefits of BB cream, CC cream and sunscreen to help your polished skin stand out. Even with just minimal makeup applied!
It's perfect for busy women and moms on the go! I mean c'mon, this tinted moisturiser is your whole makeup base routine in one! Slap this on after your skincare, and BAM! You're gorgeous and ready to move on to the day's activities.
It makes for a lovely lightweight foundation for a day at the beach. Or in the case of a lockdown, a day in your garden or lawn. Its shimmery minerals provide a sexy post-workout glow so your highlighter might go into hibernation after using it!
You'll get the benefits of natural ingredients like marine botanicals and mineral electrolytes that hydrate and boost your skin's texture. It covers up redness and blemishes without clinging on to your dry patches and, it also contains active mineral ingredients like titanium dioxide for a much-needed shield from the harmful sun rays. I can't recommend this enough. You have to try it to believe it!
Pros
Hydrating
Improves skin texture
Buildable with sheer to medium coverage
Broad-spectrum SPF
Oil-free
Vegan
Dermatologist-tested
Non-comedogenic
Hypoallergenic
Fragrance-free
Great for oily, sensitive skin to acne-prone skin
Cons
Not so great for dry skin
bareMinerals Complexion Rescue Tinted Moisturizer can be bought from Look Fantastic UK | Nordstrom
---
Shade Range: One universal sheer tint
SPF Count: 15
Sunscreen type: Chemical
Active Ingredients: Avobenzone 3.0%, Octisalate 3.0%, Octocrylene 2.7%
Tint Coverage: Sheer to Light
This multi-tasking moisturiser handles the vital jobs of hydrating, energizing and protecting to maintain your skin's momentum towards perfection. It infuses the skin with the anti-inflammatory benefits of Mangosteen. This helps those with cases like eczema, acne, and pimples so that they can find sanctuary in the Origins VitaZing moisturiser. It also adds a healthy hint of radiance that mimics the glow you get from a brutal workout with your personal trainer. All of those wonderful benefits in 10 seconds max.
Yep, that's right. Just 10 quick seconds for this lightweight, buildable moisturiser to absorb into your skin! It's refreshing, smooth, and has a tint that changes depending on your skin tone to give you a glow from within. 
It's a universal tint that does just the right job of evening out your skin tone. It's an ideal primer for those with extremely dry and dehydrated skin. This moisturiser really energizes the driest of skin so you can enjoy your days better.
Pros
Great for all skin types including dry sensitive skin to acne-prone skin
Cruelty-free
Vegetarian
Lightweight and buildable
Extremely hydrating and moisturising
Anti-inflammatory
Origins VitaZing Energy-Boosting Tinted Moisturizer can be bought from Origins / Look Fantastic UK
---
Shade Range: 7 shades
SPF Count: 15
Sunscreen type: Mineral
Active Ingredients: Titanium Dioxide 10.157%
Tint Coverage: Light to medium
This versatile three-in-one formula represents a new approach to foundation, if not your replacement for foundation! It's designed for men and women alike as a skin perfector that provides excellent, skin-smoothing coverage and sun protection.
The Chantecaille Just Skin Tinted Moisturiser is a non-irritating moisturiser for those with sensitive skins. Thanks to its blend of thyme and butterfly bush extracts, it is rich in antioxidant components with anti-pollution benefits to help your skin keep up with your hygiene, the weather, and the environment! That's one less thing to worry about in our virus-frenzied world if you ask me.
It's super hydrating for those with sensitive dry, acne-prone skin. It also layers on seamlessly with a velvety matte finish. Not only is it easy to blend, but it also has a light opaque coverage to it. You can dream of dealing with your skin problems while achieving your preferred coverage with this tinted moisturiser.
Another point to be aware of is don't be deceived by the low SPF count. It performs exceptionally well as sunscreen. It may be lower than average, but somehow it performs better than average! All thanks to the high titanium dioxide concentration and a plethora of moisturising compounds.
Pros
Buildable
Fragrance-free
Dermatologist tested
Allergy tested
Cruelty-free
Vegan
Hydrating and moisturising
Best for dry sensitive skin, to acne-prone skin
Broad-spectrum SPF
Cons
Not great for super oily skin
Limited shades
Chantecaille Just Skin Tinted Moisturiser SPF15 can be bought from Nordstrom / Look Fantastic UK
---
Shade Range: 3 shades
SPF Count: 30
Sunscreen type: Chemical
Active Ingredients: Avobenzone 3.0%, Octinoxate 7.5%, Octisalate 5.0%, Oxybenzone 4.0%
Tint Coverage: Sheer to light
This tinted moisturizer hydrates protects and repairs your skin while also inducing it with antioxidants to help fight the signs of ageing. You'll love this one if you're prone to oily skin because it's got all the right ingredients to soak that grease up. It helps the skin get hydrated for healthier-looking skin.
The Pure Ziva Anti-ageing Lightweight Tinted Moisturizer is also a chemical-based moisturising sunscreen that's a little too serious with its role of protecting you. But it's all good things. It goes on smooth, covers even slight imperfections and gives your skin a soft glow, along with the obvious sunscreen protection.
Despite the high SPF concentration for a moisturiser, it is actually very lightweight and layers up nicely. Many other moisturizers you can't wait to remove at the end of the day, but this tinted moisturiser is so light you'll forget it's even on! It evens out the complexion beautifully and doesn't stick on your blemishes' or dry patches.
Pros
Vegan
Fragrance-free
Non-comedogenic
Oil-free
Broad-spectrum SPF
Cruelty-free
Lightweight and buildable
Hydrates and moisturises
Covers up redness and blemishes
Best for oily and sensitive skin
Cons
Small tube
Only comes in three shades
Pure Ziva Anti-ageing Lightweight Tinted Moisturizer SPF 30 can be bought from Amazon
---
Shade Range: 15
SPF Count: 20
Sunscreen type: Chemical
Active Ingredients: Octinoxate 5.5% and Octisalate 3.0%
Tint Coverage: Light to Full
If you haven't fallen in love with any of the previously tinted moisturisers, perhaps Laura Mercier's award-winning, oil-free, semi-matte multi-tasker will do the job! It's the key to a healthy, no-makeup look. It has a lightweight formula that helps to control your oil breakthrough and adds a soft hint of colour to even out and enhance your skin without hiding it.
You can definitely use this in place of your foundation. It's buildable and won't patch for effortless semi-matte coverage.
The Laura Mercier Tinted Moisturizer is formulated with a power-blend of antioxidant vitamins C and E that helps protect skin from the damaging effects of the environment and enforces cell regeneration.
If you can't find your shade in its 15-range offering, you can mix two to get it right. Not ideal but trust me, this moisturiser is worth it! Smooth it on your skin and it will provide a flawless finish to your face and apply that dreamy airbrushed effect we can only dream about! 
It's packed with glycerin for uber hydrating products. I highly recommend this for people with sensitive skin because it has no fragrance, as opposed to many other tinted moisturizers. For a high-end tinted moisturizer, this product works miracles and will do your hard-earned money some justice.
Pros
Lightweight and buildable
Fragrance-free
Oil-free
Smoothes skin texture
Hides redness and blemishes
Hydrating
Broad-spectrum SPF
Best for oily sensitive skin
Large tube
Laura Mercier Oil-Free Tinted Moisturizer SPF20 can be bought from Look Fantastic UK | Nordstrom
---
Shade Range: 7
SPF Count: 15
Sunscreen type: Mineral
Active Ingredients: Titanium Dioxide 4.5%
Tint Coverage: Sheer to Light
A non-greasy, water-resistant moisturiser like the Jane Iredale Dream Tint Tinted Moisturizer may just be the answer to your prayers. In the onset of heat and humid climates, this hydrating and lightweight tint will keep your skin balanced in the middle of moody mother nature.
For dry sensitive skin, it offers a truly dreamy effect on your face. It gives a soft-focus effect that helps minimize the appearance of fine lines and enlarged pores. It contains a huge amount of nourishing oils for your parched skin. Sunflower seed oil, glycerin, radish root extracts, shea butter, jojoba oil, white tea leaf extracts, grapefruit, lavender oil, and pomegranate extracts to ensure you are drowning in moisture! (The good kind of course!) All of that to prevent trans-epidermal water loss.
I am confident in deeming this a quality product. It provides a beautifully sheer and natural finish for daily wear, and also serves as a great primer for your makeup if you want a little more coverage.
What's more, this tinted moisturiser is water-resistant for up to 40 minutes and calms heated skin. This makes it ideal for those days that you work out and the sweat is more than what your setting spray can handle!
Pros
Recommended by the Skin Cancer Foundation
Broad-spectrum SPF
Water-resistant
Hydrating and moisturising
Best for dry sensitive skin
Minimises appearance of fine lines and pores
Vegan
Fragrance-free
Jane Iredale Dream Tint Moisture Tint SPF15 can be bought from Amazon
---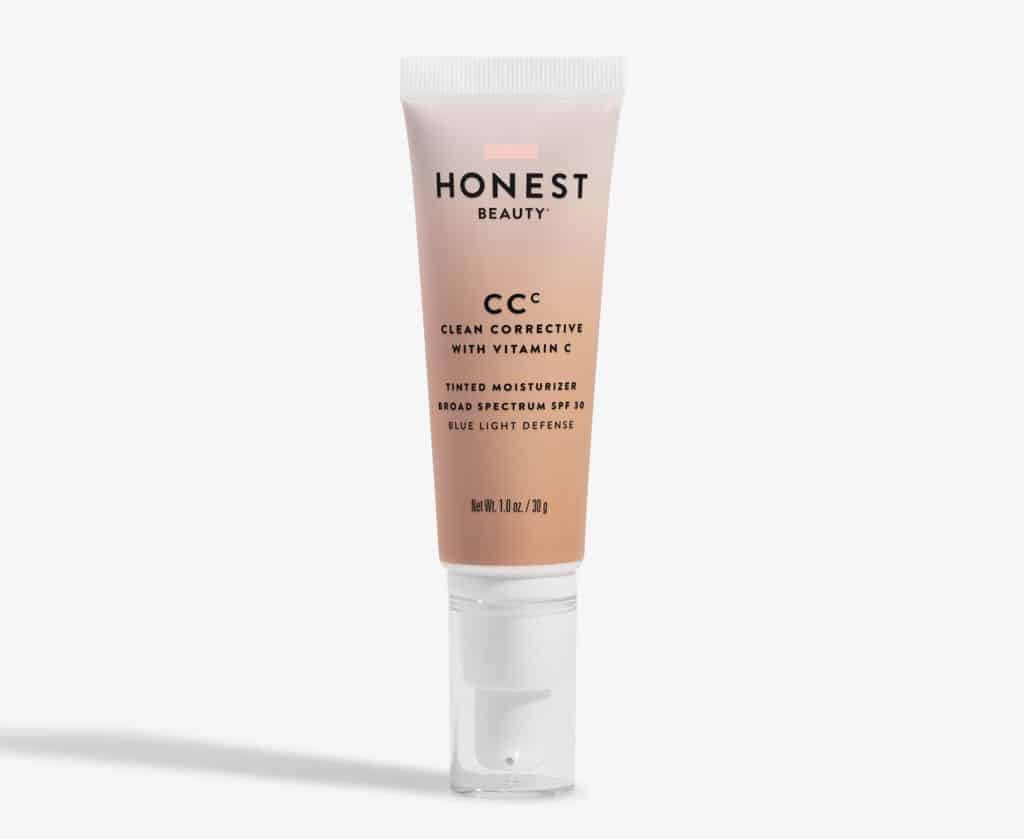 Shade Range: 4
SPF Count: 30
Sunscreen type: Mineral
Active Ingredients: Titanium Dioxide 2.4% and Zinc Oxide 13%
Tint Coverage: Sheer to Light
Why go through six steps when you can have just one? This 6-in-1 skincare-makeup hybrid primes, perfects and protects as it moisturizes, brightens and colour corrects your skin. No filter needed when you're wearing this moisturiser!
This moisturiser is formulated with vitamin C for must-have antioxidants, and a good amount of plant seed extract to boost your skin's moisture levels.
It's a light natural coverage tint that makes your skin look amazing, but not over made up. On top of the sunscreen treat, this gives you a seamless matte look. It covers up pores, and won't sink into your pores or fine lines.
The Honest Beauty Clean Corrective Tinted Moisturizer has no fragrances added, yet it still smells lovely and inviting. It's very easy to apply and it has an amazing velvet texture to boast for. You can't go wrong with this one!
Pros
Vegan
Cruelty-free
Broad-spectrum SPF
Brightens skin
Colour-correcting primer
Buildable sheer coverage
Best for dry sensitive skin
Honest Beauty Clean Corrective with Vitamin C Tinted Moisturizer SPF30 can be bought from Amazon
---
Shade Range: 6
SPF Count: 20
Sunscreen type: Chemical
Active Ingredients: Octinoxate 7% and Octisalate 3%
Tint Coverage: Sheer to light
The Neutrogena Healthy Skin Anti-Aging Perfector combines retinol, sunscreen, and moisturiser into a blendable, sheer coverage tint to give you the perfect tinted moisturizer! It's lightweight and comfortable to wear, you'll barely notice you're wearing anything at all.
It definitely focuses more on the skincare side of the multi-functionality of tinted moisturisers. The retinol treatment seeps into your skin to repair skin imperfections from the inside. It covers flaws nicely but looks very natural. It won't crease and has a nice semi-matte velvet finish. Perfect for simple, no-fuss product lovers who love some colour in their moisturiser. And by the way, the colour is really there, not in an overwhelming way, but in a way that it adds glow and life back into your face!
Pros
Broad-spectrum SPF
Lightweight
Reduces appearance of fine lines
Retinol treatment
Works for dry sensitive skin to combination
Cons
Limited non-inclusive shade range
Neutrogena Healthy Skin Anti-Aging Perfector with SPF20 can be bought from Amazon
---
Shade Range: 9
SPF Count: 15
Sunscreen type: Chemical
Active Ingredients: Octinoxate 7.50% and Titanium Dioxide 3.00%
Tint Coverage: Light
This moisturizer will give you skin that looks like skin, but softer, smoother and with a natural radiant! The Bobbi Brown Nude Finish Tinted Moisturizer is your ultimate nude look. It's a lightweight, creamy moisturizer that invisibly covers redness and unevenness.
It infuses your skin with refreshing, sustained hydration and moisture. This sheer and ultra-light formula provides just enough coverage to make skin look like its best kind of nude (that means freckles show through, but redness and unevenness disappear!). 
If light coverage won't do it for you, you should know that it's really easy to build up this moisturizer! Add 2 layers and you still won't feel a thing, yes, it's that amazing! Makeup and skincare just can't be easier with this tinted moisturiser.
Pros
Broad-spectrum SPF
Lightweight and buildable
Extremely moisturising
Vegan
Best for dry sensitive skin to normal skin
Evens complexion and smoothes skin texture
Bobbi Brown Nude Finish Tinted Moisturizer SPF 15 can be bought from Look Fantastic | Amazon
---
How To Incorporate Tinted Moisturizers in Your Makeup Routine
Tinted moisturisers are no tricky product to use even if they come in multi-use benefits! You can actually wear your best-tinted moisturiser all on its own, or you can use it as a replacement for one or more products in your makeup and skincare routine.
To get a feel of what you can do with your tinted moisturiser, follow the fool-proof steps below.
Moisturise
You can choose to use your tinted moisturiser or your regular moisturiser. But for humid days in general, it's best to have a go at your tinted moisturiser directly. These products offer just the right amount of hydration and moisture your skin needs for cold weather.
Apply your regular moisturiser first on days when you know your tinted one may need a little help. Just make sure to let it sink completely into your skin before applying your tinted moisturiser. This makes the layering process smooth and streak-free.
Apply Your Tinted Moisturiser
And just like that, the second step already is to use your tinted moisturiser! Apply a small amount of your tinted moisturiser onto your face like you would a foundation.
You can apply it as it is, or for a more seamless finish, you can actually mix a bit of your face serum with the tinted moisturiser. This will ensure that you get a naturally textured finish.
Coverage
Need more coverage? Not a problem! Try to layer out your tinted moisturiser for more coverage, while letting it sit for a few moments in between layers. Most tinted moisturisers will give you a considerably beautiful medium-coverage finish, and if it's still not up to par, simply cover it up with concealer until you reach your desired look. Finish up with some setting powder and spray and you're all done with your makeup base! No thick and heavy foundations here and you get a picture-perfect look!
Final Thoughts
Tinted moisturizers give you the best of all worlds, natural-looking skin, breathable skin, high coverage and comfort. These tinted moisturisers are all ideal for sensitive skin and ideal for all seasons due to their cleverly added SPF. Which of these tinted moisturizers are your favourites and why? Let me know in the comment section below:)
Hollie xx
---
---
Anastasia Beverly Hills Bare Minerals Barry M Benefit Cosmetics Bobbi Brown Chantecaille Charlotte Tilbury Clarins ColourPop Dior Drunk Elephant ELEMIS Elf Cosmetics Estée Lauder Fenty Beauty First Aid Beauty Fresh Giorgi Armani Hourglass Huda Beauty Jane Iredale L'Oreal lancome La Roche-Posay Laura Mercier MAC Makeup Revolution Maybelline Molton Brown Morphe Murad Nars Natasha Denona Neutrogena NYX Origins Peter Thomas Roth Revlon Sigma Beauty Smashbox Stila Tarte Cosmetics Too Faced Urban Decay YSL
---