Having dry skin is highly uncomfortable and can be irritating at times. It also has a ripple effect on the makeup you wear. Your makeup can't look flawless if your skin is flaky and cracking underneath. Treating your dry skin properly will eliminate your problems and one of the best ways to do so is with your moisturizer. With the right moisturizer, you can say goodbye to dry skin. Here I have put together the best moisturisers for dry skin in 2022. Happy shopping!
The moisturizer market is huge and that makes finding the right one for you quite the challenge. You can narrow down the choice by knowing what result you are trying to achieve. You can get moisturizers for dry skin that hydrate the skin, help with anti-ageing, reduce pores or brighten the skin. These are just a few but knowing exactly what you are looking for will make that search easier.
Disclaimer: As an Amazon Associate I earn from qualifying purchases on Amazon and other affiliate programs. This means on some purchases, I make a commission. It doesn't mean you spend more, it simply allows me to keep this blog going!
The Best Moisturizers For Dry Skin
Best ingredients for dry skin
When buying a moisturizer for dry skin it is best to buy fragrance-free. Fragrance-free products are generally better for your skin. The best moisturizers for dry skin will have at least one of these ingredients:
Botanical extracts
Hyaluronic acid
Ceramides
Glycerin
Antioxidants
Aquaporins
Plant butter and oils
The best time to apply moisturizer
A common mistake with applying moisturiser is to apply it on dry skin. It is actually a lot better for your skin to apply moisturiser right after cleansing or washing your face whilst your skin is still damp. Your moisturizer will be much more effective if it has some moisture to cling to.
Never apply your moisturizer to dirty skin, always cleanse first. I recommend after cleansing to apply a thin layer of moisturiser because cleansing strips the skin of some of its natural oils.
Use moisturiser in the morning when you wake up and in the evening before you go to bed. Moisturising should always be the last step in your skincare routine in order to get the maximum benefit.
A common misconception…
If you have oily skin you don't need to moisturise
True or false?
False, false, and false.
But how many of you are guilty of thinking those exact thoughts at some point? I know I used to be guilty of thinking that. I didn't moisturise for years because of it.
If you have oily skin, you still need to look after your skin and keep it soft and healthy. You just have to find the right moisturizer for you that won't increase the oil production. That will be an article for another time. Now it's all about dry skin.
Best Moisturisers for Dry Skin in 2022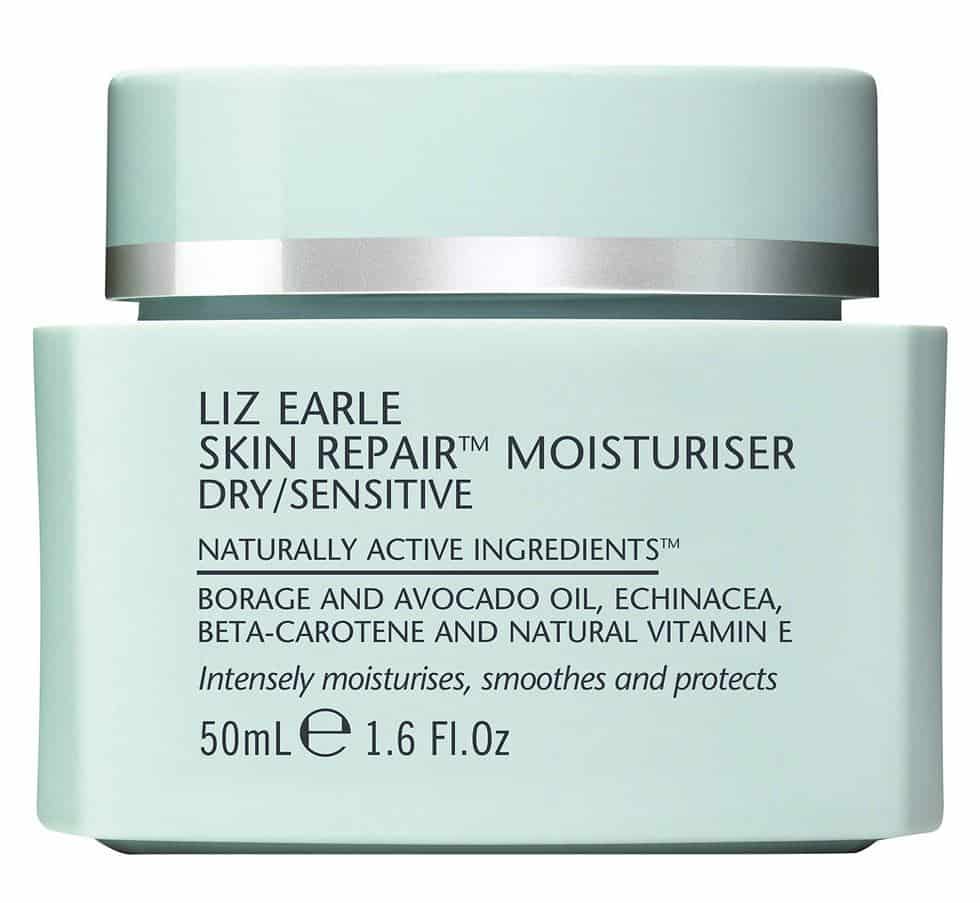 This is a natural-sourced moisturiser. Enriched with avocado and borage oils to protect against dryness, as well as Vitamin E which is a great antioxidant, Liz Earle Skin Repair Moisturiser is the perfect moisturiser for dry skin.
It does wonders with dry and flakey skin, after using it for a while you won't believe that you once had dry skin.
The moisturiser isn't scent-free, it has a natural smell, not a perfume one. One of it's best selling points is that it doesn't clog pores and it doesn't cause breakouts. It leaves the skin feeling really soft and smooth, perfect for anyone with dry skin!
Pros
Lightweight
Natural ingredients
Very moisturizing
Absorbs quickly
Cons
A tube is more hygienic
Liz Earle Skin Repair Moisturiser can be bought from Amazon
---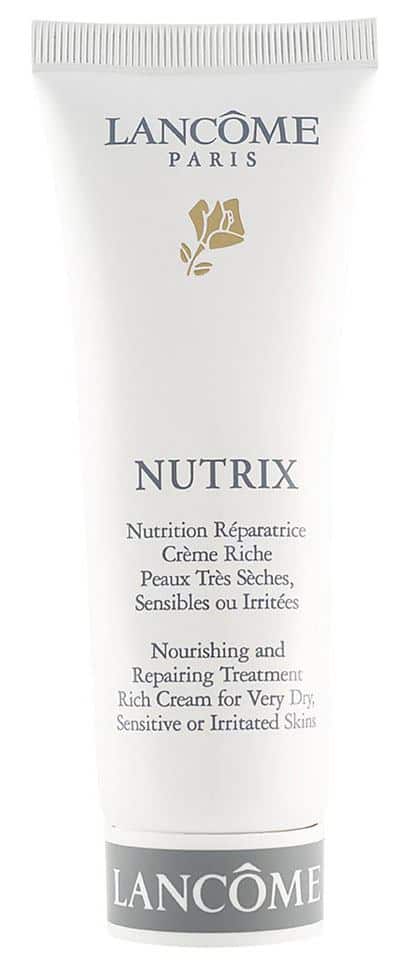 This cream was made in the 1930s and is still on the market, to me, that says it's an awesome product and must work!
The Lancome Nutrix Tube is made for dry to very dry skin. And if you've tried Lancome skincare before then you probably know they are reliable and usually, work as they should.
If you have dry, sensitive or irritated skin this moisturiser will do magic for you. You can actually use it anywhere on the body and your dry patches and irritation should clear up in no time.
I don't recommend it if you suffer from allergies because it is not a natural moisturizer and it has ingredients that can cause reactions. However, if you don't suffer from allergies, this may be the moisturiser for you.
The moisturizer has a very thick texture if you have never used a thick cream before then this can take some time to get used to it. Don't get put off by this, it's the thick creams that are the most effective on dry skin.
Overall, it's a really great moisturiser, it repairs, softens and smooths the skin. It helps with very dry skin as well as skin problems like eczema.
Pros
Very moisturising
Good for sensitive skin
A little goes a long way
Lancome Nutrix Tube can be bought from Look Fantastic UK
---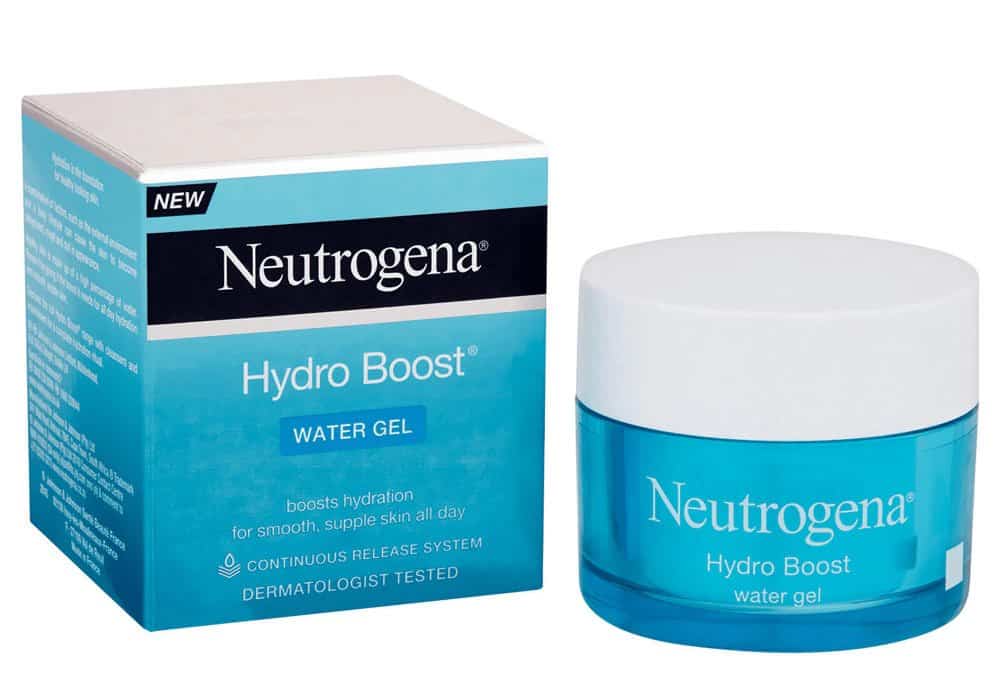 The Neutrogena Hydro Boost Water Gel Moisturizer is probably the best selling budget moisturiser on the market.
It contains a unique formula called Hyaluronic Gel Matrix. Hyaluronic acid is an ingredient often found in products for dry skin. This is because it helps to retain moisture in your skin. The Hyaluronic Gel Matrix locks in the moisture and throughout the day continuously releases it. This keeps your skin soft and fresh the whole day. This is perfect for those with dry skin, you will no longer have to worry about your skin getting patchy as the day goes on.
Neutrogena Hydro Boost Water Gel Moisturiser has an oil-free formula- it is water-based. It can also be used as a primer for under your makeup.
Get ready for your skin to be instantly refreshed with this moisturiser.
Pros
Lightweight
Suitable for sensitive skin
Affordable
Water-based
Cons
A tube is more hygienic
Neutrogena Hydro Boost Water Gel Moisturiser can be bought from Amazon
---
Formulated for dry skin, it has the perfect balance of moisturising your skin to the fullest without bothering you. It is extremely lightweight and it doesn't leave any oily feeling on the skin.
Using an organic ingredient called medicinal kalanchoe extract, increases the production of hyaluronic acid in the skin which helps to keep your skin soft and hydrated.
It also has the ingredient beautyberry in it. Beautyberry helps with inflammation, a key ingredient to help settle your skin.
What I love in particular is the texture, it is soft and smooth and totally delightful on the skin. It is not at all greasy, although it is rather runny which can be hard to get a grip of. Like many moisturisers, I wish they would be in a tube instead, it's a neater and more hygienic option.
This moisturiser will solve any dry patches, tightness or irritation on the skin. It is the holy grail moisturiser for many.
Pros
Suitable for those with very dry skin
Smooth texture
Will soften any skin
Cons
A tube is more hygienic
Clarins Hydra-Essentiel Rich Cream can be bought from Amazon
---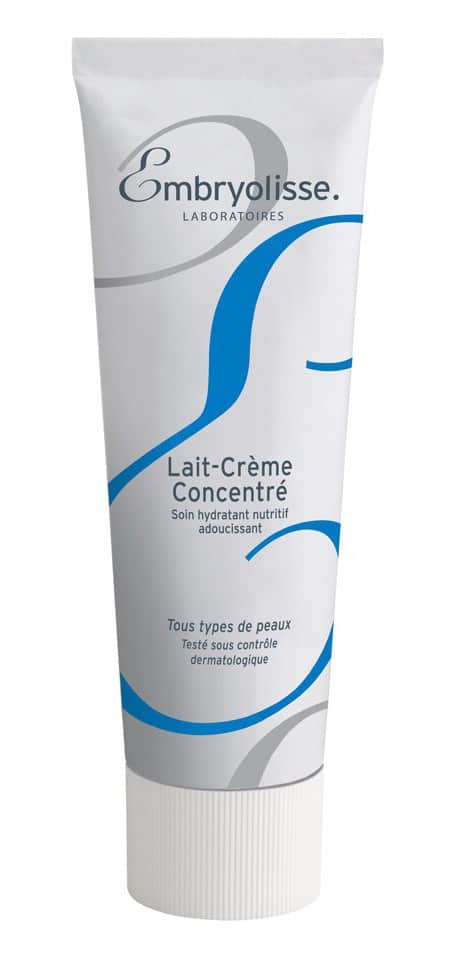 I honestly have no idea what the right pronunciation of this moisturizer is, any French skills that I gained in school I left there! However, even without knowing how to pronounce the name right, I can still tell you that this moisturizer is a cut above any others.
It is sold for all skin types. However, due to its rich texture, we think it belongs here too. It does miracles for dry and hydrated skin.
The Embryolisse Lait-Creme Concentre is a triple in one product. It is a moisturizer for day and night, a makeup remover and a primer. It also says you can use it as a baby-care product or as a repairing mask. Basically, it does a lot.
Usually, I am quite sceptical of products multitasking. I often find it means it doesn't do anything properly. However, I am always happy to be proven wrong as I am in this case. It does all it says and really well too.
Made from natural ingredients including fatty acids and vitamins, it's got all the good that your skin needs. It has a thick creamy texture which can take a few minutes to dry. You only need to use it a little at a time because of its rich texture so it will last you a long time.
You can't really go wrong with this moisturiser, and to add to its awesomeness it's really affordable too.
It's perfect for anyone who doesn't like to have a lot of products, those short on space and for those who travel. This little bottle has half your skincare routine in it, and a little goes a long way.
Embryolisse Lait-Crème Concentré comes in two sizes, 75ml and 30ml. Read my full review here.
Pros
Affordable
Excellent value for money
Doubles up as a primer and makeup remover
Natural ingredients
Suitable for sensitive skin
Cons
The initial smell is quite strong, although it does wear off
Embryolisse Lait-Crème Concentré can be bought from Amazon
---
One of my favourite features is that the First Aid Beauty Ultra Repair Cream comes in a tub and a tube. That way you can choose the one you prefer. Not that I understand how anyone prefers a tub, if that's you please let me know why in the comments below. I'm genuinely curious. I find tubs messy and unhygienic with dipping your fingers in and all.
Now that I've ranted, onto the cream…
To put it simply, the cream is lovely. With its cheap price, you would think it would be no good. Not the case. Designed to hydrate and moisturise itchy and dry skin, it does exactly that. It's been allergy-tested so you can use it on the most sensitive of skin too.
It is really lightweight and gets absorbed in the skin really fast. You can use it anywhere on your body, it will tackle all the dryness.
It's made from lovely, good for you ingredients, like shea butter eucalyptus, oatmeal and ceramides. With this cream, you will get immediate comfort from any irritation and dryness and it will continue nourishing your skin throughout the day.
First Aid Beauty Ultra Repair Cream is really like first aid for your skin. It will heal it in no time.
It is safe for sensitive skin and free from any harsh chemicals and parabens.
Pros
Lightweight
Good value for money
Suitable for sensitive skin
Cons
Faint smell, although it fades quickly
First Aid Beauty Ultra Repair Cream can be bought from Look Fantastic UK / Sephora
---
If you haven't heard of the brand Drunk Elephant, I highly recommend checking them out. Formed in 2014 they're a relatively new brand and their products are pretty impressive.
What's unique about the Lala Retro Whipped Cream? The texture is thick and heavy, however, when you wear it, it doesn't feel heavy or greasy. It has the perfect balance of being extremely hydrating whilst at the same time extremely comfortable. It's perfect for those will dry and irritated skin. It will solve all of your problems.
With a blend of 6 African oils, it locks in your moisture for hours at a time. It has green tea in which is a key ingredient in fighting to age. The formula is fragrance-free which is always a plus for dry skin.
Drunk Elephant Lala Retro Whipped Cream is free from any silicones and other harsh chemicals.
Pros
Suitable for sensitive skin
Cruelty-free
Not greasy
Fragrance-free
Drunk Elephant Lala Retro Whipped Cream can be bought from Amazon
---
My Thoughts
Sometimes finding the right beauty products can feel like finding a needle in a haystack. Everyone reacts differently to each product. I hope this guide on the best moisturizers in 2022 has helped you narrow down your search.
Word of caution: don't forget when trying out a new moisturizer to always do a patch test first to make sure you don't react badly do it.
Let me know your favourite moisturiser in the comments below! Looking forward to hearing from you:)
Hollie xx
---
---
Anastasia Beverly Hills Bare Minerals Barry M Benefit Cosmetics Bobbi Brown Chantecaille Charlotte Tilbury Clarins ColourPop Dior Dyson ELEMIS Elf Cosmetics Estée Lauder Fenty Beauty First Aid Beauty Fresh Hourglass Huda Beauty Jane Iredale L'Oreal lancome La Roche-Posay Laura Mercier LORAC MAC Makeup Revolution Maybelline Molton Brown Morphe Murad Nars Natasha Denona Neutrogena NYX Origins Peter Thomas Roth Revlon Sigma Beauty Smashbox Stila Tarte Cosmetics Too Faced Urban Decay YSL
---