10 Best Facial Cleansers for Sensitive Skin in 2023
Redness, rashes and acne-prone skin are tough to handle, especially for those with sensitive skin! When you have sensitive skin, choosing the correct products can be difficult and frustrating.
In the past three decades, there are reports of an increase in sensitive skin for both men and women.
While we won't go into the causes of that now, we will help you keep your sensitive skin at bay. We've put together the 10 best facial cleansers for sensitive skin in 2023!
On this list, we bring a variety of both well-known and up-and-coming brands to expand your knowledge of skincare. To mention a few we have Fresh, Paula's Choice and KraveBeauty on the list.
These are brands that promote safe and sensitive-friendly products, so if you're not already familiar with them, I highly recommend checking them out.
I have added a guide to choosing the right cleanser for your skin at the end of the article. You can check it out here!
---
Disclaimer: As an Amazon Associate I earn from qualifying purchases on Amazon and other affiliate programs. This means on some purchases, I make a commission. It doesn't mean you spend more, it simply allows me to keep this blog going!
Cetaphil Gentle Skin Cleanser is one of the bestselling facial cleansers for sensitive skin. Why? It's simple and effective. Even dermatologists recommend this cleanser for people with sensitive skin!
It has a wonderful formula that is both hydrating and cleansing. It is gentle on the skin and deeply cleanses the dirt that accumulates during the day.
You may notice it has ingredients such as sodium lauryl sulfate. In Cetaphil's case, the sodium lauryl sulfate (SLS) that it contains is such a minute amount that it won't do any stripping or cause any other damage.
Its concentration is not high enough to irritate your skin, and this cleanser will still work great for you!
What I love about this cleanser is that it's straightforward, and it does its job entirely. Additionally, it won't hurt your wallet! Who doesn't love a bargain?
Cetaphil is one of those products that you know you can trust in your skincare regime. It is both non-comedogenic and non-irritating to the skin.
Since we're all about simplifying, this cleanser is a great starting kit for everyone — even if you need a reset from using too many products in your skincare routine.
Cetaphil Gentle Skin Cleanser can be bought from Amazon
---
We're continuing with products that are no-frills! Up next is the CeraVe Hydrating Facial Cleanser.
This cleanser has a unique texture, almost like you're putting on a moisturizer, it's gentle and smooth as you rub it on your face.
It is also fragrance-free which we know is a must for sensitive skin! This cleanser is not stripping on the face but will still cleanse the dirt away from your face. It will leave your skin clean and nourished.
Its ingredients include ceramides which act as glue to hold the skin cells together and protect them against environmental factors. There is also hyaluronic acid which hydrates and nourishes.
You will love the affordability and simplicity of the CeraVe Hydrating Facial Cleanser. As mentioned before, often the most basic skincare products are the most effective, especially for sensitive skin.
If you're worried about the ingredients, compared to Cetaphil, this doesn't have SLS, which is also a plus! Another advantage that the CeaVe cleanser has is that it's extremely hydrating and ideal for dry skin.
CeraVe Hydrating Facial Cleanser can be bought from Amazon
---
Dermatologist-approved and gentle ingredients are two things that SkinCeuticals stands by when it comes to its skincare products.
They take skincare to the next level with their extensive research on ingredients that will not be harsh on the skin.
The SkinCeuticals Gentle Cleanser is everything! Appropriately formulated for sensitive skin with potent and gentle cleansing properties.
It has extracts of Orange Oil which has wonderful anti-bacterial property, that also calms and soothes the skin. It is also formulated with Glycerin which moisturizes and protects your skin.
You can use this daily or multiple times a day, to remove impurities and dirt built up on your skin. It won't leave your skin dry, your skin will be left feeling hydrated, clean and fresh throughout the day!
It is recommended for sensitive skin and not only that but if you've just had a procedure, The SkinCeuticals Gentle Cleanser is the one you need!
It may be a little on the more expensive side, but honestly, it's worth every penny!
SkinCeuticals Gentle Cleanser can be bought from Dermstore
---
Along the lines of CeraVe and Cetaphil, the Vanicream Gentle Facial Cleanser is another great basic cleanser for sensitive skin that is very affordable.
If you're steering completely clear of sulfates, this facial cleanser is ideal for you.
Formulated to cater to sensitive skin, dermatologists recommend Vanicream to people who suffer from rosacea, eczema and skin allergies.
Manhattan dermatologist Dendy Englemen says, "Its gentle formula provides thorough cleansing without the worry of irritation or skin reactions that many traditional cleansers can cause."
It checks all the boxes when it comes to the right ingredients, as we previously mentioned. It is free of any fragrance and parabens, which both tend to be a major cause of irritants to the skin.
It will cleanse your face without any irritating or drying feeling. Unlike other cleansers that don't dissolve makeup, the Vanicream Cleanser effectively removes all makeup and congestion on the skin.
You will love how simple this is to add to your daily skincare routine. Not only will your skin love this cleanser, but your bank account will too!

Vanicream Gentle Facial Cleanser can be bought from Amazon
---
Looking for a toner for your sensitive skin? Check out my review on the best toners for sensitive skin!
Indie Lee is a 'clean' skincare brand that was founded by, you guessed it, Indie Lee, and she has a beautiful story. She has a unique lifestyle where she grows her own produce which is all organic and wholesome.
Back in 2009, she was diagnosed with a rare brain tumour. And when she asked her doctor what could have caused it, her doctor's immediate reply was "What do you put on your skin?"
That's when she made it a mission to create a brand that is guaranteed to nourish and be safe for everyone's skincare needs.
The Indie Lee Rosehip Cleanser has some lovely ingredients with its key ingredient being Rosehip Seed Oil. This helps to calm redness, including for those who suffer from rosacea.
It also contains Red Seaweed extracts and Vitamins A, C and E. These ingredients leave skin calm, nourished and protected.
This cleanser has a gentle formulation that will leave your skin cleansed and moisturized. It's perfect for sensitive skin as the ingredients are all gentle and natural.
Great for both day and night, it cleanses your skin and rinses away makeup that you wore throughout the day. Using it in the morning is one of the best ways to start your day!
Indie Lee Rosehip Cleanser can be bought from Amazon
---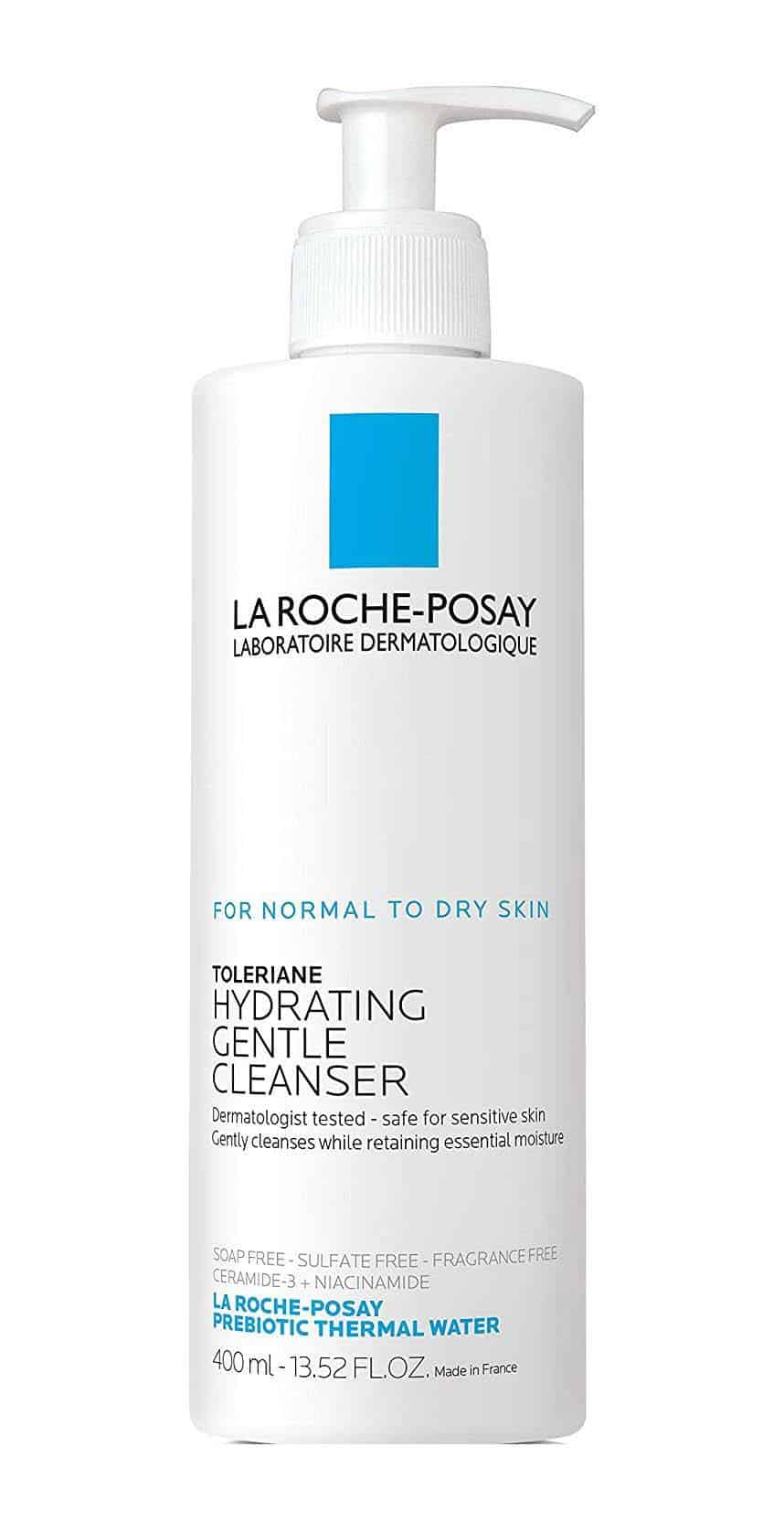 La Roche-Posay is a French brand that has been around for a long time, and many of you are probably familiar with it.
Known for using thermal spring water as one of the base ingredients in their products, they have won several awards for many of their products.
They work with dermatologists and test on people who are allergy-prone to ensure that their products are sensitive-free. "In our tradition of partnering with dermatologists, many La Roche-Posay products have been designed to help improve the quality of life of patients with skin conditions known to have a strong physical and emotional impact: extreme skin dryness, acne, visible facial redness etc." as said on the La Roche-Posay website.
The consistency of La Roche-Posay Toleriane Hydrating Gentle Cleanser is lovely, it's creamy, milky and feels super gentle. It contains glycerin which helps hydrate, as well as Ceramide-3, which creates skin barriers to keep the skin hydrated.
The cleanser is free of all the bad stuff including oil, sulphates, parabens and soap.
It removes all heavy makeup super easily in barely and really quickly too!
La Roche-Posay Toleriane Hydrating Gentle Cleanser can be bought from Amazon
---
Adding colour with your moisturiser is one of the best time-saving tricks in makeup and skincare. Check out my review on the best-tinted moisturisers for sensitive skin here!
If you're suffering from extra-sensitive skin, the Fresh Soy Face Cleanser will work wonders for you and is one of my personal favorite cleansers! Fresh is a brand that claims to have potent-natural ingredients with respect to beauty traditions.
It started with a bar of soap and became a global brand of lifestyle products throughout the years. And with that, they grew a cult following because of their natural ingredients and elegant packaging.
One of their best-selling products is the Fresh Soy Face cleanser which is gentle, nourishing and moisturizing! I know it's a mouthful to say, but I guarantee it will keep your face feeling fresh and clean.
With a light gel texture that you apply on your face, it will gently cleanse any dirt and grime that your skin has accumulated throughout the day. It doesn't irritate the skin, and you'll barely feel it on your eyes either. It's super gentle and non-irritating!
Enriched with Amino Acid-Rich Soy protein, it helps keep your skin resilient and maintain its elasticity and suppleness. It also has cucumber and rosewater that aids in soothing the skin and helps calm and balance pH levels.
Although it's on the pricier side, you are getting good value for money because this cleanser is practically perfect in every way!
Fresh Soy Face Cleanser can be bought from Amazon | Ulta
---
First Aid Beauty is another skincare brand that offers sensitive-skin-friendly products from its cleansers to moisturizers.
They have also grown a large following over the years because of their no-nonsense products that are reliable and effective.
It's really all in the name- their products are first aid for your skin! Their products are also generally safe and formulated for people with skin conditions.
The First Aid Beauty Face Cleanser contains aloe, glycerin and allantoin that help to hydrate and smooth the skin's appearance.
The cleanser also helps to soothe inflammation on your skin. It is also free of common irritants such as fragrances, parabens and sulfates.
Rest assured that this cleanser has also been allergy-tested and safe for anyone with sensitive skin. Although, it's not quite as gentle on the eye area as the Fresh cleanser. I try not to use it on my eye area, but my eyes are extremely sensitive.
Also, it has a slight scent that isn't too pleasant, but after washing the cleanser off, the smell goes with it.
Unlike the drugstore options, this is on the pricier side. But you get the true quality that helps inflamed skin get back to what it should be!
First Aid Beauty Face Cleanser can be bought from Amazon | Ulta
---
Get the best care for your sensitive skin with these top-rated eye makeup removers for sensitive skin!
Paula's Choice is a brand that's known for its simple yet effective products. Their philosophy is "Smart, Safe Beauty". The formulation of their products is backed by scientific research with respect to their consumers.
They also believe in not using ingredients that will cause harm to the skin, especially for people with sensitive skin.
Paula's Choice Defense Hydrating Gel-to-Cream Cleanser is non-irritating and fragrance-free. When you are cleansing, it reinforces and builds a barrier on your skin. It has a milky emulsion that softens and gently cleanses your skin.
When you pump it at first, it comes out as a gel, and when you rub it between your fingers, it turns into a milky texture that is hydrating to your skin as well. You will feel clean without feeling any tightness!
Paula's Choice Defense Hydrating Gel-to-Cream Cleanser can be bought from Paula's Choice | Nordstrom
---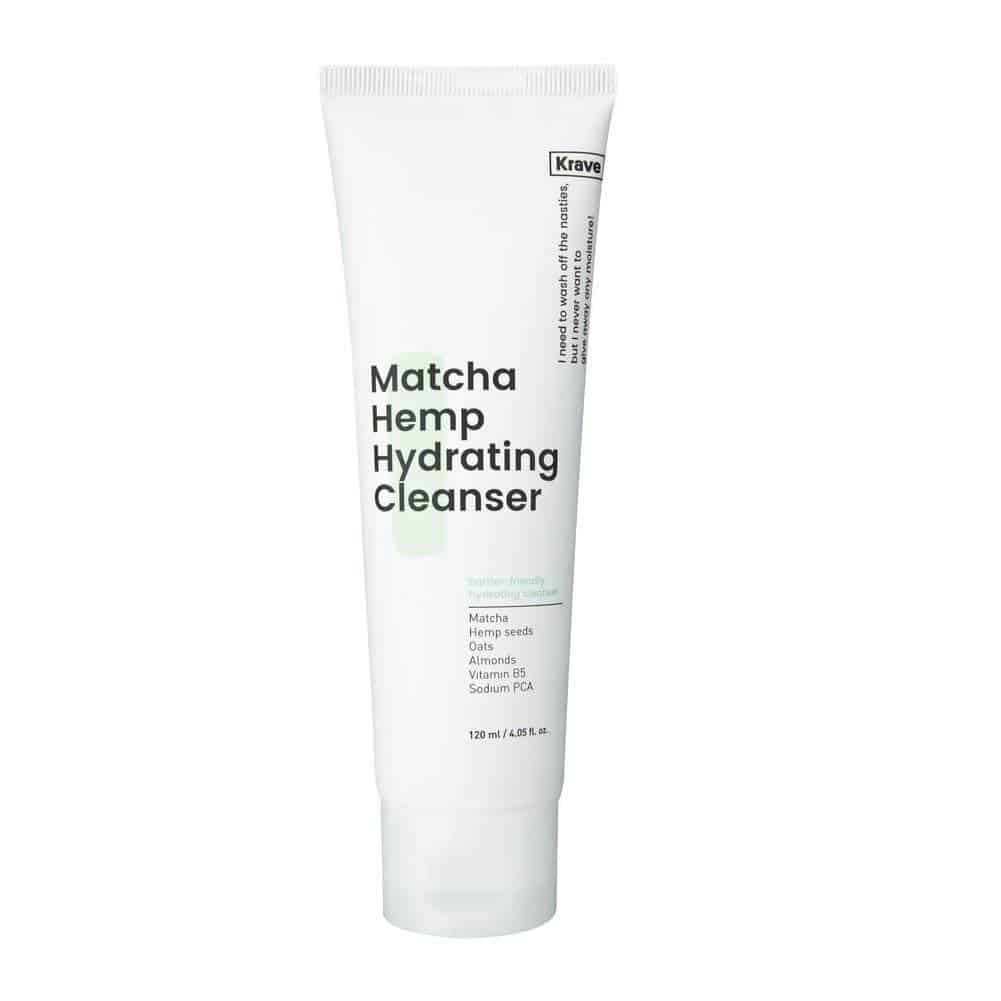 KraveBeauty is relatively new on the market and it was founded by beauty influencer, Liah Yoo.
KraveBeauty is described as "a skincare company that believes in the power of simplicity by urging you to step back, press reset, and listen to your skin's true needs."
They also promote their products as 'skin-respecting formulas' which means they make their products according to what your skin needs.
The Krave Beauty Matcha Hemp Hydrating Cleanser uses Matcha as one of its key ingredients.
If you're already familiar with the benefits of matcha or green tea, you may know that it has a ton of benefits for our skin, including being an excellent anti-oxidant.
There is also hemp seed oil which is a natural antibacterial property that will relieve inflamed skin conditions. We also talked about harsh surfactants, and with this cleanser, they replaced the bad surfactants with a better and mild cleansing agent.
This is another cleanser that I really enjoyed using, it's gentle, cleans the skin well and removes makeup all without irritating the skin.
Read my full review on Krave Beauty here!
Krave Beauty Matcha Hemp Hydrating Cleanser can be bought from Stylevana
---
What is Sensitive Skin?
Sensitive skin tends to be skin that is easily stimulated. This means that the skin reacts faster and quicker than skin that isn't sensitive.
It all depends on factors such as seasons, products and even hormonal fluctuations. If you notice your skin getting flaky, dry and tight, with rashes and acne, then you are probably suffering from sensitive skin.
With that said, we all tend to have sensitive skin at some point in our lives. However, some people have actual skin conditions such as contact dermatitis and rosacea. Those who are genetically sensitive will always have an extra sensitivity to their skin.
Factors affecting your skin
Unlike oily and dry skin types, often sensitive skin can be something that develops over the years.
Skin Conditions – it is easy to see if you have sensitive skin, especially if your face reacts to a lot of products. It is important to take note that sometimes you may have an underlying skin condition. On a study on sensitive skin, doctors say that "Ongoing sensitivity may indicate that you're dealing with an underlying condition like eczema (also known as atopic dermatitis, which can cause dry, itchy, inflamed skin), rosacea (characterized by red skin, swelling, and visible blood vessels), psoriasis (patches of scaly, dry skin and rashes), or contact dermatitis (rashes triggered by contact with irritants or allergens."
Seasonal Changes – the drastic changes in temperature plays a big part in our skin. During winter, with the extreme drop in temperature and humidity, our skin needs to cope with drier weather, which of course makes our skin drier. While in the summer, it is hotter and more humid, our skin feels heavier as grease and oil clog up the pores. These changes can cause fluctuations in the skin that will affect its functions.
Products and Ingredients – what you put in your face is extremely important. Certain ingredients can irritate the skin. Over the years, you have probably been trial and testing what's best for your skin, but that can be the reason why your skin got sensitized, to begin with. Overdoing skin care can lead to more sensitive skin that's why it's good to simplify your skincare regime.
What Is Cleansing?

Cleansing is one of the primary and essential steps in your skincare routine. It removes the dirt and grime that accumulates throughout the day. For sensitive skin, it is better if you do not over-cleanse.
Melissa Piliang, who specializes in dermatopathology at Cleveland Clinic, tells in an article on SELF on what over-cleansing does, "Think about it like butter on a knife. If you put it under cold water, that fat on the knife doesn't go anywhere. But if you put it under warm water, those lipids will melt away. It's the same kind of issue with the lipid layer in our skin. If you put your skin in hot water or you use harsh soaps, then it tends to wash that outer protective fatty layer away."
Cleanse once or twice a day at most in order to prevent any further stripping of the natural oils on your face.
Different Types
There are three main types of cleansers you'll see on the market; gel, milky/cream and foam cleansers. Opt for gel-based or milky cleansers instead of foam cleansers as they tend to strip your natural oils and can be irritating to your skin.
How To Cleanse Your Face Properly?
When you cleanse your face, be sure to rub your face gently, also never use hot water. We are all guilty of occasionally taking showers that are too hot, especially in the winter but this also affects the sensitivity of our skin.
How To Choose The Right One?
Looking at the ingredients on a cleanser more often than not sounds like a double-dutch. With their complicated names, it's hard to know how to pronounce them, never mind understanding what they actually do.
Mentioned below are a few of the ingredients that you should avoid if you have sensitive skin because they tend to be harsher on the skin.
Harsh Surfactants
Sodium Lauryl Sulfate is an ingredient found in most commercial products from soaps to shampoos. It is the most effective surfactant which dissolves everything from oils, dirt and grime BUT since it strips away almost everything, it also includes stripping the good oils in your skin.
Here are gentle alternatives for surfactants: Cocoyl, Lauroyl Sarcosinate, Cocamidopropyl Betaine, Glucossles and Succinates
High Percent of Active Ingredients
Sensitive skin is a lot more raw and vulnerable, therefore avoid too many active ingredients because they can cause more damage than good. Below are a few:
Vitamin A, Retinol, Vitamin C (Ascorbic Acid), Other Vitamin C Derivatives, AHA / BHA, Benzoyl Peroxides, Enzyme Peel
Fragrance and Essential Oils
If you have been following Beauty with Hollie for a while then you will be familiar with fragrances not being sensitive-skin-friendly. Not only that but fragrances are also the number one cause of skin irritations, allergic reactions and skin dermatitis.
Steer clear of oxidized essential oils as well, as they release a toxic compound that may not be beneficial to your skin. Below are a few to avoid:
Tea Tree Oil Clove Cinnamon
Lavender Citrus Orange Peel
Lemon Peel Geranium Bergamot
Ylang Ylang Peppermint
Drying Alcohols
Steer clear of drying alcohols such as ethanol. According to a study by Paula's Choice Research Team "Alcohol harms your skin's protective surface, depletes vital substances needed for healthy skin, and makes oily skin worse.
To put it simply, it's pro-ageing. Given the hundreds of skin-friendly alternatives that are available, it's a no-brainer to abstain from products front-loaded with the skin-damaging forms of alcohol."
Preservatives
Another ingredient that you should steer clear of is Paraben. It is linked to causing breast cancer and reproductive issues because Parabens disturb hormone function by imitating oestrogen.
When there is an increase in oestrogen, it also increases breast cell division and the growth of tumours. In short, keep away from any product with Paraben!
Formaldehyde is another preservative that is found to be a strong allergen. When choosing products, make sure to read the ingredients beforehand to know possible irritants and allergens.
My Thoughts
Educating yourself about skincare is highly essential. It is also important to always test the product before you use it to make sure you don't react to it. You can do it by applying a little amount on the back of your hand or on a small part of your face.
Using organic and natural skin care products is really important, especially when you have sensitive skin. Brands that promote cleaner ingredients and that target skin conditions are great to take note of when you are choosing skincare products.
You may notice that the cleansers I have included in this review are all pretty simple. Dermatologists always recommend restarting or recovering from sensitive skin by using a basic cleanser that is effective and gentle.
That means, the simpler the product, the better it is for your skin.
Always remember to give your skin what it is missing and needs instead of overloading it with products and ingredients. With skincare, less is more!
Skincare varies from person to person, and there will always be different reactions because everyone is different. Remember to take care of your skin and simplify your skincare regime as much as possible!
I hope this review on the best facial cleansers for sensitive skin has helped you find the best product that works for you and your skin!
Hollie xx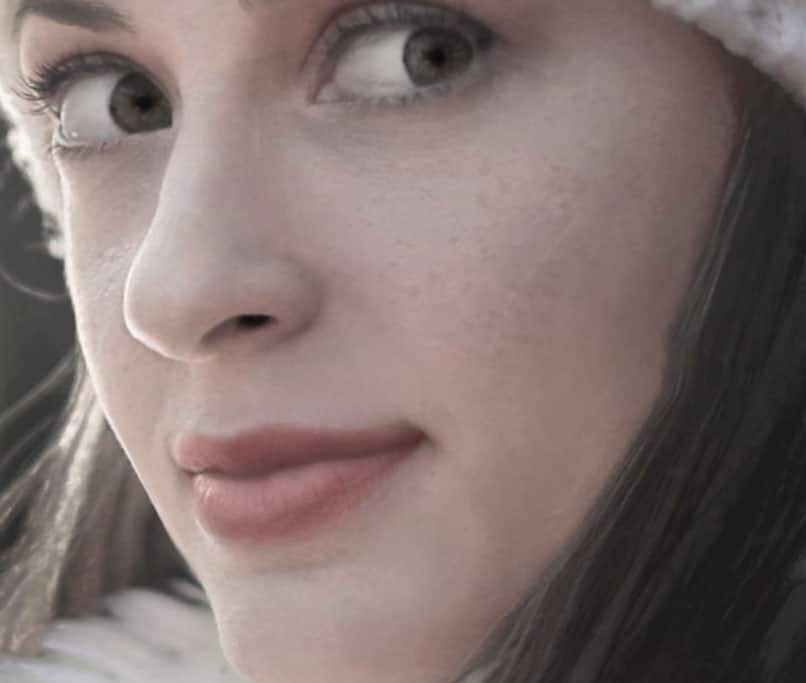 Hi, I'm Hollie, and I own BeautywithHollie.com. I love everything to do with beauty and love sharing my knowledge, advice, and beauty finds! Makeup and beauty are here to enjoy, and Beauty With Hollie is here to take the stress out of it!
---
---
Anastasia Beverly Hills bareMinerals Benefit Cosmetics Bobbi Brown CeraVe Chantecaille Charlotte Tilbury Clarins ColourPop Dermalogica Dior Dyson e.l.f. Cosmetics ELEMIS Estée Lauder Fenty Beauty First Aid Beauty Fresh Giorgio Armani Hourglass Jane Iredale L'Oreal Lancome La Roche-Posay Laura Mercier LORAC MAC Makeup Revolution Maybelline Morphe Nars Natasha Denona Neutrogena NYX Origins Peter Thomas Roth Revlon Sigma Beauty Smashbox Stila Tarte Cosmetics The Ordinary Too Faced Urban Decay YSL
---