Best Skin Care Products For Rosacea in 2023
The effects brought about by rosacea and other similar skin conditions are serious confidence-killing threats. Chronic redness, skin lesions, painful pimples, and other skin conditions that we wish we wouldn't know about!
While it's annoying, don't lose hope, there are loads of amazing products made specifically for skin conditions like rosacea.
I've brought you the best skincare for rosacea in 2023, help your skin by using products with the right ingredients!
Disclaimer: As an Amazon Associate I earn from qualifying purchases on Amazon and other affiliate programs. This means on some purchases, I make a commission. It doesn't mean you spend more, it simply allows me to keep this blog going!
The Origins Mega-Mushroom Relief & Resilience Soothing Face Mask is a creamy anti-inflammatory skin saver, especially for those with rosacea.
This expert-backed soothing face mask rapidly reduces visible redness, restores skin resilience and instantly hydrates your skin. Its vegan formula calms and soothes the skin inflammation that comes with rosacea.
The mask is made from superfoods like Reishi Mushroom, Sea Buckthorn & Fermented Chaga.
If you're sceptical about the mushroom, fear not because they're a super-ingredient that's been used by Eastern traditional and modern practitioners for thousands of years! Dr Weil himself has found it to be very beneficial.
Reishi Mushroom is a nutrient-rich ingredient. It detoxifies and works against redness and fine lines. Reishi contains the antioxidant beta-glucans responsible for attracting water from the environment to your skin. They keep your skin deeply hydrated.
Its formula helps to calm irritation from rosacea, hormonal acne, eczema, and so many other skin conditions that make your skin erupt. It helps to reveal the smooth and plump face hiding under all that redness.
Pros
Vegan
Can be left overnight
Anti-inflammatory
Antioxidant rich formula
Hydrating
Smoothes fines lines
Good for conditions like hormonal acne, breakouts, eczema, and rosacea
Origins Dr Andrew Weil for Origins Mega-Mushroom Relief & Resilience Soothing Face Mask can be bought from Amazon | Look Fantastic
---
This super-affordable cream has multiple benefits for the skin that tackles the key factors that trigger rosacea. It protects your skin's vascular system and limits aggravating factors such as prolonged inflammation.
Upon application, you'll immediately feel comfort being restored to your skin. It decreases sensations of overheated skin. The Uriage Roséliane Anti-Redness Mask leaves your face soft, perfectly moisturised and soothed.
The cream does miracles in reducing redness and bumps. It also hydrates amazingly and quickly absorbs into the skin, without leaving any shine or stickiness.
It works as a medical cream, but it's really just a wonderful skincare product. You get the benefits of both!
It contains Ginseng and Red Algae Extracts that strengthen your blood vessel walls, therefore reducing their appearance on the skin's surface. This ensures that the transparent sickly skin that plagues those with rosacea can finally be corrected.
It's good for sensitive, oily skin thanks to its hypoallergenic and non-comedogenic formula. But those with dry skin can also get away with this since it's free of heavy mineral oils.
It's a very powerful yet gentle anti-redness face mask. And you'll definitely find relief for rosacea in it.
Pros
Hypoallergenic
Non-comedogenic
Anti-inflammatory
Fragrance-free
Anti-inflammatory
Hydrating and soothing
Good for oily, dry and sensitive skin
Uriage Roséliane Anti-Redness Mask can be bought from Amazon
---
Aside from super cute packaging, this cream is seriously impressive! The Naobay Renewal Antioxidant Cream is a high-performance formula that works to combat fine lines, wrinkles, redness and signs of fatigue.
Believe me, it does its job perfectly! This cream works to restore skin elasticity while soothing inflamed surfaces.
It's packed with antioxidants resveratrol, argan oil, rosehip oil and pennyworth extracts that sink deep into your skin for nourishment.
The cream also contains hydrating and moisturising compounds that help out in the smoothing process once your redness is significantly reduced.
A genuine shield against ageing indeed. The Antioxidant Renewal Cream keeps your skin youthful: fine lines are visibly smoothed, signs of fatigue disappear, the skin is protected from external aggressions and luminosity is restored.
It has all the benefits one could need for unstable skin. What's more, is that 98.82% of the total ingredients are of natural origin.
The product has the creamiest most gentle texture that will surely make skincare for those with rosacea fun and less painful. It's fast-absorbing and leaves no sticky feeling or residue.
Pros
Cruelty-free
98.82% natural ingredients
Antioxidant-rich
Anti-inflammatory
Hydrating and moisturising
Calms and soothes skin
Great for all skin types
NAOBAY Renewal Antioxidant Cream can be bought from Amazon
---
If you're looking for a daily rosacea cream that moisturises too, then you'll want to try the Darphin INTRAL Redness Relief Recovery Cream.
It's a soothing cream that helps reduce the appearance of redness and instantly camouflages the blotchiness of the complexion with its green-hued formula. The green hue is a very subtle colour correction as this cream works to give you a beautiful glow.
It helps repair and strengthens the skin's natural barrier so that those with sensitive skin can better protect themselves against irritants and environmental aggressions.
The cream is an extremely gentle one. It has the dreamiest of textures you'll love massaging over your face. It contains green tea for cleansing and calming down heated skin. It also absorbs quickly.
You'll love how it helps to tone down redness and even reduce the bumps from skin lesions. It has a very mild and pleasant fruit scent so your skincare stays fun and relaxing.
Pros
82% natural ingredients
Anti-inflammatory
Glowy, moisturising effect
Softens and smoothes skin
Good for sensitive skin
Reduces redness and bumps
Darphin Intral Redness Relief Recovery Cream can be bought from Amazon
---
Specifically developed for redness-prone, sensitive skin, the Avène Antirougeurs Fort Relief Concentrate for Chronic Redness treatment cream delivers immediate, long-lasting comfort.
It's enriched with Thermal Spring Water, which calms irritated and inflamed skin and reduces the appearance of visible blood capillaries, as well as prevents new formation.
On top of that, it moisturises and prevents further loss so your skin regenerates smoothly. Its key ingredients include Saponin-enriched Ruscus Extract helps soothe skin discomfort, Glycerin and Shea Butter for nourishment.
It's suitable for those with rosacea and chronic redness. Including this in your skincare regime will help your skin be relieved from associated discomfort, including itching and burning sensations!
Pros
Anti-inflammatory
Safe for sensitive skin
Moisturising
Softens and smoothes skin
Fragrance-free
Instant calming effect
Avène Antirougeurs Fort Relief Concentrate for Chronic Redness can be bought from Amazon
---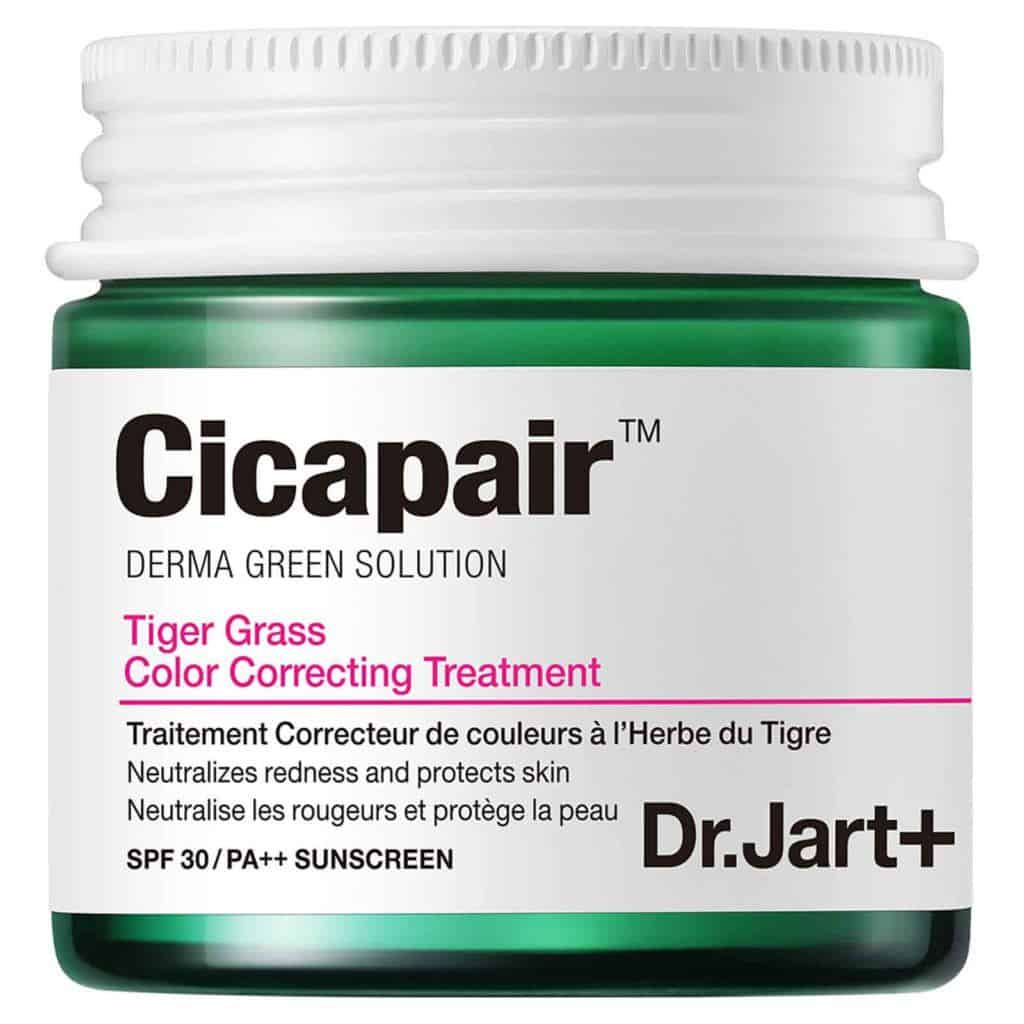 Sunscreen isn't always the most soothing product to use on inflamed skin. But you know that you can't live without it! The Cicapair Tiger Grass Color Correcting Treatment from Dr.Jart+ is a colour-correcting treatment with SPF 30 that does an all-around for your skin.
It has Green pigments and Tiger Grass to help neutralise the appearance of redness. Derma green solution instantly brightens and evens the skin tone.
A complex of essential minerals consisting of sodium, potassium, calcium, and magnesium helps to improve the skin's moisture levels. And broad-spectrum SPF to protect against UV light!
The Cicapair Tiger Grass Color Correcting Treatment is infused with a light natural lavender scent to calm the senses and relax the mind.
You can really have it all with this treatment cream. Revive fatigued, irritated, red and sensitive complexions for a healthy-skin finish and instant soothing relief.
Pros
Broad Spectrum SPF 30
Colour-correcting
Moisturising
Anti-inflammatory
Fragrance-free
Safe for sensitive skin
Dr.Jart+ Cicapair Tiger Grass Color Correcting Treatment can be bought from Amazon | Look Fantastic UK
---
A few pumps of the Chantecaille Vital Essence will leave your face hydrated and moisturised the entire day. And reduce your skin's redness and inflammation in the process!
This top-of-the-line face and eye serum are infused with powerful botanicals that act as hydrating boosters promoting a plumper-looking appearance.
It is weightless and gentle with features like antioxidants and soothing extracts that work to reduce the appearance of redness. On top of all that, its 95% natural formula is a must for delicate skin.
It contains Bio-Sodium Hyaluronate, a natural complex sugar with moisturising properties, Bilberry Extracts, Chlorella Vulgari and Aloe Vera.
The HoneySuckle Flowers and Cherry Leaves Extract have antioxidant and soothing properties to nourish your skin from within.
The essence also has Soybean Extracts to help promote a smoother and brighter-looking complexion, along with Olive Leaf Extract and Grape Seed Oil for additional nourishments. It's all good skinfold!
If you're looking to upgrade to quality luxury skincare medication, then this is it!
Pros
Cruelty-free and vegan friendly
95% natural formula including rosewater base
Hydrating and moisturising
Anti-inflammatory
Rich in antioxidants
Fights signs of anti-ageing
Safe for sensitive skin
Chantecaille Vital Essence can be bought from Amazon | Look Fantastic UK
---
The La Roche-Posay Rosaliac Make-Up Remover Gel is a daily micellar cleansing solution with a no-rub formula for removing makeup from the face and eyes.
Its effectiveness comes from a high concentration of selected minimal ingredients with Thermal Spring Water.
Aside from removing dirt and makeup residue, it is designed to help reduce the appearance of flushing. It helps you get rid of the look of broken veins and it evens fine lines. It doesn't irritate the skin at all, it is very soothing and helps to reduce inflammation.
This make-up remover has a cooling, gel texture that feels great on the skin. Rosacea can cause serious dry, chaffed and red-looking skin but this gel irons out and corrects all of that.
It feels incredibly gentle but is also very effective at removing makeup in one go. The cooling gel also helps to calm irritation like itchiness and heat on the skin's surface.
Pros
100% hypoallergenic skincare
Non-comedogenic
Minimal ingredients and fragrance
Tested on sensitive skin
Anti-inflammatory
Cleansing and hydrating
Smoothes out skin texture and complexion
Effectively removes makeup residues
La Roche-Posay Rosaliac Make-Up Remover Gel can be bought from Amazon
---
Salcura Bioskin Adult Zeoderm Extra is a daily cream that can be applied to your skin any number of times during the day to relieve itching, redness, or chaffing caused by difficult skin conditions.
It soothes all the effects caused by rosacea, eczema and psoriasis. This product can be used as a natural skin therapy for severe cases of eczema, psoriasis, dermatitis, and severely dry, dehydrated skin.
This cream product is formulated using 99% natural ingredients like linseed for reduced redness and inflammation, borage to retain skin moisture, and zeolite for eliminating free radicals.
It also contains the brand's patented ZeomaZ ingredient that restores and rejuvenates your skin. The powerful ingredients in this cream will allow the skin to regain strength in order to find a healthy balance.
It's also deeply moisturising and makes for a very suitable product that is easy on your skin with all its skincare and medical benefits. It quickly absorbs and is non-sticky so it is ideal, even if you apply this more than twice a day.
Pros
99% natural ingredients
Dermatologically-tested
Hypoallergenic skincare
Safe for sensitive skin
Best for dry, dehydrated skin with other conditions
Anti-inflammatory
Deeply moisturising
Rich in antioxidants
Salcura Bioskin Zeoderm Extra Moisturizer can be bought from Amazon
---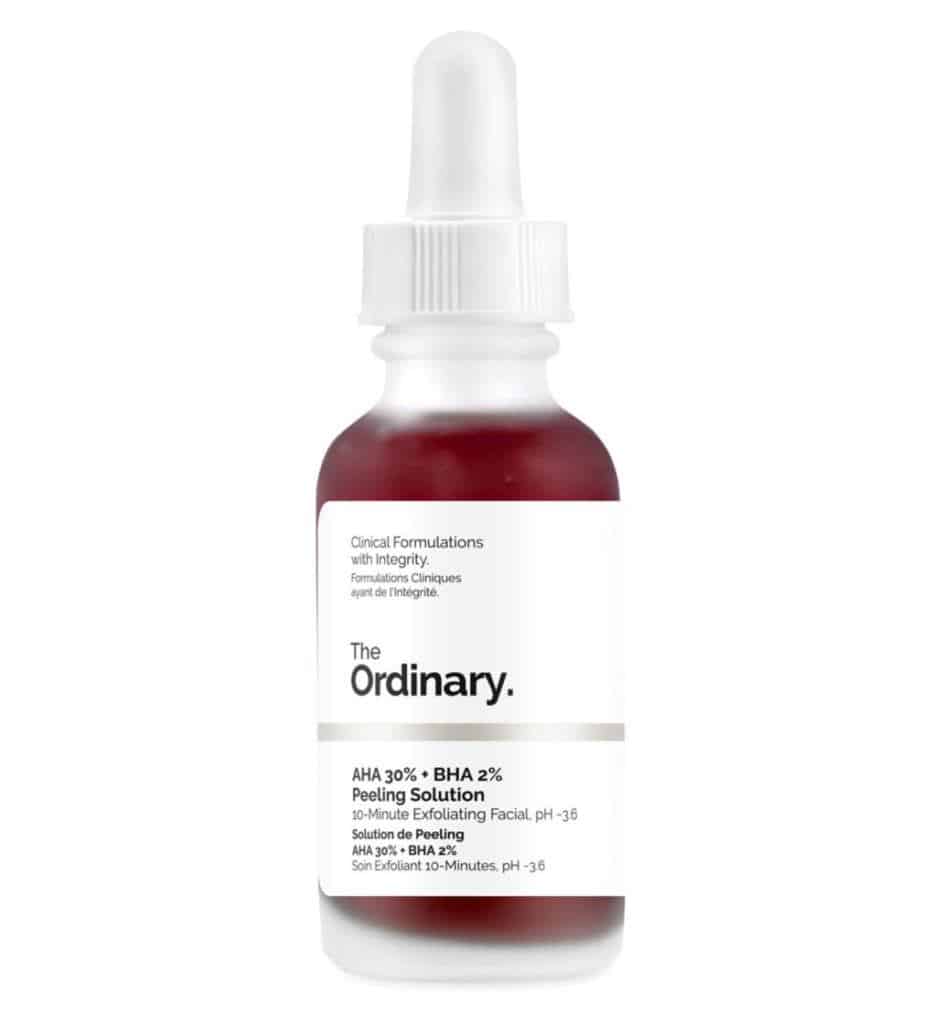 The Ordinary has done it again! This has been found to be an amazing non-abrasive exfoliator for those with compromised sensitive skin!
Good exfoliators are a rare thing to come by with people riddled with redness, itchiness, and simply damaged skin from rosacea and other conditions.
Yet, the Ordinary AHA 30% + BHA 2% Peeling Solution is a powerful skin-peeling product that strips the surface for a brighter and more even appearance.
Its combined 32% AHA/BHA solution offers deeper exfoliation to help fight visible blemishes and to improve skin radiance. All without any microplastics or physical exfoliators that can seriously worsen inflammation.
The strong yet gentle formula also improves the appearance of skin texture and reduces the look of fine lines with Tasmanian Pepperberry, Black Carrot, and Vitamin B5. I highly recommend this as an exfoliator that doesn't irritate.
Before using this exfoliator on your whole face, do a test patch first to make sure you don't react to it. While it's suitable for sensitive skin, it is still a strong product so you need to be careful!
Pros
Powerful peeling formula
Non-abrasive
Rich in antioxidants
Anti-inflammatory
Cruelty-free and vegan
The Ordinary AHA 30% + BHA 2% Peeling Solution can be bought from Amazon | Ulta
---
Ideal Skincare Routine
Even if you're already treating your rosacea, the right skincare can make a noticeable difference! And let's be honest, some medications are just as costly so why not go for products that give you all the solutions your skin needs?
Benefits of a Rosacea-friendly Skin Care Routine:
Those who suffer from rosacea may not be able to follow standard skin care, because of how delicate the skin is comparable. And if you're unaware of what skincare should do for rosacea, the following should give you a general idea.
All skincare should, first and foremost, help your skin feel more comfortable. All your skin's itchiness should disappear with the right product.
If you are seeing a dermatologist for your rosacea, using the right skincare will help that process. It should supplement the prescribed medication. Although if you're lucky, some dermatologists can recommend skincare over medications depending on your compatibility. That said, if you're meaning to go for skincare instead, always consult your dermatologist first.
The right products should boost your skin's overall health. Because it is skincare, it shouldn't stop at reducing your redness and inflammation. It should go above and beyond that and see through the improvement of your skin down to reducing fine lines.
The right skincare routine will reduce rosacea flare-ups. That's why it's a must to choose products that are anti-inflammatory. They will relieve your skin from pain, and prevent you from getting even more.
Skin Care Routine You Can Try
1. Cleanse your face twice a day.
Cleansing may be a dreaded thought for rosacea. That's understandable if your skin already feels irritated. But part of getting rid of it comes from eliminating all possible factors that cause it, such as dirt exposure. Of course, you have to cleanse very gently, yet at the same time thoroughly.
What cleansers are good for rosacea?
Choose a mild and gentle cleanser. Preferably not soap, or products with soap ingredients! Micellar water can cleanse your skin using non-highly acidic and irritating chemical ingredients.
The La Roche-Posay Rosaliac Make-Up Remover Gel listed in this article is one of the best micellar cleansers available for rosacea since it's made free of most allergens that worsen rosacea.
It's baby-safe, non-comedogenic, soy-free, gluten and lanolin-free and many more common preservatives that harm the skin. It's also hypoallergenic and is considered a topical antibiotic in cleanser form.
How to properly cleanse the skin
Apply the cleanser gently with your fingertips in circular motions. The sad part about rosacea and other conditions is you can't really enjoy silicone brushes or other face scrubbers, so your fingers are the only option.
Rinse off the cleanser with lukewarm water, using only your fingertips. Avoid using your palms or whole hand since it can be hard to coordinate and avoid accidentally rubbing your skin lesions.
You'll want to thoroughly remove the cleanser product. If a bit of the cleanser stays on your skin, it can cause irritation.
Lastly, pat your face gently with a clean, cotton towel. Although I knew someone who used silk cloth to dry their skin. Simply laying over the cloth on their face and letting it absorb all the water. It's a quirk but it does dry your face with the least amount of harsh contact.
2. Moisturise
Whether rosacea makes your skin dry or oily, it's still important to moisturise! Applying a rosacea-friendly moisturiser can aid in improving the results you see from treatment.
Your dermatologist-recommended metronidazole gel can only do so much to treat your rosacea, yet it can also be very drying. You've probably seen the stretched leather-like effect it does on your skin once your rosacea has dried up.
To fix that, use a gentle, non-irritating moisturising cream twice a day.
What moisturisers are good for rosacea?
The Salcura Bioskin Zeoderm Extra Moisturizer listed in this article is a dermatologically-tested moisturiser made with 99% natural ingredients. And just like that, choose moisturisers that are natural as possible.
It's also better to use water-based moisturisers over oil-based ones for rosacea, no matter your skin type. For those with really dehydrated skin and rosacea that needs heavy moisture, choose skincare made with natural oils over mineral oils since these types can irritate broken skin.
3. Use Sunscreen
The sun can cause flare-ups of rosacea and it's actually one of the most frequent causes. Dermatologists, highly-recommend you use SPF, but even sunscreen can irritate rosacea. So it's important to know which kinds will be safer and gentler.
What sunscreens are good for rosacea?
Choose mineral sunscreens over chemical ones. These are sunscreens with the active ingredients Zinc Oxide and/or Titanium Dioxide. The active ingredients found in chemical sunscreens like Avobenzone, Octinoxate and Oxybenzone can be extremely harmful and irritating for rosacea.
They can also be allergen triggers as they penetrate deep into the skin and photodegrades after sun exposure. Sunscreens with Silicone (may be listed as dimethicone, orcyclomethicone, or cyclomethicone) are also good.
Final Thoughts
Treating your rosacea shouldn't be limited to skin-drying medication alone. Skincare can also help out.
Luckily, there are plenty of skincare products that can give you both benefits. Some aren't that hard to find. They've just been in plain sight all along. That's why it can be tricky to choose products that will really help you out.
I hope these skin care tips and products for rosacea help you cure your rosacea! From exfoliators to daily creams, and even makeup removers, there's something here for everyone!
Hollie xx
---
---
Anastasia Beverly Hills Benefit Cosmetics Bobbi Brown CeraVe Chantecaille Charlotte Tilbury Clarins ColourPop Dermalogica Dior Dyson ELEMIS Elf Cosmetics Estée Lauder Fenty Beauty First Aid Beauty Fresh Hourglass Huda Beauty Jane Iredale L'Oreal lancome La Roche-Posay Laura Mercier LORAC MAC Makeup Revolution Mario Badescu Maybelline Morphe Nars Natasha Denona Neutrogena NYX Origins Peter Thomas Roth Revlon Sigma Beauty Smashbox Stila Tarte Cosmetics The Ordinary Too Faced Urban Decay YSL
---