The Best Eye Cream For Mature Skin in 2023
Aging is a natural process that happens to everyone! We think it's a cause of celebration. You've reached milestones, you're older and wiser! It shouldn't be looked at as the dreaded aging.
But we get it, you still want to stay youthful looking and that's fine! You don't need to part with thousands of dollars and endure painful procedures, to age gracefully!
While you won't look like a 30-year-old at 70, there are ways to slow aging down, that are painless and affordable. Using the correct skincare ingredients will slow down the signs of aging and feed your skin what it needs to thrive.
I've put together the best eye creams for mature and aging skin. While an eye cream is not a necessity in a skincare routine, for aging skin it can make all the difference.
That's because the eyes are one of the areas to be affected by aging the worst, as well as the earliest. This is due to the skin being the thinnest around the eyes.
Using a cream designed specifically for the eyes gives the eyes precisely what it needs to fight wrinkles, lines, dryness, crows feet, dark circles and puffiness in the best possible way!
We've included retinol, to actually fight the signs of aging, as well as hydrating moisturizers, that help lock moisture back into the areas around the eye to reduce wrinkles. This in turn helps your skin look younger!
Disclaimer: As an Amazon Associate I earn from qualifying purchases on Amazon and other affiliate programs. This means on some purchases, I make a commission. It doesn't mean you spend more, it simply allows me to keep this blog going!
Formulated with 2 of the most powerful and effective anti-aging ingredients, Neutrogena Rapid Wrinkle Repair Eye Cream quite literally rewinds the years!
Retinol is one of the main ingredients and it takes care of fine lines and crow's feet. The other main ingredient is hyaluronic acid which adds moisture and hydration back into the skin.
Both are extremely important ingredients in anti-aging skincare. When it comes to applying retinol around the eyes, make sure you only use one designed for the eyes.
Retinol for the face usually has a higher concentration which is too irritating for the thin skin around the eyes. Some with very sensitive skin find any retinol too irritating so be aware of that.
When using retinol for the first time, start gradually so that your skin will tolerate it. Going from never using retinol to suddenly using it twice a day, is almost a guarantee for a bad reaction!
Once your skin is used to it, you can use this eye cream twice a day, morning and evening.
Lightweight and comfortable to use, you should see visible results in just one week. Obviously, that depends on your skin type and age, but this over-the-counter retinol is one of the best, quality-wise and price-wise!
Neutrogena Rapid Wrinkle Repair Eye Cream can be bought from Ulta
---
Clinique isn't a brand that often makes it onto the blog, however, this eye cream simply had to be included! The reason is that it's that good! It's one of Clinique's few products that I'm blown away by!
With instant results, the wrinkle-fighting eye cream reduces puffiness around the eyes, smoothes lines and strengthens the skin.
It has the perfect cocktail of ingredients to give your skin a full bash at fighting aging! With a unique peptide complex, hyaluronic acid and a few other impressive ingredients, this cream helps the skin look younger and more alive than ever!
Considering everything this cream does, it's lightweight on the skin and absorbs quickly without leaving any residue.
Ophthalmologist-tested, it's safe for sensitive eyes and contact lens wearers. It's allergy tested and 100% fragrance-free.
Clinique Smart Clinical Repair Wrinkle Correcting Eye Cream can be bought from Ulta
---
Eucerin is one of the most trusted dermatological brands in the world. With over 100 years of experience under their belt, they know their stuff, in particular dry and aging skin!
Eucerin Hyaluron-Filler Eye Cream plumps up wrinkles and loads the skin with hyaluronic acid. Not only does it put the hyaluronic acid back into the skin, but it also activates the skin's own Hyaluronic Acid production.
You can expect smoother, rejuvenated skin, fewer lines and wrinkles as well as the prevention of new ones.
Formulated with SPF15, it gives your skin the full protection it needs. One of the main causes of aging and hyperpigmentation is the sun. Having an inbuilt SPF is a big advantage that more eye creams should come with!
The Eucerin Hyaluron-Filler Eye Cream absorbs easily into the skin without leaving it sticky. It leaves the skin moisturized and nourished all day giving your skin the maximum benefit it can get from an eye cream!
Eucerin Hyaluron-Filler Eye Cream SPF15 can be bought from Amazon
---
When you want fuss-free skincare that does the job well, La Roche-Posay is one of the best brands to turn to! Their products always have everything you need, without extra ingredients or extra pricing. That's exactly how we'd define this face serum!
And that brings us to the next point, it's called a face serum, but it works wonders around the eye area too, meaning we simply couldn't leave it out!
Formulated with 2 different types of pure hyaluronic acid. If you aren't familiar with hyaluronic acid, now's a good time to get to know it!
It's one of the best ingredients when it comes to anti-aging and dry skin. Why? Because of its unbelievable hydrating abilities as well as locking moisture into the skin.
Ideal for mature skin that has lines wrinkles and dry areas, this face serum smoothes lines and plumps up the skin. Hugely popular by dermatologists and proven safe for sensitive skin, this is a serum you can trust!
Gentle on the skin, you can use it twice daily, in the morning and night. You may find it slightly sticky, and because of that many prefer to use it at night.
But whether you use it day or night or both, your skin will be softer, plumper and more hydrated, including those trickier areas around the eyes!
La Roche-Posay Hyalu B5 Hyaluronic Face Cream can be bought from Ulta
---
You don't have to break the bank for affordable skincare that works. This retinol eye cream is proof of that!
Affordable, with impressive anti-aging ingredients, the ROC Retinol Correxion Anti-Wrinkle + Firming Eye Cream is perfect for rewinding the years!
It targets the 3 main signs of aging- dark circles, puffiness and wrinkles with its exclusive mineral complex. In just 4 weeks you'll notice a visible reduction in under-eye puffiness, and in 12 weeks reduced lines and wrinkles.
Highly effective, yet gentle on the eye is their slogan and it couldn't be more fitting! It's gentle and soothing and can be used on sensitive skin without irritating it, yet you can expect fabulous and visible results!
ROC Retinol Correxion Anti-Wrinkle + Firming Eye Cream for Dark Circles & Puffy Eyes can be bought from Ulta
---
If you suffer from dullness and dark circles, combined with sagging skin, this eye serum is the one to turn to!
Feel tired, but don't look it, have mature skin, yet still look youthful! This cream cheats your way to brighter skin, with its nourishing ingredients like vitamin C and its wrinkle-fighting peptides.
This non-sticky eye cream absorbs beautifully into the skin and can be applied morning and evening. It works really well under makeup, without any pilling, we all know how dreadfully annoying that can be!
Cruelty-free and safe for sensitive eyes, this cream is ideal for those who want an anti-aging cream that's gentle on the skin, yet still gives results!
Dermalogica Biolumin-C Vitamin C Eye Serum can be bought from Sephora
---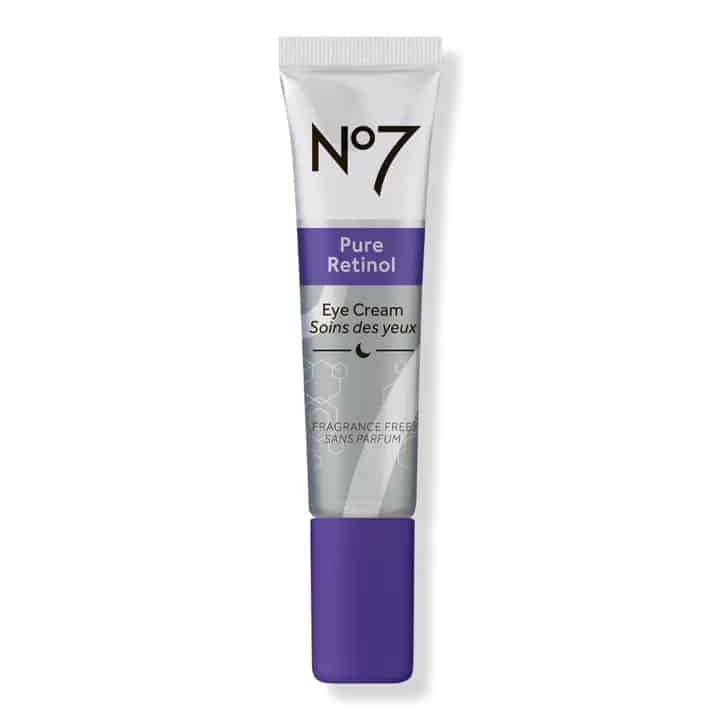 Retinol is the way forward if you're looking to rewind the years! The only problem with it is that many products say retinol but only contain a weak derivative.
No7, does not! When they say pure retinol, it's pure retinol and it works, I use the face retinol by No.7 and I love it! If you have sensitive skin be aware that retinol can be irritating for some. Also, make sure to build up your usage slowly so that your skin can get used to it.
The serum targets fine lines, wrinkles, crow's feet, dryness, lack of firmness, dark circles & puffiness. Retinol can be somewhat drying on the skin, but you don't need to work about that with this cream because it also has shea butter and bisabolol to soothe and moisturize the skin.
Within 2 weeks you'll see noticeable results around the eyes. Since it is retinol, if you're using it during the day, be sure to apply SPF on top of it, since retinol is sensitive to UV rays.
No7 Pure Retinol Eye Cream really is the real deal, and for the price, it's a steal too! It's dermatologically tested and fragrance-free.
No7 Pure Retinol Eye Cream can be bought from Ulta | No.7 Beauty
---
This eye cream is a little different from the others in this review. It's a 3-in-1 eye cream that not only has a ton of skincare benefits but, also acts as a concealer!
The Colorescience Total Eye 3-in-1 Renewal Therapy is ideal for those who are looking for an eye cream but also need coverage on the under-eye area. Save space and time with this 3-in-1 genius cream!
And it's not just about saving space and time. Concealers are known to dry out the skin and cause lines to be visible. Using a concealer that targets dry skin and lines means the outcome is likely to be a whole different story!
Called a 3-in-1 eye cream, it helps diminish signs of aging, gives ample coverup and provides SPF35, which is an absolute must if you want to protect your skin from aging.
Made with antioxidants and hyaluronic acid, this eye cream helps to reduce puffiness, wrinkles, dark circles, crow's feet and dryness. You'll also notice an immediate improvement in your skin's firmness and youthfulness.
The only downside to the eye cream is its price, which is on the high end, however, if it's within your budget, it's a great choice!
Colorescience Total Eye 3-in-1 Renewal Therapy SPF 35 can be bought from Dermstore
---
CeraVe is known for its quality skincare products that don't break the bank! If you haven't tried CeraVe, now is your chance!
Their products are all formulated with their unique Three essential Ceramides that help support a stronger barrier function. A stronger barrier means stronger skin that's less likely to have lines, wrinkles and other aging factors.
Aside from the Three essential Ceramides, the Skin Renewing Eye Cream features a bunch of impressive ingredients that help fight against the signs of aging.
Included is niacinamide, a well-known anti-aging skincare ingredient. It helps repair the skin barrier but be aware, some sensitive skin can't tolerate it. The caffeine helps reduce under-eye puffiness.
Overall, CeraVe is well tolerated for sensitive skin, it was developed by dermatologists and doesn't include unnecessary ingredients, such as fragrance.
The formula is lovely and gentle to apply. It's not greasy and has a lightweight texture which readily absorbs into the skin. It layers well and in general, is everything you can expect from an anti-aging eye cream and from CeraVe!
CeraVe Skin Renewing Eye Cream can be bought from Ulta | Walmart
---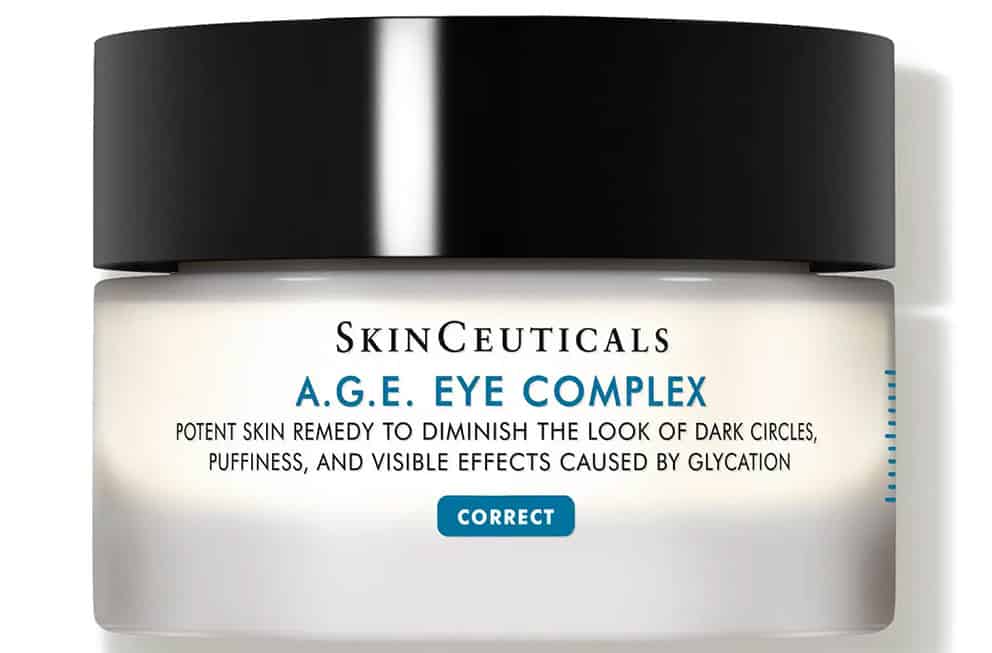 While this SkinCeuticals A.G.E. Eye Complex may not be the most affordable option here, it's a great cream for getting moisturized and brighter eyes with fewer lines.
It's got clinically proven results that it reduces puffiness, improves dark circles, reduces crow's feet and reduces visible lines. If you have mature, aging and dry skin, this cream is ideal for you! That being said, you can use this cream on oily or combination skin too. It won't cause your skin to feel oily and greasy.
Formulated with impressive anti-aging ingredients like caffeine to reduce puffiness, blueberry extract as an antioxidant, and SkinCeuticals trademarked Proxylane, which helps the skin restore water and nutrients.
The cream has a lovely rich texture that's fragrance-free and fastly absorbs into the skin leaving you with soft and moisturized skin. Use it morning and night for the best results.
SkinCeuticals A.G.E. Eye Complex can be bought from Dermstore | Walmart
---
Common Eye Cream FAQs
Do eye creams really work?
There is evidence that using the correct skincare can help reduce wrinkles and other signs of aging. The results depend greatly on the cause of your dark circles and wrinkles.
When it's genetic, it's a lot harder to get rid of than skin that is simply aging.
While eye creams won't completely obliterate wrinkles, they definitely help the skin look younger and more youthful!
At what age should you start using one?
When it comes to skincare, the sooner you start, the sooner you'll see results. It's never too early to use an eye cream with hyaluronic acid, we recommend starting in your 20s.
How often to apply?
You can apply eye cream twice daily, in the morning and evening. One thing to be aware of is that if your eye cream contains retinol, stick to using it at night only.
This is because retinol makes your skin more sensitive to UV rays, which is not something you want!
Is an eye cream really a necessity?
The short answer is that eye creams are not a necessity for everyone. A good moisturizer for mature skin can do the job too.
However, if you have extra delicate skin around the eyes, you will find eye creams more effective because they are made gentler, with the thin skin around the eyes in mind!
It all depends on how many steps you want in your skincare routine, and how concerned you are about your under-eye bags and lines.
At which step in skincare should you apply it?
The rule of thumb with skincare is that you apply the products in order of thickness- light to heavy.
Eye creams are usually lighter in texture than moisturizers, so apply them first. Wait about a minute to let it sink into your skin before applying your moisturizer.
What's the most effective anti-aging ingredient for the eyes?
The most effective anti-aging ingredient is retinol or a retinol derivative. There is no debating this!
The only problem with retinol is that it's a strong ingredient, and since the area around the eyes is thinner and more sensitive, many people find it irritating.
If you are using retinol around the eyes, make sure it's designed specifically for the eyes, because they're usually formulated with a lower percentage of retinol in them, making them safer for sensitive skin.
Other beneficial ingredients are vitamin C for brightening the eye area and niacinamide, which is less irritating than retinol.
My Thoughts
Despite eye creams not being a necessity in a skincare routine, they help so many with their dry, mature and sensitive skin.
An eye cream gives the skin around the eye the attention it needs, and it does need different attention from the rest of the face!
From budget to luxury, there's an eye cream for every aging and mature skin need. We hope you've found the eye cream that you and your skin love!
Hollie xx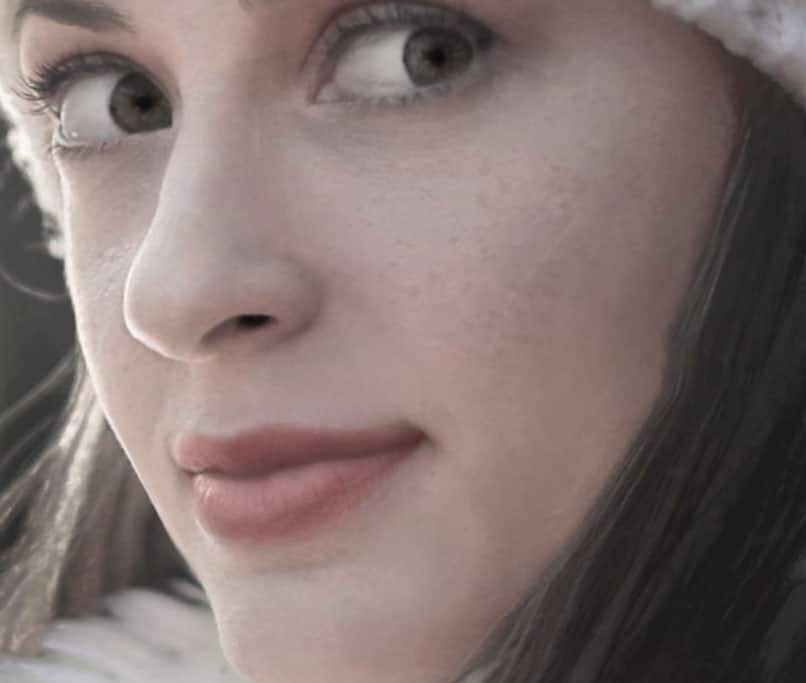 Hi, I'm Hollie, and I own BeautywithHollie.com. I love everything to do with beauty and love sharing my knowledge, advice, and beauty finds! Makeup and beauty are here to enjoy, and Beauty With Hollie is here to take the stress out of it!
---
---
Anastasia Beverly Hills bareMinerals Benefit Cosmetics Bobbi Brown CeraVe Chantecaille Charlotte Tilbury Clarins ColourPop Dermalogica Dior Dyson e.l.f. Cosmetics ELEMIS Estée Lauder Fenty Beauty First Aid Beauty Fresh Giorgio Armani Hourglass Jane Iredale L'Oreal Lancome La Roche-Posay Laura Mercier LORAC MAC Makeup Revolution Maybelline Morphe Nars Natasha Denona Neutrogena NYX Origins Peter Thomas Roth Revlon Sigma Beauty Smashbox Stila Tarte Cosmetics The Ordinary Too Faced Urban Decay YSL