The 8 Best Face Creams for Wrinkles in 2024
Aging gracefully means aging with wrinkles. But let's be real, if we can help reduce the number of wrinkles we have, in a pain-free way, who wouldn't want a bit of that?
All it takes is the correct skincare products with the right ingredients to tackle aging, to reduce the number of wrinkles you have. And trust us, it can be drastic!
In all honesty, you've probably already been there and done that, gone on a spree and tried out more than one product. But it just doesn't seem to work.
Why are all your lines and wrinkles still so visible? The key is to use the correct products for your individual skin. Easier said than done, we know!
But that's where we come in. We've done the homework for you and put together the best face creams for wrinkles and lines! For every budget and every skin type, we've got you covered!
Disclaimer: As an Amazon Associate I earn from qualifying purchases on Amazon and other affiliate programs. This means on some purchases, I make a commission. It doesn't mean you spend more, it simply allows me to keep this blog going!
Branded as the number 1 bestselling anti-wrinkle cream, the Strivectin SD Advanced Plus Intensive Moisturizing Concentrate is a must-have for anyone desperate to get rid of a line or two!
StriVectin is all about anti-aging and all of their products have their very own NIA-114™ patented formula of a more enhanced combo of niacin and vitamin B3- 2 very effective anti-aging ingredients!
This cream targets 10 types of collagen in the skin. Collagen is the key to staying young, it's responsible for the elasticity of the skin. When your skin is deficient in collagen and loses its elasticity, it results in wrinkles and lines.
Other impressive ingredients are hyaluronic acid, shea butter, and vitamin E. All of these give intense hydration to the skin, so much so, you can expect 72 hours of hydrated skin after applying this cream!
Smooth and easy to apply, its non-greasy formula absorbs quickly with some visible lines reduced almost instantly!
While most face creams are more effective when you start using them from a younger age, this is the one product you can get away with starting a bit later. Yes, it's that powerful!
Pros
Great for all skin types
Deeply hydrating and moisturising
Reduces wrinkles and fine lines
Prevents wrinkles
Fragrance-free
Strivectin SD Advanced Plus Intensive Moisturizing Concentrate can be bought from Amazon
---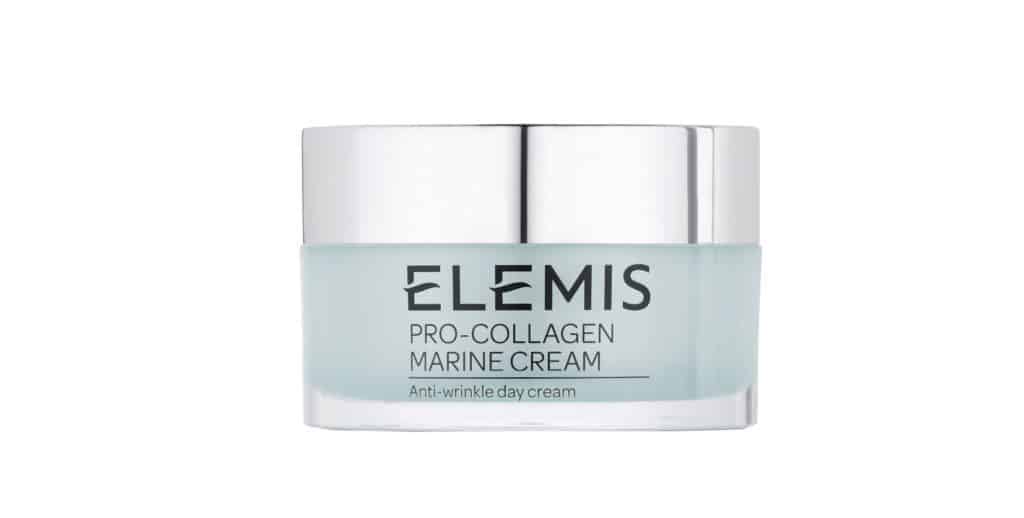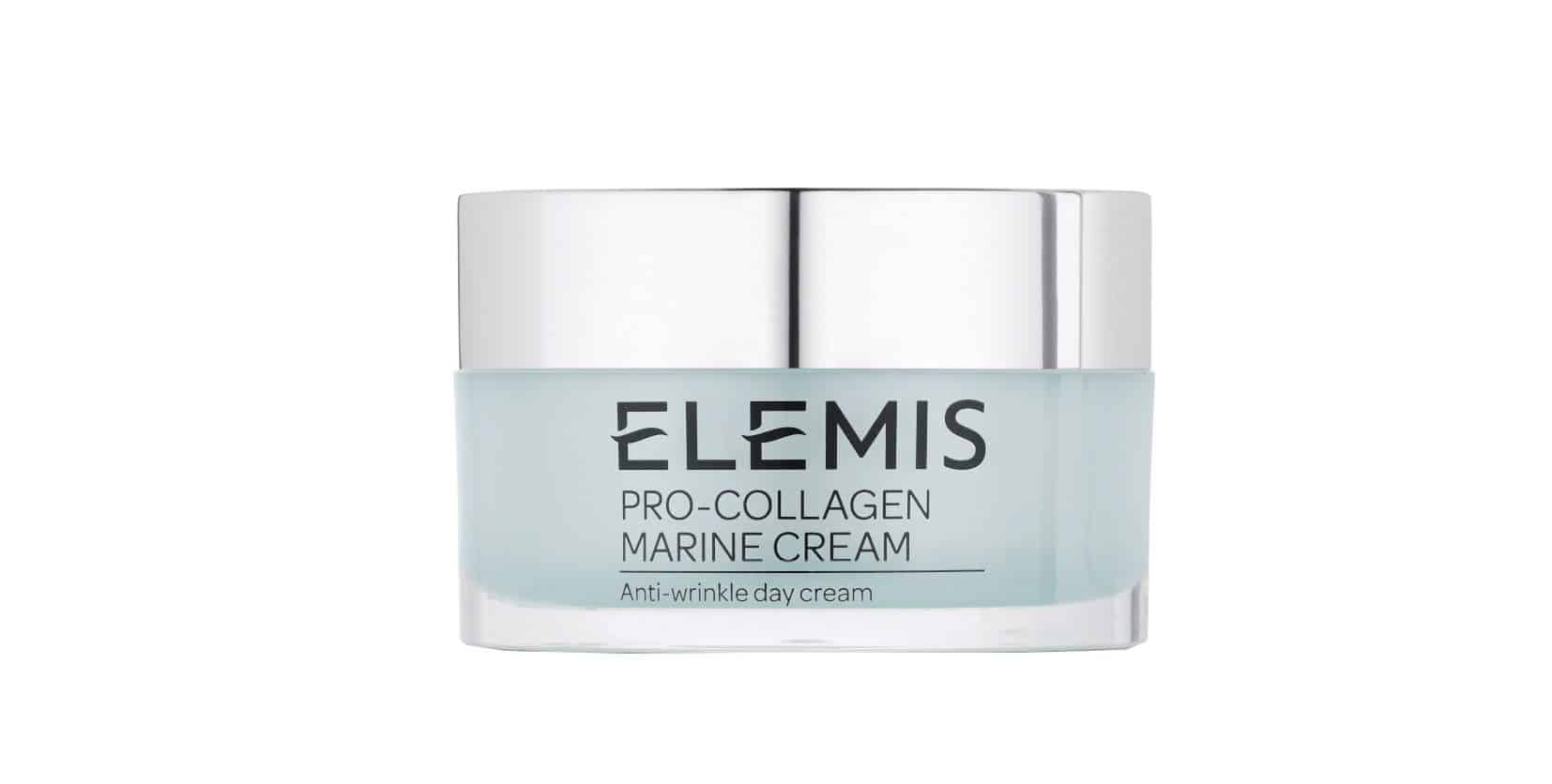 The Elemis Pro-Collagen Marine Cream is not joking when it says it reduces the depth of wrinkles and improves skin firmness, tone and hydration in 14 days.
Yes, you read that right, in just 14 days, you'll see a noticeable difference in your skin's wrinkles and lines! But, in only 1 hour you'll have visibly more hydrated skin.
It's packed with a unique combination of Mediterranean algae called Padina Pavonica, Ginkgo Biloba (maidenhair tree), and rose and mimosa absolutes for "superior free-radical protection" and anti-ageing properties.
The product texture and feel are balanced between cream and gel-like consistency. Creamy and easy to apply, it absorbs into the skin without leaving any greasy residue.
It does contain fragrance, so we don't recommend it for those with sensitive skin. That being said, this deeply moisturizing, anti-aging cream is the real deal for intense hydration and rewinding the years!
Pros
Natural ingredients
Moisturizes very well
Reduces wrinkles
Fast results
Cons
Expensive
Contains fragrance
Elemis Pro-Collagen Marine Cream can be bought from Ulta
---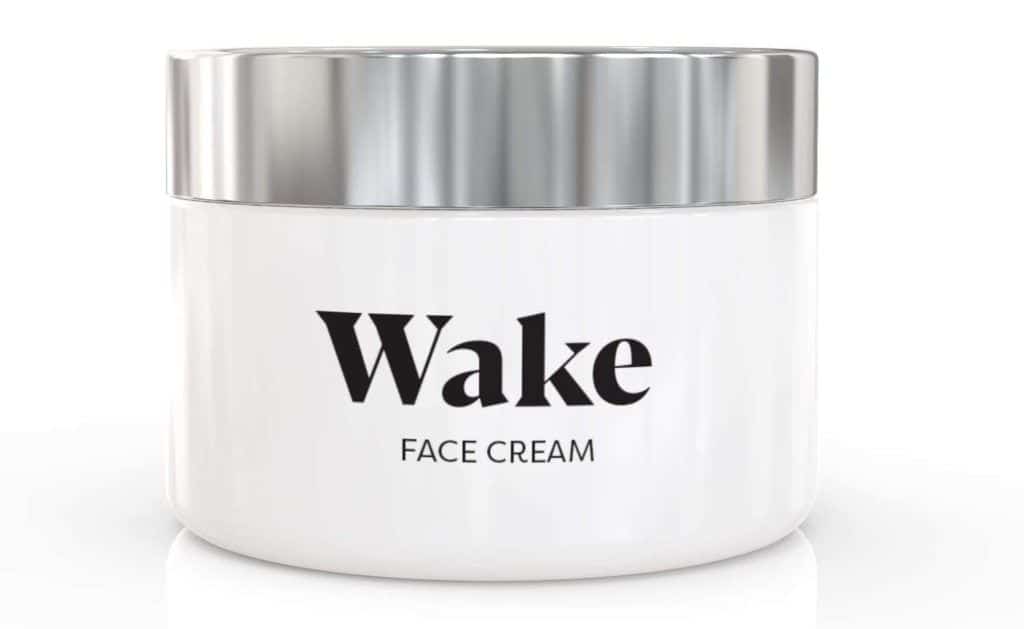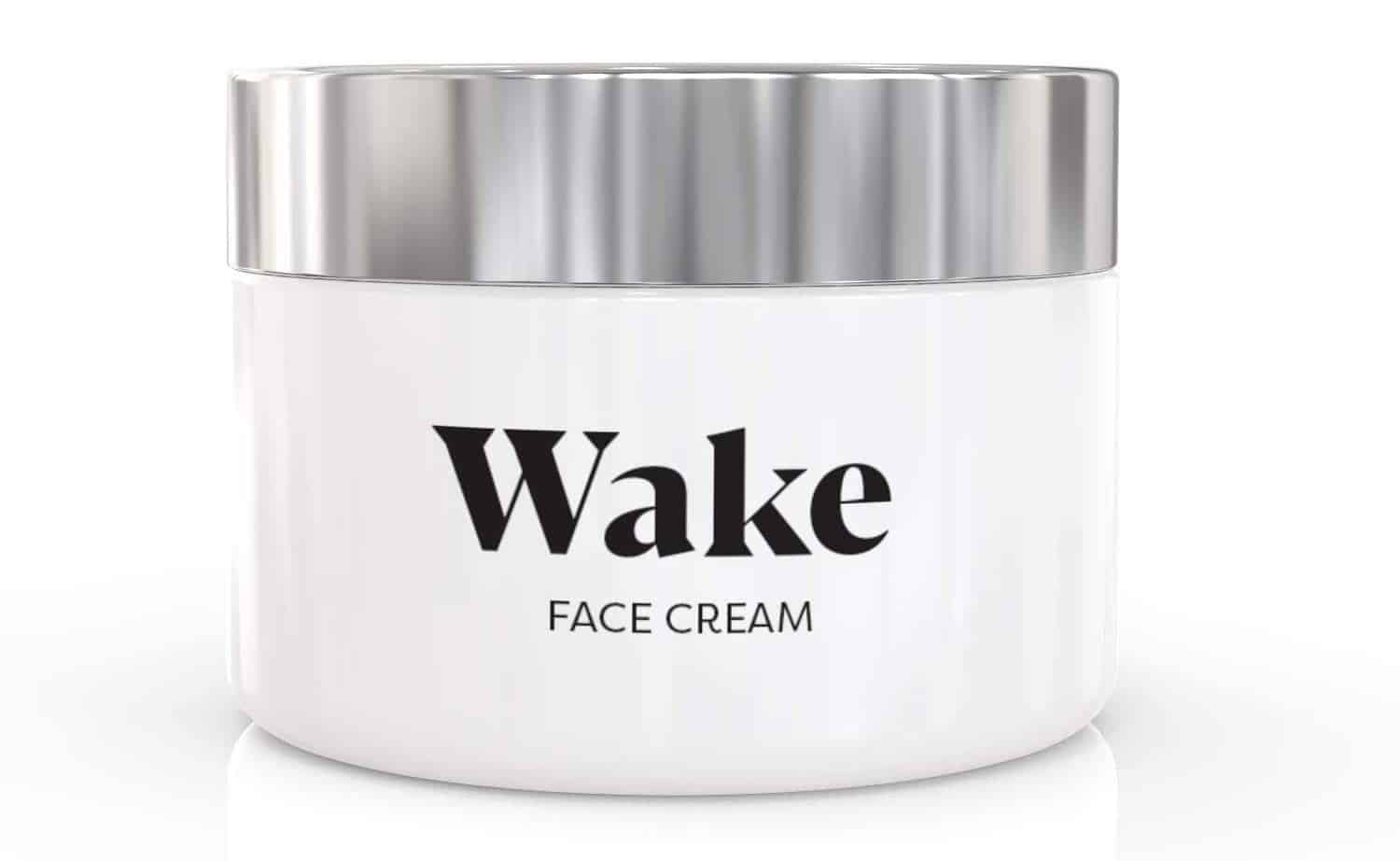 Get more for less with the Wake Skincare Face Cream. The face cream contains luxury, high-end ingredients, with a luxury vibe to the packaging, yet it's surprisingly affordable!
You've got to love a product that has it all, and that is exactly how we'd describe this face cream!
It not only targets wrinkles but also helps fight blemishes. More often than not, anti-aging creams target dry skin, because older skin is usually dry. Not this one! Made for all skin types, including oily, sensitive and aging.
Infused with hyaluronic acid, it helps strengthen the skin's barrier to reduce the signs of aging. Many signs of aging, like wrinkles and lines, can be prevented when using skincare that protects the skin barrier. Sometimes it's as simple as a moisturizer!
It also contains collagen, glycerin, shea butter, and lots of seed oil components for that intense wrinkle moisturising action.
The cream is quick and easy to use, lightweight and dries down quickly. Despite the consistency being a little thick to the touch, glass-face lovers love how it leaves the skin smooth, soft and with a perfect glow to it.
Use it morning and evening for best results.
Pros
Affordable
Glowing effect
Smoothes dry lines
Moisturises well
Fragrance-free
Wake Skincare Face Cream can be bought from Amazon
---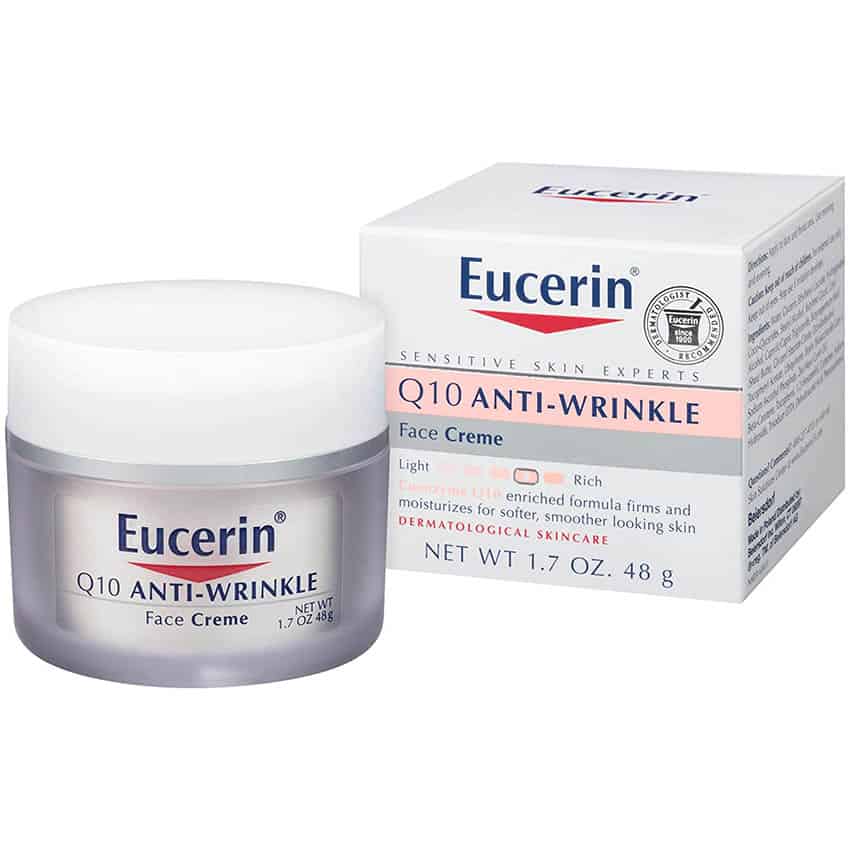 Eucerin skincare features quite a bit on the blog, and that's because its skincare has you in mind. Free of all the external fluff that we so often buy into, and in its place are quality ingredients that actually work!
Dermatologist-approved, the Eucerin Q10 Anti-Wrinkle Face Cream is no different. Designed to target wrinkles, that's exactly what it does.
Get fewer wrinkles in just 5 weeks, when using this cream twice a day. It does this with a host of good-for-you ingredients that feed the skin what it needs to turn the tide on aging.
Enriched with anti-oxidants like Vitamin E and Beta-Carotene, which help fight aging and load with skin with hydration and moisture.
Ideal for dry and sensitive skin, the cream is fragrance-free and non-comedogenic. The rich thick formula moisturizes and hydrates the skin bringing it back to life!
Pros
Affordable
Intensely hydrating
Reduces wrinkles
Fragrance-free
Eucerin Q10 Anti-Wrinkle Face Cream can be bought from Amazon
---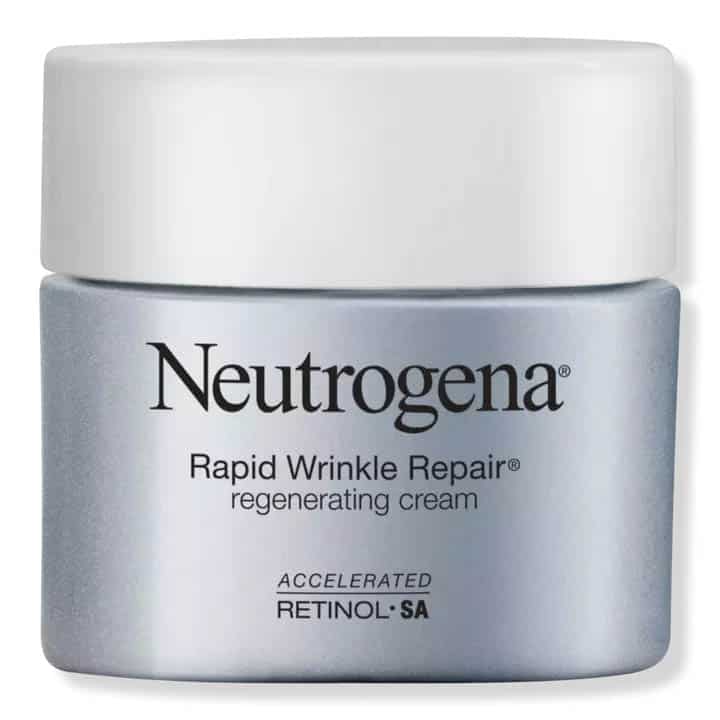 Made with 2 of the most powerful anti-aging ingredients, the Neutrogena Rapid Wrinkle Repair Cream gives visible younger-looking skin in just one week of use!
Retinol and hyaluronic acid are the perfect pair for rewinding the years. Retinol attacks wrinkles, lines and dark spots while hyaluronic acid plumps up the skin by adding moisture and hydration back into it.
This cream is ideal for those who have oily to normal skin type. It's hydrating, moisturizing and anti-aging, but it's not heavy and greasy on the skin!
Available in scented and fragrance-free, we obviously recommend the fragrance-free one, even if you don't have sensitive skin.
Using products with fragrances can make your skin develop a sensitivity to it which can cause reactions. So wherever possible, opt for fragrance-free skincare.
You can use the cream day and night, but be sure to follow up with SPF in the daytime since it contains retinol.
Neutrogena Rapid Wrinkle Repair Regenerating Cream can be bought from Ulta
---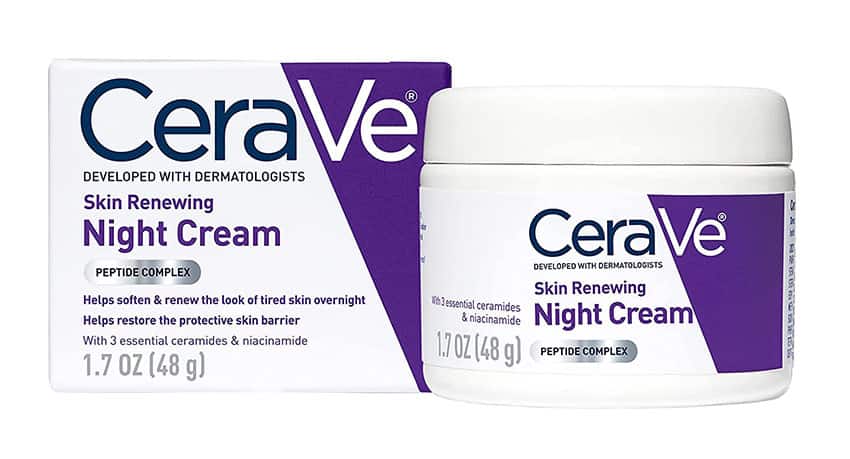 There's a CeraVe skincare product for every skincare concern, including one for aging and wrinkles. This Renewing Night Cream was developed by dermatologists and contains CeraVe's trademarked 3 essential ceramides ingredients.
This helps restore the skin barrier, which if broken, causes more lines and wrinkles to develop. They also help to keep the moisture in your skin, giving your skin the maximum benefit it can get!
It's full of ingredients that diminish wrinkles and helps with anti-aging like niacinamide, biomimetic peptides and hyaluronic acid.
Use this cream every evening before bed and let it do its magic while you sleep. It's intensely moisturizing, goes on smoothly, absorbs quickly, isn't greasy and leaves long-lasting results!
CeraVe Skin Renewing Night Cream can be bought from Amazon
---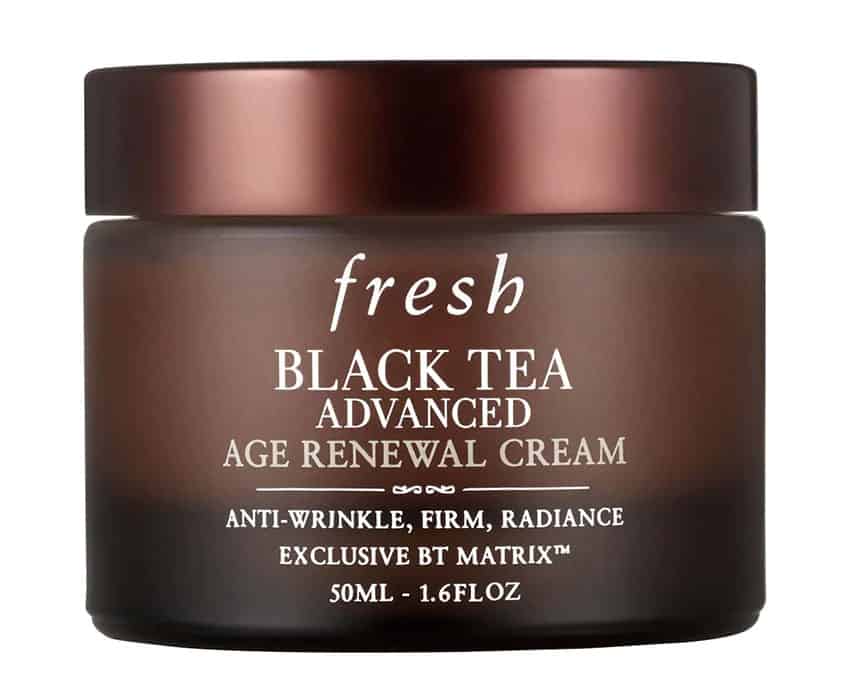 Reduce the look of deep-set wrinkles with this hydrating moisturizer and get firmer more radiant skin! Made with all skin types in mind, its gentle formula works for even sensitive skin.
The exclusive ingredient Bt Matrix gives retinol-like results without the sensitivity that retinol can have on the skin. Other nourishing ingredients are ceramides to support the skin barrier and squalene to protect the skin and prevent moisture loss.
In just a few weeks of using this moisturizer, you'll notice a visible reduction of deep wrinkles and an increase in firmness and radiance.
Rich in texture, yet not sticky or greasy, this moisturizer has the perfect balance that all moisturizers should have! Since it's so rich, it's also ideal for the winter months when the skin gets so easily dehydrated.
Fresh Black Tea Anti-Aging Ceramide Moisturizer can be bought from Sephora
---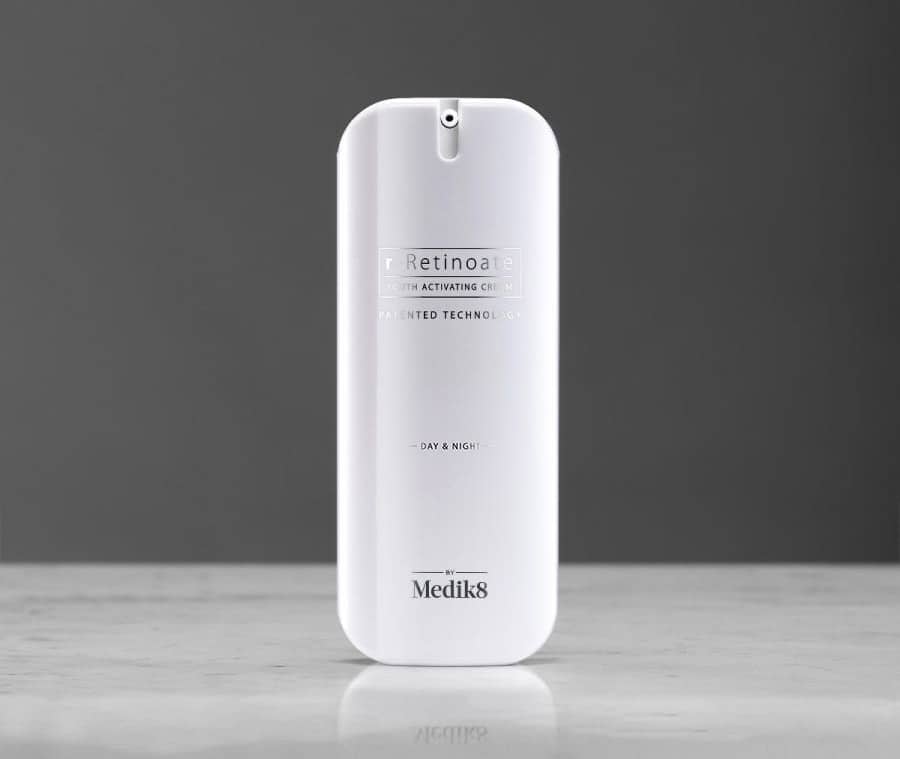 Medik8 is very serious when it comes to looking for solutions and miracle creams against wrinkles and other ageing signs. Even though it's pricey, you can be sure that this cream is the real deal!
Made from the best, Medik8's Youth Activating Cream Intense has an exclusive patented formula called R-Retinoate. With a combination of retinaldehyde and retinyl retinoate (retinoic acid + retinol), it gives better than ever results. It's proven stronger and more powerful and even less irritating than retinol.
The cream also contains hyaluronic acid, squalane, fatty alcohols and ceramides for moisturizing. All of these fab ingredients help to rewind the years, making wrinkles and lines shallower and less noticeable. You can expect plumper skin, that's less dry and that has a smoother and softer texture.
An interesting touch to this cream is that it has a beige colour to it. However, it doesn't leave any tint on the face. It quickly sinks into the skin without any stickiness, despite the consistency being thick.
This formula doesn't disappoint! Whether you're new to retinoids or you think your skin has had enough, you'll be blown away by how many improvements your skin can and will still have.
Since it's retinol, you need to gradually phase it into your skincare routine. If you're using this cream during the day, be sure to always follow up with sunscreen.
This cream is included here because of the fact that it does what it claims, expensive or not. But, in all honesty, there are many amazing anti-wrinkle creams mentioned here that don't break the bank.
Pros
Absorbs quickly
Lightweight
Visibly revitalises the overall look and feel of the skin
Contains a lot of retinoids against wrinkles
Moisturises well
Medik8 r-Retinoate Youth Activating Cream Intense can be bought from Dermstore
---
Common anti-aging FAQs
Can you permanently get rid of wrinkles?
The short answer to that is no unless you're willing to go for more invasive options like botox, laser resurfacing and the like.
That being said, with the right skincare routine and the right skincare products, you can greatly reduce wrinkles and lines.
You can also opt for an LED device, which is painless and has a deeper effect on the skin than creams alone.
What makes them worse?
When it comes to wrinkles and lines, there is no one rule for everyone. Everyone's skin and genetics are different, resulting in different skin! While that's important to remember, there are some things that make wrinkles and lines worse.
Being exposed to the sun without sufficient SPF, ages the skin a lot. Drinking an excessive amount of alcohol is also a big cause of aging. Another cause can be dehydrated skin, so make sure to keep your skin hydrated and moisturized.
What's the best anti-aging ingredient?
Topical vitamin A, such as retinol is by far the most effective anti-aging ingredient. But, staying out of the sun is the best preventative method:)
What age should you start with anti-aging products?
The skin starts to decline from around 25. This means you may start noticing things like crow's feet, skin tags and dark spots on your skin. Using anti-aging skincare from your 20s will help your skin age slower.
My Thoughts
There's no shortage of quality face creams that target wrinkles. We've chosen a few of the creams of the crop and ones that give fast and lasting results.
Whether you have dry, oily or sensitive skin, there's a face cream and moisturizer that can help your wrinkles!
Check out some more anti-aging reviews, like the best skincare products for over 50, the best eye creams for mature skin and the best moisturizers for mature skin.
Hollie xx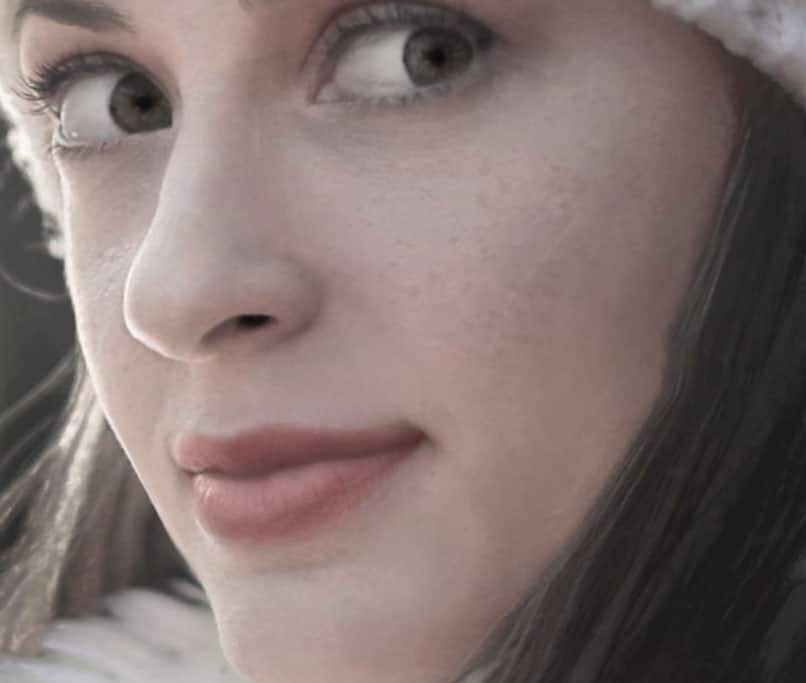 Hi, I'm Hollie, and I own BeautywithHollie.com. I love everything to do with beauty and love sharing my knowledge, advice, and beauty finds! Makeup and beauty are here to enjoy, and Beauty With Hollie is here to take the stress out of it!
---
---
Anastasia Beverly Hills bareMinerals Benefit Cosmetics Bobbi Brown CeraVe Chantecaille Charlotte Tilbury Clarins ColourPop Dermalogica Dior e.l.f. Cosmetics ELEMIS Estée Lauder Fenty Beauty First Aid Beauty Fresh Giorgio Armani Hourglass Jane Iredale L'Oreal Lancome La Roche-Posay Laura Mercier LORAC MAC Makeup Revolution Mario Badescu Maybelline Morphe Nars Natasha Denona Neutrogena NYX Origins Peter Thomas Roth Revlon Sigma Beauty Smashbox Stila Tarte Cosmetics The Ordinary Too Faced Urban Decay YSL
---