The Best Skin Care Products For Women Over 50
We are all getting older. Fact. The only difference is some of us accept it better than others! Aging doesn't mean you're going to turn ugly and wrinkly. Don't let anyone tell you that getting older means you can't be beautiful! Aging can be beautiful, you just need to do it right!
At the glorious age of 50, you'll notice changes in your skin – be it the texture, the increase of fine lines, or how dry it is. With these changes, you need to be aware of how to manage your skin in the best possible way and know which products are the best for ageing skin.
Whether you have oily skin or dry skin, these products are highly recommended by dermatologists for mature skin. In no particular order, here are the top 10 best skincare products for women over 50!
Disclaimer: As an Amazon Associate I earn from qualifying purchases on Amazon and other affiliate programs. This means on some purchases, I make a commission. It doesn't mean you spend more, it simply allows me to keep this blog going!
Cleansers
Elemis Pro-Collagen Cleansing Balm has multiple powerful ingredients that work to dissolve any makeup, dirt and oil that has accumulated over the day.
These ingredients deeply cleanse, nourish as well as hydrate the skin. This balm oozes luxury and is made of high-quality natural oils that are grown in the UK.
In a beautiful luxurious jar, the balm comes in a yellow gel that is quite oily and has a salvelike texture. You will love how rich and creamy the formula is! It is best to keep it in the fridge, especially when the weather is warm, you don't want it turning into a thick yellow balm.
On a dry face, massage it gently into your skin and it will melt into a thick and waxy formula. Adding a little bit of water will give the balm a little creamier texture that feels lovely. It has a natural aromatic scent, which is surprisingly really pleasant.
From foundation to waterproof mascara, this balm wipes away the toughest makeup residue from your face. After rinsing the balm off, your skin will feel a lot smoother and you will notice a beautiful radiant glow to your skin.
One of the ingredients that really make this great for mature skin is Starflower Oil. This oil works hard to maintain the levels of moisture in the skin. Thus, this balm keeps your skin hydrated, and it will fight signs of ageing such as loss of elasticity and wrinkles!
Why you need it? This cleansing balm is a complete gem! It is a product that you will not regret purchasing because it has been proven effective and reliable for ageing skin. The ingredients are spot-on for mature skin and really help to keep skin looking younger and healthier.
PROS
Effectively removes waterproof makeup
Thick and creamy balm
Infused with natural ingredients
CONS
Expensive
Keep Refrigerated, especially in warmer weather
Elemis Pro-Collagen Cleansing Balm can be bought from Amazon | Ulta
---
The Peter Thomas Roth Anti-aging Cleansing Gel is a skincare staple for many out there and for many great reasons! This orange gel is packaged in a tall, transparent bottle with its straightforward ingredients written on it. I love a brand that's transparent with its ingredients!
This cleansing gel is exceptionally effective at detoxifying the pores and removing the most stubborn of makeup including waterproof!
With just a single use, you will notice fresher, healthier-looking skin. It improves the skin texture by shedding dead skin cells to reveal a brighter and more radiant new layer of skin.
The skin-brightening citrus fruits ingredients in the cleansing gel provide exfoliation for your skin daily. Adding to that are salicylic acid and glycolic acid, which all work hand-in-hand to speed up cell turnover! A must for ageing skin!
Although this cleansing gel is excellent for all skin types, one piece of good advice is to use it once a day instead of twice. The formula can be a little drying on the skin. Follow up with your favourite moisturiser, and you will be good to go.
Why do you need it? The Peter Thomas Roth Anti-aging Cleansing Gel is made for anyone who wants to prevent fine lines, soften the appearance of sun damage, and have a sparkly clean face. If you've been meaning to try any Peter Thoams Roth products because of their raving reviews, this will be a good introduction.
PROS
Fairly affordable
Gel-based cleanser
Powerful anti-ageing ingredients
CONS
A bit strong for very sensitive skin
Has sodium laureth sulfate
Peter Thomas Roth Anti-aging Cleansing Gel can be bought from Ulta
---
The SkinMedica AHA/BHA Exfoliating Cleanser is a pro at unclogging enlarged pores! It is also extremely beneficial for fighting adult acne breakouts.
In a neat white tube, this exfoliating cleanser is filled with ingredients that will benefit your skin! From reducing acne scars, firming saggy skin, promoting collagen growth and calming breakouts, this cleanser does it all.
Filled with alpha-hydroxy acids (AHAs) such as lactic and glycolic acid, these great chemical exfoliators completely remove dead skin cells. This helps to reduce hyperpigmentation, age-related spots and annoying acne scars!
These AHAs also encourage the increase of collagen deep in the layers of your skin to help firm and tighten your skin.
Not only does it have AHAs, but it also has beta hydroxy acid (BHA), namely salicylic acid which is a powerhouse against acne and controls oil production. It is gentle enough to use both day and night as well!
Why do you need it? This 2-in-1 exfoliating cleanser is formulated by the experts and it's a must-have, especially if you are low-maintenance and don't need all the frills and fuzz of other skincare products. It is amazing for oily skin as it helps with the skin's oil control.
PROS
Developed by skin experts
Straightforward and simple to use
Controls oil production
Fights adult acne
SkinMedica AHA/BHA Exfoliating Cleanser can be bought from Amazon
---
Serum
Paula's Choice has undoubtedly some of the best skincare products around. Their Resist Intensive Wrinkle-Repair Retinol Serum is no exception! This serum is an excellent night treatment that is designed to improve the look of ageing skin and repair any sun damage.
In an airtight pump bottle, the packaging ensures that the stability and efficiency of the formula are maintained.
I love this feature because what many don't realise is that once a product is exposed to the air, many of the 'amazing' ingredients are no longer effective. I wish all skincare brands would make their products in airtight packaging!
The serum has a gel-like consistency that is creamy and silky once applied to the skin. For the summer months, the serum is excellent enough as a stand-alone, but for wintertime, it is best to follow it up with a moisturiser for that extra kick of hydration.
Give your skin time to adjust to products that have retinol, and incorporate this serum slowly into your regimen. The formula of the serum is very gentle, and even sensitive skin can easily adjust to it.
After the period of adjustment, you will notice the significant effects that retinol has on the skin. It smoothens the skin and reduces the appearance of wrinkles and fine lines. It also improves the skin's texture and gives you back that glow.
Why do you need it? Retinols are high in antioxidants that are great for ageing skin. This serum delivers powerful anti-ageing ingredients that will significantly affect your skin.
PROS
Infused with powerful vitamins A and C that helps prevent and fight signs of ageing
Purposeful packaging to preserve the formula and avoid oxidation
CONS
Adjustment period
Increased sensitivity to the sun
Paula's Choice Resist Intensive Wrinkle-Repair Retinol Serum can be bought from Amazon
---
The Elizabeth Arden Retinol Ceramide Capsules Line Erasing Night Serum is a fun and unique serum that lives up to its expectations! The reason behind these capsules is simple, since retinol is sensitive to light and air, encapsulating them makes them more potent and stable.
As we already have uncovered, retinol is an excellent anti-ageing ingredient. This serum is specially formulated to help with any dryness that the retinol can sometimes cause, giving you all the benefits without the negatives!
This serum also helps with diminishing lines and wrinkles as well as hyperpigmentation and age spots. The capsules are super easy to use, twist or cut the neck of the capsule to 'open' and squeeze out the product. The serum feels very light on the skin and it's comfortable to wear.
This is also perfect to pair with any booster or night cream as it's very light and won't overload the skin.
Why do you need it? The Capsule Serum is a unique way and original way to add retinol to your skincare routine. Since the retinol concentration is relatively low, this is the best place to start! Not to mention, Elizabeth Arden is a reliable high-end brand that has outstanding skincare products!
PROS
Unique and encapsulated retinol
Fragrance-free
Easy-to-use
Elizabeth Arden Retinol Ceramide Capsules Line Erasing Night Serum can be bought from Ulta / Look Fantastic UK
---
The Estée Lauder Advanced Night Repair Serum has been a long-time favourite of many skincare enthusiasts. This iconic product has been updated to the Advanced Night Repair Synchronized Recovery Complex II!
The formula for this serum helps explicitly with the skin's natural night-time repair process by deep hydration.
This serum is filled with antioxidants that help counteract the damages that the free radicals do to our face during the day. You will have noticeably transformed skin with regular use of this serum. Making your skin supple and looking less tired and dull throughout the day.
This serum comes in a classic brown glass bottle with a gold dropper for easy application. The product itself is a golden brown gel that is a tad bit watery. It goes on very lightweight to the skin and is absorbed quickly. There is a slight fragrance of orange peel undertones in the serum.
Why do you need it? The Estée Lauder Advanced Night Repair Synchronized Recovery Complex II is an upgrade of Estee Lauder's classic serum. If you're also willing to pay more for this quality goodness, it will be worth the money as it is reliable and effective.
PROS
Upgrade to the original Advanced Night Repair
Soothing to the skin
Effective antioxidants
Available almost everywhere
Estée Lauder Advanced Night Repair Synchronized Recovery Complex II can be bought from Amazon | Ulta
---
Moisturiser
The Elemis Pro-Collage Marine Cream is the brand's best-selling, multi-award-winning day cream, and it deserves a spot on our moisturiser list. This moisturiser helps with collagen support that will lift the skin and also increase moisture and hydration levels.
Housed in a beautiful jar, this moisturiser has an almost whipped texture, but it is very light and creamy. It feels very hydrating on the application, and the skin absorbs it quickly.
This is an excellent moisturiser that will keep your skin supple and very well-hydrated throughout the day.
Why do you need it? The Elemis Pro-Collage Marine Cream is a luxurious and effective moisturiser that is uncomplicated and straightforward. This splurge will not leave you regretting the purchase because it is effective and will work great on ageing skin.
PROS
Great for all skin types
Light texture
Extremely moisturising
Elemis Pro-Collagen Marine Cream can be bought from Amazon
---
Elizabeth Arden Eight Hour Cream Skin Protectant is a skincare classic that you absolutely need to have to help your skin look and feel younger!
Not only can you use it on your face, but you can also absolutely slather this cream all over your body. It helps with roughness and hydrating, especially for dry skin!
In a conveniently sized tube, this cream just absolutely does everything to keep your skin moisturised to the fullest. It comes in a thick apricot-coloured salve that is quite similar to the texture of petroleum jelly.
This moisturizer is powerful enough to soothe and calm dry and irritated skin. It restores the skin to a smooth supple texture. Literally a lifesaver for dry skin! This moisturiser will help to keep your skin healthier and protect it from further damage from free radicals.
Why do you need it? This Elizabeth Arden Eight Hour Cream Skin Protectant is simply a classic. If you want a trustworthy product that has been a staple to many, this moisturiser is perfect for you. This is especially great for wintertime as it is thick and will leave your skin intensely hydrated when you most need it.
PROS
Affordable
Classic and Reliable Product
Multi-Use for Face and Body
CONS
Scent Can Be Too Overpowering
Quite Sticky
Elizabeth Arden Eight Hour Cream Skin Protectant can be bought from Ulta / Look Fantastic
---
The SkinCeuticals A.G.E. Interrupter Mature Skin Treatment is formulated especially for ageing skin. This moisturiser targets explicitly advanced glycation end-products which cause the visible signs of ageing. A.G.E. Interrupter is an advanced wrinkle treatment that helps to improve the appearance of wrinkles and restore the firmness of the skin.
This is especially great for reducing the look of skin creping and thinning skin. This moisturiser also helps to restore water and nutrients to the skin so it will be firmer.
This moisturizer goes a long way, all you need is a small amount peruse. It is creamy and thick upon application that is quickly absorbed by the skin.
It is lightweight enough and doesn't leave you with a greasy feeling. The formula goes on creamy but promptly absorbs without leaving behind a heavy, sticky or greasy feeling.
Why do you need it? The SkinCeuticals A.G.E. Interrupter Mature Skin Treatment is excellent for mature skin. It will help reduce the visible signs of ageing while working to keep the skin moisturised. This treatment targets ageing skincare concerns that deliver results immediately.
PROS
Targeted for mature skin
Non-greasy
Formulated to fight A.G.E
CONS
Expensive
The fragrance may be irritating to sensitive skin
SkinCeuticals A.G.E. Interrupter Mature Skin Treatment can be bought from Amazon
---
Sunscreen
The Dermalogica Dynamic Skin Recovery SPF50 is well-suited for mature skin. Dermalogica has always pushed products that have potent ingredients and innovative formulas.
This sunscreen features ingredients that target skin ageing and diminish the appearance of aged skin. Plus it has active sunscreen protection that helps against the harsh UV rays of the sun.
The sunscreen comes in a classic Dermalogica white, clean bottle. There is a pump available which makes it easier to 'pump out' the product and this packaging is great for travel because you're guaranteed no leaks.
The cream is in a typical white colour that is on the thick side. But the good news is, this sunscreen absorbs wonderfully on the skin and it doesn't leave any greasy or sticky feeling. Instead, it feels lightweight and hydrating as the day goes on.
Why do you need it? The Dermalogica Dynamic Skin Recovery SPF50 is an uncomplicated and straightforward choice as a sunscreen and moisturiser. It delivers the right ingredients that your skin needs for sun protection and also helps with signs of ageing as you go along.
PROS
Multi-tasking product
Great for dry skin
CONS
Expensive
Can be thick on oily skin
Dermalogica Dynamic Skin Recovery SPF50 can be bought from Ulta
---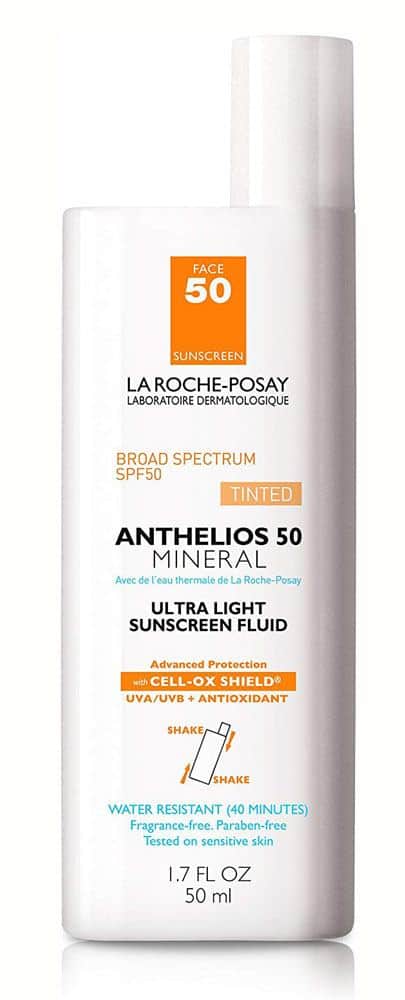 La Roche-Posay Anthelios 50 Tinted Mineral Ultra Fluid Sunscreen is as it sounds, it's a tinted sunscreen. But you don't have to worry about its coverage as it is sheer and gives beautiful, even and glowy skin.
The sunscreen offers a broad spectrum of SPF 50 protection as well as helps with diminishing fine lines and wrinkles.
The liquid is almost watery and quite thin as you apply it. The dropper also makes it easy for you just to apply it. The silkiness will be absorbed right into the skin and does not leave a white cast. The tint also softly evens out imperfections on the skin.
This sunscreen is very pleasant to put on and does not feel oily on the skin. You can also re-apply it throughout the day.
Why do you need it? The La Roche-Posay Anthelios 50 Tinted Mineral Ultra Fluid Sunscreen provides a lightweight application on the face. It will also offer sheer coverage that gives your skin a little healthy glow. If you prefer liquid sunscreen, this is an excellent bet for you and you get the added bonus of a little colour!
PROS
Suitable for sensitive skin
Dermatologist-tested
Fairly affordable
High SPF
CONS
Shake the product for even distribution
La Roche-Posay Anthelios 50 Tinted Mineral Ultra Fluid Sunscreen can be bought from Amazon
---
The Murad Environmental Shield Essential C Day Moisture SPF30 is another simple sunscreen that delivers immense benefits to the skin.
It has UVA/UVB protection and antioxidants that help out stressed-out skin by soothing it and helping as well to firm and diminish hyperpigmentation.
The lotion itself is sheer and goes on smoothly as you apply it. It is not as thick as you would expect sunscreen to be, which is a nice feature. It layers well without clumping or peeling off, and you can combine it with any other skincare product too.
It is suitable for everyday use and it won't leave a white cast on your skin. This sunscreen will give you youthful, radiant and firmer skin!
Why do you need it? The Murad Environmental Shield Essential C Day Moisture SPF30 is great for everyday use that will give you enough protection against the harsh sun rays. If you don't mind spending more on great sunscreen, this option will do wonders for you.
PROS
Lasts a long time
Absorbs easily
Great for daily use
CONS
Expensive
Contains fragrance
Murad Environmental Shield Essential C Day Moisture SPF30 can be bought from Ulta
---
The best way to deal with aging skin
The way you treat your skin in your 30s or 40s has many differences from when you're in your 50s.
The best way to look after your skin at any age is to simplify your routine. What you really need in your skincare regime is a great cleanser, serum, moisturiser and sunscreen. These three categories are what we'll be focusing on in this blog on products for women over 50.
Let's break down what habits you should be avoiding and what products you should be using!
Cleanser
One of the most essential steps no matter your age is cleansing. Cleansing helps protect your skin's barrier to stay healthy. Since your skin gets drier and thinner as you age, you want to avoid foam types of cleansers.
I recommend using a creamier moisturising cleanser that will be great for sensitive skin because essentially all ageing skin falls into the sensitive category.
When picking a cleanser, make sure that it contains vitamins, retinoids and antioxidants. Look out for Vitamin A, C & E, Hyaluronic Acids and Retinol.
Avoid cleansers that contain alkaline soap, abrasive ingredients and drying alcohols. Also, your cleanser should cleanse oil and remove your makeup without making your skin red or feel tight. Check out my review on the best cleansers for sensitive skin.
Serum
Before we get started on serums, it is crucial to know that face serums are not moisturisers. They do hydrate and nourish the skin, but serums have more concentrated ingredients that penetrate deeper than a moisturiser.
A few such ingredients are retinol, peptides, Vitamin C and hyaluronic acid. Serums are a lot more lightweight on the skin compared to moisturisers.
Serums are a key product when it comes to anti-ageing! From keeping your skin healthy and fighting wrinkles, serums have loads of benefits that can help mature skin.
For optimum effect, make sure you apply the serum after cleansing and before moisturising. Clean skin is ideal for a serum to effectively work. It is also best if your skin is damp as it will be more permeable. Remember that less is always more. Two to three drops of serum will be enough to nourish your face.
Moisturiser
As your skin gets parched as you age, it is even more crucial to pack on the moisturiser to hydrate and moisturise your skin properly. It helps with trapping water in your skin and also reduces the appearance of fine lines and wrinkles.
Ageing causes the skin to produce less oil, creating a breakdown of elastic and collagen fibres. A moisturiser will provide the proper moisture and barrier renewal that the skin will need.
In addition, moisturisers with nourishing oils will help compensate for the rate of sebum production as well. Moisturisers have the ability to hydrate and plump the skin which helps prevent wrinkles. When it comes to reversing the damage already caused, look for moisturisers that have retinoids or vitamin C.
These ingredients help crepy skin, as well as help, reduce the look of fine lines and wrinkles.
Sunscreen
When it comes to talking about sunscreen I feel like I'm a parrot! Nevertheless, I'll say it once more!
Wearing sunscreen is imperative no matter the age and season! It is the most effective way to protect your skin from the harsh UV rays of the sun. With daily use of SPF 15 or higher, it can significantly reduce skin damage from the sun.
For mature skin, choose a sunscreen that has antioxidants like Vitamins C and E, plus a minimum of SPF 50. Since mature skin tends to be a lot drier, it is also great if the sunscreen contains moisturising elements.
My Thoughts
Ageing is beautiful, and no one should tell you otherwise. Taking care of your skin is essential, no matter your age. Keeping up does not have to be hard, either! Knowing the right knowledge and steps to take care of your skin will help in the long run.
These products will help to reverse the damage that the years have done and maintain your youthful, beautiful glow!
Hollie xx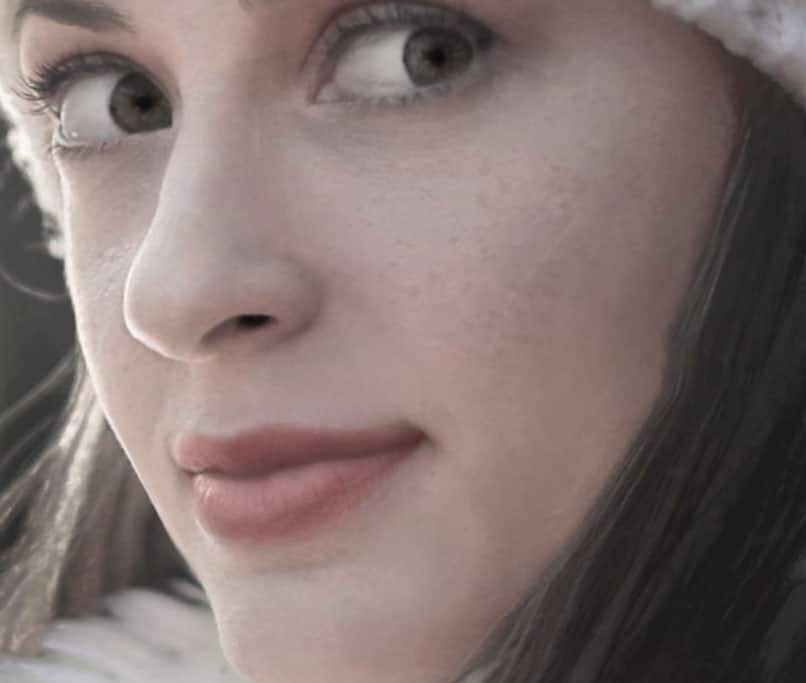 Hi, I'm Hollie, and I own BeautywithHollie.com. I love everything to do with beauty and love sharing my knowledge, advice, and beauty finds! Makeup and beauty are here to enjoy, and Beauty With Hollie is here to take the stress out of it!
---
---
Anastasia Beverly Hills bareMinerals Benefit Cosmetics Bobbi Brown CeraVe Chantecaille Charlotte Tilbury Clarins ColourPop Dermalogica Dior Dyson e.l.f. Cosmetics ELEMIS Estée Lauder Fenty Beauty First Aid Beauty Fresh Giorgio Armani Hourglass Jane Iredale L'Oreal Lancome La Roche-Posay Laura Mercier LORAC MAC Makeup Revolution Maybelline Morphe Nars Natasha Denona Neutrogena NYX Origins Peter Thomas Roth Revlon Sigma Beauty Smashbox Stila Tarte Cosmetics The Ordinary Too Faced Urban Decay YSL
---