The Best Sunscreens for Sensitive Skin in 2024
Having sensitive skin isn't easy. In fact, it can be a right old pain. Use the wrong product and the reaction isn't always so pretty. Lucky for you, nowadays we have so many products that are made specifically with sensitive skin in mind.
More and more brands are aware of the effect that the wrong ingredients have on the skin. And more and more people are opting for skincare that's good for you, regardless if their skin is sensitive or not. Sunscreen is one of those products that commonly cause reactions in the skin.
I've done the hard work for you and scoured the web for the best sunscreens that won't cause irritations or breakouts for even the most sensitive skin.
We've also answered the most common sunscreen FAQs at the end of this post. Included are some common myths that we've debunked!
Disclaimer: As an Amazon Associate I earn from qualifying purchases on Amazon and other affiliate programs. This means on some purchases, I make a commission. It doesn't mean you spend more, it simply allows me to keep this blog going!
La Roche Posay is known for its good quality skincare products that are safe for sensitive skin and dermatologist approved!
Ahead of the game, they've recently released this new sunscreen that has a new type of UV protection called UVmune 400. What that means for you is better than ever before UV protection!
It's been in the making for over 10 years and its main benefit is that it provides deeper UV protection. If you want to protect your skin from aging, this sunscreen is the one you need!
Other things to love about this sunscreen are that it's not greasy, you can wear it all over your face, including the eye areas and it won't irritate or burn!
It also doesn't leave any white cast which is often a deal breaker when it comes to sunscreen!
La Roche-Posay Anthelios UVmune 400 Moisturising Cream SPF50 can be bought from Walmart | Amazon UK
---
Altruist sunscreens are some of the best sunscreens on the market. They are highly affordable, yet look super classy and expensive. If that's not enough, with every purchase, they donate some of it to a charity in Africa to help those with albinism.
I don't know about you but I like supporting companies that think of the less fortunate. They are setting good trends!
Putting all their good work aside, this sunscreen is the real deal. Every sunscreen gets an official UVA rating. Altruist is 5* which is the highest rating, this means that when it's used correctly, it protects your skin from all harmful rays, UVA and UVB.
It is available in SPF 50 and SPF 30. The SPF 50 is slightly shinier than the SPF 30. Applying it is really easy and it dries without leaving any white marks or stickiness.
It is suitable for acne-prone skin and those with very sensitive skin too. You can use it on your face and body. It is fragrance-free, paraben-free and water-resistant.
It's not so easy to get hold of it in the US, but it's worth every penny to ship in.
Altruist Dermatologist Sunscreen can be bought from Amazon
---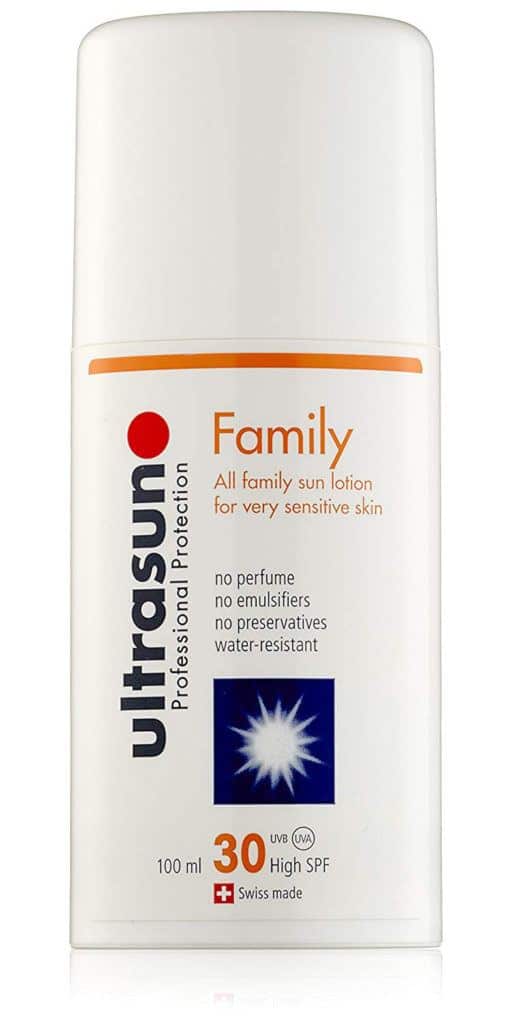 Ultrasun Family All Family Sun Lotion is another sunscreen that works wonderfully for sensitive skin. This broad-spectrum sunscreen can be used for all ages, and it dries invisibly which is a must for kids and many adults too!
They claim it can protect your skin the entire day after applying it once, I don't recommend that, but it does mean it has very high protection.
Fragrance-free and water-resistant, it's formulated with antioxidants which is always a nice bonus, although there are disputes if antioxidants can be effective in combination with a chemical sunscreen.
The sunscreen absorbs really quickly without leaving any grease or residue. It doesn't cause prickly heat, which is something that many with sensitive skin suffer from!
ultrasun Family All Family Sun Lotion can be bought from Amazon
---
Mineral sunscreens are one of the latest trends in sunscreen. They use minerals as the active ingredient, and they tend to be less irritating and more moisturising on the skin.
Mineral sunscreens don't get absorbed into the skin as chemical sunscreens do. This makes them a better choice for sensitive skin since what it really does is create a barrier between your skin and the sun.
SkinCeuticals Mineral Radiance UV Defense sunscreen is one of the only sunscreens on the market that combines 100% mineral broad-spectrum protection and universal radiance.
Another neat feature is that the color of the sunscreen adapts to the color of your skin tone. This means that you can use it instead of your foundation or cc cream.
You can also apply it under your makeup and it won't interfere with your makeup at all. It applies smoothly, is comfortable to wear, and doesn't feel oily on the skin.
Ideal for sensitive skin, the sunscreen is water-resistant and has no chemicals.
While it may be a little on the pricier side, many say they can't live without it now and that it's worth every penny. It's the quality you're paying for and the quality that you get!
SkinCeuticals Mineral Radiance UV Defense SPF 50 can be bought from Amazon
---
Garnier Ambre Solaire Sensitive Face and Neck Cream is another broad-spectrum sunscreen that is highly affordable and highly effective.
One of its best features is that it has ingredients that absorb any oil that may break out during the day. It also isn't heavy to wear and there is no grease or shine when wearing it. It's comfortable and invisible.
The ingredients have many benefits too, it's enriched with vitamin E which moisturises your skin, and at the same time protects it.
Like any good sunscreen, this one is also water-resistant and fragrance-free. Unfortunately, this is another sunscreen that is a little hard to get hold of in the US. However, Amazon UK does ship internationally.
Garnier Ambre Solaire Sensitive Face and Neck Cream can be bought from Amazon
---
Murad City Skin Broad Spectrum is a mineral sunscreen that not only targets protecting your skin from sun damage, but also from everyday pollution, which damages and ages your skin. It also protects your skin from blue light damage that's caused by all the devices that we're surrounded by.
The sunscreen has a really lightweight formula that absorbs quickly into the skin without leaving any greasy residue. It has a slight tint which is a nice change from the classic white sunscreen, this also helps to even out the skin tone.
The finish is slightly luminous, if you have oily skin you may find it too much. Generally speaking oily and luminous should not be mixed. The formula is fragrance-free and made with sensitive skin in mind.
Murad City Skin Broad Spectrum SPF 50 PA+++ can be bought from Amazon
---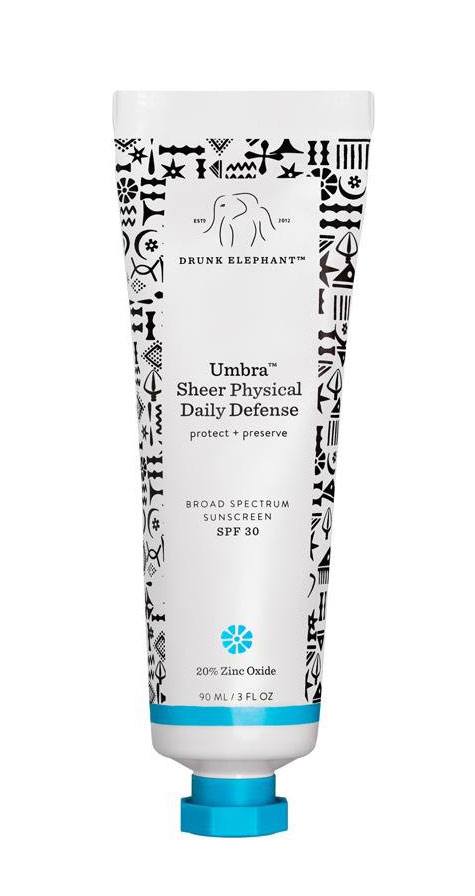 This sunscreen is a physical sunscreen which means, instead of using chemical ingredients it uses mineral ingredients that sit on top of the skin, and scatter the UV rays away from your skin.
Physical sunscreens tend to be less irritating on the skin, which makes them a better option for sensitive skin.
Umbra sunscreen is an award-winning sunscreen, it is made without any chemicals or silicones. It is also fragrance-free and free from essential oils. Being a broad-spectrum sunscreen, it will protect against all harmful rays.
The formula is quite thick and it has a sticky consistency to it. You only need a pea-sized amount each time you use it because a little goes a long way. Once the sunscreen is absorbed the stickiness goes away and there is a slight shimmer to it.
It's a lovely option for those with dry skin but I don't really recommend it if you have oily or acne-prone skin, the shimmer and extra oil will bother you.
The main disadvantage that this sunscreen has is its price. It is expensive and I don't think it's necessarily better than the other sunscreens mentioned in this review.
Drunk Elephant Umbra Sheer Physical Daily Defense Broad Spectrum Sunscreen SPF 30 can be bought from Amazon
---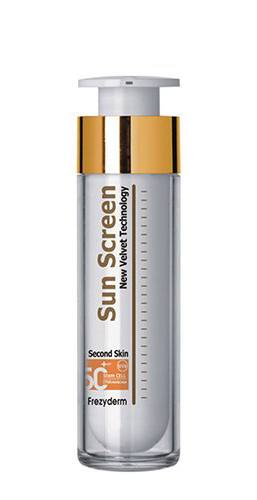 This sunscreen is one of the loveliest sunscreens to wear under makeup. It's a colourless sunscreen that sinks beautifully into the skin. With its matte finish, you can be sure it won't cause you any shininess. What's more, it actually absorbs extra oil to help your face stay matte for up to 6 hours.
The texture is so soft and velvety, that you will have a hard time believing that it really is a sunscreen, never mind a sunscreen with an SPF50.
The bottle lasts for ages because you only need a small amount each time you use it, a little goes a long way. It's really good value for money. In fact, one of the questions I often hear about this sunscreen is why is it so cheap when it looks and feels so high-end?! That is when you know you've struck gold!
FREZYDERM SPF 50 Velvet Face Sunscreen is a broad-spectrum sunscreen that protects the skin from all harmful rays. It is water-resistant and fragrance-free.
FREZYDERM SPF 50 Velvet Face Sunscreen can be bought from Amazon
---
Common sunscreen myths and FAQs
Why do you need to wear sunscreen if you never get sunburned?
There are 2 separate reasons for wearing sunscreen, one is to protect your skin from getting burnt and the other is to protect your skin from harmful ultraviolet (UV) rays.
While people with darker skin do have some natural protection that prevents them from getting burnt, they don't have protection from UV rays.
So yep, sorry but everyone needs to wear sunscreen even in the winter when you can't see the sun! Unfortunately, those UV rays are always present! You can incorporate sunscreen into your makeup routine by opting for a tinted sunscreen.
Can children wear sunscreen that's sold for adults?
Children can wear sunscreen that's made for sensitive skin without a problem. This is because the sunscreen that's for sensitive skin is made in the same way as sunscreen for babies.
The only thing you need to look out for is that the sunscreen has a high enough SPF. Children generally need a higher SPF than adults.
When does the bottle expire?
Most sunscreens will say the expiration date on the bottle. But there are always a few that break the rules, in those cases, it's safe to assume that you can use it for up to 12 months.
Do you need to wear sunscreen every day?
Generally speaking, if you are not going to be locked up in your house all day, you should wear some sort of SPF. For many people, that's covered in their moisturiser or foundation. If it's winter or it's not a sunny day then that should be sufficient.
However, in the sun, you need stronger protection from UV rays. If you're out in the sun for any substantial amount of time you'll need at least SPF30-50.
How often should you apply sun lotion when in the sun?
To get the best protection from the sun you need to apply your sunscreen at least 30 minutes before you are exposed to the sun. Reapply every 2 hours after that. I know this sounds like a lot of work, and it is. But in the long run, it is totally worth it.
Applying sunscreen can be annoying, but skin cancer can be a life sentence. Sunscreen also protects the skin from premature ageing and lines.
How to choose the best sunscreen for your skin?
There are sunscreens that protect against UVA rays and there are sunscreens that protect against UVB rays. Since the sun emits both types of rays, you need protection from both and that is called broad-spectrum protection.
Always look out for sunscreens that offer broad-spectrum protection to be covered from all damaging rays. Read more on how to choose the best sunscreen for your skin.
Which is better, a spray or a lotion?
The difference between the two is the difference in how you apply them. When using a spray, most people only spray for a few seconds over each area. That is the convenience of a spray.
However, spraying for a few seconds doesn't give as much protection to your skin. So while in theory, a spray is just as good as a lotion, a lotion is superior because you'll be applying the sunscreen better.
What's the difference between US and EU sunscreens?
Did you know that European sunscreens are better than US ones? And that does not mean if you buy a European sunscreen in the US that you get the same as its international counterpart.
The US does not allow all the ingredients that many European sunscreens have. This means that if they're sold in the US they require different ingredients from the ones sold in the EU.
The US allows far fewer chemical ingredients than the EU, many of these ingredients are vital in giving better protection from UV rays.
It also means that the US sunscreens don't apply as nicely and are a lot greasier to wear. European sunscreens also have better broad-spectrum coverage than US sunscreens.
US people, it's not all doom and gloom. It's 2024 and there's online shopping often with international delivery as an option. Do I recommend ordering sunscreens from Europe? Oh yes. It's 100% worth it and international shipping often doesn't cost too much.
My Thoughts
There is no best sunscreen for everyone, different products work differently for each person, especially when it comes to sensitive skin. What works for you may not work for your friend and that's normal.
We're all individuals and the trick is finding what works best for you and your skin. On that point, what works for you one year may not work as well next year.
With our forever-changing hormones as well as our age changing we have to be open to changing our cosmetics too. Such is the life of a woman. We might as well embrace it:)
Hollie xx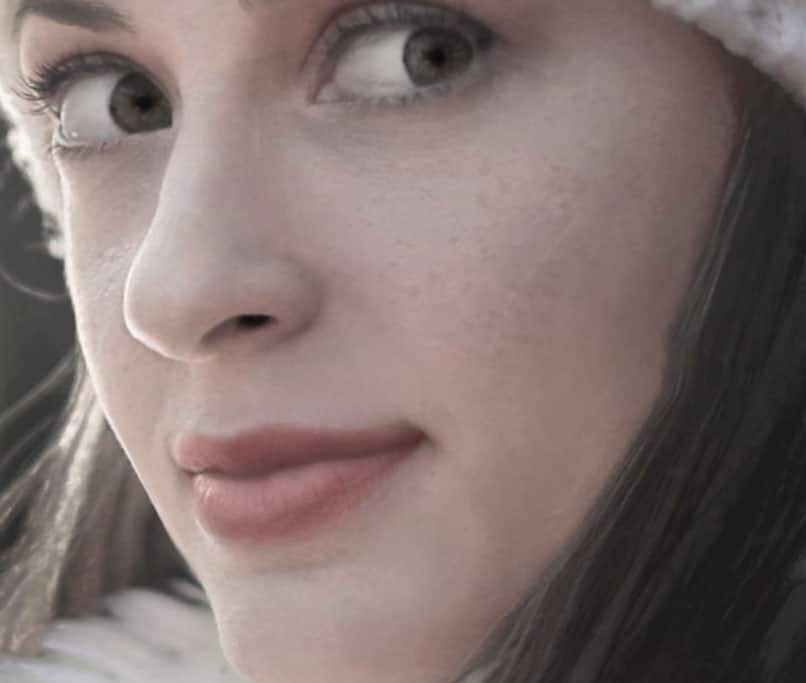 Hi, I'm Hollie, and I own BeautywithHollie.com. I love everything to do with beauty and love sharing my knowledge, advice, and beauty finds! Makeup and beauty are here to enjoy, and Beauty With Hollie is here to take the stress out of it!
---
---
Anastasia Beverly Hills bareMinerals Benefit Cosmetics Bobbi Brown CeraVe Chantecaille Charlotte Tilbury Clarins ColourPop Dermalogica Dior e.l.f. Cosmetics ELEMIS Estée Lauder Fenty Beauty First Aid Beauty Fresh Giorgio Armani Hourglass Jane Iredale L'Oreal Lancome La Roche-Posay Laura Mercier LORAC MAC Makeup Revolution Mario Badescu Maybelline Morphe Nars Natasha Denona Neutrogena NYX Origins Peter Thomas Roth Revlon Sigma Beauty Smashbox Stila Tarte Cosmetics The Ordinary Too Faced Urban Decay YSL
---