The Best Drugstore Foundation For Every Skin Type in 2023
Drugstore beauty has come a long way from what it used to be. While 10 years ago, there was a big difference in the quality of drugstore makeup and high-end makeup, nowadays, that is not the case at all and drugstore foundations are just as good as high-end ones, if not better!
I've put together the best drugstore foundations in 2023 for all skin types and concerns. Whether you have dry or oily, mature or uneven skin, there's an affordable foundation for you and your skin type!
Disclaimer: As an Amazon Associate I earn from qualifying purchases on Amazon and other affiliate programs. This means on some purchases, I make a commission. It doesn't mean you spend more, it simply allows me to keep this blog going!
The Best Drugstore Foundations For Every Skin Type
IN A NUTSHELL
Coverage: Medium
Shades: 40
Finish: Matte
Key Features: Micro-powders control shine and minimize pores, lasts up to 12 hours, oil-free formula
Cruelty-free: No
Is it for you?
Maybelline Fit Me Matte + Poreless Liquid Foundation is the best matte foundation for normal to oily skin in drugstore beauty.
Maybelline is a household name when it comes to drugstore makeup and they have some of the best affordable foundations. They've been around for over a century and sell their products in 120 countries!
The Maybelline Fit Me Matte + Poreless Liquid Foundation is a bestseller worldwide and it's easy to see why with a foundation shade for every skin colour and tone.
Extremely lightweight and comfortable to wear, this is a must-have foundation for those who love a matte formula and finish! It absorbs oil, controls shine and minimizes pores for a flawless foundation finish.
One thing to be aware of is that because it's sold in so many countries, the foundation is not identical in all countries. In the UK, the packaging is different from the US and the foundations have slightly different formulas. It doesn't contain clay in the UK, whereas, in the US it does.
Aside from those 2 differences, the features are the same as the US version. Maybelline Fit Me Matte Poreless also features in my review on The Best Foundations with the Most Inclusive Shade Ranges
---
IN A NUTSHELL
Coverage: Medium
Shades: 31
Finish: Natural and lightweight
Key Features: Antioxidants, anti-pollution and anti-blue light ingredients
Cruelty-free: No
Is it for you?
Revlon PhotoReady Candid Natural Finish Foundation is the best drugstore foundation for medium buildable coverage and for all skin types and all ages, in particular, normal to oily skin types.
With medium coverage and a natural, lightweight formula, the foundation is easy to build up while maintaining a natural finish. The texture is lovely and creamy and it applies smoothly which is usually the case with cream foundations. The 31 shades come in cool, warm and neutral finishes, there is something for everyone.
This multi-functional foundation boasts an incredible amount of claims for an affordable drugstore product! Aside from the 'regular' foundation claims, and by that I mean that it had impressive coverage, this foundation is also infused with skincare ingredients, ensuring your skin stays moisturized throughout the day. Out with the bad, in with the good!
The skincare ingredients in Revlon PhotoReady Candid Natural Finish Foundation include:
Antioxidants
Anti-pollution ingredients
Anti-blue light ingredients
These protect the skin against environmental damages that are all too common nowadays. Plus, it's free from oils, parabens, phthalates, synthetic dyes, and fragrances.
The only negative I have to say about this foundation is that the deep shade range is somewhat lacking. They could definitely do with some darker shades.
That being said, overall it's an extremely impressive foundation, never mind a drugstore one! It has awesome skin-like coverage, it doesn't sink into lines and wrinkles and it doesn't get oily or shiny over time.
---
IN A NUTSHELL
Coverage: Medium
Shades: 40
Finish: Natural and lightweight
Key Features: Lightweight yet long-wearing, skin-like finish, SPF25, transfer-resistant, non-comedogenic
Cruelty-free: No
Is it for you?
The L'Oréal Infallible Fresh Wear 24HR Foundation is ideal for those who want a long-wearing foundation that's comfortable and doesn't look or feel cakey. This foundation gives clear, smooth, natural-looking skin with hours of wear.
It's hard to believe that the thin liquid formula of this foundation has staying powers for 24 hours! While I can't vouch for 24-hour wear, I've worn it for an entire day and it lasted perfectly!
With medium coverage and a skin-like, natural-looking finish, it really is the real deal! If that's not impressive enough, it also resists transfer and sweat and remains breathable all day.
This foundation is ideal for the budget buyer who wants a quality foundation. It's natural looking, it applies smoothly, it lasts all day, it has SPF and it's extremely comfortable!
---
IN A NUTSHELL
Coverage: Medium-full coverage
Shades: 40
Finish: Semi-matte
Key Features: Skincare ingredients, improves uneven skin tone
Cruelty-Free: Yes
Is it for you?
e.l.f. Cosmetics Flawless Satin Foundation has medium to full coverage and is for all skin types and ages, particularly oily skin.
The e.l.f. Flawless Satin Foundation is so popular for many reasons, it applies smoothly and easily, blends beautifully, feels weightless and lasts all day without becoming cakey. It has a semi-matte finish, making it ideal for all skin types.
Like all 'modern-day' foundations and elf products, it's not complete without a skincare ingredient to give your skin maximum benefit! In this case, it's glycerin, which is a lovely ingredient for a hydrating foundation. This makes e.l.f. Flawless Satin Foundation is an ideal drugstore foundation for aging skin and the best full-coverage foundation for oily skin.
It has medium to full coverage which is hard to believe when wearing it because it's so comfortable and lightweight, it feels like you're not wearing any coverage. It improves uneven skin tone and texture, giving the skin a flawless finish.
If you're not happy with the shade you chose, e.l.f. has a shade match guarantee, buying online couldn't be easier. Simply return it within 30 days for a full refund. Does customer service get any better than that?!
With a luxury look and a budget-friendly price, the e.l.f. Flawless Satin Foundation has a perfect balance!
---
IN A NUTSHELL
Coverage: Medium buildable coverage
Shades: 26
Finish: Natural
Key Features: SPF 15, 4 in 1 product, clean ingredients, hypoallergenic
Cruelty-free: Yes
Is it for you?
This drugstore foundation has medium coverage and is suitable for all skin types, particularly oily-prone skin. It's also especially good for aging skin due to its anti-aging skincare ingredients.
Liquid foundations aren't for everyone–for example, people with oily skin often prefer powder foundation. The Pur 4-in-1 is easily the best drugstore foundation powder! If you're one of my oily skin friends, read my collection of the best power foundation for oily skin.
Called a 4-in-1 foundation because it has 4 benefits in 1 product. If you love multitasking products, you will love this foundation. Not only is it a foundation, but it's also a concealer, setting powder and SPF.
In truth, the foundation should be called a 5-in-1 product, because, it also works as skin care. It reduces the appearance of lines, pores, dark circles, hyperpigmentation and uneven skin tones.
But that's not all! Made from vitamin E and shea butter, it works to keep the skin soft and hydrated. But, the most exciting ingredient is retinol which helps promote cell turnover to give you younger-looking, smoother skin! Retinol is a great ingredient to help the skin stay youthful. While it's not so uncommon to come across in skin care, in makeup it's rather uncommon, but a lovely addition!
The foundation is clinically proven to help your skin, even after your makeup comes off! The foundation is lightweight and comfortable to wear, applies easily and is mess-free!
Eventhough the Pur 4-in-1 Pressed Mineral Powder Foundation is on the pricier side, Pur is a drugstore brand. And once you see how much this foundation does, the price will probably be justified!
---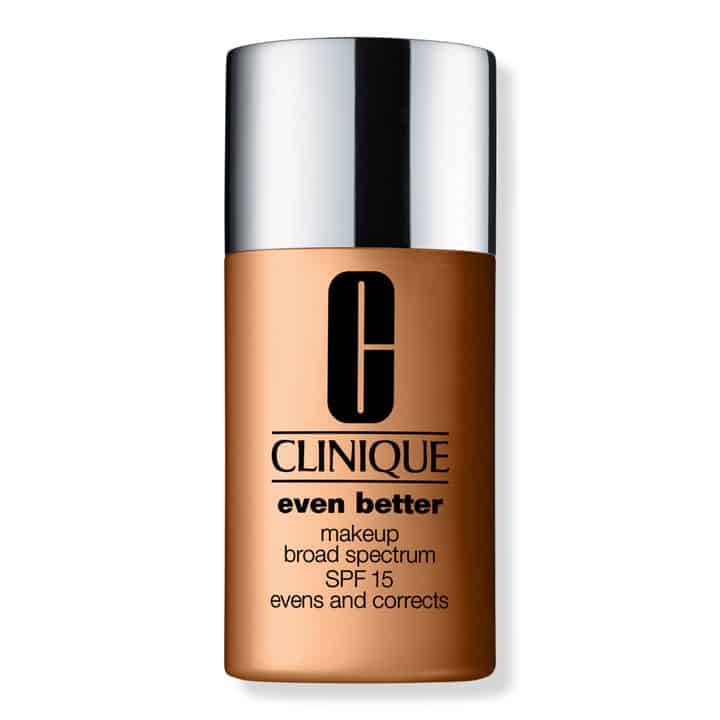 IN A NUTSHELL
Coverage: Natural medium coverage
Shades: 56
Finish: Luminous
Key Features: SPF 15, dermatologist and non-acnegenic, lightweight, longlasting
Cruelty-free: No
Is it for you?
With a natural, medium coverage this foundation is ideal for dry, normal and combination skin. It's the best drugstore foundation for those who want a more even skin tone.
If you suffer from uneven skin tone and dark spots, this foundation will become your holy grail! Give it 12 weeks and these dark spots will reduce and become less visible. It slowly improves your skin over time and helps with excess oil, making the Clinique Even Better Makeup Foundation the best drugstore foundation for acne-prone skin.
Available in 56 shades, this foundation has a shade for every colour and undertone! The foundation applies smoothly and easily, it's as lightweight as a serum, but has the coverage of a foundation and gives the skin a lovely luminous finish.
Its stay-true pigment ensures the color never oxidises. Other impressive claims are that it lasts for 24 hours, it's sweat and humidity-resistant and has SPF 15.
Clinique is as drugstore as it gets, that being said, this foundation is on the pricier side. Don't let that deter you- this dermatologist-developed foundation is a bestseller for a reason!
---
IN A NUTSHELL
Coverage: Medium coverage
Shades: 18
Finish: Sheer
Key Features: Fights aging, hydrating, doesn't settle in lines
Cruelty-free: Yes
Is it for you?
Covergirl Simply Ageless 3-In-1 Liquid Foundation is the best drugstore foundation for anyone with aging skin who wants a lasting foundation.
This 3-in-1 foundation by Covergirl is all about tackling aging from the go. It reduces wrinkles, reduces the appearance of fine lines, improves skin tone, and hydrates and firms the skin. If you're one of those people who think drugstore brands can't do it all, this foundation will change your mind!
With ingredients like vitamin C and hyaluronic acid, it tackles signs of aging and gives skincare benefits. The lightweight foundation has medium coverage and incredible staying powers, it literally doesn't budge once applied. It goes on easily and smoothly, is non-greasy and blends beautifully for a flawless finish.
Not only is it easy to use and apply, but it also covers lines and wrinkles without settling into them. You've got to love a product that does that because no matter how old you are, we all have the odd wrinkle or line! You've got to love foundations that are made with mature skin in mind!
The only negative about this foundation is that the shade range doesn't look suitable for darker skin colours. All of the shades are light and medium shades. It would be nice if it were a little more inclusive.
---
IN A NUTSHELL
Coverage: Medium coverage
Shades: 20
Finish: Dewy finish
Key Features: Gives a filter effect, moisturizing, blurs imperfections
Cruelty-free: Yes
Is it for you?
Ideal for normal to dry skin types, the foundation gives medium dewy coverage which is easily buildable to full coverage.
This foundation was uniquely designed to look perfect in photos. The Wet n Wild Photo Focus Foundation underwent major testing to ensure it's picture-perfect in every lighting possible! Aside from being the perfect foundation to get that perfect selfie, it's also ideal for all-natural lights, giving the skin a 'filter-effect'.
You could easily mistake this foundation for a high-end one. It has a lovely silky and creamy texture that blends into the skin seamlessly. With a moisturizing formula, it blurs imperfections and minimizes pores and imperfections. It helps with dry patches by giving a dewy finish to the skin that never dries it out.
Although this foundation is practically perfect in every way, the applicator is on the weird side. While originality is great and all, a spatula can be hard to apply with and a little messy. But we think the good outweighs the bad;)
---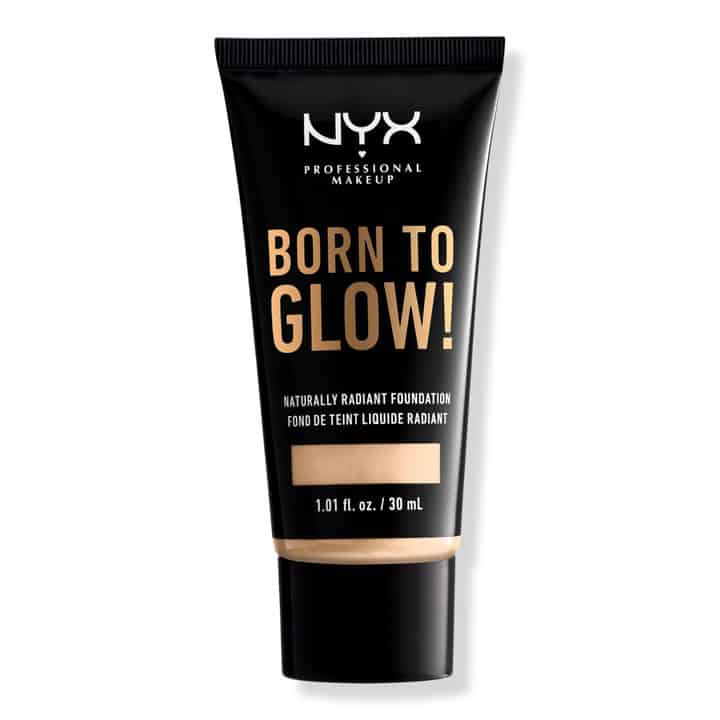 IN A NUTSHELL
Coverage: Medium coverage
Shades: 45
Finish: Radiant finish
Key Features: Skin-like finish, lightweight, buildable formula
Cruelty-free: Yes
Is it for you?
The foundation has medium and buildable coverage. It's for all skin types, from dry to oily, and it works for all! It's best for those who love a dewy glow.
Get beautiful radiant glowing skin with the Nyx Cosmetics Born To Glow Medium Coverage Naturally Radiant Foundation. It comes in 45 flattering shades of all undertones.
Easy to apply, it simply glides onto the skin and blends in smoothly and easily. Be careful when applying because the texture is thin and a little runny, but the results are worth the extra effort. It feels more like a BB cream or tinted moisturizer than a foundation. It gives a skin-like natural finish which is super lightweight and comfortable to wear.
This is one of those makeup products that prove drugstore makeup is not only affordable with a great price point, but also does the job perfectly!
---
Foundation Application Tips
Even if you find the best affordable foundation, your application and technique make or break how it looks. Here are some of the most important tips for a flawless foundation.
1. Skincare first
Makeup can never look good on skin that's not looked after! It sounds harsh, but it's the truth. Have a solid skincare routine for a solid-looking foundation. By skincare routine, it's very simple. Cleanse every evening and moisturize twice a day, morning and night!
2. Use the right tools
If you're struggling to get your foundation to last the day, very often a few simple changes to the application and the tools you're using will help.
Primer: Using a face primer gives the skin a barrier between the skin and foundation, giving your foundation something to stick to which helps it last longer and better.
Beauty Blender: If your foundation is looking cakey, opt for applying it with a damp beauty blender. It gives the most natural-looking makeup.
Brush: Make sure you're using the correct makeup brush to apply your foundation with.
3. Combine with High-Quality Products
Setting powder: Seal your foundation with a setting powder. Setting powders help makeup stay on longer and better. Read about the best setting powders.
Setting spray: If the other tips haven't helped enough, a setting spray can make all the difference. Setting sprays lock your makeup into place. Use it when you've finished applying all your makeup.
My Thoughts
As you can see, drugstore foundations do not disappoint! These are only a few of the foundations that you can save money on and still get beautiful coverage.
Check out the best drugstore concealers for a full drugstore base! From light to full coverage, dry to oily skin and young to aging skin, there's a foundation for every person and every skin type! As with any makeup and skincare product, before applying, always do a patch test first to make sure your skin doesn't react to it.
I hope you've found drugstore foundation options that you love! But, don't be put off if it takes a little longer. It can sometimes take a little trial and error because no skin type is exactly the same.
Read more drugstore recommendations:
Why Trust Beauty With Hollie
Hollie is an experienced writer in the beauty industry, has tested dozens of drugstore foundations and loves saving money! Hollie has been running Beauty With Hollie since 2016, where she covers all things beauty.
Hollie xx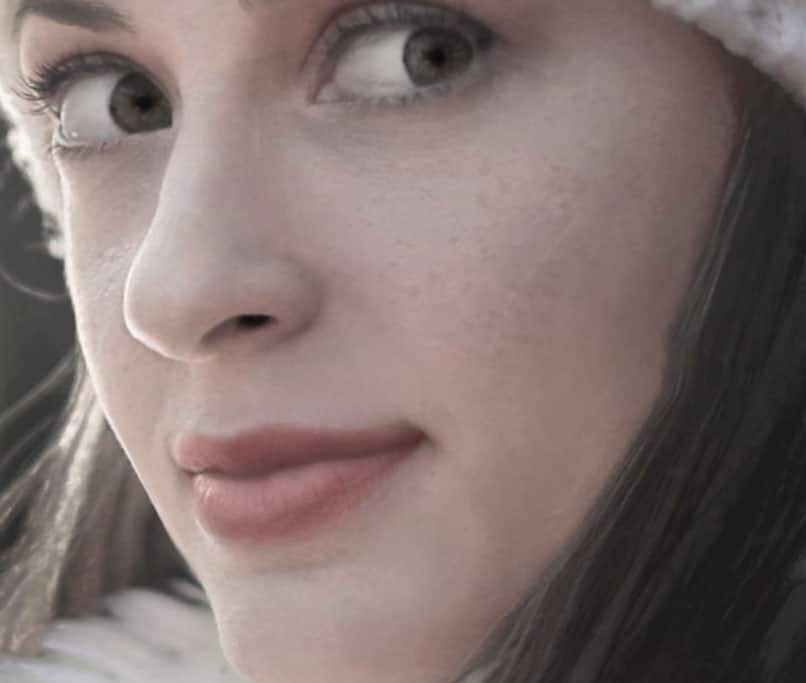 Hi, I'm Hollie, and I own BeautywithHollie.com. I love everything to do with beauty and love sharing my knowledge, advice, and beauty finds! Makeup and beauty are here to enjoy, and Beauty With Hollie is here to take the stress out of it!
Disclaimer: This article contains affiliate links. If you purchase using these links, you don't pay more, I simply earn a small commission!
---
---
Anastasia Beverly Hills bareMinerals Benefit Cosmetics Bobbi Brown CeraVe Chantecaille Charlotte Tilbury Clarins ColourPop Dermalogica Dior Dyson e.l.f. Cosmetics ELEMIS Estée Lauder Fenty Beauty First Aid Beauty Fresh Giorgio Armani Hourglass Jane Iredale L'Oreal Lancome La Roche-Posay Laura Mercier LORAC MAC Makeup Revolution Maybelline Morphe Nars Natasha Denona Neutrogena NYX Origins Peter Thomas Roth Revlon Sigma Beauty Smashbox Stila Tarte Cosmetics The Ordinary Too Faced Urban Decay YSL