Updated 2021: Getting old ain't that glorious, is it?! One of the loveliest perks is the increase of wrinkles and fine lines. Wearing the wrong foundation will increase the appearance of any line that you have. I may only be in my young 30s but I've already noticed a difference between my skin in my 20s and now. My skin is much drier and I do have the odd line here and there:( Since making this discovery, I've swapped some of my base makeup, including my foundation to ones that are more suitable for mature skin. These include moisturising foundations, SPF foundations, full-coverage foundations, as well as physical and chemical foundations. The foundations include anti-ageing ingredients to help your skin look younger and healthier!
I like my makeup to help me appear younger, not older- with these 10 best foundations for mature skin, you can expect to see a huge transformation in how your skin looks with makeup on. With these foundations, you will look younger and better in no time!
Disclaimer: As an Amazon Associate I earn from qualifying purchases on Amazon and other affiliate programs. This means on some purchases I make a commission. It doesn't mean you spend more, it simply allows me to keep this blog going!
Best Full Coverage Foundation for Mature Skin in 2021
Shades: 12 shades
Sunscreen base: Physical sunscreen with SPF 50
This award-winning colour correcting cream works beautifully as your full-coverage foundation, hydrating anti-ageing serum and SPF 50+ physical sunscreen.
The IT Cosmetics CC+ Cream with SPF 50+ is a multitasking beauty miracle that provides you with a clinically tested all-in-one foundation base. It hydrates your skin while diffusing the look of visible imperfections. Multi-tasking in the garden? It has SPF and hyaluronic acid for you. Want presentable makeup that won't damage your skin over time? It's got collagen and peptides mixed in, basically, it's loaded with good ingredients to help your skin!
It's a makeup base that can be used as a full-coverage foundation, SPF 50 physical sunscreen, brightening colour corrector, hydrating serum, poreless finish primer, dark spot concealer, or tinted moisturising cream. That's a lot of uses!
It Cosmetics CC+ Cream with SPF 50+ is ultimately a water-based foundation that smoothes over mature skin like an expensive cream. It helps accentuate your features, but not your textures. Get ready for a foundation that covers your face with a blanket of silky full-coverage finish, along with all the great skinfood that mature skin needs.
Pros
Clinically-tested
Hydrating
Colour-correcting, multi-use foundation
Contains SPF
Anti-ageing formula
Lightweight and full-coverage
Covers redness, scarring, and wrinkles
It Cosmetics CC+ Cream with SPF 50+ can be bought from Nordstrom | Boots
---
Shades: 6 shades
Sunscreen base: Chemical sunscreen with SPF 20
Get instant benefits of both, a great foundation formula and retinol in one product with the Neutrogena Healthy Skin Anti-Aging Perfector SPF 20.
Using the power of retinol and sunscreen, this tinted moisturiser/foundation is clinically proven to smooth your skin's texture and reduce the appearance of fine lines. The effects last even after you take it off. You can build it up from a buildable sheer layer to a full-coverage lightweight finish.
This water-based foundation gives you a dewy moisturising finish. And with a chemical sunscreen base, the shade you see is the shade you get. It leaves no room for worries of oxidising or turning out chalky after a few hours. Apply it to your face and it will stay that way till you take it off. I need to mention that it looks incredibly age-defying when you do apply it!
The full-coverage texture looks natural. You'll love that it's not sticky too, despite being loaded with moisturisers like olive extracts, retinol, and arginine.
Pros
Anti-ageing
Contains retinol and other antioxidants
Buildable full-coverage formula
Moisturising
Has SPF
Lightweight formula
Covers redness, scarring, and wrinkles
Cons
Very limited shades
Contains alcohol and fragrance
Neutrogena Healthy Skin Anti-Aging Perfector SPF 20 can be bought from Amazon
---
Shades: 40 shades
Sunscreen base: Physical sunscreen with SPF 20
The bareMinerals BAREPRO Performance Wear Liquid Foundation Broad Spectrum SPF 20 is a product you can't sleep on. It is dermatologically tested and proven to improve your skin in as little as a week!
This full-coverage foundation blurs pores and imperfections while improving the appearance of skin texture over time. It works— and plays— as hard as you do. With just one pump, it delivers lightweight, oil-free, photo-friendly makeup. It's an extremely comfortable full-coverage foundation to wear even on mature skin.
It contains Natural Bamboo Stem Extracts that provide a smooth, soft-focus finish. And is infused with Papaya Enzymes to gently plump up your skin's texture both immediately and over time.
It's a self-setting foundation with no oxidisation or long-drying times. You'll love that with all the good stuff in it, it still manages to be transfer-resistant and colour-true. And speaking of colour, it has almost 40 shades to choose from with extremely natural undertones!
Pros
Dermatologist tested
Oil-free
Non-acnegenic
Non-comedogenic (won't clog pores)
Contains SPF
Vegan and cruelty-free
Buildable full-coverage formula
Hydrating
bareMinerals BAREPRO Performance Wear Liquid Foundation Broad Spectrum SPF 20 can be bought from Amazon
---
Shades: 25 shades
Sunscreen base: Physical sunscreen with SPF 27
What a time to be alive! No rhetoric here. You'll appreciate what it means when you look like you've had a facelift, with the help of this one product!
Lancôme Rénergie Lift Makeup Lightweight Liquid Foundation SPF 27 is infused with their innovative Micro-Lift formula. It contains pure vitamin E that delivers smoother, younger-looking healthy skin instantly and even with continued use.
This foundation is an ultra-lightweight, medium to full buildable coverage finish. It gives the skin a seamless veil that covers it up with a mix of a tinted concoction of caffeine, vitamin E, iris extract, corn kernel extra, soybean oil, linseed extracts and New Zealand black tree fern.
All that simply means your skin is receiving skincare benefits as well as coverage benefits- a non-cakey, smooth makeup base that protects your skin back-to-back. This is thanks to an added physical sunscreen to the formula. Overall, it visibly minimises the appearance of imperfections, including fine lines, wrinkles and dark spots— inside and out.
Pros
Transfer-resistant
Fragrance-free
Non-comedogenic
Dermatologist tested
Long-wearing formula
Contains SPF
Made from pure vitamin E and other antioxidants
Ultra-lightweight cover over redness, scarring, and wrinkles
Moisturising
Lancôme Rénergie Lift Makeup Lightweight Liquid Foundation SPF 27 can be bought from Amazon
---
Shades: 20 shades
Sunscreen base: Physical sunscreen with SPF 45
The thing with makeup on mature skin is that it needs to be well-prepped and amply moisturised and hydrated. Before anything else, it's a must to refresh your skin when planning to wear makeup. Though I'm sure you've got a streamlined skincare routine to tackle that issue, you might want to make sure your makeup is also doing its part.
You can count on the Estée Lauder Futurist Hydra Rescue Moisturizing Makeup SPF 45 to infuse your skin with a double dose of moisture and hydration. This high-performing skincare foundation is infused with IonCharged Water, plus probiotic technology and chia-seed extracts. All to keep your skin moisturised the whole time!
It's clinically-tested to soothe visible redness and irritation and to protect your skin against pollution with its antioxidants. It's a flawless foundation with breathable coverage and a radiant finish. This foundation has all your mature skin needs.
Pros
With broad-spectrum UVA/UVB SPF
Clinically-tested
Dermatologist-tested
Ophthalmologist-tested
Non-acnegenic
Moisturising
Lightweight formula
Cons
Contains alcohol and fragrance
Estée Lauder Futurist Hydra Rescue Moisturizing Makeup SPF 45 can be bought from Nordstrom | Look Fantastic
---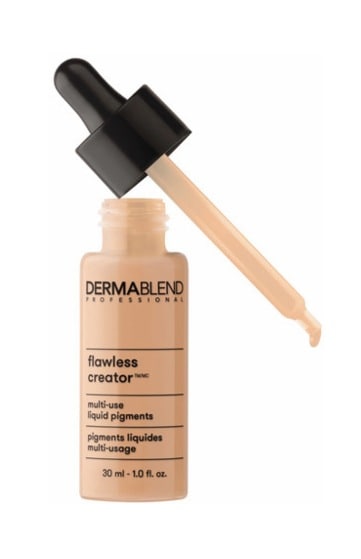 Shades: 22 shades
Sunscreen base: No SPF
Makeup truly becomes a craft especially when you're equipped with the most suitable products. The Dermablend Flawless Creator Liquid Foundation Drops instantly makes your makeup look like it's done by a pro. The ultra-lightweight coverage provides a flawless thin layer of full-coverage makeup.
It is formulated with only 10 ingredients, so you get pigments at their purest! A little goes a long way too. Its dropper type applicator makes sense, even more, when you can use this as skincare. How? You can mix drops of the foundation with your skincare products, such as your face moisturiser, serum, sunscreen, and more. You'll get all the benefits of your products with the much-needed pigment and coverage of a makeup base.
This foundation is completely oil-free. Yet it sets to a nice hydration blanket of makeup that never looks cakey, dry, or even mushy. You'll enjoy a unique silky texture with a natural finish.
Pros
Dermatologist-tested
Non-comedogenic
Sensitive skin-tested
Allergy tested
Fragrance-free
Cruelty-free
Hydrating
Minimal ingredients
True-to-tone, fade-proof shades
Smudge- and transfer-resistant
Ultra-lightweight
Dermablend Flawless Creator Liquid Foundation Drops can be bought from Amazon
---
Not happy with your skincare routine? Check out the best skin care products for mature skin here!
Shades: About 12 shades depending on the retailer/shop
Sunscreen base: Physical sunscreen with SPF 25
A serum has all the needed ingredients for skin to fight the sign of ageing. Usually, it contains plenty of vitamins, collagen, peptides and a ton of hydrating ingredients. Mix that with foundation and some sunscreen goodness, and you get the Estée Lauder Perfectionist Youth-Infusing Serum Makeup SPF 25!
It's all that and more. Imagine a serum that can give you a full-coverage base that irons out your skin in and out. You've got a shield against the sun and pollutants. Plus a pop-up factory of youth-infusing compounds to fill your skin underneath.
This foundation-serum also helps brighten up your face over time, not just because of the illusionary pigment it provides. It's oil-free but nourishes your skin with hydrating plant extracts instead. To top it off, it delivers a beautiful satin finish that's smooth to touch. It's an innovative skincare-makeup product you need to truly need to try out.
Pros
Broad Spectrum SPF 25
Oil-free
Dermatologist-tested
Ophthalmologist-tested
Non-acnegenic
Fragrance-free
Brightening and hydrating
Cons
Extremely limited shades
Contains alcohol
Estée Lauder Perfectionist Youth-Infusing Serum Makeup SPF 25 can be bought from Amazon
---
Shades: 13 shades
Sunscreen base: No SPF
The Jane Iredale Liquid Minerals A Foundation is a quirky makeup product that is definitely original and different! It's formulated in bead-like spheres inside an airless pump which dispenses into a silky liquid that features light-reflecting minerals to diminish the appearance of fine lines, wrinkles and any other skin imperfections.
If you're all about clean, mineral makeup that supplements your skin with skincare ingredients, you have to try this foundation. It's soothing and very hydrating. A perfect base for mature skin. It contains cooling aloe vera that brings relief to redness while hyaluronic acid binds moisture to your skin for a smooth and younger-looking complexion.
The texture is unlike no other. A mousse-like airbrushed pigment over your face that covers all you want to be covered, including fine lines, visible wrinkles and redness, even your acne scars. Everything about it puts the fun in makeup, from the packaging to the results!
Pros
Minimal Ingredients
Vegan and cruelty-free
Non-comedogenic
Very hydrating
Fragrance-free
Clean, mineral beauty
Soothing
Lightweight formula
Cons
Very limited shades & shade options
No SPF
Jane Iredale Liquid Minerals A Foundation can be bought from Amazon
---
Shades: 44 shades
Sunscreen base: No SPF
Charlotte Tilbury creates beautiful products that are always suitable for any age. Her foundations are very competitive and you know you're getting your money's worth with the quality. The Charlotte Tilbury Airbrush Flawless Foundation is a long-lasting, weightless, hybrid skincare-makeup that CT has always been good at.
It contains the brands Replexium skincare formula that helps reduce the appearance of wrinkles, literally and figuratively. It also has MossCellTec No. 1, a mix of hydrating ingredients to replenish your skin's water stock; and AirCool™, a soothing compound to keep your skin calm under heated conditions.
You'll enjoy the coveted flawless finish this foundation provides your skin with. It fuses with your skin smoothly without clogging or accentuating your visible lines and imperfections. It's always recommended for mature skin and you'll find out why when you try it out. No fowl play here at all!
Pros
Vegan-friendly
Sweat-proof
Humidity-proof
Transfer-resistant
Moisturising & hydrating
Wide shade range
Soothing
Natural full-coverage
Cons
Contains fragrance and alcohol
Shades: 18 shades
Sunscreen base: No SPF
A radiant skin after a full day of makeup isn't always what you get when you take off the beauty mask. However, the Burt's Bees Goodness Glows Liquid Foundation is one of the few foundations that let you achieve that!
It's very possible to have a glowing face even after hours and hours under all the pigment of makeup. Thanks to the 98.9% natural ingredients of this product, you get all that it claims. It's both moisturising and hydrating because of the mix of Meadowfoam Seed Oil, Honey, SoyBean Oil, Glycerin, and Sunflower Seed Oil it contains.
It's a full-coverage foundation that is lightweight and very comfortable to wear. You'll enjoy applying it, wearing it, and even when removing it! That's all the things around in between that mature skin needs.
Pros
Moisturising & hydrating
98.9% natural
Dermatologist-tested
Cruelty-free
Lightweight formula
Cons
Very limited shades
Contains alcohol and (natural) fragrance
Burt's Bees Goodness Glows Liquid Foundation can be bought from Amazon
---
Tips on Prepping Mature Skin for Makeup
It doesn't matter if you are 13 or 30, makeup has one major golden rule— and it's not even about makeup! It's about skincare. For makeup to look natural and not cakey, it's your skincare that you need to look out for!
You gotta (hypothetically) pump loads and loads of moisture in your skin to help it get ready for makeup. And that's also for oily skin! Oily skin needs moisture as much as dry skin, only a different type. Check out my tips on how to manage oily skin.
Check Your Base
When your foundation is an oil-free product, your primer should also be oil-free. This ensures that the products don't react negatively with each other and that there won't be any melting or greasing. The same applies if you are using oil-based products.
Choose the right applicator
Even youthful skin tends to have different finishes when the foundation is applied with a non-suitable applicator. Take time to figure out what works best for your technique and products— be it a beauty blender, brush, silicon applicator, or something else. This is because not everyone's face has the same texture and only certain applicators will get you the best results. My favourite is a beauty blender, but I even find that some products don't apply so well with it. It's all about experimentation!
Hydrating foundation
As you can see from our list, there are quite a few hybrid foundations- yup, combinations of skincare and makeup! These are amazing because not only do they work as foundations, but they also improve the skin throughout the day. For mature skin, that is one of the most important factors in a foundation.
Make sure your foundation is hydrating and moisturising. This will allow you to get an opaque veil that's comfortable and lightweight even after applying a few layers.
Use a setting spray or finishing spray over powder
While there are "hydrating" finishing powders, powder products are generally a dread to set on made-up mature skin. These can get drying and you know that's the last thing you want to happen, else you get some cake before it's even tea time!
A powder is a good friend to have, but a setting spray is even better for mature skin that is very dry. Get one that is hydrating and/or moisturising. Guaranteed your makeup stays fresh, and your skin up to par more than any powder ever could. That being said, if your skin isn't the extremely dry type, there are a few setting powders that will work amazing for you. Check out these setting powders for dry skin.
Creamy, not cakey
When you get older, you tend to choose liquid or creamy makeup over powdered makeup. It doesn't matter if it's your foundation, blush, or lipstick. This is because these products tend to be the ones with the skincare benefits, and mostly because they're not as drying as powder products. They fuse with your skin instead of sitting on top of it, which usually looks cakey and heavy.
When you get older, your skin type slowly changes to dry or dehydrated, and as a 30-year old, I can vouch that I've already noticed my skin making that change! Creamy emollient products tend to cover this up and infuse mature skin with moisturising and hydrating benefits that powders can hardly ever provide.
Embrace your oils!
Continuing with our last sentiment, since older skin tends to be drier, lean into whatever oils you naturally produce and use them to your advantage! Try to work around your oils, and avoid drying your very own water-source with mattifying products. Simply use products with natural or silky finishes to diffuse the extra reflection your oils deliver, without completely ridding your skin of its moisture.
And while oil ingredients in products are a good thing, mature skin can equally benefit off oil-free products that are just as hydrating and moisturising. Supplement your natural oils with a good water-based foundation and you'll be amazed at how your makeup fairs after a long day. It's not as smudged or melted-looking as it normally would with oil-based makeup. Try it for yourself and see the magic I'm talking about!
Final Thoughts
As you can see, there are plenty of full-coverage foundations for mature skin that will not make you look 20 years older. These 10 foundations will help you look younger and your skin smoother, with their fabulous ingredients and anti-ageing properties! It's time to turn the clock back and get your youthful appearance back! If you still haven't found your perfect foundation, check out these 40 foundations with the most inclusive colour range!
Which foundation are you most likely to pick and what is your biggest challenge with your skin? Let me know your thoughts in the comment section below!
Hollie xx
---
---
Anastasia Beverly Hills Bare Minerals Barry M Benefit Cosmetics Bobbi Brown Chantecaille Charlotte Tilbury Clarins ColourPop Dermalogica Dior Drunk Elephant ELEMIS Estée Lauder Fenty Beauty First Aid Beauty Fresh Giorgi Armani Hourglass Huda Beauty L'Oreal lancome La Roche-Posay Laura Mercier MAC Makeup Revolution Maybelline Milani Molton Brown Morphe Murad Nars Natasha Denona Neutrogena NYX Origins Peter Thomas Roth Revlon Sigma Beauty Smashbox Stila Tarte Cosmetics Too Faced Urban Decay YSL
---