The Best Powder Foundation for Oily Skin in 2023
If you have oily skin, you have probably turned to powder foundation at some point, and you were quite right in doing so. Powder foundation is ideal for oily skin because the powder absorbs any excess oil, making it the better option for keeping oil at bay. It sets your makeup, keeps shininess at bay and gives the skin a matte finish.
Truthfully, I used to be part of the oily skin/ combination skin club, that is, until I hit the big 30! Literally, overnight my skin became drier. Now instead of looking for foundations that help with oily skin, I've moved on to foundations that help keep my skin hydrated without causing it to break out.
But enough on me, let's move on to the best foundations for oily skin that will help your skin stay shine-proof the whole day! From budget to luxury, we've got you covered!
Disclaimer: As an Amazon Associate I earn from qualifying purchases on Amazon and other affiliate programs. This means on some purchases, I make a commission. It doesn't mean you spend more, it simply allows me to keep this blog going!
MAC is one of those brands that you know you can't go wrong with. At least when it comes to most of their makeup. MAC Studio Fix Powder Plus Foundation is one of those products that have hit the nail on the head!
It comes in a whopping 53 shades, so if finding your foundation share has been a struggle in the past, this foundation is a must for you! But that's not all it has to impress! It has an ultra-matte finish with medium to full coverage that lasts up to 12 hours of wear.
Some love it because of its matte finish and others love it because it skips out the setting powder step. Yup, the MAC Studio Fix Powder Plus Foundation doubles up as a setting powder!
It gives the skin a smooth and even complexion, while at the same time keeping your skin oil and shine-free! In addition to all of that, it's not cakey and it doesn't clog the pores! Suitable for all skin types, it benefits everyone especially those with oily-prone skin.
---
One of the worst offenders for oily skin is the heat and humidity. You can leave the house with beautiful intact makeup, only to realise 5 minutes later that the heat has destroyed all of your hard work.
Yep, the heat can do that, it can turn stunning makeup into a mess after only a few minutes. That's where the Milani Conceal + Perfect Shine-Proof Powder foundation comes in!
Designed to combat oiliness and keep the skin matte all day, the Milani Conceal + Perfect Shine-Proof Powder is the answer to your prayers! It's formulated with impressive ingredients like Lily extracts to tighten pores and Bamboo oil that absorbs oil. It covers imperfections, gives an even skin tone and leaves your skin with a flawless base ready to take on the world!
Available in 10 shades, ranging from fairly light to pretty dark. The foundation has medium to full coverage with a matte finish.
Why does everyone love the Milani powder foundation? Well, it's easy to see why. It's soft and smooth, it isn't too powdery, yet has the powder effect. It's lightweight, yet still covers up blemishes and uneven skin tone.
---
Get the application of a liquid but the coverage and finish of a powder. Introducing the CoverGirl Clean Simply Powder Foundation. I love makeup products that have a twist to them and this foundation most certainly fits the bill.
In practical terms, however, it means the foundation is a lot easier to apply, simply because liquids are easier to get right than powders. That being said, it still has the advantage of a powder foundation and it still helps keep oil and shine away. The foundation feels lightweight on the skin yet still gives good coverage and evens out the skin tone with a flawless finish.
The formula is hypoallergenic and non-acnegenic so you don't need to worry about it clogging your pores. Suitable for all skin types, but the skin type that benefits most is oily-prone skin because the foundation really helps with oil and shine control.
It comes in 6 shades, which is not a huge range. However, because it's lightweight your shade doesn't need to be an identical shade match for your skin. Overall, it's an impressive foundation that combines the benefits of a liquid foundation with a powder foundation!
---
One of Lancome's best powder foundations for a long-lasting, shine-free finish is the Dual Finish Multi-Tasking Powder Foundation. Use it as a face powder or foundation and it will leave your skin with a lovely matte, shine-free finish.
Perfect for oily skin, as well as other skin types. This foundation never looks cakey, nor does it dry out the skin. It helps minimize pores and lines to give you a smooth flawless finish.
The foundation is sheer to full coverage and comes in over 30 shades. Lancome knows how to do a good colour range, and in fact, most of their foundations have a huge range of all-inclusive shades.
Many over 50 swear by this foundation because of its capability of giving the skin good coverage without it looking cakey. It's recommended for all skin types from oily to dry.
The reason is that it works for all, it helps dry skin from getting flaky and it helps oily skin from becoming shiny. It's an all-in-one foundation for all skin types!
The only disadvantage to this foundation is that it's no longer fragrance-free. It's really a shame because the fragrance is really unnecessary, no one buys foundation based on the smell. And if you do, then you shouldn't! However, that being said, fragrance in a foundation isn't as bad as a fragrance in skincare products.
---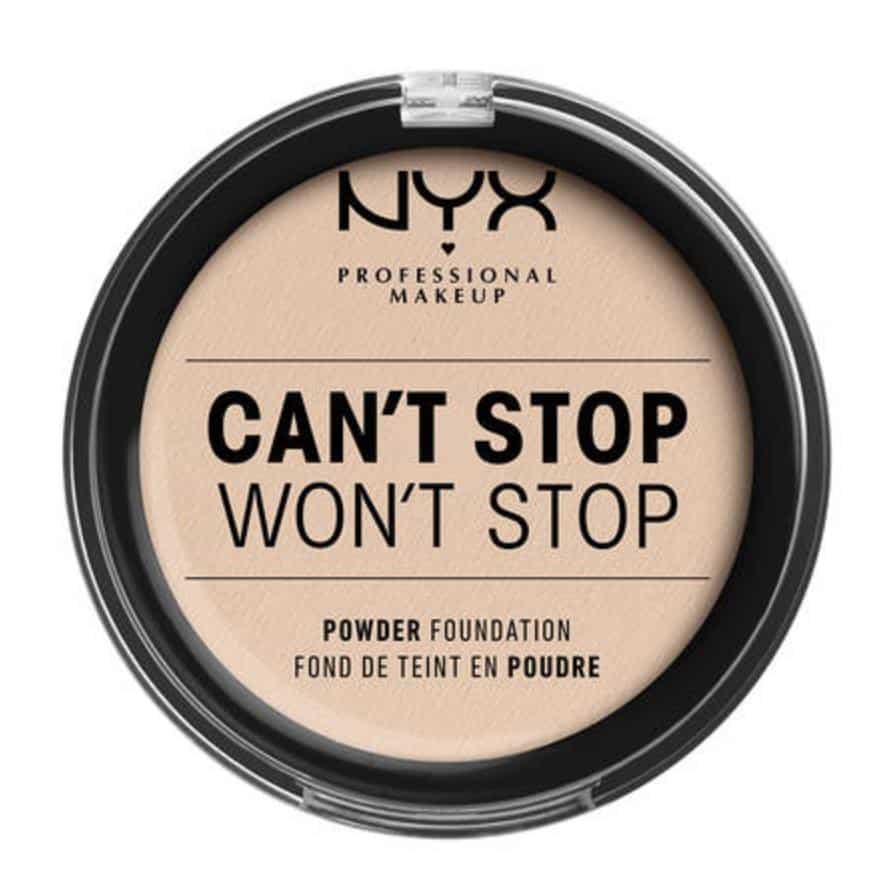 Cheap in price, not in quality! That pretty much sums up the NYX Cosmetics Stay Matte But Not Flat Powder Foundation. It's the replacement for the very popular Stay Matte Not Flat Powder Foundation.
The pressed powder has a lovely velvety matte finish. Some wear it as a setting powder and others wear it alone as their foundation. It feels super lightweight and comfortable to wear.
Available in 24 shades there's something for everyone. One word of caution is to go for a shade lighter than you think you are especially if you're buying online. For some reason, the shades appear lighter than they are.
This foundation is the perfect powder for a no-makeup makeup look. It looks natural but it still gives enough coverage to give your skin an even finish. It's not cakey and it works amazing for oily skin!
---
BareMinerals are all about being natural and using minerals in their makeup. This foundation is only made from crushed minerals from the earth, you can't really get more natural than that! But, just because it comes from the earth, don't expect it to be rough on your skin.
In fact, it's quite the contrary, it may come from the earth and look like a powder, but in actuality, it feels like a cream! Perfect for those with mature skin, as well as those with oily and dry skin! Yep, really anyone can benefit from this foundation. The texture is super lightweight and you won't feel like you're wearing anything at all.
The best feature about this foundation is that it gives beautiful natural coverage, while at the same time, allowing your skin to breathe. This is especially important for those with acne and oily skin whose pores tend to clog quicker. That ain't gonna happen with this foundation!
BareMinerals Original Foundation SPF 15 Powder Foundation comes in 30 shades, and as I already mentioned- it has SPF! SPF is very common in liquid foundations but not quite as common when it comes to powder foundations. It's definitely a welcome bonus!
---
Mineral Fusion pride itself on its formula which doesn't set into fine lines. Let's face it, anyone over the age of 30 has lines. They may not be noticeable or deep, but they are there! This is especially true for those who have suffered from acne and have scarring left, and those with oily skin who have a lot of open pores.
Being able to use a foundation that won't accentuate imperfections is gold! This foundation does exactly that- it airbrushes pores and marks to give your skin a beautiful flawless finish.
The foundation is made with natural ingredients that target ageing. Formulated with Pomegranate, White Tea, Red Tea, and Sea Kelp to help promote radiance while banishing free radical damage. It also has Vitamin C & E which are both antioxidants.
To finish it off, it has soothing Licorice Root with Aloe Root and Cucumber to keep the skin cool. The foundation doesn't only help with anti-ageing, but it's also ideal for sensitive skin.
This good-for-you foundation comes in an impressive shade range of 24 shades. It has buildable coverage, so you can decide how much you want. One of the common complaints with powder foundation, especially mineral powder foundation is that it gets chalky and breaks up.
You won't have that problem with the Mineral Fusion. It applies smoothly and lasts beautifully throughout the day. No oxidising, no breaking apart, no caking… I can go on but I think you get the idea!
Mineral Fusion Pressed Powder Foundation is cruelty-free and free from harmful ingredients, parabens and fragrance.
---
Looking for a foundation that will hide wrinkles and lines? Check out these best foundations for aging skin!
This foundation takes powder foundations to a whole new level. Formulated with Shiseido's unique ActiveForce technology that 'self-refreshes nonstop so you can maintain a just-applied, flawless 24-hour finish'.
Sounds too good to be true, well, it's true and this technology works! The foundation helps your skin to resist heat, humidity and oil, making it the ideal powder foundation for oily skin. It also helps the foundation stay fresh looking for around 12 hours.
Available in 24 shades, the foundation has medium coverage that is weightless, non-cakey and comfortable to wear. The foundation comes with its own sponge.
However, this is not any old sponge, it's specifically designed for this foundation to pick up just the right amount of product. The sponge is double-sided, the black side is ideal for wet application and the white side is ideal to dry application.
The foundation is comfortable to wear and barely noticeable once applied. It gives the skin a radiant finish, while still keeping oil and shine away and without drying out the skin. It's also smudge-proof and gives the skin instant hydration.
The foundation is non-comedogenic and dermatologist-tested.
---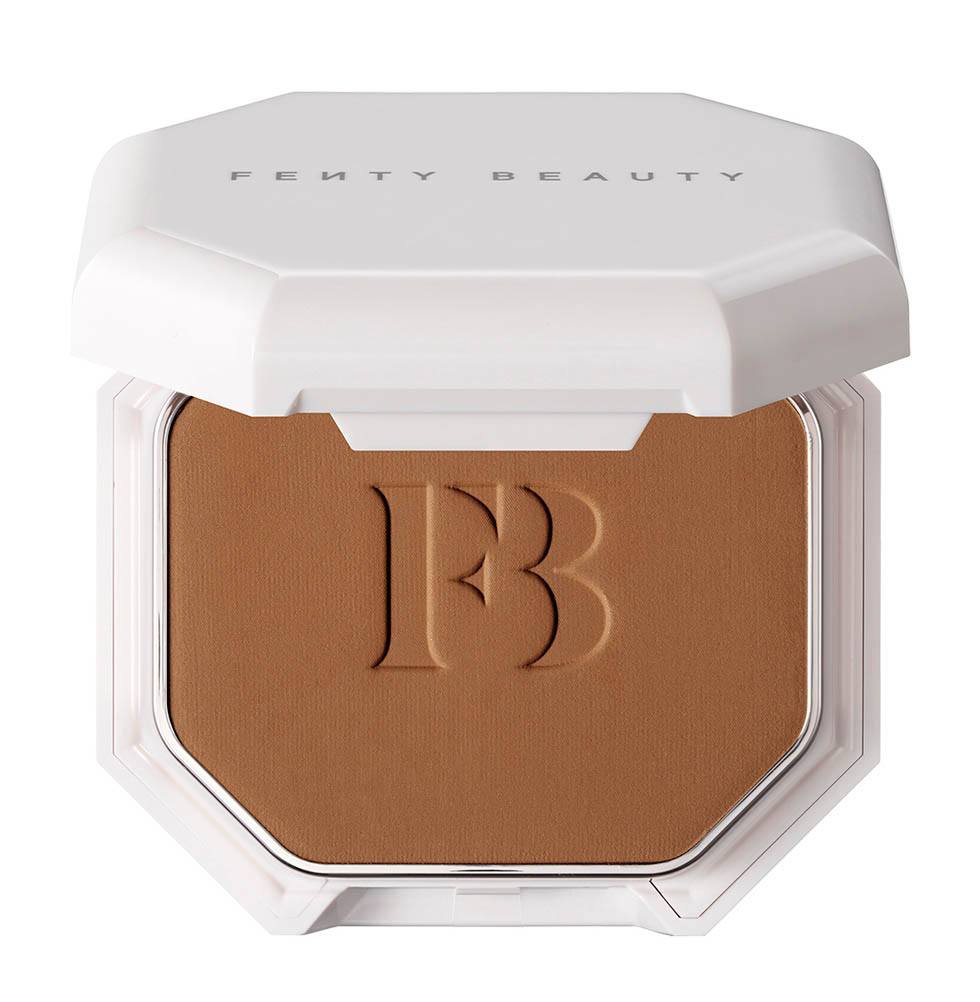 Fenty Pro Filt'r Soft Matte Powder Foundation is one of those foundations that I knew I had to include from the word go! It's a vegan powder foundation with a matte finish that will give you flawless skin without setting in your pores and lines, in fact, its goal is to blur your lines and imperfections. It's long-lasting and lightweight with buildable coverage.
This foundation came about because of Rihanna's (the founder of Fenty Beauty) own struggles. She struggled to find a foundation that would do this for her, so she went out and created her own!
The Pro Filt'r Soft Matte Powder Foundation is a full-coverage foundation that looks and feels light on the skin. The foundation features a Blur Filt'r Complex, this unique formula stops the foundation from setting into your lines.
It also helps to give you a blurred finish. It's kind of like your favourite Photoshop filter, but one for real life, not just the computer! If you think that's all there is to be impressed about- you are so wrong! This foundation is also sweat-proof, humidity-proof and crease-resistant! Wow, wow and wow!
I love a foundation that doesn't get affected by externalities. Go to the beach, go for a run- your foundation will remain intact!
The foundation comes in 50 shades to suit most skin shades and tones, from the very lightest to the very darkest. If you usually have trouble finding the right shade for your skin, this foundation may just be the one for you!
---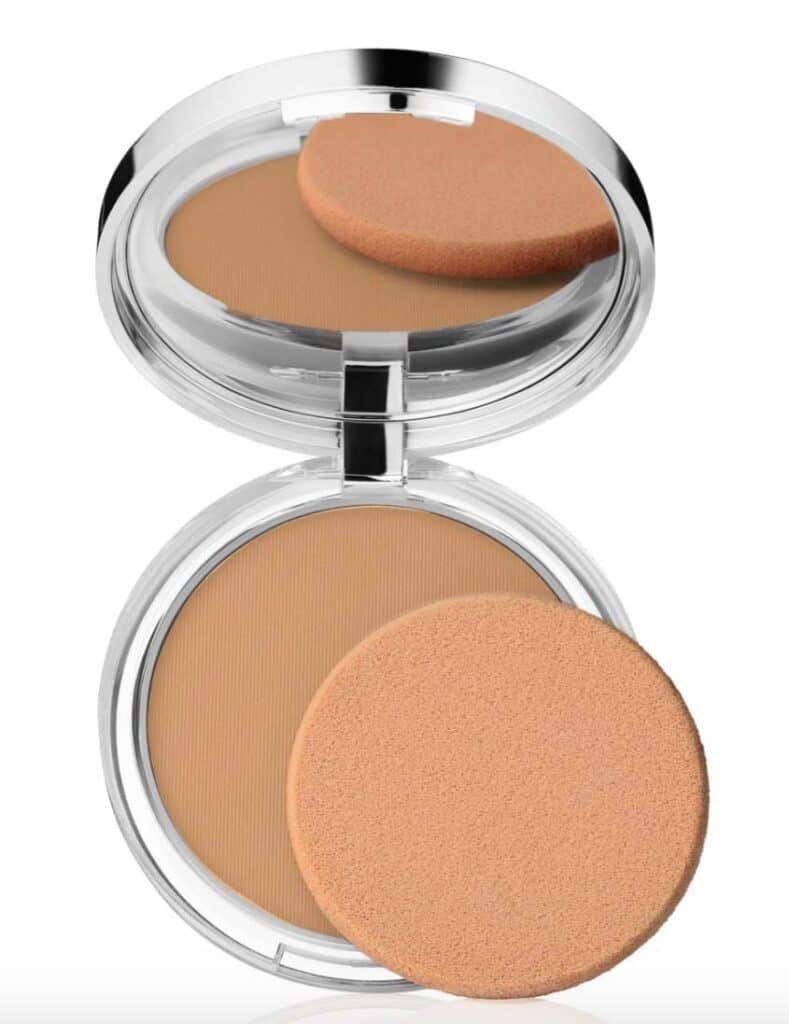 I have to be honest with you, when it comes to Clinique I am generally not a fan. I find my skin reacts to their skincare and their makeup never seemed tempting. However, there is an exception to every rule and with Clinique, it's their Stay-Matte Sheer Pressed Powder! This shine-absorbing drugstore foundation is a bestseller and those with oily skin just can't seem to get enough of it.
It gives the skin a matte finish that stays looking fresh throughout the day. Lightweight to wear, yet still has good coverage and is great for those with noticeable open pores.
Often with an oil-free foundation, the skin tends to dry out a little. Not the case here, the foundation doesn't dry the skin, nor does it allow oil and shine to escape. Instead, it keeps it matte and healthy-looking!
The foundation is available in 14 shades. I find the shade names a bit confusing, but that's only a technicality. Instead of the shades being in numerical order, they have random names.
Clinique Stay-Matte Sheer Pressed Powder is 100% fragrance-free, paraben-free, phthalate-free, mineral oil-free; oil-free, alcohol-free and gluten-free. The foundation is also dermatologist-tested, allergy-tested, non-acnegenic and vegan. Do you love drugstore foundations? Check out my favorite drugstore foundations here.
---
Tips for applying powder foundation
As with any makeup routine, always start with the basics. And by that I mean, cleansing! When you apply makeup to a dirty face, your pores will clog and your makeup won't apply as smoothly as it could have.
Next up is…you guessed, moisturise. By now, your moisturiser is probably your best friend (that's if you've been here long enough!). A moisturised face is a smoother face and a smoother face holds makeup better and longer, hence don't skip it!
Always use SPF. Like always! Even in the rain, and even if you plan on staying in all day. This tip doesn't really affect your powder foundation, but since I was giving tips… well, I couldn't resist mentioning it:)
When applying powder foundation, never layer liquids over powders. Always use a powder blush, bronzer and contour over a powder foundation. The reason is pretty simple. When you apply a liquid product over a powder, it moves the powder around. What you're left with is not what you desire… trust me!
Use a makeup brush or beauty blender, not your fingers to apply powder foundation. Powder simply doesn't blend as well into the skin when applied with fingers.
If you have combination skin so some areas on your face are dry and some are oily, one of the best tips I picked up is to use both, powder and liquid foundation. Use the liquid foundation first on the oily areas, once it's dried apply the powder to the dry areas making sure to blend them together.
Don't apply too much powder under your eyes and around your mouth where you most likely have more lines. Doing so will cause creasing and for the lines to be more noticeable.
My Thoughts
Having oily skin can certainly be a challenge, however, with the correct products anything is manageable! I hope these 10 best powder foundations help you find your ideal foundation for your oily skin!
Hollie xx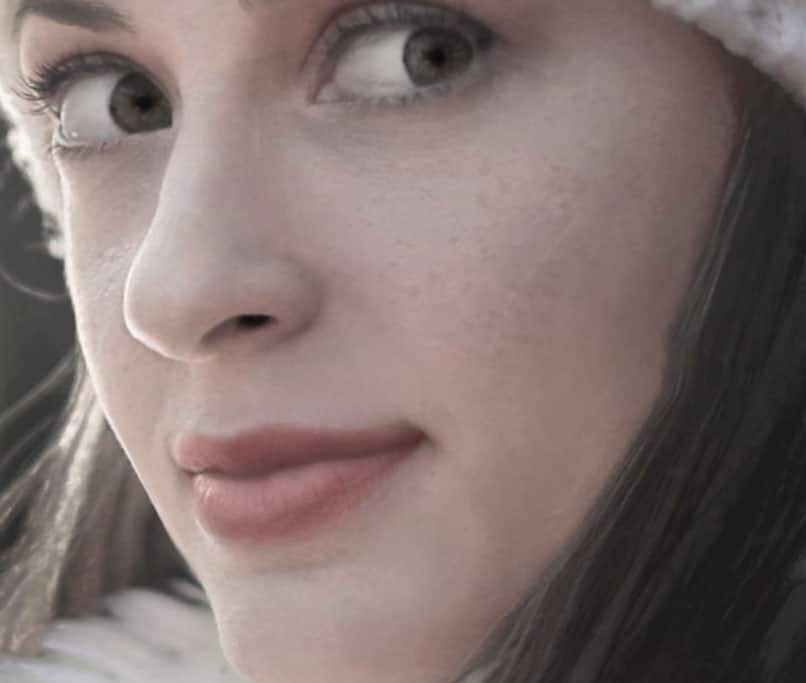 Hi, I'm Hollie, and I own BeautywithHollie.com. I love everything to do with beauty and love sharing my knowledge, advice, and beauty finds! Makeup and beauty are here to enjoy, and Beauty With Hollie is here to take the stress out of it!
---
---
Anastasia Beverly Hills bareMinerals Benefit Cosmetics Bobbi Brown CeraVe Chantecaille Charlotte Tilbury Clarins ColourPop Dermalogica Dior Dyson e.l.f. Cosmetics ELEMIS Estée Lauder Fenty Beauty First Aid Beauty Fresh Giorgio Armani Hourglass Jane Iredale L'Oreal Lancome La Roche-Posay Laura Mercier LORAC MAC Makeup Revolution Maybelline Morphe Nars Natasha Denona Neutrogena NYX Origins Peter Thomas Roth Revlon Sigma Beauty Smashbox Stila Tarte Cosmetics The Ordinary Too Faced Urban Decay YSL
---