The Best Drugstore Lipsticks for All Skin Tones in 2023
Looking your best without breaking the bank isn't impossible. In fact, with the right products and in the case of lipsticks, it's actually easy! And let's be real, who doesn't want to save money at the moment?!
There are so many factors that make quality lipstick. Some of these are pigmentation, hydration, lasting powers and of course the price!
Drugstore beauty has made huge strides in recent years, to the extent that more often than not, you can't see the difference in quality between high-end and drugstore beauty. The main difference between the two is that one has a designer name, whereas, the other doesn't. Yep, that is it!
When it comes to lipsticks, you can get amazingly affordable ones with all the qualities of high-end ones. We've put together the best drugstore lipsticks for all skin types, colors and needs!
Disclaimer: As an Amazon Associate I earn from qualifying purchases on Amazon and other affiliate programs. This means on some purchases, I make a commission. It doesn't mean you spend more, it simply allows me to keep this blog going!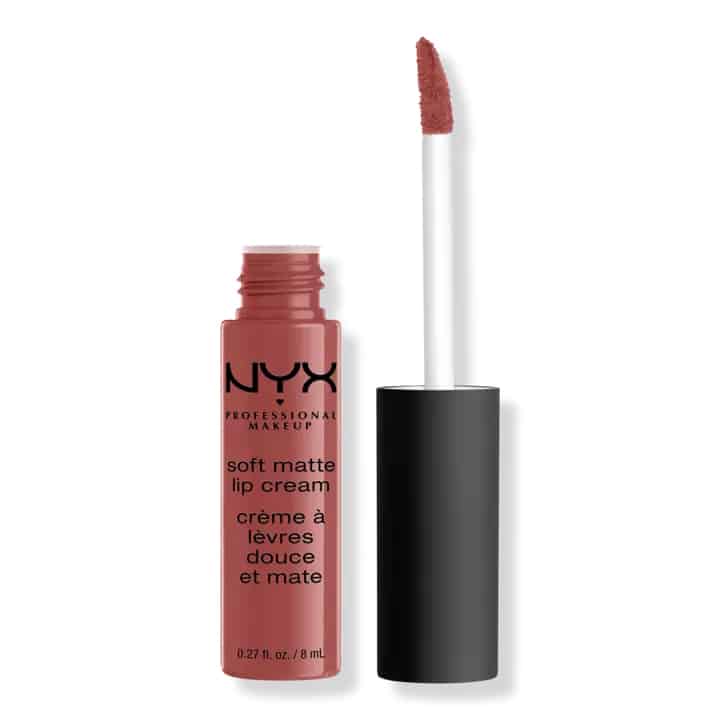 Not sure whether to go for a lip gloss or lipstick, opt for the NYX Soft Matte Lip Cream- the perfect mix of both!
Creamy and soft to apply, it feels like silk on the lips, yet dries down to a beautiful matte finish which is lightweight and comfortable to wear! Eventhough these lipsticks have a matte finish, unlike so many other matte lipsticks, these are never drying on the lips!
These fabulous lipsticks come in 34 stunning shades of browns, purples, neutrals and reds. They also come in metallic alternatives which have a pearly matte finish.
Lightweight and comfortable to wear, yet heavy on pigmentation is the definition of these lipsticks. Can it get more perfect than that?!
Don't be put off by the affordable price of these lipsticks. They work brilliantly and do wonders for all ages including those with aging and mature skin!
NYX Professional Soft Matte Lip Cream can be bought from Ulta
---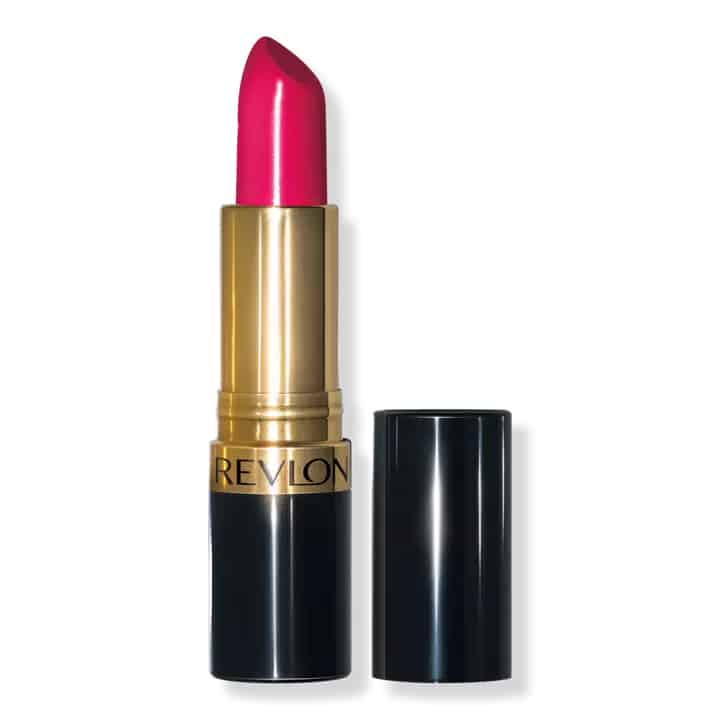 Who would've thought that for only $10 you can buy lipstick with an intense color payoff that's also super moisturizing on the lips?! Nowadays, anything is possible and the Revlon Super Lustrous Lipstick is proof of that!
But, that's not all that these lipsticks have to boast about! The shade range is huge and impressive, featuring 30 shades with a pearl finish and 52 shades with a cream finish.
Lightweight and comfortable to wear, these are the kind of lipsticks that you can apply in the morning and be confident that your lips aren't drying out or cracking during the day!
The lipsticks are infused with moisturizing ingredients to give you buttery soft lips throughout the day making them ideal for all year round, especially winter time!
I love this lipstick so much, it also made it into my review on The Best Moisturizing Lipsticks.
Revlon Super Lustrous Lipstick can be bought from Ulta
---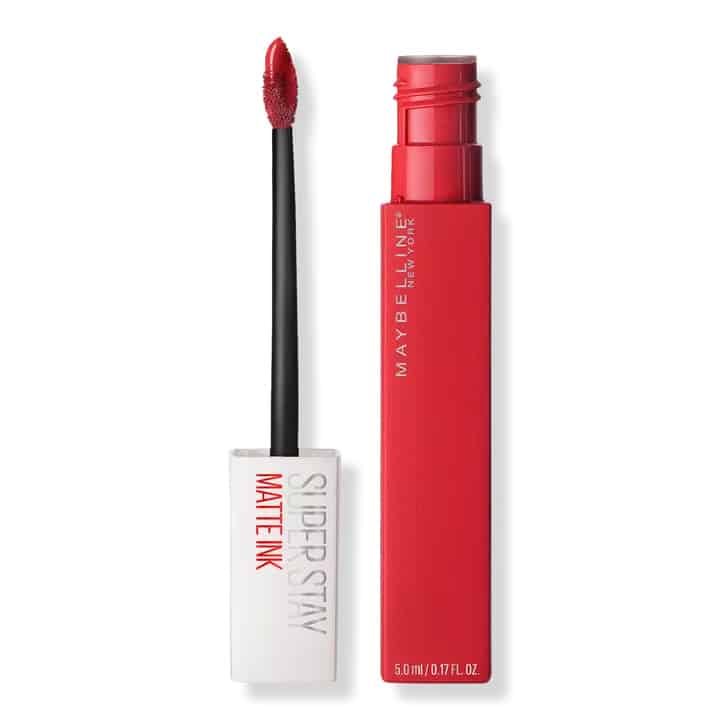 If long-wearing lipsticks are what you need, the Maybelline SuperStay Matte Ink Liquid Lipstick is the one for you! Designed to last up to 16 hours, these lipsticks are perfect for a long day of business meetings and parties too!
The SuperStay Matte Ink has a unique applicator made for getting those hard-to-reach areas on your lips. It's the little details that make all the difference and having an applicator that's a smidge easier to apply with is a plus we appreciate!
The lipstick comes in 36 shades of all the regular colors as well as some unique and original shades like black, orange and a range of brilliant reds! With just one swipe of the lipstick, you get intense pigmentation with even application that lasts!
One thing to be aware of is that since it has such impressive staying powers, it also means it's harder to remove! Make sure you invest in a good gentle makeup remover:)
Maybelline SuperStay Matte Ink Liquid Lipstick can be bought from Ulta
---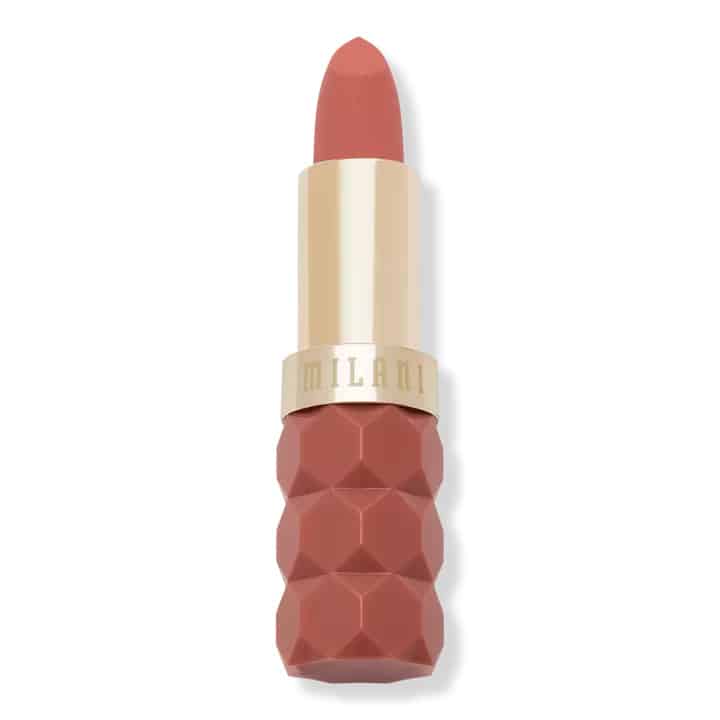 The first thing you'll notice about this lipstick is the gorgeous packaging! And you know how they say- don't judge a book by its cover? Well, in this case, you can! The inside is just as impressive as the outside!
Milani Color Fetish Matte comes in two variations, The Nude Collection and The Flora Collection. The difference between the two is that the nude one is about nudes and the Flora one features all shades of pink.
They both have a velvety smooth texture that glides onto the lips giving you a beautiful matte finish. One of the most impressive features of these lipsticks is how non-drying they are on the lips and that's due to their ingredients!
Infused with hyaluronic acid, this ensures your lips remain hydrated and nourished throughout the day, while at the same time, they are transfer-proof too!
Many say these lipsticks are a dupe of the bestselling Charlotte Tilbury Lipsticks in quality, shades and wear. Saving money has never been so tempting or so easy!
Milani Color Fetish Matte can be bought from Ulta
---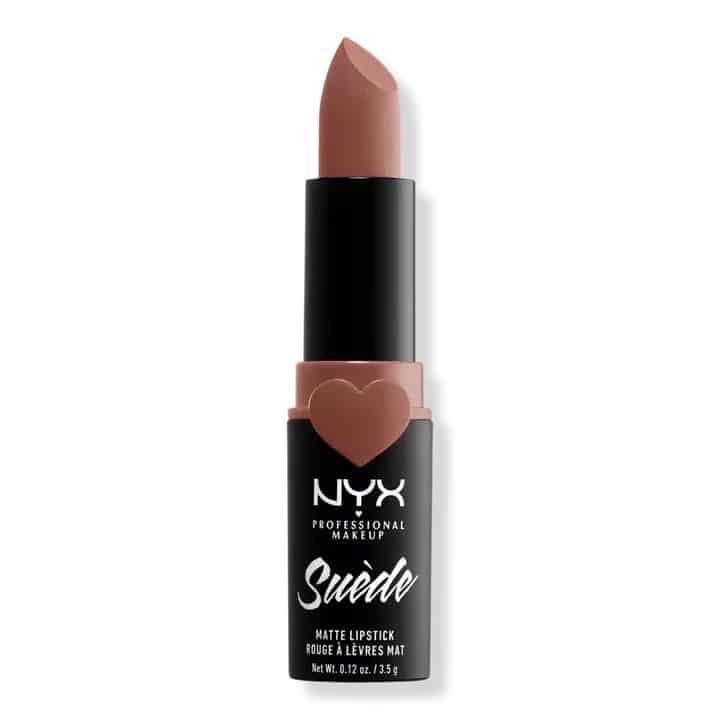 When it comes to affordable beauty products that don't compromise on quality, NYX Cosmetics is one of the first stops!
This is the second NYX lipstick to make it into this review, and that's of course due to the price, but more because NYX proves that the quality of drugstore makeup has no correlation to the prices.
The NYX Professional Suede Matte Lipstick is, you guessed it, another matte lipstick. Their Suede Matte Lip Liner made waves and this is the lipstick to match it! And for better wear, we definitely recommend investing in its lip liner too.
Lightweight and comfortable to wear, yet bold and full of life these lipsticks give amazing coverage without any drying that usually comes along with matte lipsticks!
Available in over 20 shades of original colors like teal blue, black and purple, the choice of looks is endless. The packaging is cute with a heart ornament in the chosen shade.
NYX Professional Suede Matte Lipstick Lightweight Vegan Lipstick can be bought from Ulta
---
Juvia's Place The Nude Velvety Matte Lipstick is all about the ultimate nude lips. The shades are universally flattering for all skin tones, from the very light to the very dark, it's all-inclusive.
It's another lipstick that's thinking ahead by having hyaluronic acid in the formula to give you soft and nourished lips throughout the day.
Long-wearing, smooth and creamy are a few of the features that these lipsticks can boast! Called velvet in name, that's exactly how the lipsticks feel on the lip.
The Nude Velvety Matte comes in 12 shades, but they also have it in Reds & Berries for those who love bolder lip color. The Reds & Berries comes in 9 shades with the same loved formula and the same affordable drugstore price!
Juvia's Place The Nude Velvety Matte Lipstick can be bought from Ulta
---
We've covered a fair share of matte lipsticks, but not everyone wants a matte lip, and that's fine! The L'Oréal Colour Riche Satin Lipstick is a great alternative with its luminous satin finish!
Aside from looking totally luxurious with its gold packaging, it's also luxurious on the inside. Infused with caring ingredients like argan oil, vitamin E and omega 3, these lipsticks are made to nourish the lips as well as give you beautiful lips!
Available in 52 shades, there's no shortage of choice and there's something for every skin tone and every mood! The texture is creamy and rich in color, it's comfortable to wear and isn't sticky or drying to the lips.
It doesn't have the same lasting powers as some of the lipsticks mentioned here, but it has loads of other benefits and its luminous finish is exquisite!
It's hard to believe that the L'Oréal Colour Riche Satin Lipstick is a drugstore lipstick, its quality is serious competition for high-end luxurious ones!
L'Oréal Colour Riche Satin Lipstick can be bought from Ulta
---
Lip stains are the way to go if you're looking for comfortable long-lasting lip wear, that also gives a good tint to the lips. Different to traditional lipsticks, lip stains get absorbed into the skin leaving a longer-lasting color.
Sephora Collection's lip stain is one of the bestselling drugstore lip stains around! With over 70 shades to choose from, there's no shortage of shades, but that's not all it has to brag about.
Intensely pigmented, yet weightless this liquid lipstick gives your lips a full-coverage tint which dries down transfer-proof and water-resistant and lasts all day! It doesn't dry out the lips, nor does it leave any sticky residue.
The lip stain has loads of selling points, but obviously, if it's here, the price point is great. It's on the pricier side for drugstore beauty, but it's still extremely affordable!
Sephora Collection Cream Lip Stain Liquid Lipstick can be bought from Sephora
---
Described as the lipstick that glides on like butter, gives a skin-like feel and doesn't budge, these are some of the Wet n wild Megalast Liquid Catsuit Lipstick's claims to fame!
Not only that, but it applies glossy and dries down to a highly pigmented vibrant matte. One of the most talked about features of this lipstick is how pigmented and opaque it is!
It covers the lips to a T, without leaving any see-through areas. For those with darker lips, this is a massive pro!
This lipstick also applies evenly which is always a must if you don't want patchy lipstick, and who wants that?! It doesn't dry out the lips and is lightweight and comfortable to wear.
The obvious downside to this lipstick is the color range, which is not impressive at all. While most of the shades are universally flattering, there are only about 7 shades to choose from. The range includes deep neutrals along with a bright red.
It's a shame there aren't more shades because this is a winner lipstick, with the added bonus that it's drugstore beauty! That being said, if you can find a shade you love, this lipstick will become your go-to lipstick!
Wet n wild Megalast Liquid Catsuit Lipstick can be bought from Ulta
---
The lipstick that's made for statement lovers! Yep, if you love making a statement and love intense rich lipstick, the Almay Lip Vibes is for you! The lipstick comes in 24 shades of 10 mattes, 12 creams and 2 toppers.
It's another lipstick that's made with the skin in mind. Infused with shea butter, and vitamins E and C, these ensure that your lips remain soft and hydrated, even during the cold, dry winter months!
The lipsticks apply creamily, and smoothly and have some of the most fun shades around. From oranges to purples and blue and yellows, they're ideal for those who love something a bit different.
A cute touch to these lipsticks is the packaging. The lipsticks feature an original and fun tropical design with an original name, giving the lipsticks extra spunk!
The Almay Lip Vibes are hypoallergenic and dermatologist tested making them safe for sensitive skin.
Almay Lip Vibes Lipstick can be bought from Amazon
---
Lipstick Tips
Without the right tips and tricks, all lipsticks will give you issues, no matter whether they're drugstore or high-end.
But don't lose hope, we've put together some simple and easy tips and with just a few tweaks, your lipstick will look fabulous every single time!
Exfoliate– Before we can even get to the lipstick application, you need to make sure you're starting with smooth soft lips. If your lips are flaky, your lipstick will also be flaky! Exfoliate your lips at least once a week for the best results.
Moisturize– On the same theme as the previous point, make sure your lips are smooth and soft for the smoothest lipstick application. The simple way to achieve this is to apply a lip moisturizer or balm every evening before you go to bed.
Use a lip liner- A lip liner is always a good idea for your lipstick to last better and longer. It's also easier to apply lipstick when the outline of the lipliner is already there.
Use the correct lipstick for your skin– If you have dry skin, make sure to choose a hydrating lipstick. Loads of lipsticks today have hybrid skincare ingredients in them. Take advantage of them and your lips will reap the benefits! And as you can see, that includes drugstore lipsticks, not only high-end ones!
Blot it– After applying your lipstick, take a piece of tissue or paper towel and blot off any extra lipstick. This stops the lipstick from transferring onto your teeth, clothes or whatever else you are trying to avoid getting lipstick on!
Seal it– Use your favourite setting powder and lightly dab it over your lips. When I say lightly, I mean very lightly, oversetting your lips will cause them to dry and crack. You need to find the very fine line in the middle!
My Thoughts
We're so fortunate that we live in this day in age where we can buy quality makeup for affordable prices. The lipstick shades are endless, many have skincare ingredients which is a huge plus and the quality is second to none!
Compare some of your high-end lipsticks to drugstore ones and you'll see how the difference that was once glaring is no longer there!
Are you looking to save more? Check out these other best drugstore finds like drugstore concealers, drugstore foundations, drugstore moisturizers and drugstore mascaras to name a few!
Hollie xx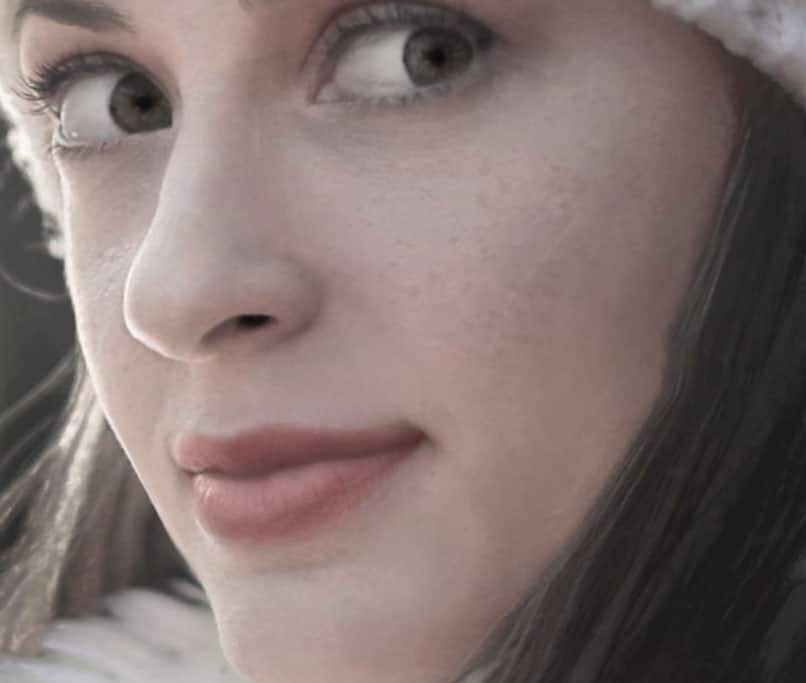 Hi, I'm Hollie, and I own BeautywithHollie.com. I love everything to do with beauty and love sharing my knowledge, advice, and beauty finds! Makeup and beauty are here to enjoy, and Beauty With Hollie is here to take the stress out of it!
---
---
Anastasia Beverly Hills bareMinerals Benefit Cosmetics Bobbi Brown CeraVe Chantecaille Charlotte Tilbury Clarins ColourPop Dermalogica Dior Dyson e.l.f. Cosmetics ELEMIS Estée Lauder Fenty Beauty First Aid Beauty Fresh Giorgio Armani Hourglass Jane Iredale L'Oreal Lancome La Roche-Posay Laura Mercier LORAC MAC Makeup Revolution Maybelline Morphe Nars Natasha Denona Neutrogena NYX Origins Peter Thomas Roth Revlon Sigma Beauty Smashbox Stila Tarte Cosmetics The Ordinary Too Faced Urban Decay YSL