Foolproof and Damage Prevention Tips on How To Color Hair At Home
Running out of ideas to pass the time indoors? Instead of cutting your hair, which has become quite the quarantine trend, why not colour it instead?!
I am on a tug-of-war with my inner ego right now. With so many things stressing me out about this whole situation and the impending economic doom about to welcome us once the doors are open— arrrgh! I'm about to do a Britney Spears on my innocent hair. (Fear not, I am exaggerating!)
And that, my readers, is the anxiety talking right now. But not to worry, I'm winning this fight. We'll all be winning this dreadful fight. It's just a matter of taking it all in slowly, doing the best we can, with one strip of hair colour at a time.
So in between the alter ego monologue, I am now negotiating which hair colour to try. Coronavirus Red or Mint Green Face Mask? What do you think?
Inappropriate humour aside, I had to figure out how to colour hair at home because quite frankly I've never done it before!
And because of that, I've gone on a rampage through the internet searching and compiling tips and advice for how to color hair at home without getting my limbs cramped.
What are the necessary steps— And what are not?
1. Don't colour a freshly washed hair
Dye has a hard time sticking to wet hair cuticles. What is best recommended among many hair gurus and professionals is to leave your hair unwashed for several days before dying it. If you can't stomach that, then wash your hair a day before you plan to color it.
You're probably wondering why do they wash and treat the hair in salons before colouring? That's because there's a loop to that. Salon beauticians blow dry our hair to a crisp only to put oil on our hair before they dye. It's like simulating a greasy unwashed hair.
And since you are going to colour your hair at home, there's absolutely no need for you to put coconut oil or argan oil or whatever oil. Unless you wanna cramp your arms from recreating the same salon step, of course.
If you do choose to wash, dry, and lubricate your hair, apply just enough oil to simulate hair grease. A lot of, or too much doesn't really make any difference. The dye is just going to soak it all up and at worst, may also dilute your dye.
2. Before colouring your hair, comb it until it is tangle-free.
3. Prepare your materials beforehand. What you need…
A box of your chosen hair dye, of course
Plastic gloves
These usually come in the hair dye box along with some starter conditioners, serums, and instructions.
Petroleum Jelly or chapstick or any lip balm
This is for rubbing along your hairline to prevent the dye from staining your skin.
Preferably a sectioning comb, but any will do really because you can always use any other stick-like object to section your hair.
These are for holding and placing your hair up into sections. And because it's not ideal at all to apply dye like you would a shampoo, this item is a must.
Some hair dye boxes have this, and some don't. Either or, they are inexpensive. And if buying really isn't an option, time to ravage our makeup brushes and artist brushes for the closest match. Creativity is resourceful insanity.
If it's really not available, your gloved hands are fine. Just use your comb through each dyed section to evenly spread the colour (but not the bleach).
This is for your bathroom counter and floors. Or wherever you'll be dyeing your hair. Hair dye will also stain your counter and floor surfaces so better stay ahead of the mess.
Buy all your hair dye essentials here
4. Start dying by section or strands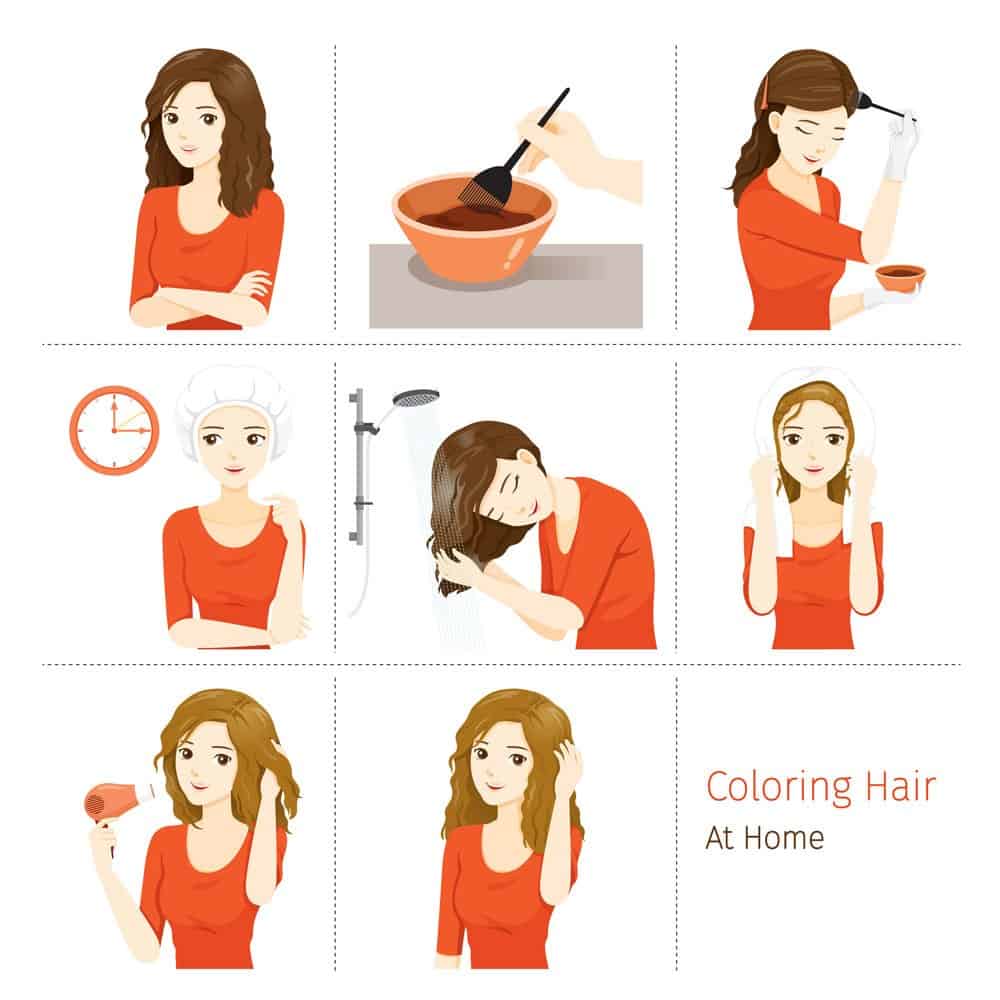 Starting small and slow is the best for situations that require change, including hair colouring. This way you'll know if the hair dye formula is working for you or not, if it's the right colour and if you'll need more of it, etc.
Once you've got the right mix and recipe, make sure to note it all down and do the same for the rest of your hair.
5. Bleaching 101
Never apply bleach to your roots first!
Start in the middle section, then at your hair ends. This is because our scalps have heat, and by the time you are done warming the dye in a shower cap, the hair roots are going to look lighter than the rest.
It's best to apply at mid-section and ends until you're done with all the rest of your hair. When you have finished applying bleach everywhere, wait some 10 or 15 minutes then you can finally apply the bleach to your roots. This way the colour will turn out even.
You can also start with the darkest parts of your hair, working your way to the lightest parts. As long as you don't start at your roots it will turn out fine.
If you're doing a re-touch on existing hair dye, still never start at your roots
Less bleach does not mean less "lightness"
You'll most likely end up spotting if you think applying less bleach will get you that desired tone. If you want more or less of the "lightness", pay more attention to your hair dye's bleach volume.
Apply your bleach with gloved hands
Don't use a comb or brush because your hair, at this point, is at a very fragile state and we don't want to add stress by forcibly stretching out the strands.
Apply your bleach like your normal dye, not like a shampoo
Bleach does not lather, friends. You are more likely to damage your hair when you are rubbing it while it is soaked in bleach.
Spray some water in your shower cap before steaming or warming it up
Bleach likes moist. And never leave it on for more than an hour because, at that point, it will dry up. If you are after a specific level of lightness, assess your hair after the first session of bleach to see if it can take more. Do another round if it can.
The bottom line, leaving it on well after it has dried isn't going to make it any lighter than what the bleach volume's processing power will allow.
6. For colour dye, follow the box instructions
Bleach or lighteners are more complicated than colour dye. It varies from person to person, hence the guides above. But for regular dye, it's safe to follow the directions of the particular hair box that you have.
7. Rinse and cleanse with lukewarm water
Cold water is going to shock and damage your hair. After all those chemicals and heat and expansion, the last thing your hair and scalp need is another shocking treatment. Wash it all off with lukewarm water to prevent it from any extra breakages.
Rinse your hair twice to make sure your hair is rid of the excess bleach and dye. And most importantly, be gentle. You don't need to vigorously scrub your hair and scalp. Again, it's experienced a lot of trauma at this point. What it will need most now is a nice loving, rinsing massage under lukewarm water.
Read more articles on hair tips and products here
8. Lastly, assess and evaluate
Dry off and style your hair like you normally would. It's pretty hard to judge the colour pay off as well as the condition of your hair when it is still wet.
Get prettied up and tug at a strand when done to see if it's stretching normally and if the colours are all even. You'll know from this point what to do if there are any problems, or not. So the next time you'll do it, your notes are complete. There's no better time than lockdown to try it out, after all, no one will see you!
Final Words
Hair colouring at home isn't a do or die situation. (Get it?). But only if you do it right. Because if not, your hair will literally die from the dye.
Amidst all my terrible puns, I hope you've picked up some gems from all the best advice that I have compiled. Let me know if you've tried to color your hair at home and how it went.
So stay sane, creative, productive and hopeful.
Hollie xx
---
---
Anastasia Beverly Hills Benefit Cosmetics Bobbi Brown Chantecaille Charlotte Tilbury Clarins ColourPop Dermalogica Dior Dyson ELEMIS Elf Cosmetics Estée Lauder Fenty Beauty First Aid Beauty Fresh Hourglass Huda Beauty Jane Iredale L'Oreal lancome La Roche-Posay Laura Mercier LORAC MAC Makeup Revolution Mario Badescu Maybelline Molton Brown Morphe Nars Natasha Denona Neutrogena NYX Origins Peter Thomas Roth Revlon Sigma Beauty Smashbox Stila Tarte Cosmetics The Ordinary Too Faced Urban Decay YSL
---