9 Best Shampoos for Dry & Damaged Hair in 2024
Having healthy-looking hair is one of the easiest ways to look glam and youthful. But achieving it may not be as easy. Frizzy and unruly tresses are quite annoying, and I know this from personal experience!
Worse than any frizziness and dryness, is when your hair is damaged. Yes, I'm talking about those dreaded split ends that can appear a week after a haircut! I know that terrible feeling all too well, the feeling of being helpless because who's going for a haircut a week after having one?!
Don't fret because you've come to the right place! It's not all doom and gloom. Using the right shampoo will protect your hair and give it the much-needed nutrients and moisture that dry and damaged hair needs.
I've put together the best shampoos for dry and damaged hair which will help your hair become soft and silky! For all budgets and all hair colors, there's a shampoo for you!
Disclaimer: As an Amazon Associate I earn from qualifying purchases on Amazon and other affiliate programs. This means on some purchases, I make a commission. It doesn't mean you spend more, it simply allows me to keep this blog going!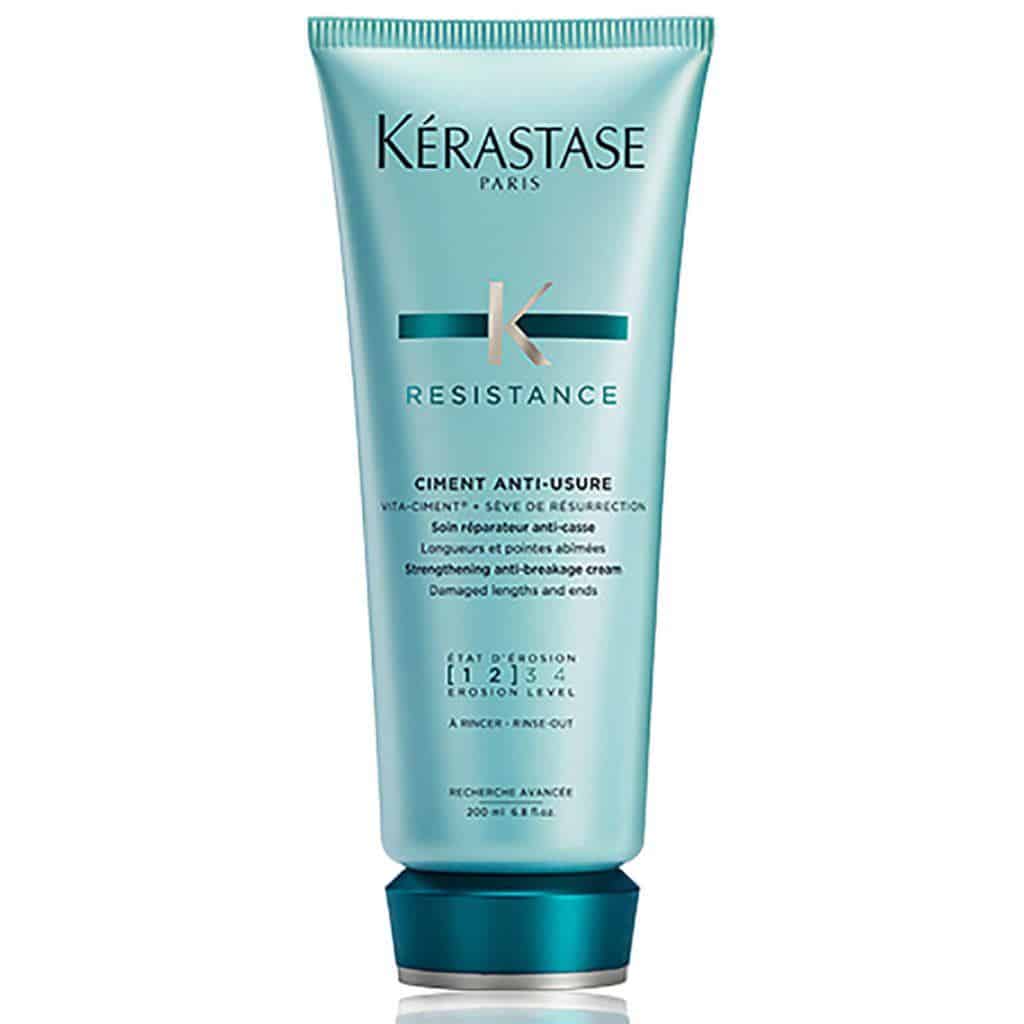 If your hair has been severely damaged from bleaching or the like, prepare yourself to be amazed at how this shampoo will transform your hair!
The Kérastase Ciment Anti-Usure is formulated with their Vita-Ciment, meant to instantly rebuild the internal substance of your hair fibres. The ones keeping it all intact— your keratins. It also contains what the company calls Vita Topseal simply meant to mimic the hair's natural cuticle layer.
All of that is working towards nourishing your dry and damaged hair. It will leave your hair soft after just one use! It's a lush shampoo that detangles your hair when rinsing out. You'll find brushing your hair afterwards a breeze.
The Kérastase Ciment Anti-Usure is a hairstylist in a bottle. A little goes a long way to fixing dry and damaged hair. It lathers amazingly and makes your hair feel clean and hydrated, without weighing your hair down. Not to mention that it leaves your hair so soft you'll want to wear it down all day!
Pros
Repairs damaged hair
Gives volume without the weight
Ideal for dry hair prone to breakages
Leaves hair soft
Affordable
Kérastase Resistance Ciment Anti-Usure – Vita Ciment Advance can be bought from Sephora
---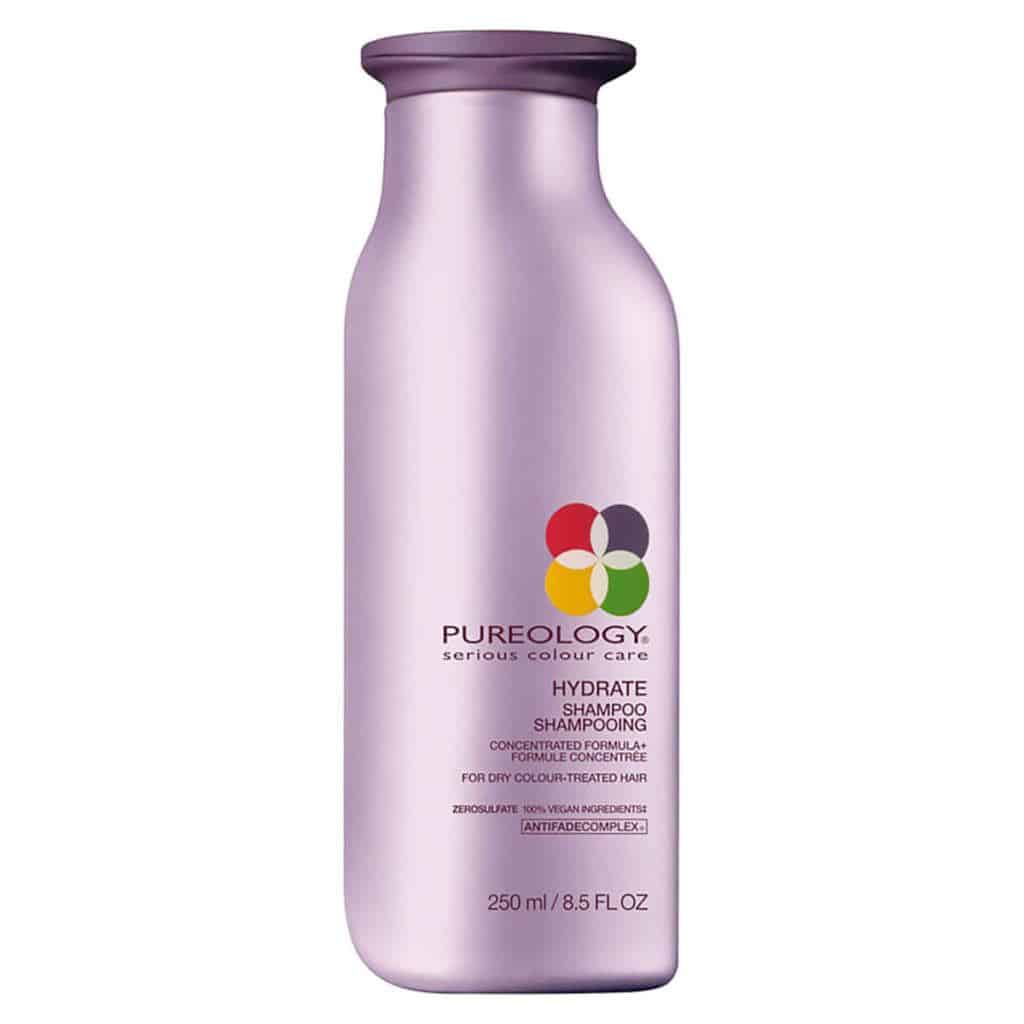 Not many shampoos are created for hair dye junkies! And among those that are, they usually lack the balance of being a shampoo and colour treatment.
The Pureology Hydrate Shampoo and Conditioner Duo meet the needs of both. It is specifically developed for artificially pigmented hair tending carefully to each strand while giving all the benefits a great shampoo should have.
It is especially good for those with highlights that are brown or blonde and bleached hair swear by the non-stripping effects of this shampoo. On top of taking care of your colour vibrancy, it helps smooth out the damage caused by the colouring process. You'll have drool-worthy soft and lustrous locks.
The shampoo's cleansing formula is derived from coconut, corn and sugar, which combine into a rich lather when wet. The product blends into a minimal yet creamy spume. No excessive foaming!
It gives your hair a pleasant aromatic fragrance and spring cleans your hair roots down to its tips to give your hair maximum moisture. It's one of the best shampoos for colour retention.
The conditioner is formulated to moisturise dry, colour-treated hair, without stripping the pigment. It is enriched with jojoba esters and shea butter that moisturises your hair fibres without giving any hint of fading on your dye.
It also contains soy, oat and wheat proteins to strengthen and soften up your crisp hair strands. It takes away all the dead cells and flakes and replaces them with cool lightweight, moisturising oil nutrients.
Pair the shampoo and conditioner together so you can enjoy your hair dye for as long as you want until your next grand idea.
Pros
Formulated for dyed hair
Doesn't fade hair colour
Helps with colour retention
Effective against dry and damaged hair
Affordable
Vegan
Pureology Hydrate Shampoo and Conditioner Duo can be bought from Look Fantastic UK / Sephora
---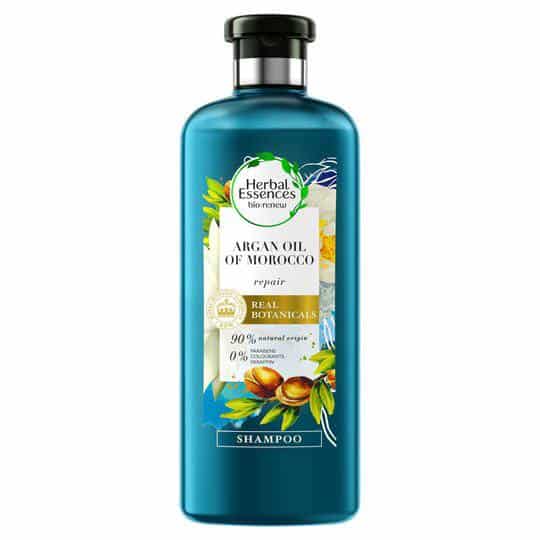 If your hair is as stressed as you are, then you need to try Herbal Essences Argan Oil of Morocco Shampoo. It will manage your stressed static hair with visible results after just one wash!
Herbal Essences is a boho-inspired brand with cruelty-free and environmental-friendly values.
They sure know how to formulate an extremely effective Argan Oil Shampoo. By combining quality natural ingredients with premium scientific expertise, there's no wonder why the shampoo is a bestseller.
This shampoo is also great for damaged hair, especially from being dyed. It won't rinse off any of the colours. The Herbal Essences Argan Oil of Morocco shampoo is a moisture-rich formula that contains histidine packed with antioxidant properties that help to clean and restore deadbeat hair.
Their special ingredient is the Ecklonia Radiata Extract (Sea Kelp) protein that binds with the keratin in your hair, forming a protective layer against damaging environmental elements and tackling the causes of static-ridden, stressed hair strands.
Herbal Essences used natural argan oils to gently cleanse and revive the hair shaft for added security and shine. Get ready for soft, silky and frizz-free hair that you will not recognise!
Pros
Deeply moisturises damaged hair
Gets rid of frizz and lessens tangles
Ideal for very dry and damaged hair
Recommended for light-toned dyed/coloured hair
Cheap
90% Natural origin ingredients
Cons
The scent is quite overpowering
Herbal Essences Argan Oil Of Morocco Shampoo can be bought from Amazon
---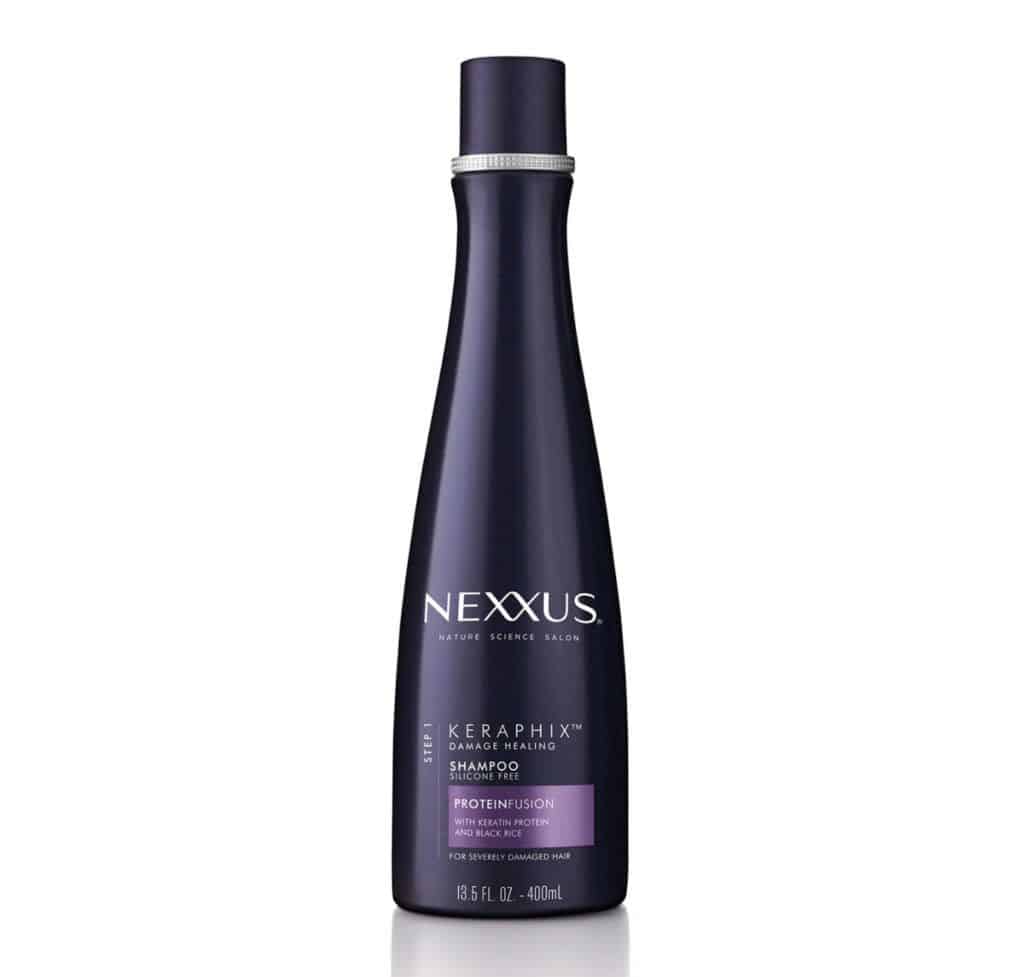 This shampoo is a dream in a bottle for those with dry and damaged hair. It is clinically proven to repair hair from the inside out. After just one use, your hair will be stronger and not as dry.
After using this shampoo, I immediately fell in love with it. It lathers well and covers my long hair without using a ton. After shampooing, my hair feels clean without feeling stripped of its natural oils, yet soft and sleek at the same time.
The Nexxus Keraphix Shampoo is a decadent product that does what it says. The shampoo's PROTEINFUSION™ Blend ingredient gently cleanses your whole head and brings back the hair's strength and shine.
With the keratin protein and black rice nutrients, you are giving your own hair the salon-quality treatment it needs, from the comfort of your home.
Pros
Treats damaged hair
Detangles and lessens dandruff
A little goes a long way
Silicone-free
Cons
It will make greasy hair greasier
Nexxus Keraphix Shampoo for Damaged Hair can be bought from Amazon
---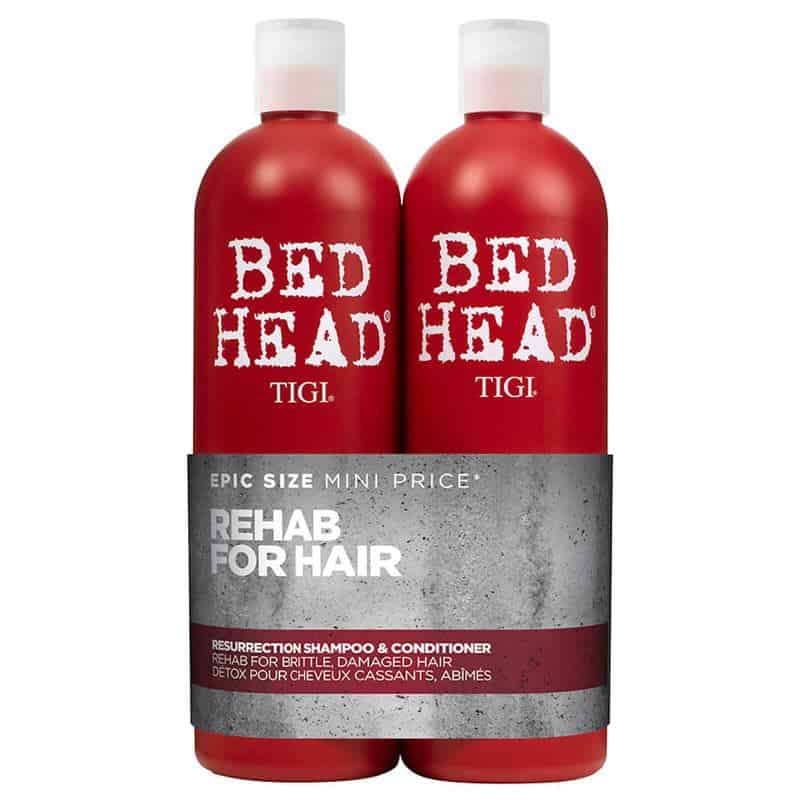 When you know and feel your hair has been damaged from bleaching, colouring, and over-treating, the TIGI Urban Antidotes Bed Head Resurrection Shampoo is your low-key anti-treatment that will save your hair!
Tigi is known for its awesome products, so it's no surprise really that many hairdressers and salons choose to use them. It resurrects damaged hair and gives you a renewed texture.
One of its best features is that it's heat-protective. Get that? Not only does it help to repair your damaged and brittle hair, but it also helps it stay healthy by protecting it from future styling. Pretty darn awesome!
TIGI has formulated the shampoo to be colour safe and moisturising with a lovely fragrance of papayas. Pair it up with the TIGI Urban Antidotes Bed Head Resurrection Conditioner to mask it with more nourishing compounds. You'll be left with hair that feels smooth and straight with every strand. It truly eliminates the rough and tingly texture you get when you have damaged hair.
Having dry curly hair myself, I can't recommend this shampoo enough! It really gives a nice tangle-free, bouncy effect without all the weight and with all the softness and silkiness.
Pros
Transforms dry and damaged hair
Effective for all hair types
Great for long-time results
TIGI Urban Antidotes Bed Head Resurrection Shampoo can be bought from Amazon
---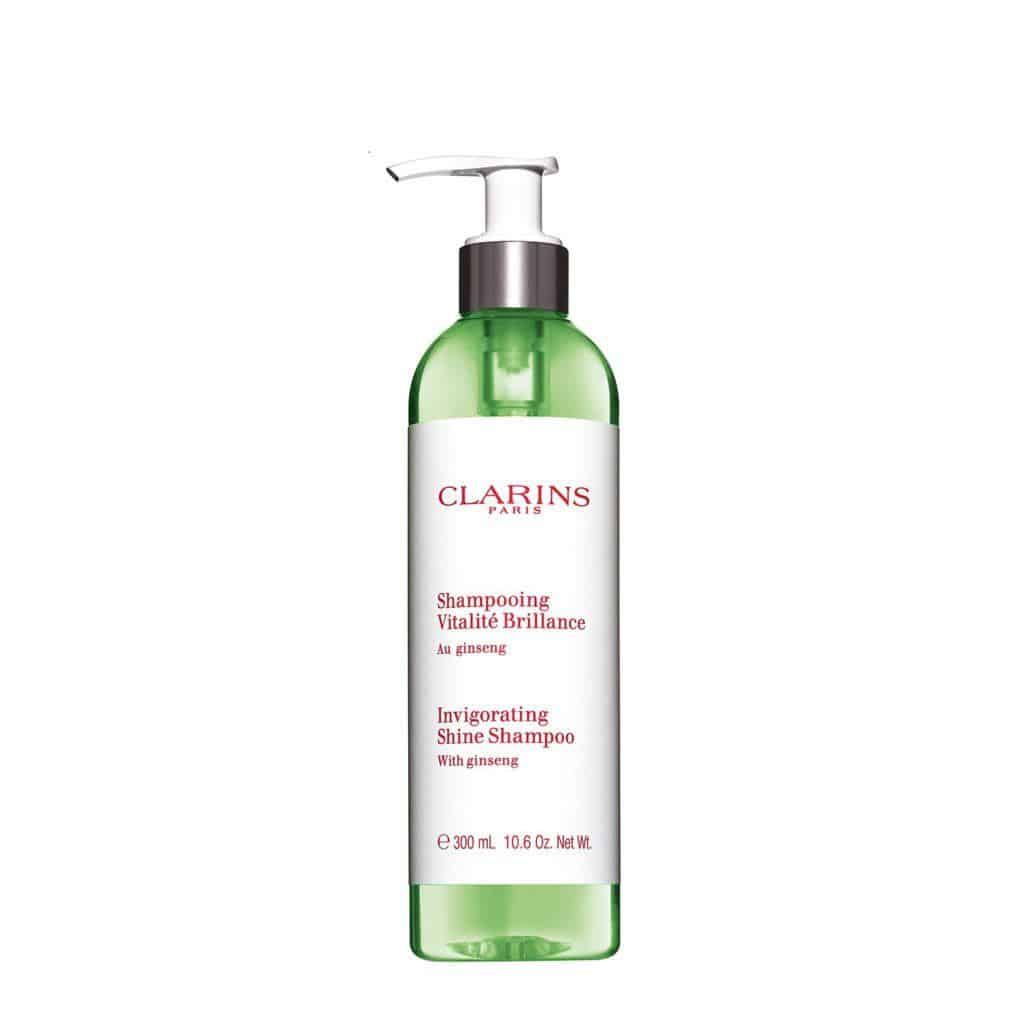 If you've been a follower of my blog for quite some time, Clarins is no stranger to my blog. With their classy packaging and great products, they always stand out from the crowd.
The Invigorating Shine Shampoo is a marvellous shampoo and delivers outstanding results. It was discontinued in the past about two years ago, but due to popular demand, Clarins have re-stocked this amazing product.
Dehydrated and damaged hair calls for extra nourishment. And the Clarins Invigorating Shine Shampoo does the job without fail. It prevents breakages, frizz, and flyaways by infusing your hair with the necessary nutrients it needs to flourish. This literal invigorating shampoo increases moisture levels in your hair and helps retain them.
I have long and terribly frizzy hair and I've always had a hard time finding shampoos that help with that without compromising other areas. With this shampoo, I only needed a tiny amount and it covered my whole head easily and trust me, I have way too much hair!
I usually blow dry my hair but on the odd occasion when I can't find a minute, natural it is. And that's always a disaster, Once my hair dries, it turns frizzy with a really unpleasant texture that is impossible to brush, but not with this shampoo.
My hair stayed shiny and could finally see what my actual hair looked like without all the flyaways and frizz. I just couldn't believe how soft my hair was!
The gel lather feels cool and minty without being too abrasive. Surprisingly it hydrates the hair as well as oil-based shampoos. It smells great and leaves your hair with a great velvety texture.
This Clarins Invigorating Shine Shampoo calms itchy scalps and detangles the hair beautifully. Its main ingredient is Ginseng that's combined with pro-vitamin B5 and B8 to help restore your hair's vitality and get rid of brittle hair. Its scent smells like the ocean and it mildly lasts the whole day.
Pros
Deeply moisturises damaged hair
Delivers long-term results
Ideal for very dry hair
Cons
Pricey
Problems with availability
Clarins Invigorating Shine Shampoo can be bought from Clarins
---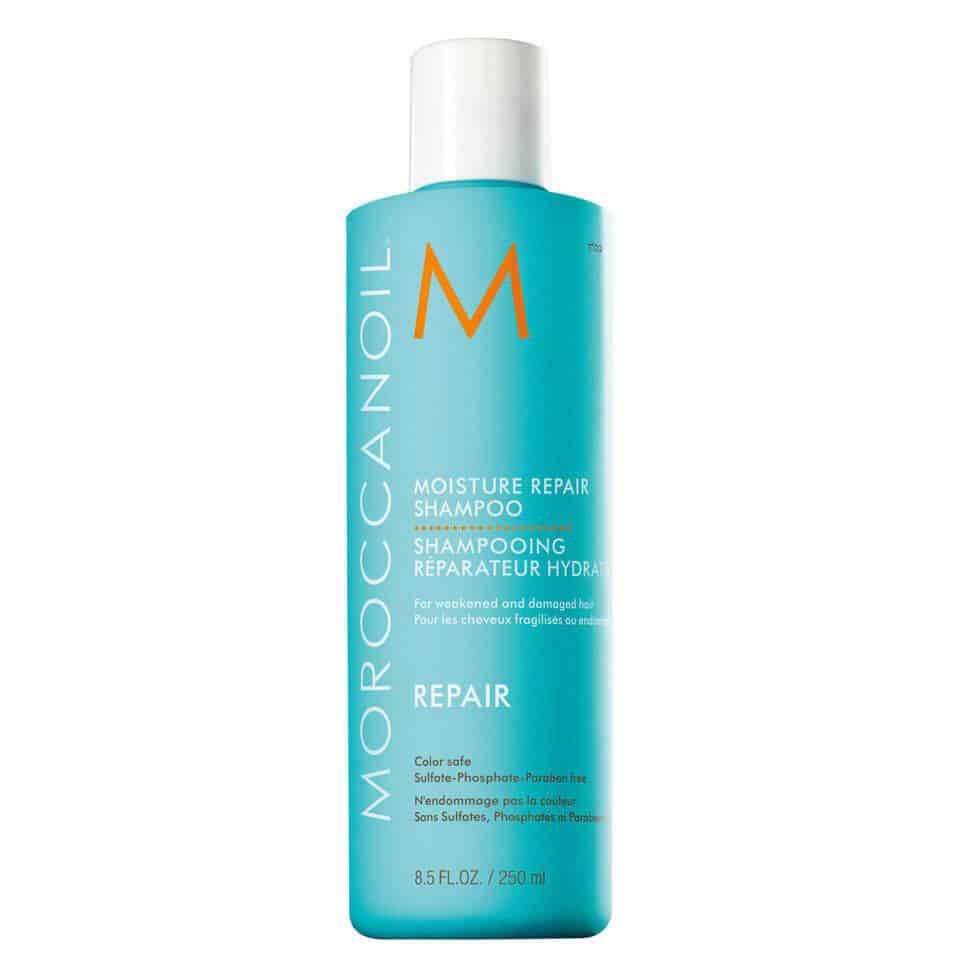 This shower gem is serious about giving "life" back to dull hair. It contains intense nourishing plant-based cleansers and oils blended with keratin.
It's also infused with cocamide MEA which promotes moisture and renovates mangled hair shafts. Leaving you with a more manageable texture and sleek hair strands.
It's filled with essential oils like rosemary, lavender, chamomile and jojoba to rebuild porous hair. You can expect the shampoo to leave any length of hair shiny and in tip-top condition. It does wonders with very dry scalps too. With the plethora of oils in its formula, it is guaranteed an engulfing floral scent you'll love.
It's like a splash of water on a humid summer afternoon. Feels very cooling and cleansing on the scalp and hair. The creamy texture of the product lathers up exceedingly well and leaves the hair so smooth that brushing your hair has never been easier. The bottle may be blue in packaging, but it's gold in worth!
Pros
Deeply moisturises damaged hair
Leaves hair silky smooth
Cleanses hair exceptionally well
Good for all hair types
Rebuilds elasticity
Sulphate-free
Paraben-free
Smells amazing
Moroccanoil Moisture Repair Shampoo can be bought from Look Fantastic UK / Sephora
---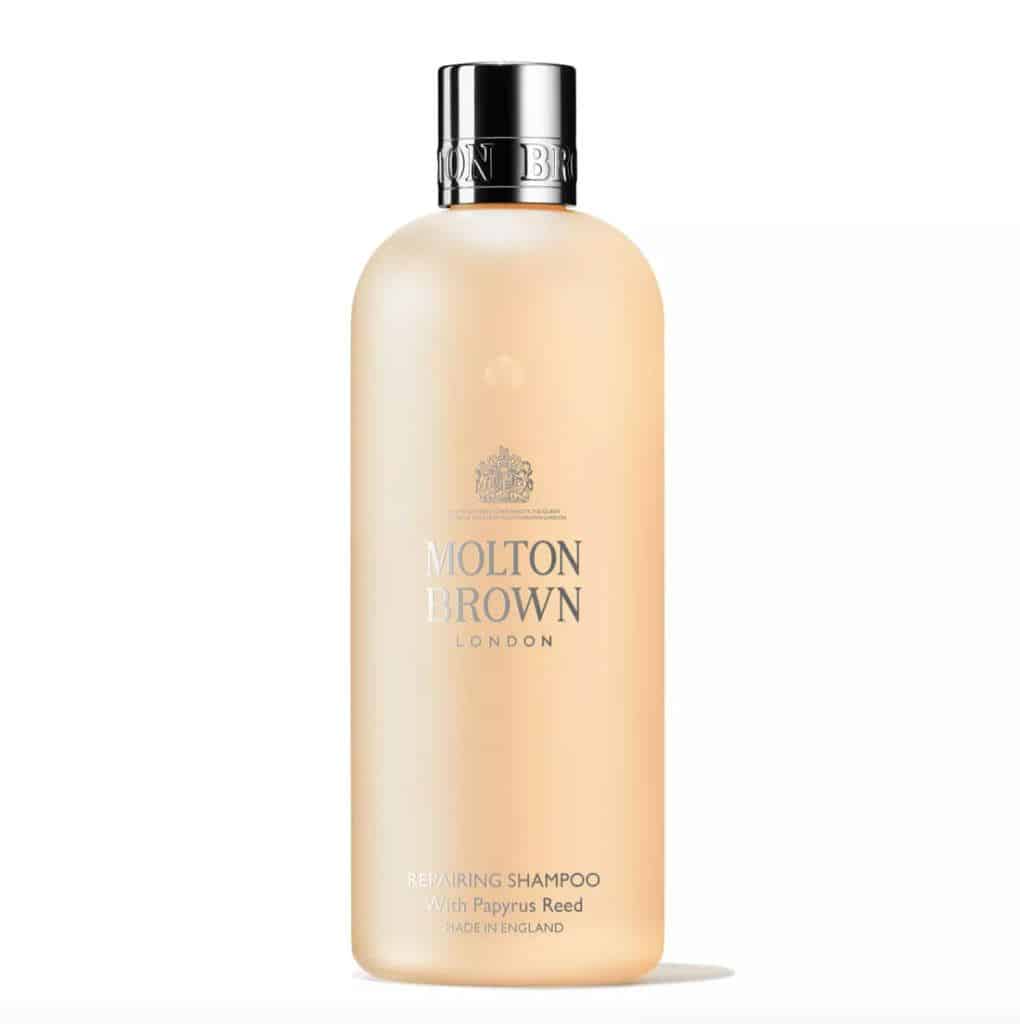 If you've been looking for a super fix for your dead or frizzy hair, Molton Brown's Repairing Shampoo with Papyrus Reed is your magic fairy dust. Aside from it being totally luxurious from packaging to product, this shampoo will also fix your hair!
This superb shampoo comes with an effective hydrating formula enriched with hydrating papyrus reed extracts and shine-enhancing amino acids.
It ensures that your hair becomes more supple and touchably soft while being delicately fragranced with sensual warm aromas of black pepper, tiare flower and amber.
The actual scent comes close to an invigoratingly unique musky wood scent that is sure to turn heads as you pass by. It smells luxurious which is what you would expect from Molton Brown.
Its silky cream masks every strand of hair ensuring that all the benefits from the shampoo are equally distributed. Once you rinse it off, you can instantly feel the difference the shampoo makes, from the light feel of the scalp to the velvet texture of your hair strands.
Pros
Treats damaged hair
Leaves hair soft and silky smooth
Cleanses exceptionally
Lovely lasting fragrance
Cleanses scalp
Paraben-free
Cruelty-free
Vegan
Molton Brown Repairing Shampoo With Papyrus Reed can be bought from Molton Brown UK / US
---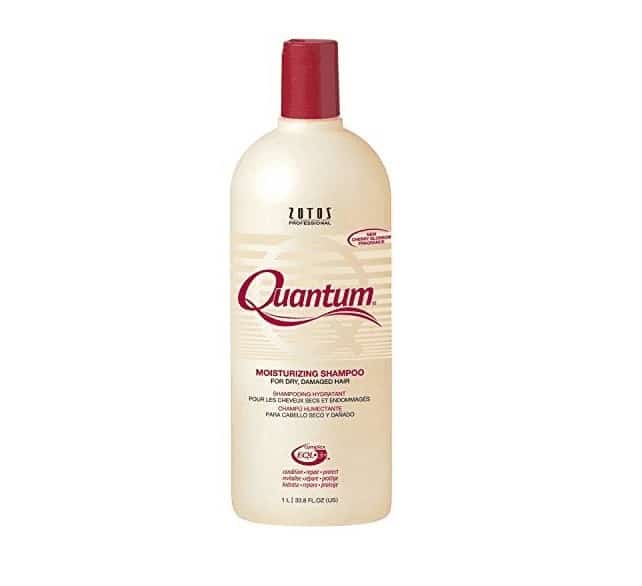 Here's a shampoo that will make you want to wash your hair every day! The Quantum 1 Moisturising Shampoo is PABA-free hair sunscreen that helps protect your hair colour from fading.
It helps split ends and rough hair texture to significantly improve. The formula deeply penetrates your hair cuticles and imbues the hair with extra strength to prevent breakage.
This shampoo is fortified with silk proteins and nourishing herbal extracts to repair dry, damaged, and fragile hair. It contains active biomolecules that deeply penetrate the hair cuticles and cortex, adding moisture to it.
The oil-free, pH-balanced formula helps form a lubricious film on each hair strand, significantly increasing its vitality with time. It's lightweight during and after a shower— it's almost like giving your hair a mint bath without the sting.
The scent is homey and floral, it lasts all day and rinses off easily. You'll find you won't need a conditioner when using this shampoo because of how effective it is. (Of course, if you have time, conditioning the hair adds more benefits, especially for dry and damaged hair).
Pros
Protects and treats dry and damaged hair
Reduces static friction and frizz
Lightweight
Leaves hair tangle-free and smooth
Affordable
Quantum 1 Moisturizing Shampoo for Dry and Damaged Hair can be bought from Amazon
---
Guide for Dry and Damaged Hair
To understand the following sections with ease, it's great to reiterate what the different parts of your hair are. This will greatly help in determining and choosing what products are best for your hair.
Hair Roots
The epidermis is the outermost layer of the skin, including the scalp. Each strand of hair sprouts from the cavities and pores of the epidermis.
While it isn't really a part of your actual hair, the hair roots are what absorb and release the essential nutrients to distribute them to the actual hair strands.
Hair Follicle
This part of our hair contains the bulb and it's where our hair fibres are formed.
Hair Shaft
This is the actual hair that you see and is formed in three layers.
Medulla – the inner layer of the hair shaft, only seen in large and thick hairs. Naturally blonde and thin hair don't have this part.
Cortex – the middle layer of the hair shaft which provides the strength, colour and texture of hair fibre.
Cuticle – the outer layer of the hair shaft that is thin and colourless. It serves as protection for the cortex.
Different Levels of Damage
Level 1: Your hair scales or cuticles are jagged, with some of them lifted or broken; but the hair's internal cortex is not yet fully exposed. The rough texture is only evident when pressing the hair strand tightly between two fingers. Your hair is slightly dry with less shine. It has duller colour and thinner ends.
Level 2: Your hair damage sees cuticle abrasion, which means that the external layer is scraped off and the internal cortex could be unprotected and vulnerable to damage in some areas of the hair fibre. At this hair damage level, the number of cuticle layers decreases, with a large number of your hair's outer layer jagged and lifted and possibly exposing the cortex.
Hair will have a rough texture, with a dull appearance, uneven colour balance and the development of split ends. You can easily see this by gliding a hair strand between two fingers without any pressure.
Level 3: The highest level of hair damage is when the cuticle is fried, with parts of it withered away completely. The cortex is fully exposed and weakens. At this level, the hair's surface texture is extremely rough and deconstructed. Your hair no longer shines and is faded in colour through parts of a single strand. Split ends are also very prevalent.
Maintaining Healthy Hair through Routine
We've got separate skincare routines for day, night, and makeup. Wouldn't you think it's only fair to set up a hair care routine? Maintaining healthy hair will give your hair a longer and better life!
Shampoo
Now that you're on your way to creating a hair care routine, with the help of this list to jumpstart it, it's time to learn how to maintain healthy hair once you have achieved it.
Cleaning your hair through washing and using a good shampoo is an important step, especially when the hair is extremely damaged. In the beginning, getting rid of dry frizzy hair through infrequent washing helps.
That means a daily wash might not be optimal. When you've got dry and damaged hair, it's best to wash it when it becomes greasy and heavy.
Conditioner
If you have normal or dry hair, using a conditioner will really help soften it up. This is because your scalp's natural oils may not be enough for the whole length of your hair, and they won't reach the tips or even the middle part. Using a conditioner will cover up parts of your hair that have missing hydration and protection.
In addition to that, it's why you don't need to put conditioner on your scalp and roots. They are already supplied with the nutrients they need thanks to their proximity to your scalp pores. The rest of your dry hair, on the other hand, will need all the extra help it can get.
Leave-In Conditioners
This may sound like you're overdoing it, but for dry and damaged hair, it will make a huge difference. Even more in between your washes or shower days.
As your scalp can only produce enough or even limited oils to nourish the length of your hair, applying a leave-in conditioner secures that your hair stays nourished even long after getting washed. It ensures that your hair is evenly moisturised, hydrated, and fighting off further damage.
Professional Hair Treatments
Once you notice your hair slowly getting back in shape, treat yourself to professional hair care services. This is my favourite part.
Contrary to going to a salon first to instantly flatten out frizz and damage, getting professional hair treatments should be more of your maintenance routine as appose to your immediate solution.
This way you won't shock your damaged hair. If it's on the way to recovery, hair treatments are there to gently push it.
My Thoughts
Shampoos do a great deal for the hair, probably more than we give them credit for. However, at the same time, they can also add to hair damage if used incorrectly or if you use the wrong one for your hair.
I hope you have found the shampoo for your dry and damaged hair here- these are the best shampoos for dry and damaged hair! Check out some more tips on how to fix dry and damaged hair.
Hollie xx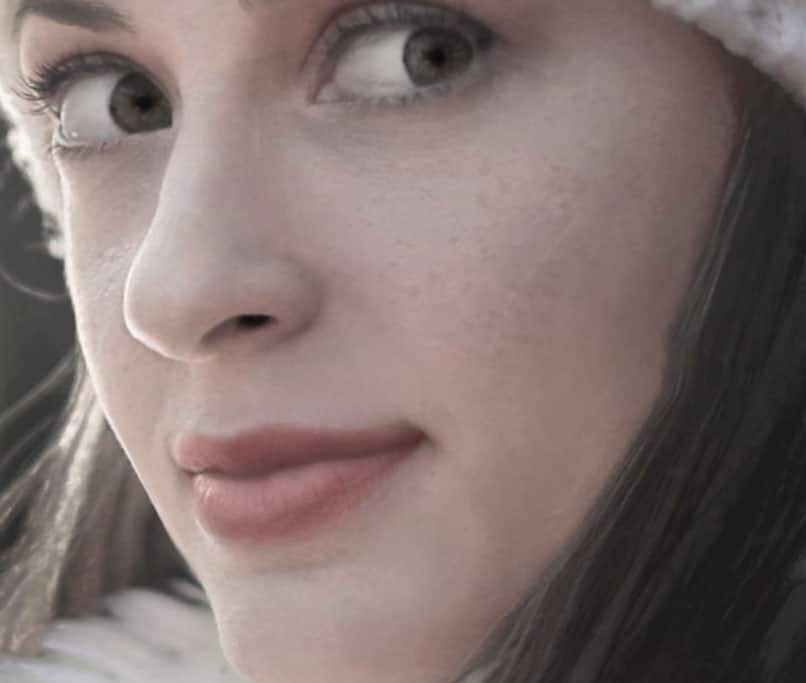 Hi, I'm Hollie, and I own BeautywithHollie.com. I love everything to do with beauty and love sharing my knowledge, advice, and beauty finds! Makeup and beauty are here to enjoy, and Beauty With Hollie is here to take the stress out of it!
---
---
Anastasia Beverly Hills bareMinerals Benefit Cosmetics Bobbi Brown CeraVe Chantecaille Charlotte Tilbury Clarins ColourPop Dermalogica Dior e.l.f. Cosmetics ELEMIS Estée Lauder Fenty Beauty First Aid Beauty Fresh Giorgio Armani Hourglass Jane Iredale L'Oreal Lancome La Roche-Posay Laura Mercier LORAC MAC Makeup Revolution Mario Badescu Maybelline Morphe Nars Natasha Denona Neutrogena NYX Origins Peter Thomas Roth Revlon Sigma Beauty Smashbox Stila Tarte Cosmetics The Ordinary Too Faced Urban Decay YSL
---