Having a good hair dryer can make all the difference between a good hair day and a bad hair day. Whether you have short hair or long hair, I'm sure you have used a hair dryer at some point in your life. Some of you use it to straighten your hair and some, to add more oomph. Either way, the hair dryer has to be a good one! Doing research before you buy one is essential, but lucky you, I've done that research for you. Here I have put together the best hair dryers for 2019.
How to chose a hair dryer?
Hair dryers may seem like a simple tool with which to style your hair. That couldn't be further from the truth. There are many different options and features which you should consider before choosing the hair dryer for you. You also need the right brushes, a bigger brush will create more volume.
There are different types of hair dryers. There are DC hair dryers. These have the standard motors and are usually very lightweight. Then there are AC hair dryers which are the more professional ones. They have a more powerful motor and have a longer life. The last type of hair dryers is travel hairdryers. These usually have a foldable handle so you can store easily and are lightweight so that they won't add much weight to your luggage when travelling.
What do you need to look out for in a hair dryer?
Firstly, the power! A hairdryer that doesn't have a high wattage will not dry the hair as quickly. You want your hair to dry quickly so that the whole hair drying process is quick and does not waste your time. Buy a hair dryer with a minimum of 1700 wattage or it won't be pwerful enough to do any serious styling.
A good attachment is a must for a good blow dry. If you are looking to straighten your hair with a bounce or without you need a wide nozzle with a thin opening. When the nozzle is not wide and has a big opening the heat can escape from the hair dryer and it won't target your hair as well as it should, for good results you need a concerntrator nozzle. If you are looking for curls you will need a diffuser. These don't come with all hair dryers but for the majority, you can buy it separately.
Be aware of the weight of the blow dryer especially if you are a hair stylist or someone who is going to use it a lot. A heavy hair dryer will wear your hand out a lot quicker than a less heavy one. Different hair dryers have different weights, usually the more powerful the hair dryer, the more it weighs. However, the weight should be proportionate to the quality of the hair dryer.
Having a few heat settings is very important. Blow drying wet hair on a very hot setting can damage your hair. It is recommended that you blowdry on medium heat and only use the hottest setting from a distance. Another good feature is a cool button. Blasting your hair with some cool air will help keep the frizz at bay.
Buying a hairdryer with an air filter is always safer. With a filter, you can clean out the dust, if you don't have such an option there is more of a risk of the hair dryer burning. My motto is better safe than sorry!
Some hairdryers are noisier than others. If you live with other people a quieter hair dryer is always a better option.
Do you want a ceramic hair dryer or an ionic hair dryer? A ceramic hair dryer uses ceramic plates to heat the air to give an even distribution of the heat. An ionic hair dryer targets the wet hair and breaks down the water. Ionic hair dryers dry the hair with less heat which results in fewer breakages and more shine. If you are using a hairdryer to straighten your hair, I recommend getting a ceramic hairdryer because you definitely need the heat factor. However, if you are using it just to dry wet hair or to use a diffuser with, I think an ionic hairdryer would be your best option. You hair will dry quicker and it will retain its softness.
BaByliss Travel 2000 W Hair Dryer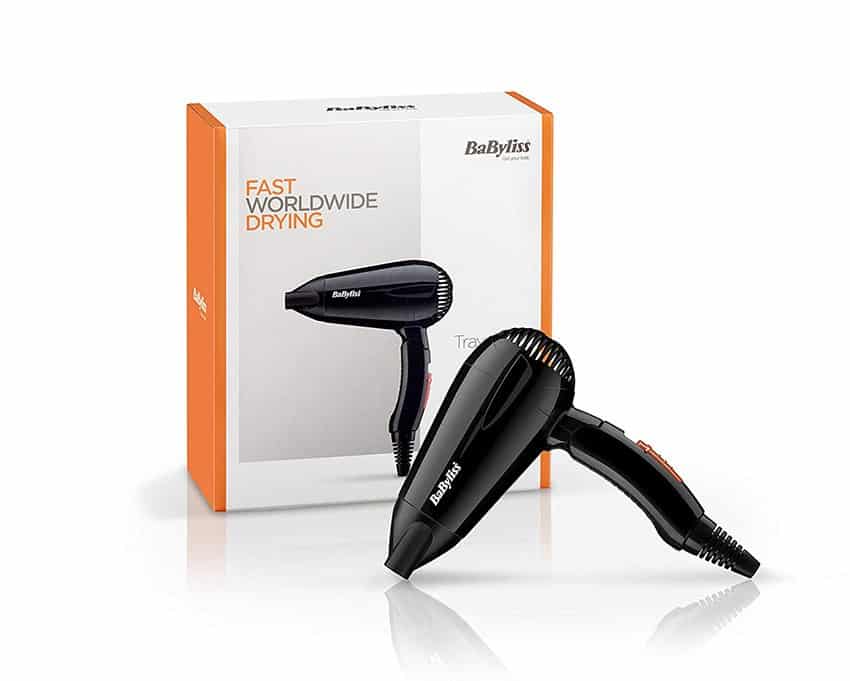 This hair dryer wins for being the best travel hair dryer on the market. It is very powerful, it is 2000W which is extremely powerful for a travel hair dryer, usually, they are either heavier or they don't have much power. This one has both! It uses ionic technology to create frizz-free hair. It also has a foldable handle so it will fit neatly into your suitcase and not take up too much space. The nozzle it comes with is a concentrator nozzle. They aren't just saying it, the heat is all directed straight to your hair. There are 2 heat settings but the most useful part of this hair dryer is that its multi-voltage. This means you can travel anywhere in the world and all you have to do is change the voltage when you arrive at your destination. This can be done by using the screw on the handle. Overall, this is a really impressive hair dryer, it has the best of both worlds, very powerful yet very light. You will no longer need to rely on hotel hair dryers which rarely have enough power to style your hair. With the Babyliss Travel, you will be all set to go on holiday and you can still look glam!
Pros
It is light
The hairdryer is small which is perfect for travelling
It is multi-voltage so can be used anywhere
Concentrator nozzle
2 heat settings
Good value for money
Cons
No removable hair filter
It is not cordless
No case is included but you can add one on at checkout for extra ££
No cold air button
Why you need this: If you need a lightweight yet powerful hair dryer for travelling this is one for you!
Babyliss Travel 2000W Hair Dryer can be bought from Boots for £14.99
ghd Air Hair Dryer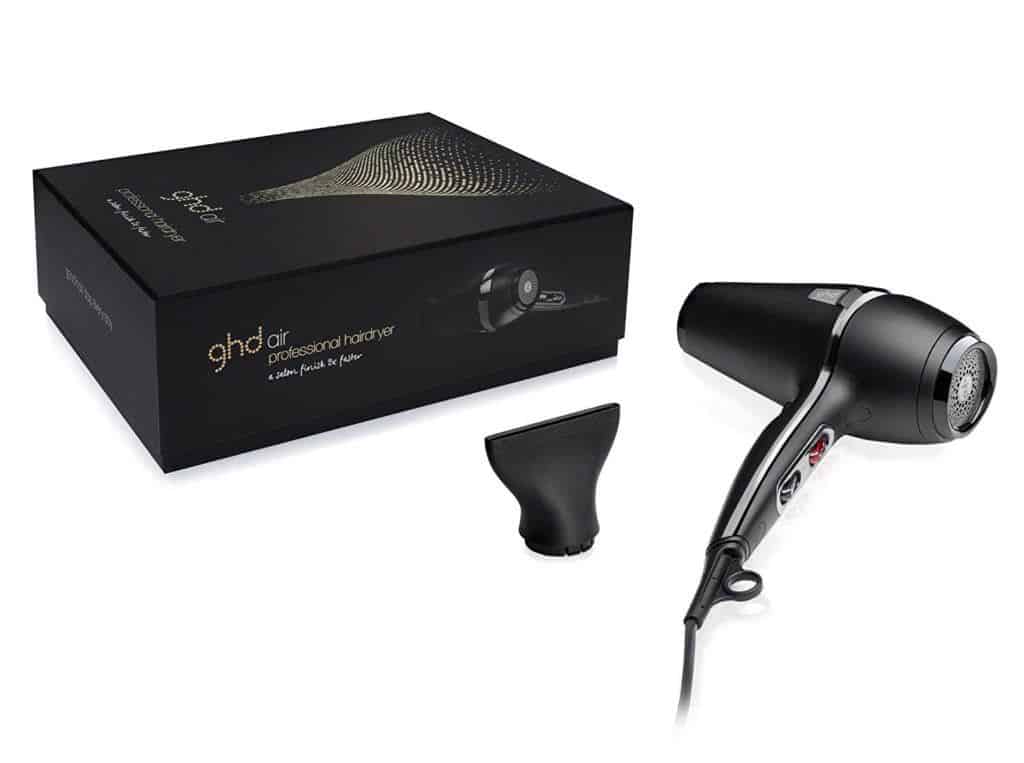 We can't talk about hair styling tools without mentioning ghd. They partly rule the styling world and their hair dryer will not let you down. The air hairdryer has an AC motor with 2100W. The wattage combined with advanced the ionic technology that the hair dryer has gives very impressive results. Ionic technology helps you to reduce frizz and achieve soft, sleek hair in half the time. You will find that your hair will take you a lot quicker with the ghd air hairdryer. I found the blow dryer to be a little to the heavier side, however, when it came to the noise it is a lot quieter.
I think the ghd Air Hair Dryer is a really good and functional hairdryer, however, I'm not sure it lives up to the quality and performance of the ghd straighteners which really are superb.
Pros
12-month guarantee included
You can buy additional nozzles or diffusers
There is a cool button
3 heat settings
3m power cable so you can reach it anywhere
It comes with a concentrator nozzle
Cons
A little overpriced in my opinion
The nozzles can be tricky to remove and change
Not powerful enough for very frizzy/afro hair
Why you need this: If your hair is long and thick, the ghd Air hair dryer will dry your hair in no time!
ghd Air Hair Dryer can be bought from Look Fantastic for £99.00
Parlux Powerlight Hair Dryer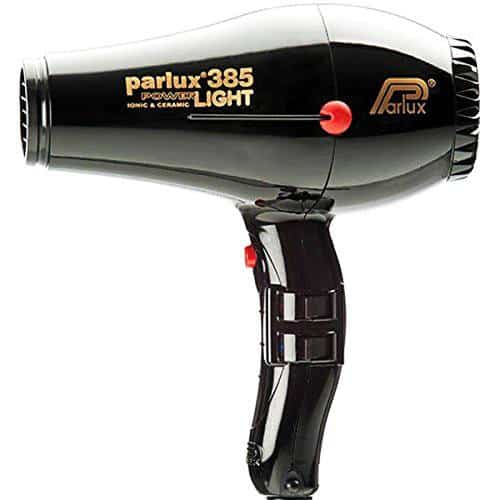 I may be a little biased on this review. Parlux has been my favourite hairdryer brand for the last 15 years or so. I have really difficult hair and Parlux saved me! If you look after your Parlux hair dryer properly, it can last you a really long time. The one I have now is 10 years old and still going strong. What do I love about the Parlux Powerful hair dryer? One of my favourite features is that it comes in 3 different colours- black, red and purple. If you're going to spend a lot of time with it, it might as well be pretty, right? Aside from the prettiness, the functions and power are seriously something to take note of. It is extremely powerful with 2150W and extremely light and small. I love how small it is, it makes it so much easier to carry around and it makes the actual blow-drying a breeze. If you don't want your arm to hurt from holding the hair dryer then you will love the Parlux Powerlight! It comes with 2 nozzles making it perfect for styling different looks. It is also Ionic and Ceramic which helps keep your hair frizz free and static free.
Pros
It comes in different colours
2 nozzles included
It's light and small
There is a cool button
It's very powerful
Good value for money
3-metre cable included
Removable hair filter
Cons
The only negative thing I could think of is that if you have very thin hair it may be too powerful
Why you need this: If you have thick and curly hair that is hard to blow dry you need the Parlux Powerlight Hair Dryer. With its combination of ionic and ceramic your hair will dry quickly and frizz-free.
Parlux Powerlight Hair Dryer can be bought from Amazon for £102.89
TRESemme 2200W Power Dryer
Obviously splashing out on an expensive hair dryer is not for everyone, that's where this TRESemme Power Dryer comes in. It hard to actually believe the quality it is for only £16!! It is powerful with 2200W, it has ceramic and ionic technology for frizz-free hair, it has a concentrator nozzle and 2 heat setting with a cool button. The main complaint that this hair dryer gets is that the strongest setting gets too hot. The heat settings and speed settings are all in one setting, that means you can't put in on the fastest setting on medium heat. This is a big flaw in the design of the product. My recommendation is to blow dry on the middle setting which will take longer to dry your hair with but it won't get too hot so its worth it. This way you won't risk burning your hair which happens more often than you think. It's a good hair dryer but I doubt it will last you too long. However, it's only £16 so you definitely get your money worth.
Pros
3-year guarantee included
Good value for money
Removable filter
2.4-metre cable
Its very lightweight
It has a cool button
Cons
Feels cheap
Power and heat do not have separate switches
Why you need this: This is the perfect hair dryer for thin hair that doesn't need to much styling. It will dry your hair quickly and is great value for money.
TRESeme 2200W Power Dryer can be bought from Amazon for £16
Panasonic EH-NA65 Hair Dryer
The Panasonic EH-NA65 hair dryer comes with a special Nanoe technology that will help your hair get more shine. You are probably wondering what is Nanoe technology? Its been Trademarked by them and what it does is add moisture to your scalp so that it stays soft and shiny without it drying out. A pretty awesome feature I'd say! There are 3 different heat and speed settings as well as a cold button. At 1875W it is not the most powerful hairdryer on the market, however, it does the job. The hairdryer comes with 2 nozzles, one for just drying which I personally find unnecessary, when I want to dry my hair quickly I use the hair dryer with no nozzle. It also comes with a concentrator nozzle and a diffuser. The cord is a nice length of 2.7m so that will give you enough distance from any socket. This is an ionic hairdryer so using it will not create frizz, nor will it dry your hair out. You can get it in 2 colours, pink and black or rose gold and black.

Pros
12-month guarantee included
It is very quiet
3 different heat settings and speed setting
There is a cool button
2 colours available
Cons
The concentrator nozzle is not narrow enough
A little to the heavy side
Hair can take longer to dry
Why this is for you: This Panasonic hair dryer is ideal for you if your hair tends to dry out a lot from styling it. With the Nanoe technology that will be a problem of the past.
Panasonic EH-NA65 Hair Dryer usually sells for £109.99 but Amazon currently has an offer on for £64.99- go and get yours before the offer ends!

Deogra Children's Hair Dryer
If you are looking for a hairdryer for your kids this is seriously the cutest, most functional and safest hair dryer on the market. And can you check out how cute the hair dryer is? I love the design on it and the most adorable egg pouch that it comes with. The hair dryer comes with a diffuser and a concentrator nozzle, it has 2-speed levels, a hook so that you can hang it for easy convenience and its foldable! It is perfect to take on holiday with you but also perfect for your children to use at home. At 1000W it is very safe for your children to use without risk of burning themselves. There are 2-speed settings and 2 voltage options for easy travel. The cord is 1.85m which is relatively short, however, it is safer for kids. This is the perfect hair dryer for children and I'm sure both you and your kids will love it.
Pros
It is very lightweight
Safe for children
Perfect for travelling
12 month guarantee
Cons
Your child may not want to share with you!
Why this is for you: This is perfect for children, it's safe, it's works well, it's cute and it's affordable!
Deogra Children's Hair Dryer can be bought from Amazon for £27.99
Dyson Supersonic Hair Dryer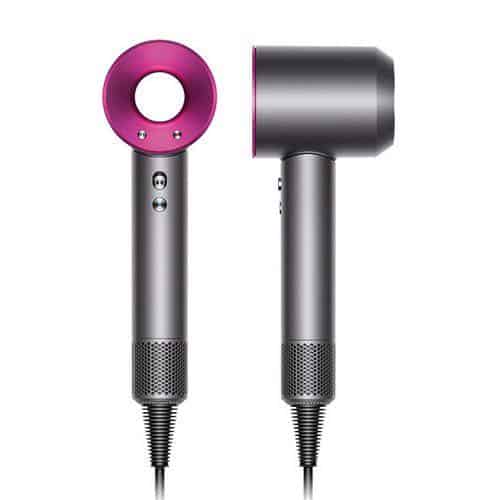 If you're after a stylish and modern hair dryer then this is the one for you. It's ultra modern and oozes sophistication. It comes in three colours, white and iron, silver and fuchsia or black and nickel. Before I talk about the blow dryer, I just want to mention how Dysons technology in many products is streets ahead of other brands. Their products are usually user-friendly and practical. However, like other Dyson products, it comes with a price and the Supersonic hair dryer is very expensive. However the technology is top end, they have perfected the balance between pressure and turbulence. The Dyson Supersonic is about 6 times faster than any other hair dryer and it is super light too. What I love about the hairdryer is that it never gets too hot that you feel it can burn you. They use special heat control that prevents this. This makes the hair dryer well worth its money because most people damage their hair at some point in their life from hair dryers and straighteners. There are 3 different speed settings and 4 different heat setting, one of them being cold. It the box you will get 2 nozzles, a diffuser, a non-slip heat mat and a storage hanger. This hair dryer is a game changer! Using it is easier, lighter, quieter and without the risk of burning yourself. If it would be cheaper I'm sure everyone would have one:)
Pros
It dries the hair really quickly
Lightweight
Looks modern and stylish
Heat control prevents breakages
Quiet to use
Magnetic nozzles for easy use
2-year guarantee

Cons
Very expensive
Why this is for you: If you are looking for the next level in hair dryers the Dyson is for you and it won't disappoint you. It's truly the future of hair dryers.
Dyson Supersonic Hair Dryer can be bought from John Lewis for £299.99
BaByliss 3Q Hair Dryer
The Babyliss 3Q hair dryer is a mid-range hairdryer in terms of the price. What makes it unique is that it comes with a 10-year motor guarantee. Copied that? 10 years! That is pretty awesome stuff. It is an ionic hair dryer with 2200W which is very powerful. It will give you gorgeous sleek, frizz-free locks without burning your hair or your neck for that matter. One of the really useful features that this hair dryer has over many others is that the cold button stays on without holding it down. This makes it a lot easier to use. Also, many people complain about other hair dryers that the cold button is never actually cold. Well, with this hairdryer you will not have that problem. The cold is cold! It comes with one nozzle which is really narrow- ideal for precise styling. It comes with 3 heat settings and 2-speed settings. The cord length is 3m. Due to its superionic technology, this blow dryer will dry your hair in nearly half the time of most other blow dryers. This blowdryer is excellent for precise styling and if you often need to style your hair quickly.
Pros
Very lightweight
Quiet
10-year guarantee
3 heat settings and 2-speed settings
3m cord length
The cold button is actually cold
Cons
The handle has a different shape and it may take time getting used to it
Why this is for you: If you're prone to breaking things this is the hair dryer you need. With the quality of this BaByliss and the 10-year guarantee, you're covered!
BaByliss 3Q Hair Dryer usually sells for £120 but Amazon currently has an offer on for £69.99- go and get yours before the offer ends!
Philips MoistureProtect Hair Dryer
If you love pretty things then oh my, you are going to love this hair dryer. You can't get much more aesthetically pleasing than this hair dryer. It is white with rose gold and the nozzle is clear plastic. Honestly, I love it! It's the kind of piece that you will want to leave on your dressing table to add character and elegance to your room. It is an ionic hair dryer with 2300W, so very powerful at the same time. It has 6 speed and heat settings and it comes with a concentrator nozzle and a diffuser.
The most unique factor about this hair dryer is that it uses infrared technology to monitor the moisture and adjust the temperature accordingly. In my opinion this is genius and I'm sure you will love it too. It means your hair won't burn with this hair dryer and you can say goodbye to split ends.
Pros
It is very pretty
The motor is very powerful at 2300W
6 speed and heat setting
Infrared technology reduces heat when necessary
12 month guarantee
Good value for money
Cons
There is no cool button
Why this is for you: This Philips hair dryer is perfect for you if you are looking for a hair dryer that won't burn your hair, with its infrared technology this is the one for. Of course, it's really pretty too:)
Philips MoistureProtect Hair Dryer usually sells for £99.99 but Amazon currently has an offer on for £68- go and get yours before the offer ends!
BaByliss Diamond Hair Dryer
The BaByliss Diamond Hairdryer comes with an AC motor and 2200W. It is very powerful but it uses ionic technology so it reduces the risk of burning your hair and it adds shine to your hair. It has 3 heat setting and 2-speed settings. The cord length is 3m which is nice and generous. The hair dryer comes with one concentrated nozzle, many hair dryers come with more but for the price that this hairdryer sells it is worth it. I love this hair dryer and I'm sure you will too, the price is amazing for the quality of the blowdryer.
Pros
5-year guarantee
Removable filter
It has a cold button
Amazing value for money
It is lightweight
Cons
On the loud side
Buttons easily move accidentally when using the hairdryer
Why this is for you: This BaByliss hair dryer is perfect for you if you are looking for an affordable, yet professional hair dryer.
BaByliss Diamond Hair Dryer usually sells for £55 but Amazon currently has an offer on for £27.50- go and get yours before the offer ends!
My thoughts
Choosing a hair dryer can be confusing since there are so many on the market. I hope this post of the best hair dryers will help it be easier for you to decide. The Dyson Supersonic wins as the best hair dryer, but it is also the most expensive by far. For a mid-range but good quality, my favourite is the Parlux hair dryers. They aren't sky rocketing prices, yet you get a good solid hair dryer that will last you for years!
All the hair dryers I have included here are very functional and good value for money. They each have different advantages and disadvantages, the trick is to find the one that will work best for you.
A small piece of safety advice: when your hair dryer starts to smell of burning, turn off the power and throw it out. It means its ready for the bin, you really don't want to wait for it to catch fire. I've actually been there and done that! It was terribly frightening and not an experience I wish on anyone.
I hope you have found the perfect hair dryer for yourself. Let me know what your favourite one is and if I've missed any awesome hair dryers that should be included in this review of the best hair dryers for 2019.
Have a lovely weekend,