Armani Sets A New Meaning for Nude With Their Neo Nude Foundation
I have always been a fan of the Armani foundations! When it comes to quality they are a cut above all others! I am almost running out of my Armani Face Fabric Foundation so it's the perfect time to give the new Armani Neo Nude Foundation a try. Judging from their promotions, it's almost the same as the Face Fabric foundation, only a lot lighter in texture. The main difference is the Neo Nude sets to a lovely glossy, satin finish, whereas the Face Fabric sets to a beautiful matte finish.
I haven't been this excited about a foundation in quite some time now and I can't wait to share my thoughts and review on the Neo Nude Foundation with you!
The Giorgio Armani Neo Nude Foundation is an ultra-lightweight, buildable foundation that delivers a natural healthy-looking glow, all-day hydration, with skin food ingredients to top off this makeup delicacy. Its key selling points are that it's extremely hydrating and is very buildable. In fact, it's a lot like a tinted moisturizer in the way that it is hydrating and the coverage that it gives. I wonder why some products get called tinted moisturizers and others, foundations?! Anyone?
The foundation has 17 shades with different tones and undertones indicated to help you search for the right shade for you. It's a neat packaging design with a glossy peach plastic tube that is the perfect shape and size for on-the-go, as with most of their foundations. It's cute and pretty and touches on the minimal side which I love! Clean, functional and simple is just wonderful and that's exactly what the Neo Nude is.
Shades
The foundation comes in a nice amount of shades with all of the undertones it needs, cool, warm and neutral. So, usually, when I buy a foundation I barely need to try it on, I simply go for the lightest shade. Well, I was in for a shock when I tried the lightest shade of the Neo Nude. It was way too light for me and honestly, that was a first for me! My recommendation is to go for a shade darker than you usually would because these colours are pretty light. The lightest shade is almost light, and there I was thinking I was the lightest shade that skin gets:))
Formula, Application & Wear Test
One thing Armani knows how to do is a natural-looking foundation which at the same time is full coverage. The Face Fabric Foundation I absolutely love because of its unique natural-looking high-coverage combo, it has a similar buildable formula to the Neo Nude that never feels cakey even after four layers!
The Face Fabric foundation almost never creases on my skin, even after a long day's wear. Guess what? The Neo Nude performs just as well!
The Armani Neo Nude Foundation has a divine silky gel texture that has a nice, yet firm consistency. It runs like a cream but it's not watery. Pretty unique, huh?!
It applies well with just your fingers, a brush, and of course, a sponge. But I like the finished look most when I use my foundation brush because it gives a lovely effect with the stippling.
I tried out the foundation and honestly, I love it! Here is the results layer by layer.
Layer 1: my skin looked amazing, almost photoshopped as if I didn't have pores! (I wish!) While the redness and other colour imperfections were still slightly visible, it definitely gave me a smooth face.
Layer 2: the redness was covered up nicely and the dark spots slightly masked. Even the dark circles under my eyes were less noticeable.
Layer 3: the imperfections were all nicely covered up and it still felt like one light layer! If you're not impressed now you have gotta be a robot!
I really like that it builds up so perfectly. It didn't patch or get crumbled in certain areas and the glowy satin finish is really beautiful. It's a highlight kind of glow and not the type that makes every crevice of your face looks like it has some glittery oil on it. In simple English, the glow is just the right balance and adds so much to the skin, especially during these summer days when dewy glowing skin is so lovely.
I tried to add a couple more layers to see how it would fare when used as a full-coverage foundation. Good news- it does not disappoint at all! All the dark spots and uneven skin tone seamlessly ironed into one colour, I've always imagined what it must feel like to use the blur tool from Photoshop in real life. I think this is the closest I'll be getting!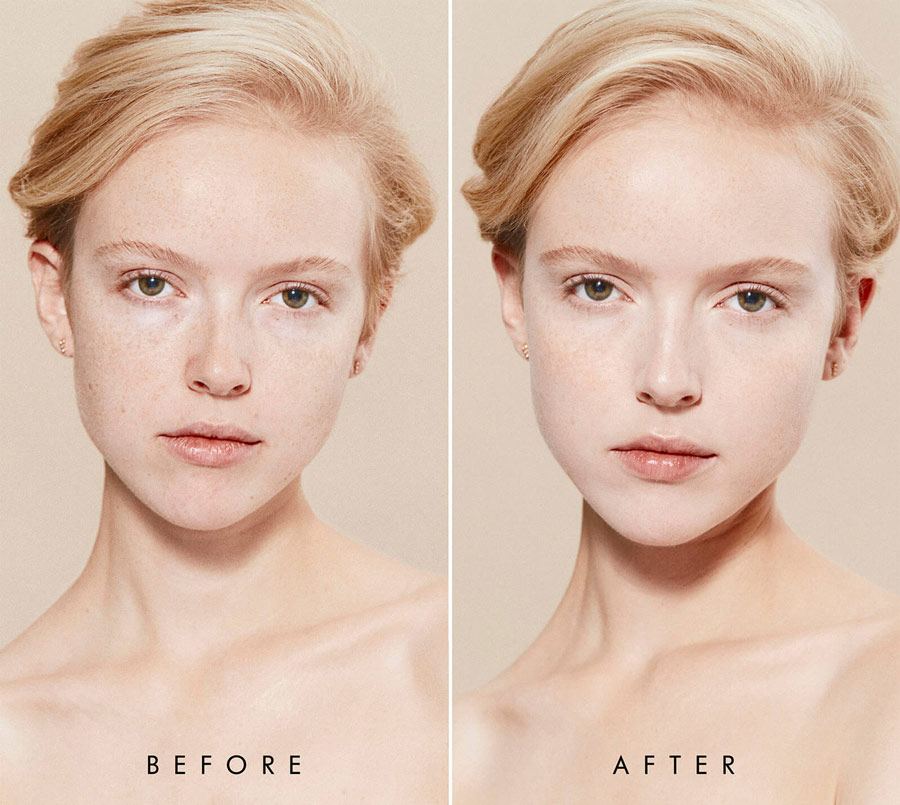 I can't even begin to describe how youthful it made my skin look, all the pores and fine lines got blanketed so nicely. I tried making weird faces to see how the foundation adjusted with my skin creasing and all I can say is it holds on the surface with a nice grip. No foundations lines formed whatsoever which I assume has a lot to do with the fact that it's so hydrating and so the skin doesn't get dried out at all when wearing it. The best part is that it stayed that way through all the 10 hours I wore it!
Is it worth buying?
This is the foundation you need if you're after that perfect skin-like, no-makeup makeup look! It is extremely easy to apply with its amazing gel-cream formula and feels amazing on- almost like nothing! I love this new foundation from Armani and I think it's a wonderful replacement for my Face Fabric foundation. Oddly enough, I think it is a good foundation to wear during the summer too. I have combination skin that can lean on to oilier or drier, depending on the humidity.
Since it's June now and the weather is becoming hotter, my skin is naturally becoming oilier. That being said, the Neo Nude foundation hasn't given me any trouble at all even during the heat. It somehow manages to keep the oil at bay.
It's doesn't turn into a greasy mess and I don't feel uncomfortable wearing the foundation in the heat. The only thing close to bothersome that I saw is that with the foundation being dewy, and the extra sweating, my face was a little shinier. Then again, I didn't have any of that gooey feeling.
If you don't mind reapplying your setting spray or powder during the summer months, then I absolutely highly recommend this foundation. For $40 in the US or £32 in the UK, it is also relatively cheaper than Giorgio Armani's usual luxury foundation prices. I would say it's about the same price range as other mid-end to high-end non-luxury brands. It's a win-win for this one. You get to try out a serious pro-grade formula, enjoy all its benefits, and flaunt a beautifully made-up face! Giorgio Armani has done it once again with the Neo Nude Foundation!
Final Thoughts
You know by now how much I love Armani foundations and the Neo Nude has just proven how worthy they are of this love! Their foundations are seriously amazing in how they feel and how they look and the Neo Nude has an added bonus, it's also more affordable. Win, win and win!
Armani Beauty Neo Nude Foundation can be bought from Look Fantastic / Nordstrom
Hollie xx
---
---
Anastasia Beverly Hills Benefit Cosmetics Bobbi Brown Chantecaille Charlotte Tilbury Clarins ColourPop Dermalogica Dior Dyson ELEMIS Elf Cosmetics Estée Lauder Fenty Beauty First Aid Beauty Fresh Hourglass Huda Beauty Jane Iredale L'Oreal lancome La Roche-Posay Laura Mercier LORAC MAC Makeup Revolution Mario Badescu Maybelline Molton Brown Morphe Nars Natasha Denona Neutrogena NYX Origins Peter Thomas Roth Revlon Sigma Beauty Smashbox Stila Tarte Cosmetics The Ordinary Too Faced Urban Decay YSL
---