Glossier Priming Moisturizer Balance Oil Control Gel Cream Review
Glossier has finally made a moisturizer for oily and combination skin types. It's a very welcoming product! It helps your skin stay matte instead of the usual opposite effects that Glossier products are known for!
It's a fresh take on their classic Priming Moisturizer and I couldn't be more excited about it! If you love multi-use products then you'll love the Glossier Priming Moisturizer Balance Oil Control Gel Cream!
It's a primer and a moisturizer in one and seriously it does both jobs impressively well! Where's the surprise in that? Glossier has fab skincare and this cream is no exception!
Glossier Priming Moisturizer Balance Oil Control Gel Cream is a moisturizing gel cream primer made with apple fruit extracts, willow bark extracts, niacinamide, and bamboo. All mixed and designed for keeping your face from looking like a walking wet disco ball.
Disclaimer: This article contains affiliate links. If you purchase using these links, you don't pay more, I simply earn a small commission!
When it comes to Glossier's packaging, do I even need to say anything?! Their packaging is simply beautiful and elegant! In the classic minimal style plastic tube which has become Glossier's trademark look!
It has a touch of baby pink, the cream appeases aesthetic-loving spirits. It has a pump dispenser with cute little holes to give you just the right amount of product. I think if I were to ever release a makeup or skincare brand, this is the packaging style I would be after! Watch out Glossier;)
Application & Formula
The cream is semi-opaque in colour before applied and in terms of texture, it's exactly as you would expect a gel cream to be, it feels lightweight and velvety.
This moisturizing primer is fragrance-free which is great, but it does contain a little silicone which honestly, is a shame.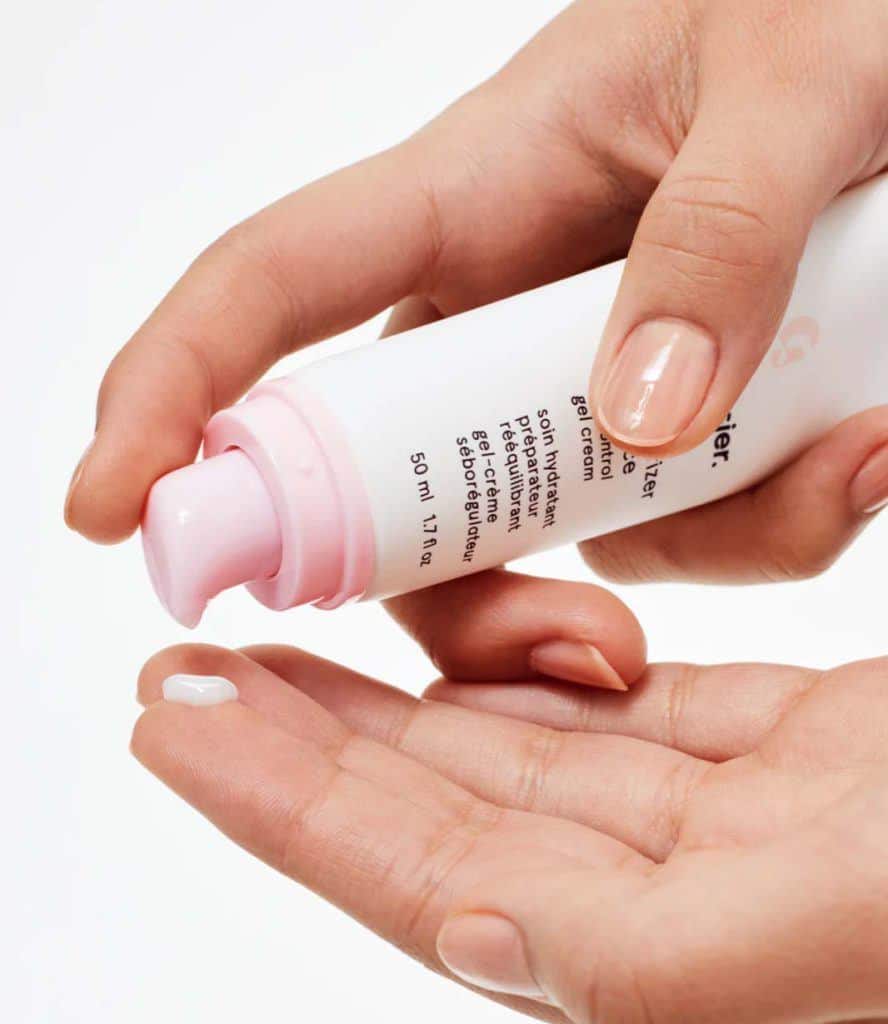 After using the cream only once I could already tell that this was a cream for keeps! I have combination skin, so finding the right moisturiser can be a challenge at times. It needs to be moisturizing enough for my skin and at the same time not greasy.
Its main ingredients are apple fruit extracts for instant hydration, marina extracts to help banish shine, willow bark extracts to give you a velvet-smooth finish, bamboo extracts to improve your skin's texture, and the classic niacinamide.
The consistency is a gel but it's not too much of a gel-like consistency, which tends to usually be a little drying on the skin. The texture is really perfect and it has a cooling effect as soon as it coats the face.
With just two pumps, it has generously covered my entire face down to my neck. So, you can definitely say, a little goes a long way!
The cream feels lovely on the skin. Almost similar to how a good sheet mask initially feels. It isn't gluey and it's extremely lightweight and comfortable to wear.
When you spread and massage the cream into your skin, the texture doesn't change. It stays the lightweight gel cream that it is. It doesn't sit on the skin, but rather, hugs it!
Wear Test
As a moisturizer alone I'd say it's fantastic. If you're not going to apply any makeup on top, give it around three minutes and it's all absorbed. I love how ungreasy the formula is, after a long day in the heat and the sun, my face still felt good!
Usually, it would feel pretty greasy pretty quickly so I have to say I was pleasantly surprised! It has impressive staying powers, without any heavy feeling gradually building up over the day.
It doesn't clog the pores and at night when the moisturiser has done its job, I noticed how my face looked less exhausted than it usually would with my regular moisturizer.
So with that said I am in love with the Glossier Priming Moisturizer Balance Oil Control Gel Cream as a moisturizer! It does the job of keeping the oil away perfectly!
When I tried the cream as a primer, i.e. under makeup, it applied seamlessly and didn't have any problems with the usual makeup I use (which anyway never patches).
In general, I was impressed with how it looks under makeup. And I can say I'd definitely prefer using this product over some other cult favourite primers, simply because of the amazing non-shine yet soft skin that it gives me!
As a primer, it gives off a really natural look and covers up really well, I could see that my pores were looking much tighter. So when I applied my foundation- BAM! Hello, poreless skin!
If you love the natural look like me and don't want a primer that's sticky to the face or makes you look cakey, this is the product for you! It makes the skin look and feel super soft. And if you don't have a moisturiser handy next to you, this primer moisturiser will do the trick.
It leaves your skin as smooth as a baby's butt. My makeup just layers on so wonderfully with this cream. I cannot compliment this Glossier Moisturizer Primer enough, it makes my skin look seamless and smooth!
When it comes to helping my makeup stay on for longer, I was a little disappointed! My makeup didn't stay on longer than usual like I was hoping it would.
So while I love this Glossier cream as a moisturizer and as a primer to help my makeup appear flawless, it kind of failed at keeping my makeup on for longer.
It's another win from Glossier. This is a wonderful product to use under makeup if you don't mind it's not fulfilling lasting effects. Personally for me, finding a moisturizer that does magic for my skin like this one is a reason for me to continue using it!
Overall, I love the benefits. I liked that it's a no-fuss kind of moisturiser. You apply it, you do you, and then you get amazing effects on your skin. No oils, no redness, and at the end of the day, healthy-looking hydrated skin that doesn't get greasy! Yay!
Check out my review on the best oil-free moisturisers here!
Final Thoughts
The Glossier Priming Moisturizer Balance Oil Control Gel Cream is a great moisturizer and almost equally as great of a primer. With guaranteed benefits for oily and combination skin types, you and your skin will only gain!
Glossier Priming Moisturizer Balance Oil Control Gel Cream can be bought from Glossier
Hollie xx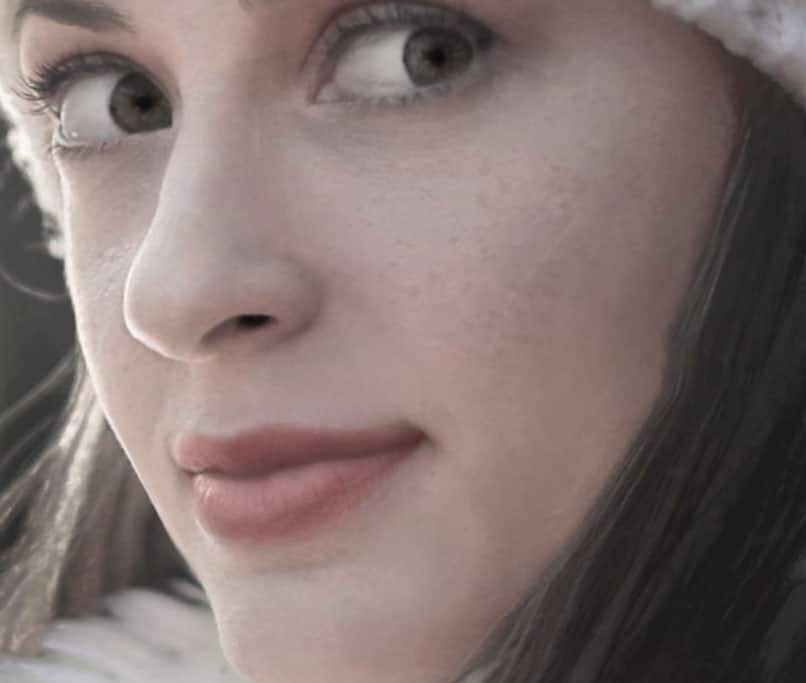 Hi, I'm Hollie, and I own BeautywithHollie.com. I love everything to do with beauty and love sharing my knowledge, advice, and beauty finds! Makeup and beauty are here to enjoy, and Beauty With Hollie is here to take the stress out of it!
---
---
Anastasia Beverly Hills bareMinerals Benefit Cosmetics Bobbi Brown CeraVe Chantecaille Charlotte Tilbury Clarins ColourPop Dermalogica Dior Dyson e.l.f. Cosmetics ELEMIS Estée Lauder Fenty Beauty First Aid Beauty Fresh Giorgio Armani Hourglass Jane Iredale L'Oreal Lancome La Roche-Posay Laura Mercier LORAC MAC Makeup Revolution Maybelline Morphe Nars Natasha Denona Neutrogena NYX Origins Peter Thomas Roth Revlon Sigma Beauty Smashbox Stila Tarte Cosmetics The Ordinary Too Faced Urban Decay YSL
---