12 Glitter and Shimmer Eyeshadow Palettes in 2024
Who doesn't love a glitzy, shimmery eyeshadow look?! Glitter eyeshadow looks work for all occasions and adds that perfect touch of glamour to finish a look!
If you've used glitter shadows before, I'm sure I don't need to introduce you to the fallout nightmare! Glitter eyeshadows are more challenging to get right than matte ones, for the simple reason that glitter pigments are not as fine, causing more fallout.
Yep, the one where your face makeup is all finished and looking beautiful, and all you have left to apply is your eyeshadow. And that's where things go pear-shaped! The glitter eyeshadow that you're using goes all over your face creating a makeup fiasco!
One simple way to get around this is to do your eyeshadow first, before your base makeup. Another way is to use only the best quality eyeshadow palettes ensuring minimal fallout!
There are some more tricks for keeping glitters intact all day, which we cover at the end of this post.
While most glitter eyeshadows have some fallout, using the ones which have the least is the way to go!
We've put together the best quality glitter and shimmer eyeshadow palettes will the least fallout. Included are not only glitter finishes but also shimmer and metallic ones. Basically, all the finishes will give you dazzling eyeshadow!
From neutral to bright colored palettes, and drugstore palettes to luxury ones, these palettes are all you need for a shimmery and glittery makeup look!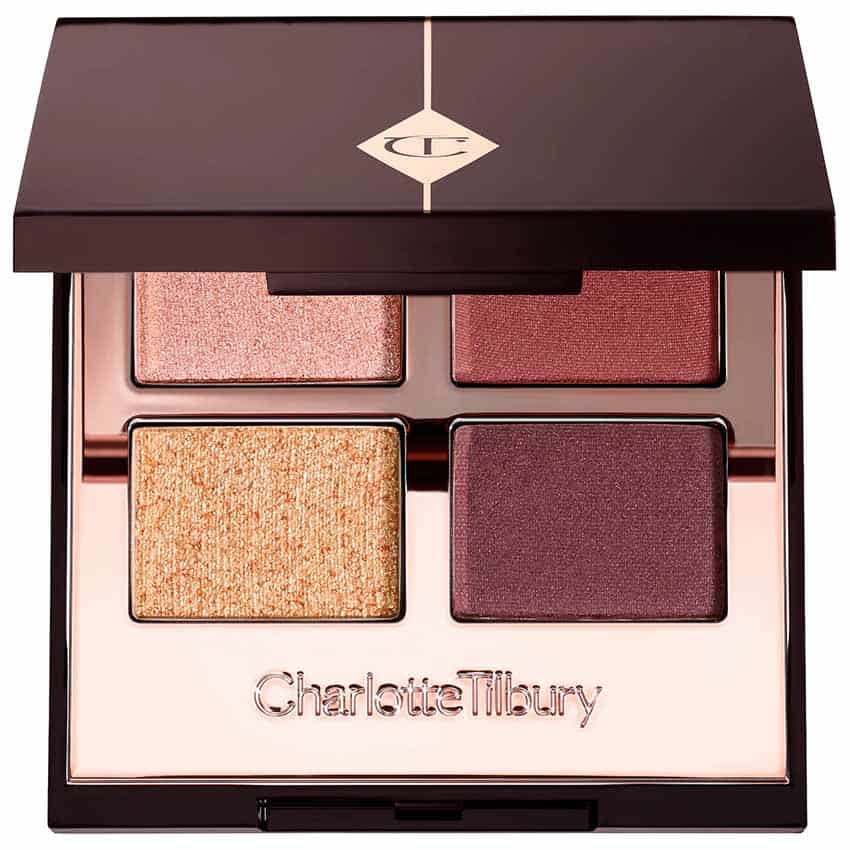 Whether you love or hate Charlotte Tilbury, the one thing you can't deny is that the Luxury Eyeshadow Palettes are the bomb! Available in 11 varying shimmer palettes, each one comes with 4 shades of different color stories.
The most lovable aspect of these eyeshadows palettes is how creamy and buttery the shades are. They apply smoothly and seamlessly, and they don't crease!
Although these palettes are pricey, you are getting top-quality. The palettes are ideal for those who get overwhelmed by eyeshadow palettes that come with too many shades. Which is actually understandable and very common!
When you only have 4 shades to choose from, you know you can't go too wrong and the shades will all match each other!
The collection includes palettes from gold and bronze to red and pink and can be worn for any occasion, be it subtle for a day look or smokey for a night look!
Charlotte Tilbury Luxury Eyeshadow Palette can be bought from Sephora | Charlotte Tilbury
---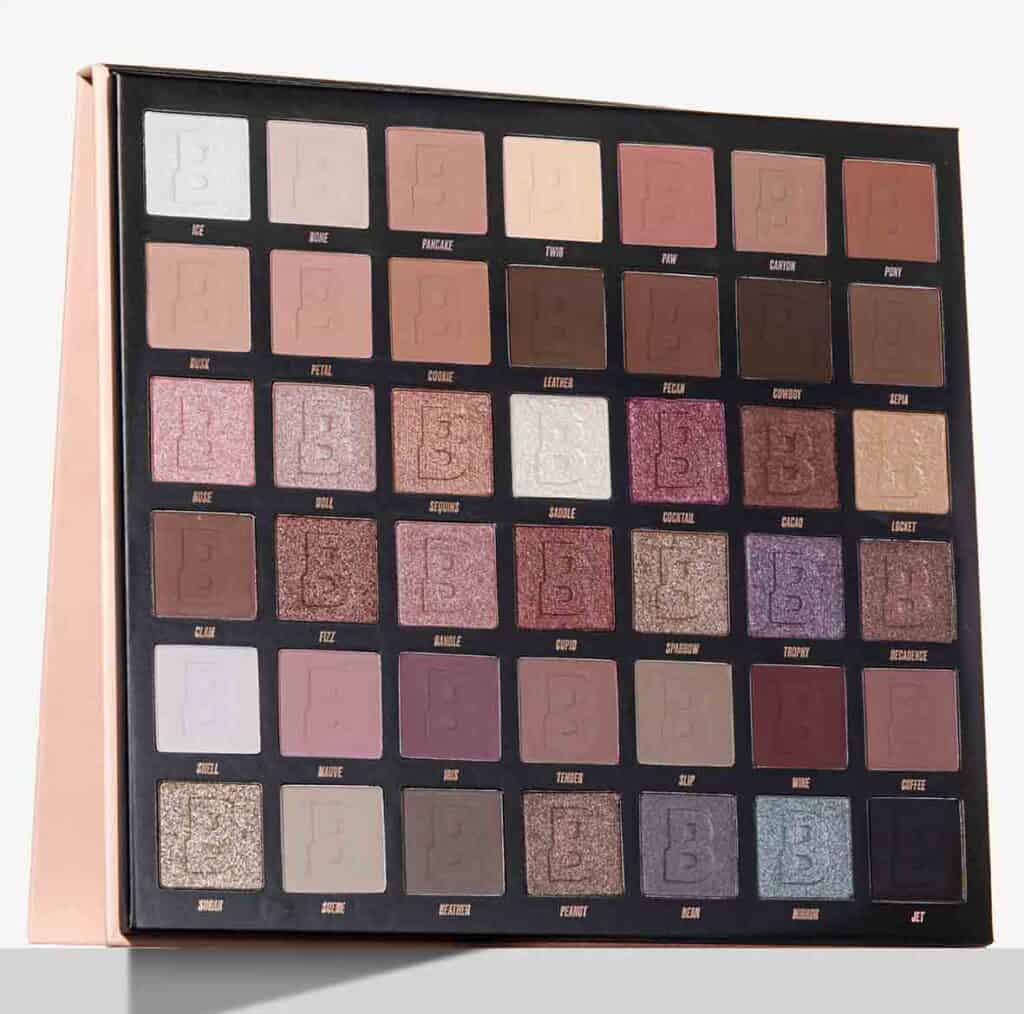 When it comes to quality eyeshadow palettes, Beauty Bay's own brand- By Beauty Bay doesn't get enough attention! Its palettes are all the way up there when it comes to quality!
If there was ever a palette that could prove that not only expensive palettes are good quality, it's the By Beauty Bay palettes! They're affordable, yet the quality could fool you into thinking they're expensive!
The By Beauty Bay Neutral 42 Colour Palette comes with 42 shades of which 17 of them are shimmer shades. The shades are soft, creamy and a dream to blend and work with! The color payoff is exceptional and lasts amazingly.
This jumbo palette is one you simply can't go wrong with! It's the perfect nude palette for neutral lovers, and it won't break the bank!
By Beauty Bay Neutral 42 Colour Palette can be bought from Beauty Bay
---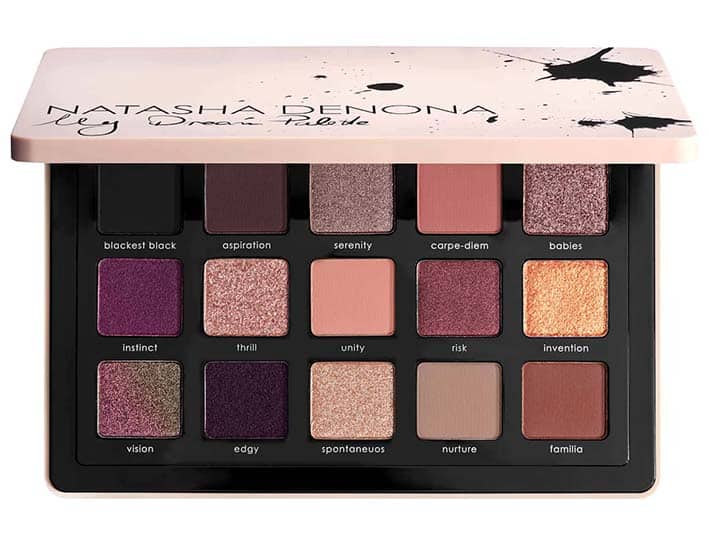 Natasha Denona My Dream Palette was named that because it features all of her favourite shades and formulas in one palette! And as you can see, it's stunning!
My Dream Palette comes with 15 shades of matte, metallics, duo-chrome, foiled metallic and satin. Obviously, we're here to talk about all the sparkly shades of which there are 9!
The shimmers, metallics and duo-chromes aside from being stunning, are highly pigmented and easy to work with, which is not something you can say for all shimmer eyeshadows.
They're perfect for a glittery eyeshadow look, be it fun or classy! It has a strong purple vibe with a pop of gold, brown and like any quality palette, black. Natasha Denona Palettes are known and loved for their great quality! Their palettes don't disappoint and this one is no exception!
The shadows are all soft and buttery with moisturizing ingredients. They're highly pigmented, longlasting and you can expect little fallout! One thing you can be sure of with this palette is that you'll never look dull, the colours are rich and full of life!
Natasha Denona My Dream Eyeshadow Palette can be bought from Sephora | Ulta
---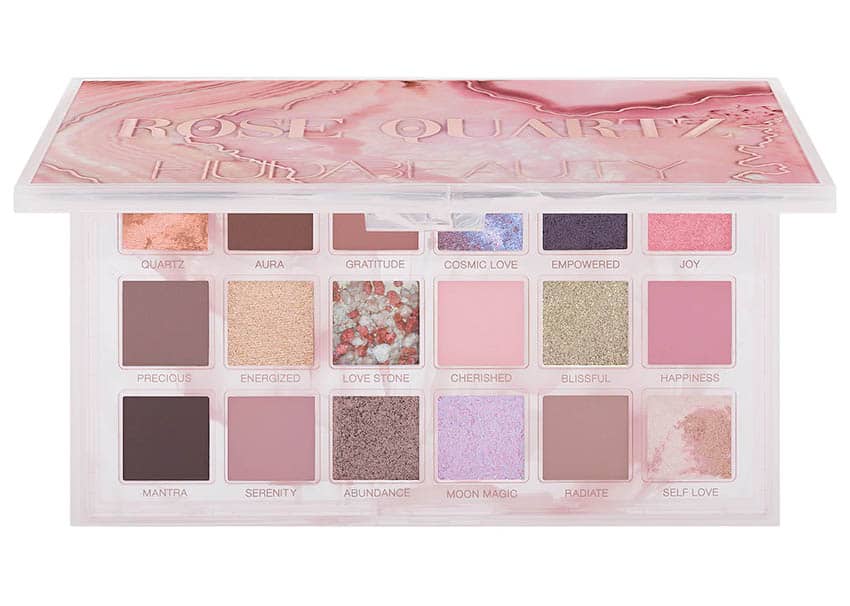 When it comes to glitter eyeshadow done right, the Huda Beauty Rose Quartz Eyeshadow Palette is a winner! This crystal-inspired eyeshadow palette features 10 shimmer shades in different formulas and finishes and is every pink-lovers dream!
There are 3 high-shine buttery metallics, 3 pearly, soft-shine metallics, 3 quartz-inspired multi-shimmer marble creams and a 'crushed stone' pearly gloss hybrid.
With rosy tints and earthy shades, this eyeshadow palette allows you to create multiple looks. Of course, it's the shimmers that steal the show here. They are sparkly, rich in color, blendable and long-lasting. Is there anything more you could want from an eyeshadow palette?!
Huda Beauty Rose Quartz Eyeshadow Palette can be bought from Sephora
---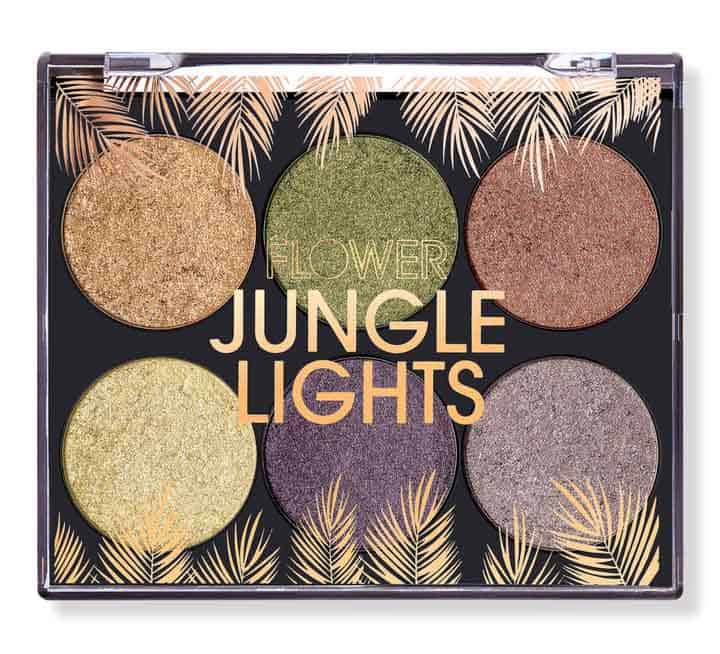 This Flower Beauty palette is a great affordable option if you're looking for a basic shimmer palette. Featuring 6 earthy shimmering shades, inspired by the jungle, it delivers intense pigmentation with minimal fallout!
These foiled eyeshadows are super creamy and dry down fast, leaving you with dazzling eyeshadow that stays in place and lasts amazingly!
The pigmentation is impressive for shimmery glitter eyeshadow and this palette does not disappoint! Simple, yet full of the qualities that we all look for in an eyeshadow palette!
This palette is ideal for those looking for a basic shimmer palette to add to their collection. I say to add because you'll need another palette to finish your eyeshadow look. Nevertheless, it's good value for money.
Flower Beauty Jungle Lights Shadow Palette can be bought from Ulta
---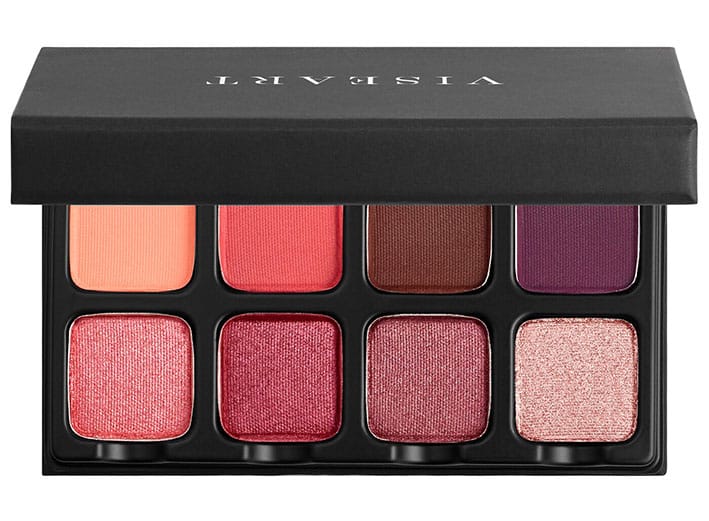 Viseart is known for its top-notch quality eyeshadow palettes and the Petit PRO 2 is the perfect example of that!
The palette comes with 4 mattes and 4 true to color shimmers! With a rich red and purple color story, this palette offers you something different to the regular nude palettes.
As you would expect from Viseart, the formula delivers every time! The shades are highly pigmented and super blendable. The shimmers give more of a subtle glitter than an intense one. It's ideal for those who want a shimmery finish, without it being too overpowering!
Viseart Petit PRO 2 Eyeshadow Palette can be bought from Sephora
---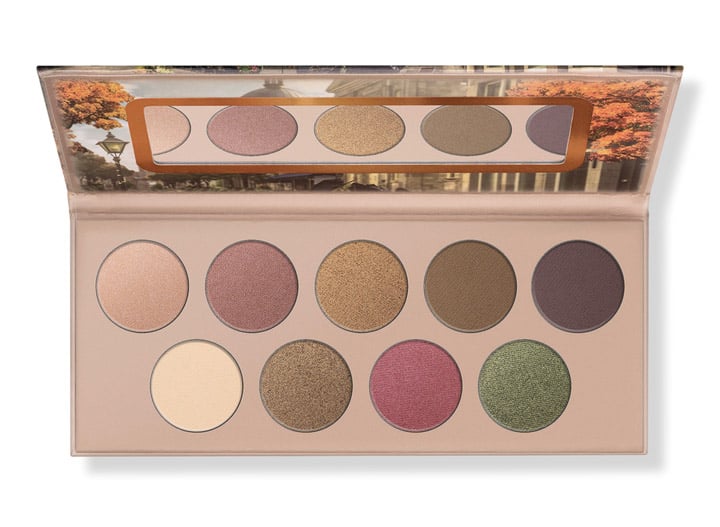 Since we're on the topic of European makeup, the Essence Bonjour Montréal Eyeshadow Palette is another winner. Only this time is highly affordable too!
It's another earthy palette inspired by the metropolitan city where nature meets fashion- Montreal. Although I didn't know that, this palette ticks all the boxes for a fabulous glitter eyeshadow palette.
You can create multiple shimmery eyeshadow looks. The palette features 9 shades, of which 6 are shimmers. From neutrals of pink and gold to muted greens, it's an original palette that spews classiness!
It's great for those who don't love a blinding glitter look. These eyeshadows give a subtle yet gorgeous shimmer that's not overpowering. The shades apply smoothly and easily with little fallout. They're highly pigmented and last amazingly!
Essence Bonjour Montréal Eyeshadow Palette can be bought from Ulta
---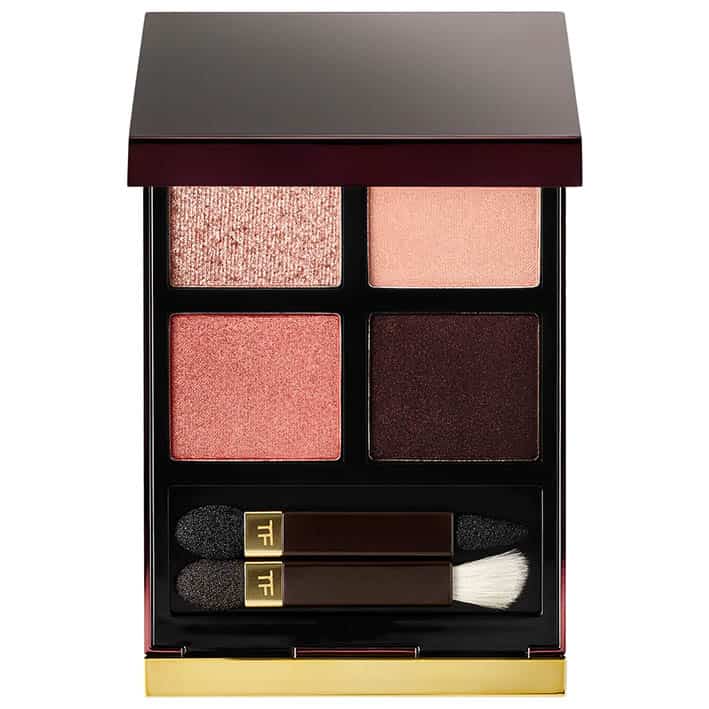 These pressed powder eyeshadows may be pricey, but they deliver every time! When I say deliver, they are high-quality, creamy to use, blend smoothly and have impressive pigmentation.
The palette comes in 12 palettes of different colour stories and finishes. Eventhough the palettes come with only 4 shades, you can still create multiple looks from each palette.
From bold and smokey to straight-on shimmer, there's enough to keep you going! It's ideal for those who aren't fond of big palettes, but rather prefer smaller palettes that keep the choice of what shades to choose simpler!
These palettes are perfect for those who like more of a sheer finish. While the quality is top-notch, and the eyeshadows apply beautifully, they don't have the intensity that some other eyeshadows have.
They'll give you shimmering eyeshadow but, in more of a more subtle and classy way!
Tom Ford Eye Color Quad Eyeshadow Palette can be bought from Sephora | Look Fantastic
---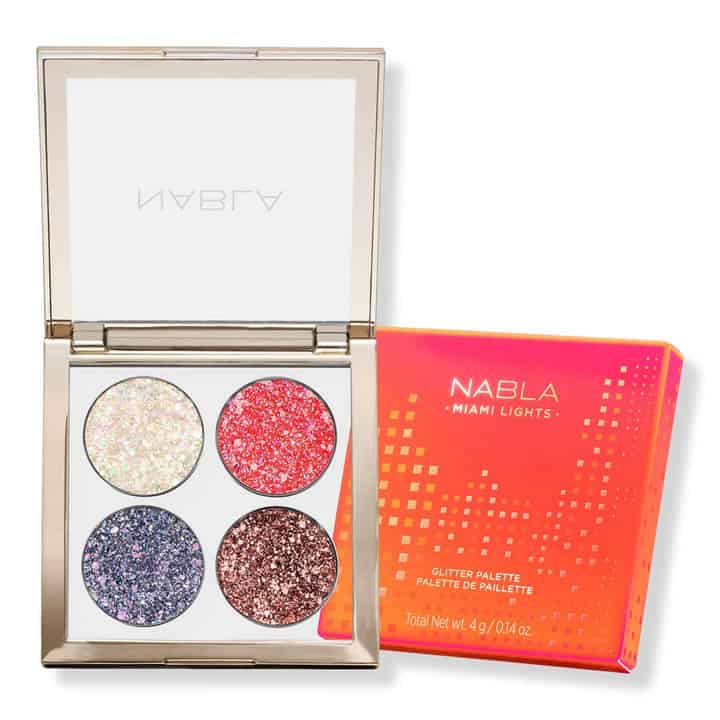 Little in the number of shades, but big in the amount of glitter! Yep, that's the Nabla Miami Lights Glitter Palette, it may be small but it's powerful! For any glitter lover, this palette is an absolute dream. Formulated with small and chunky glitters, it's a glittery dream of multidimensional shades!
Nabla Cosmetics has a couple of other glitter palettes, but if you're looking for a bright and fun one, this is the one you need!
The pressed glitters are made of quality ingredients and for many, they stick without a primer or glitter glue. However, if you are prone to your eyeshadow creasing, we recommend using a primer or glue.
This is because it has chunkier glitter, and the chunkier the glitter the harder is it to make it stick. The extra effort is worth it because these eyeshadows are truly dazzling!
Nabla Miami Lights Glitter Palette can be bought from Ulta | Beauty Bay
---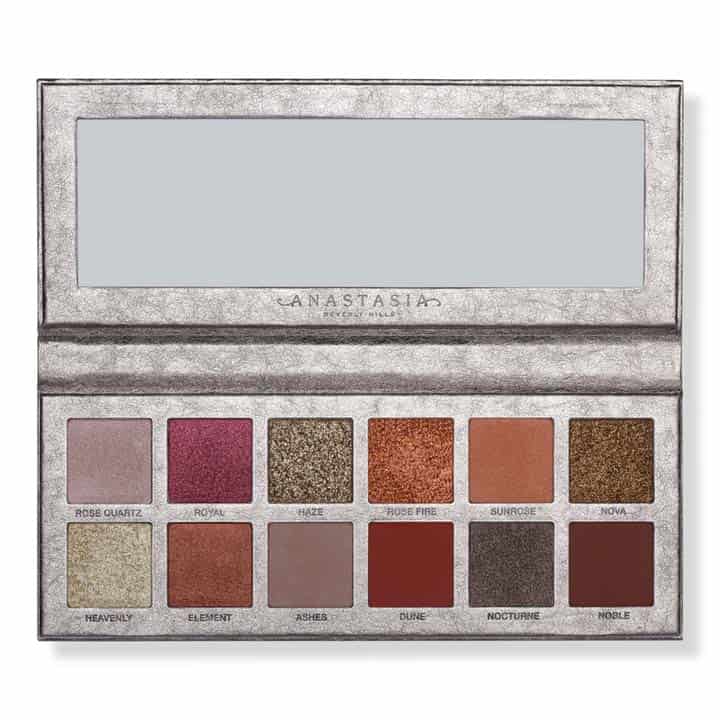 Go back to the '90s with this nostalgic breathtaking palette! It's full of autumnal shades and vibes with each color being more beautiful than the next!
However, the color story is not the only impressive feature! The quality of the shades is equally as wow! Creamy, blendable, buildable and pigmented are some of the ways to describe the Rose Metals Palette!
The palette has 12 shades of which 8 are metallic and sparkly. There are enough shades to create all looks including everyday ones and glam ones!
Anastasia Beverly Hills Rose Metals Palette can be bought from Ulta | Sephora
---
Sigma Beauty's eyeshadow palettes don't disappoint, from the quality to the shades, they have it all! The Warm Neutrals palette has 14 shades of browns, purples and burgundies.
Made from matte, frost, shimmer, metallic and glitter finishes, the amount of shimmery eyeshadow looks you can create is endless!
The eyeshadows are buttery, blendable and easy to work with. This palette is perfect to create a sultry smokey eye look.
Sigma Beauty Warm Neutrals Eyeshadow Palette can be bought from Nordstrom | Beauty Bay
---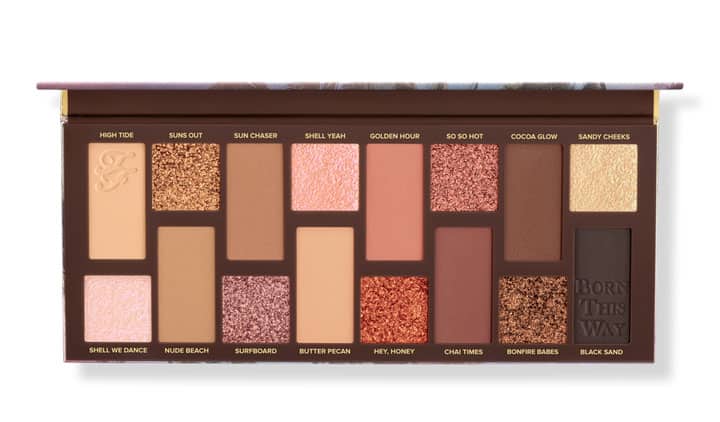 Do you love a sun-kissed look? Inspired by the Golden Hour in California, this eyeshadow palette is the way to get it with its beautiful warm golden and pink shades! While there are quite a few mattes in this eyeshadow palette, the shimmers are so impressive that the palette had to be included!
The palette has 16 shades of which 8 are metallic, shimmer, and sparkle shades. The highly pigmented formula delivers soft, blendable eyeshadow every time. With just one swipe you get enough color payoff!
A lovable touch to this eyeshadow palette is that it's infused with skin-loving ingredients like coconut water and hyaluronic acid! These keep your skin hydrated throughout the day giving you beautiful eyeshadow and soft skin!
Too Faced Born This Way Sunset Stripped Complexion-Inspired Eye Shadow Palette can be bought from Ulta | Cult Beauty
---
Glitter Eyeshadow Hacks and Tricks
As with all makeup, there are tips and tricks to getting your look right the easy way. And that's certainly true for glitter eyeshadow, which often gets a bad reputation. Understandably so, but with these hacks applying your glitter shadows will be a dream!
1. Always start with your eyes
Starting with your eye makeup is one of the easiest ways to avoid any disaster with eyeshadow fallout. Even the best eyeshadows have some fallout, it's just the way it is!
Apply your base only once you've finished on your eyes. That way you can wipe away any fallout from your eye makeup.
2. Use an eyeshadow primer
Using an eyeshadow primer gives the eyeshadow something to cling to. This is especially helpful if you have oily eyelids. The primer creates a barrier between your eyes and your makeup. An eyeshadow primer also helps the eyeshadow last longer and better, giving you intact makeup all day. If you have oily eyelids, read my tips on how I apply makeup to my oily eyelids for lasting results.
My favourite eye primers are the Urban Decay Eyeshadow Primer Potion and the MAC Prep + Primer 24-hour Extend Eye Base. If you need an extra strong primer, we recommend the latter, it's like glue!
3. Apply a base shadow
Before applying any glitter to your eye, apply a base eyeshadow all over your eyelid. This helps glitter stay better on the eye.
4. Dab, don't rub
Glittery eyeshadows have a different consistency from matte ones. Therefore, they need to be applied differently too. For an even and intense coverage, dab the glitter and shimmer eyeshadows on with a flat brush or your finger.
Don't sweep the glitter eyeshadow onto the lids or you may be left with patchy eyeshadow.
5. Wet your brush
Using a damp brush gives the eyeshadow something to stick to which is particularly useful when it comes to glitter and shimmer shadows. Before applying any eyeshadow to the brush, wet your brush a little so that it's damp and not dripping wet. Then reach out for your eyeshadow.
6. Spray your brush
Get a foiled eyeshadow look by spraying your brush with setting spray. Not only does this make the eyeshadow application easier, but it also gives a more intense glitter look. Really, it's a win-win!
Simple, yet effective, all you need to do is apply the eyeshadow to your brush, spray it and swipe!
7. Use glitter glue
Glitter glue is an absolute must for loose glitter. Although most of the glitter eyeshadows mentioned here aren't loose in pigmentation, this is a tip we simply couldn't leave out.
Often chunkier glitters need glitter glue, since the chunkier the glitter, the less likely it is to stick to the eye without a little extra help.
8. Set your shadow
Get your eyeshadow to stay in place all day by setting it with a setting spray once you've finished applying it. Setting sprays help keep the eyeshadow intact all day and it stops any loose pigment from falling out of place.
---
My Thoughts on Glitter Eyeshadow Palettes
When it comes to glitter eyeshadow palettes, the choice is huge and impressive! We've put together a select few that are simply too hard to resist.
Whether you want a slight shimmer or a full-on glitter eyeshadow look, we've got the palette for you. From cool to warm-toned palettes as well as budget to luxury, there's a palette for everyone and every need and occasion!
Hollie xx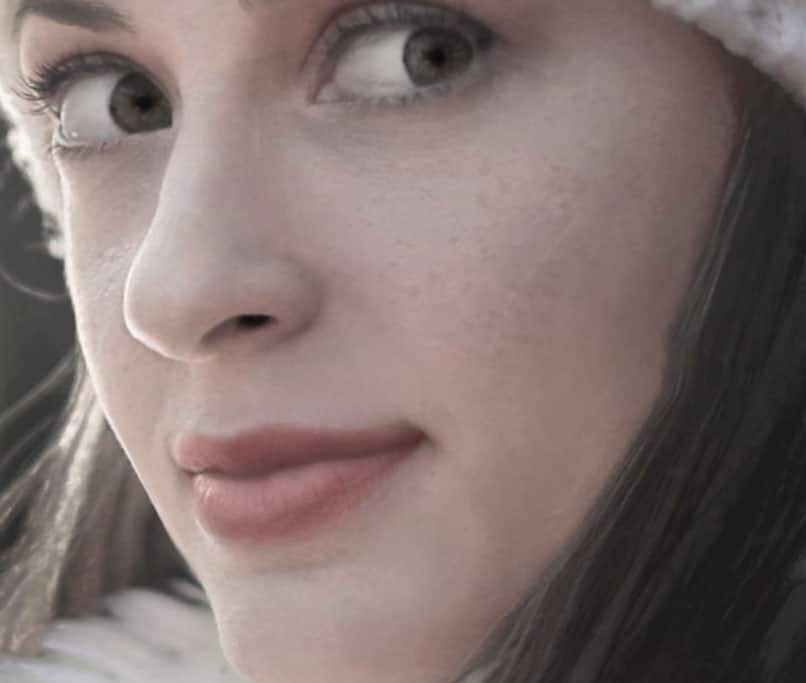 Hi, I'm Hollie, and I own BeautywithHollie.com. I love everything to do with beauty and love sharing my knowledge, advice, and beauty finds! Makeup and beauty are here to enjoy, and Beauty With Hollie is here to take the stress out of it!
---
---
Anastasia Beverly Hills bareMinerals Benefit Cosmetics Bobbi Brown CeraVe Chantecaille Charlotte Tilbury Clarins ColourPop Dermalogica Dior e.l.f. Cosmetics ELEMIS Estée Lauder Fenty Beauty First Aid Beauty Fresh Giorgio Armani Hourglass Jane Iredale L'Oreal Lancome La Roche-Posay Laura Mercier LORAC MAC Makeup Revolution Mario Badescu Maybelline Morphe Nars Natasha Denona Neutrogena NYX Origins Peter Thomas Roth Revlon Sigma Beauty Smashbox Stila Tarte Cosmetics The Ordinary Too Faced Urban Decay YSL