The 10 Best Exfoliators for Dry Skin in 2024
Dry and flakey skin can be an outright pain, to put it bluntly. While your first thought may be to use a moisturizer, actually using an exfoliator beforehand can make all the difference!
Using the correct product will take your skin from dull and drab to smooth and glowing! I've put together the 10 best exfoliators for dry skin in 2024. From drugstore and budget exfoliators to toning and moisturising ones. But that's not all, I've covered every type of dry skin, including sensitive and ageing skin.
Disclaimer: As an Amazon Associate I earn from qualifying purchases on Amazon and other affiliate programs. This means on some purchases, I make a commission. It doesn't mean you spend more, it simply allows me to keep this blog going!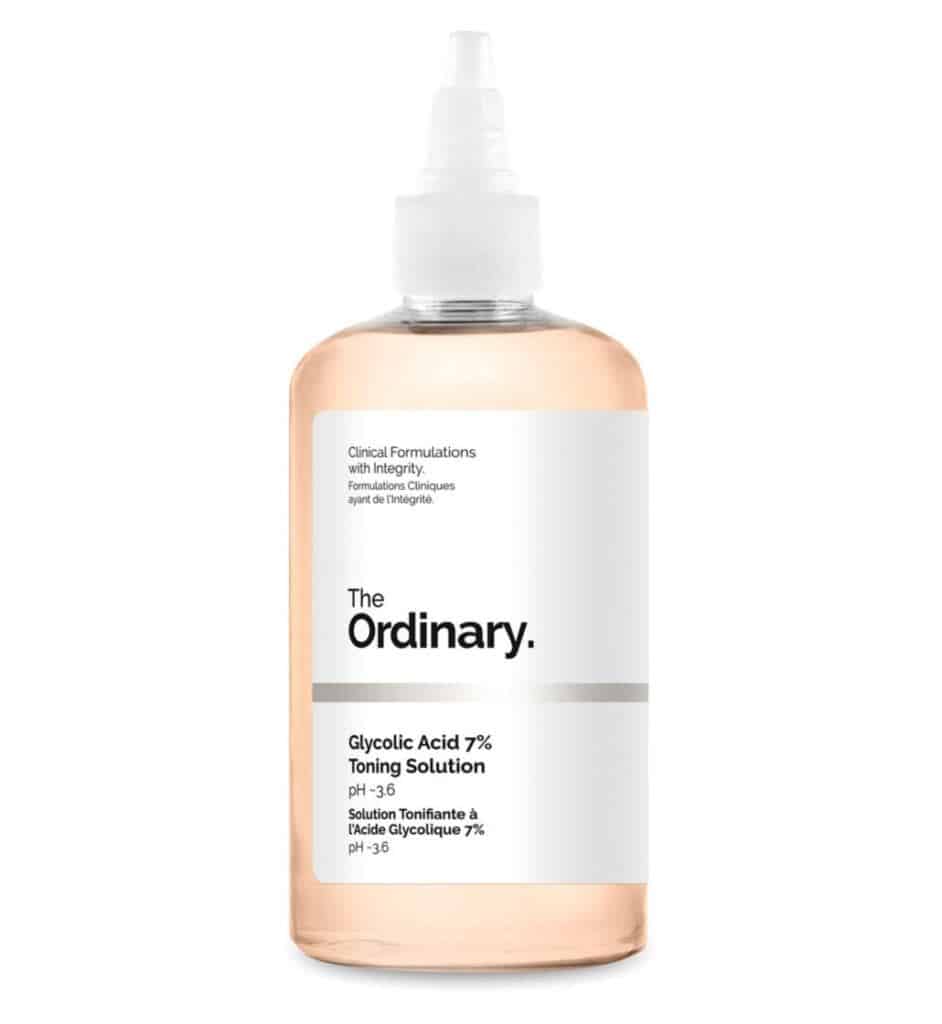 The Ordinary Glycolic Acid 7% Toning Solution gently exfoliates the skin to restore a clear, radiant appearance. It improves the look of uneven tone and texture with regular use.
The Ordinary is a dope skincare brand that really delivers, their products are bestsellers everywhere! And their Glycolic Acid 7% Toning Solution is one of many that patches up your skin concerns for a pretty affordable price!
It is a water-based exfoliating toner containing AHA Glycolic Acid that mainly exfoliates the skin. Nothing too drastic or horror-story-like. One thing you'll be most surprised by about this product is how non-drying it is. You're probably expecting a harsh peeling sensation, but it's never harsh and it's ideal for dry skin!
What you wouldn't expect from this is that you'll be able to skip moisturiser! I may be speaking some kind of curse, especially since dry skin types definitely need more moisture than other skin types. But, my bet is even your dry skin's gonna see improvements with just this alone.
Using Tasmanian Pepperberry derivatives and with a pH value of 3.6 formula Glycolic Acid, it deeply exfoliates in exchange for that typical, but less than mild tingling you get from acid skincare products. It also has some ginseng root and aloe vera for both visible radiance and soothing benefits. All in all, an exfoliant that every dry skin will love!
Pros
Vegan and cruelty-free
Oil-free
Alcohol-free
Nut-free
Hydrating
Improves the appearance of wrinkles
Gently exfoliates
---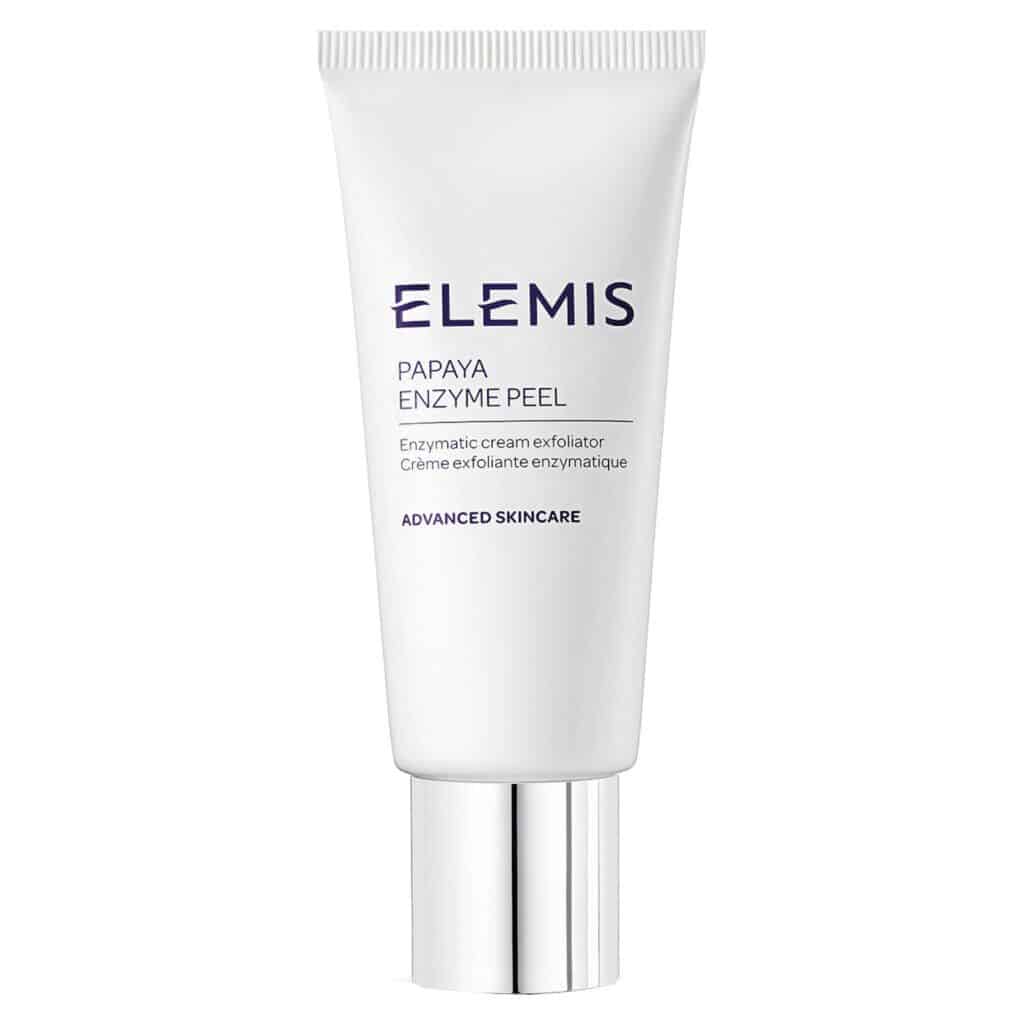 The funny thing with all of these exfoliators is that they are called exfoliators, but when you use them you would never know! They are so gentle and soft on the skin, that it's hard to believe they actually exfoliate. But that's exactly what they do and the Elemis Papaya Enzyme Peel is exactly that!
This rinse-off exfoliating cream contains nourishing milk protein, anti-oxidant-rich vitamin E and marine algae to moisturise, repair and protect your skin.
It gently exfoliates dry skin with papaya, pineapple, and vitamin B3, which are all ingredients that micro-exfoliate your skin without any flaky aftermaths. They are skin smoothening and brightening too!
This gentle exfoliator will make your complexion appear smoother and brighter by dissolving dead skin cells without rubbing, leaving you a cleansed and nourished skin after use.
It also contains plenty of moisturising benefits that will plump up your dry skin even after exfoliation. The actual product smells like heaven in a bottle!
The texture is super smooth and doesn't agitate dry or sensitive skin at all. Get ready for a really smooth and well-hydrated face with this fab exfoliator!
Pros
Cruelty-free
Free from mineral oils
Smoothes and brightens
Moisturises
Gently exfoliates the skin
---
This is a true exfoliating gem for those with dry skin. Murad Age Reform AHA/BHA Exfoliating Cleanser is a highly active cleanser with a trio of exfoliating acids and jojoba skin-polishing beads to revitalize your skin.
It is loaded with trio acids that safely exfoliate dry skin. Its formula revitalises your skin by gently exfoliating and polishing away dullness. It contains three exfoliating agents-salicylic acid, lactic acid, and glycolic acid, which help reveal younger-looking skin by loosening layers of dead skin buildup on your skin's surface.
It also contains jojoba beads to polish away debris, dryness, and roughness while the moisturising agent sodium PCA attracts water to the skin to help it retain plumpness and elasticity. It takes away the unwanted layers and blankets your dry skin with moisture for a healthy barrier.
This exfoliator delivers the benefits of exfoliation and the convenience of a cleanser and on top of that moisturises your skin at the same time! Beat that:)
Pros
Dermatologist-tested
Cruelty-free
Fragrance-free
Smoothes and brightens
Mild exfoliation
---
Exfoliating dry skin shouldn't mean friction that tears up your skin to the point of damaging your skin! However, with the wrong product that is exactly what can happen. But don't worry, with the Origins Modern Friction Exfoliator, you'll get the best of both, soft smooth skin with a soft and smooth application!
Gone are the days of sand-blasting your skin with coarse, chemical crystals. Now there's only age-smoothing exfoliation without irritation. This cream exfoliator is rich in rice starch that rapidly removes sluggish cells, uneven patches and signs of skin damage and discolouration.
At the same time, the lemon oil kick-starts the process of brightening up your face. It mops up buildup all over your skin to reveal a smooth and plump surface that's been there all along.
While the Aloe vera compounds keep your skin calm and comfy. That was a mouthful, but I think you may have got the point, this stuff is good!
There are no ouch, extra steps or other complications. The before-and-afters are amazing with this product. If you're lucky, (which you are!) signs of fine lines appear to shrink in size.
Another thing I love about this exfoliator is that there is no musky cream smell, which is unfortunately not too uncommon with exfoliators. Instead, be prepared for the relaxing aromas of Bergamot and Peppermint that will accompany you in getting back in control over your dry skin.
Pros
Less than 1% synthetic fragrance
Smoothes and brightens
Gentle exfoliation
Vegan and cruelty-free
---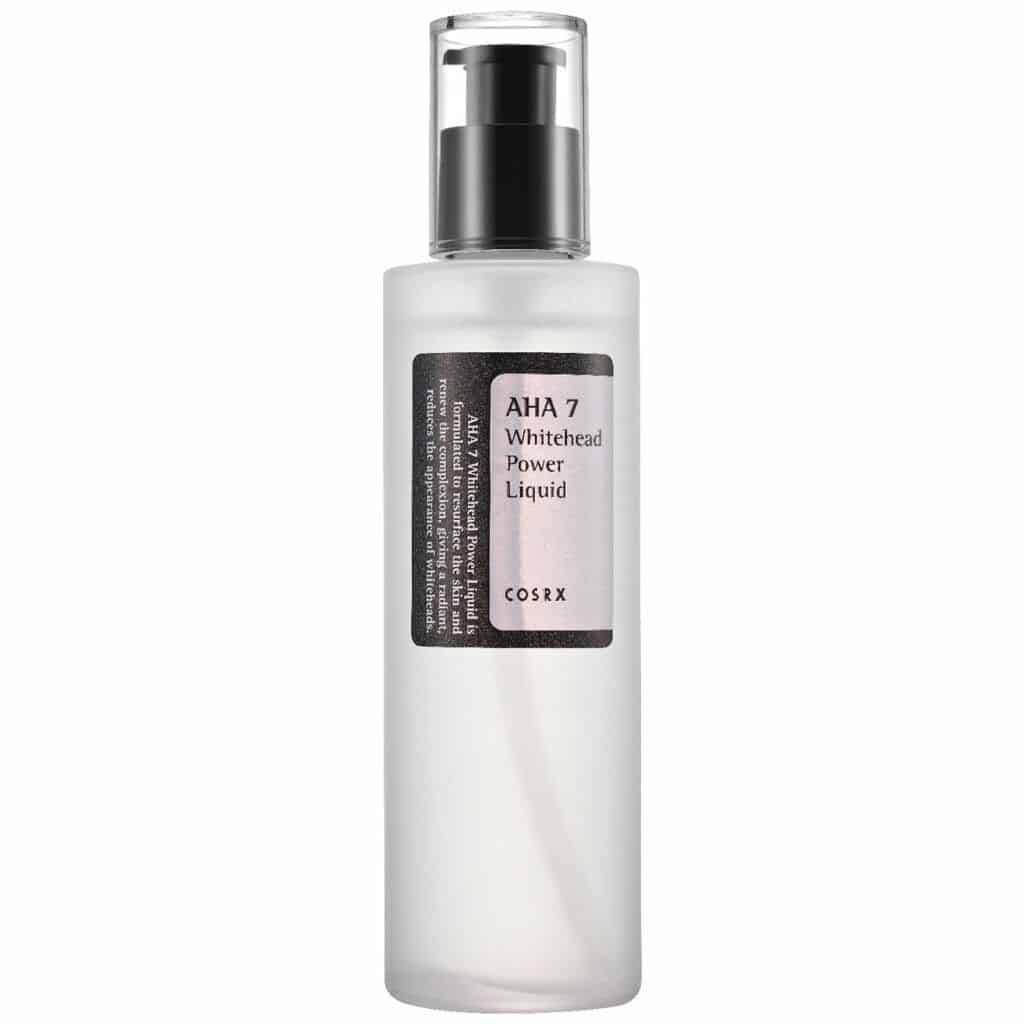 Other than buildup, you're in for a treat with the COSRX AHA 7 Whitehead Power Liquid. It gets rid of your whiteheads in the process of smoothing your face.
Formulated with 7% Glycolic Acid (AHA), it gently exfoliates your skin and you with a radiant even-toned complexion. It counts on apple water, which contains natural AHA and glycolic acid, to help dissolve whiteheads and blackheads as well as other impurities in your skin.
The AHA content is powerful enough to clear away dead skin cells and flakes that plague dry skin without irritating it. This stuff is the bomb. It isn't drying yet will leave your skin glowing. And I mean glowing, not shiny! A must-try for those with dry skin. Read about its sister product- the Cosrx BHA Blackhead Power Liquid.
Pros
Cruelty-free
Mild exfoliation
Smoothes and brightens
Hydrating
Non-drying
Removes whiteheads and blackheads
---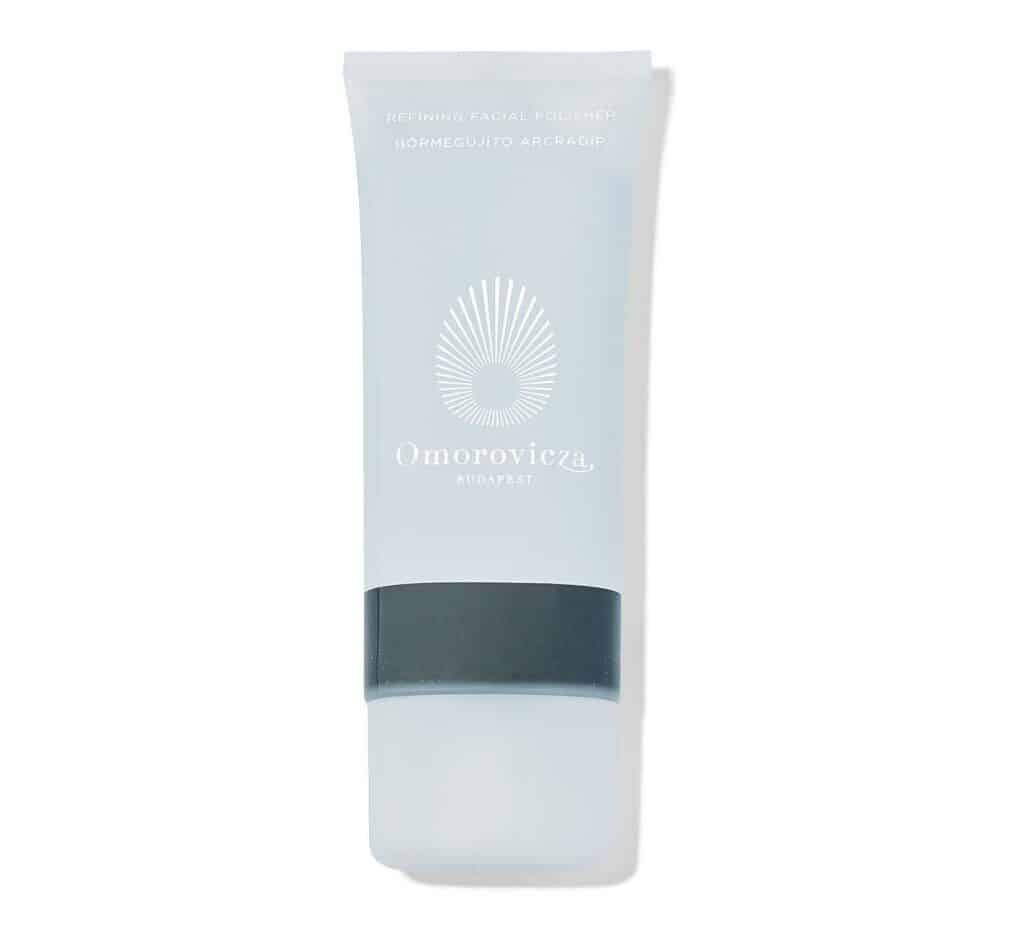 If you're looking for a classy skincare product to add to your routine, then Omorovicza's Refining Facial Polisher is here.
It combines the resurfacing properties of an exfoliator with the luxurious texture of a mask and the skin-brightening impact of a peel! This harnesses the transformative power of Hungarian moor mud and green microalgae to reveal a more radiant, smooth and refined complexion.
It also contains copper and exotic fruit extracts (the copper creates a distinctive green hue) to assist your skin with decongestion. All the while helping to gently eliminate dulling dead skin cells.
This cream exfoliator is extremely hydrating and moisturising thanks to the Hungarian Moor Mud, high glycerin content, and multiple fruit extracts.
The texture gives a spa-like experience and isn't loaded with "micro" beads that do more harm than intended. Instead, it uses superfine natural pumice to help free your skin of flakiness and roughness.
Pros
Refines complexion
Gently exfoliates both physically and enzymatically
Brightens the tone
Vegan
Gluten-free
---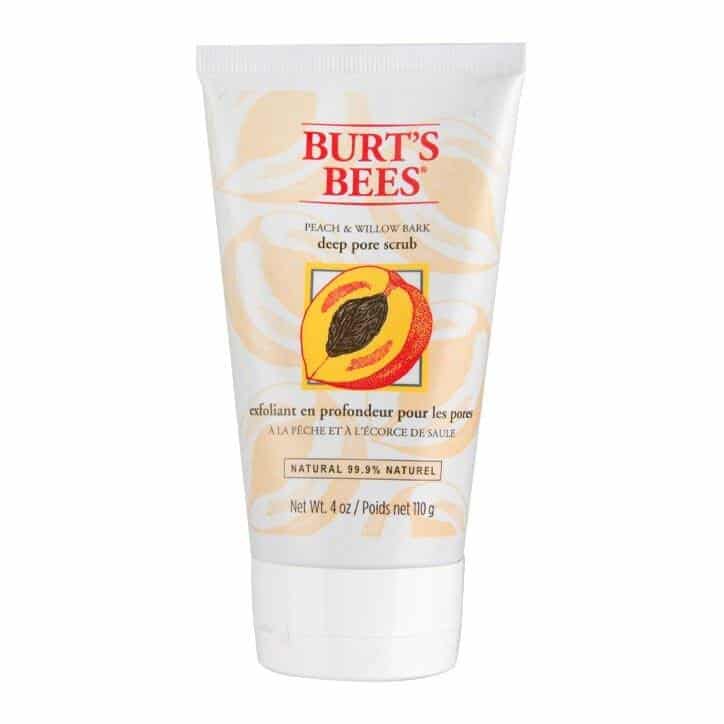 There's no need to be afraid of exfoliating scrubs when we're talking about the Burt's Bees Peach & Willowbark Deep Pore Scrub. Dry skin can get away with experiencing the wonderful feel of a scrub thanks to the finely ground Peach Stone ingredient that polishes your complexion to a smooth and natural radiance.
It does all of this without the dreadful feeling of sandpaper as you wash your face! The scrub particles are practically invisible! It's the perfect exfoliating scrub for dry skin. It gently exfoliates your pores to clear them of dirt, excess oil, and dead skin.
Another plus is that it's wonderful as an acne treatment. This exfoliator is really helpful with whiteheads, and blackheads, and also in reducing redness. It has a creamy, moisturising consistency, which is great because it doesn't dry out already dry skin!
Pros
Mild exfoliation
99% Natural
Clears whiteheads, blackheads, and acne
Moisturises
Smoothes and brightens
---
The solution to dry skin is right here in this bottle of Lancer The Method: Polish. This daily polish is a skin resurfacing treatment. It includes pure minerals as well as pumpkin and pomegranate enzymes to gently and effectively remove surface debris and dull, dry surface cells.
This product is a powerful anti-ageing exfoliator that uses natural minerals to sweep away skin debris. It also contains pumpkin enzymes for additional nourishing exfoliation, while the pomegranate enzymes revive your skin and hydrate it at the same time. Infused with Brown Sea Algae which is a source of alginic acid (rich in vitamins and minerals) that helps to balance hydration in your skin.
It also has a warming element to keep your dry skin balanced during the process and has a natural Lavender scent to complete your luxurious daily ritual.
Pros
Anti-ageing
Gentle exfoliation
Hydrates
Smoothes and brightens
---
Geared towards sensitive skin, this mild physical and chemical exfoliating treatment relies on a powerful tandem of natural cellulose and botanical extracts to gently polish smoother, brighter skin to the surface.
It gently exfoliates with a cocktail of fruit and botanical extracts that buff away dead skin cells while finely milled natural cellulose provides a light scrub effect to your routine.
Infused with hyaluronic acid and trehalose, it helps your skin retain moisture, protecting it against dryness. The vitamin C it contains helps to brighten your skin. And who knows dull skin better than those with dry conditions? You and this product, of course!
It is also infused with green tea extract to calm down overheated and irritated skin, while allantoin helps to make your skin smooth and soft. As you can see, it's packed with the good stuff you and your dry skin deserve.
Pros
Cruelty-free
Gentle exfoliation
Smoothes and brightens
100% natural ingredients
Hydrating
---
On the lookout for a super-effective 2-in-1 exfoliator/cleanser combo? Well, lucky you, 'cause the Clarins One-Step Gentle Exfoliating Cleanser is the one you need! It's a gentle exfoliating cleanser containing orange extracts that whisk away makeup, embedded impurities, and dry, flaky surface cells to reveal glowing skin.
In one quick, easy step, the Gentle Exfoliating Cleanser softens, refreshes, and revives radiance. It is infused with moringa seed extract that leaves your skin soft, radiant, and refined. This cleanser also has gentle eco-friendly silica microbeads to help remove impurities and clear clogged pores.
Clarins' Anti-Pollution Complex helps fight signs of ageing! It's simply a multitasking exfoliating cleanser that's as quick as it is gentle. And you'll love how it is free of side effects for your dry skin!
Pros
Dermatologist tested
Gently exfoliates
Softens and smoothes
Refines pores
Hydrates
---
Exfoliating tips: Do's & Don'ts
1. Steer clear of mechanical exfoliators. I'm talking about exfoliating brushes, exfoliating sponges, exfoliating gloves, and of course exfoliating scrubs! (Not the Burt's Bees Peach & Willowbark Deep Pore Scrub though). Sorry if I burst your bubble there!
While you just got that new Foreo face scrub, it may not be the most helpful for your dry skin. This is because the process is drying and it can lead to microtears. Chemical exfoliators, however, are great for dry skin. These are your acids, AHA and BHA.
2. Use cotton pads for exfoliating liquids and warm water for washable, cream exfoliators. For dry skin, it's a must that you let the product do its job without being counterproductive through the way you apply and remove the product.
So it's better to stay safe and cautious. No need for a face scrub or glove as mentioned above when spreading your exfoliator onto your face.
3. Always wear sunscreen after exfoliating! Now I'm not saying this because sunscreen is a must (which it is), but more so because you've just exposed your dry skin to chemical exfoliators (AHAs and BHAs).
These are acids that make your skin more susceptible to sun damage albeit their amazing benefits. It makes UV rays' penetration into your skin much more damaging than before using acids, so it is imperative that you use sunscreen.
Why You Need To Exfoliate Dry Skin
1. Helps increase skin cell turnover
Healthy skin completely renews itself every 25 to 30 days, but this period gradually increases with age. When your skin-cell turnover rate slows, your complexion appears dull, sallow and aged.
Exfoliating speeds up the turnover rate to reveal newer, fresher, and healthier skin that's radiant instead of dull.
2. Improves skin's texture and appearance
Have you ever suffered from a sunburn that later left you with a blotchy tan and perhaps peeling skin? This is a vivid example of uneven texture and tone.
Without exfoliating, the same effect is at play on your complexion, just on a lesser scale. Exfoliating helps smooth different areas of skin for a more even look and feel.
3. Helps lighten hyperpigmentation
Whether you're addressing age spots or a generally uneven skin tone, exfoliating is your go-to treatment. Exfoliating naturally increases your skin cell turnover rate, which helps to shed areas of darkened skin more quickly, resulting in visibly brightened skin.
4. Helps moisturisers and serums to absorb deeper
If you want to get the most effective results from your moisturiser or lotion, then exfoliating is an absolute must.
Without exfoliating, the active ingredients in these products have to penetrate through an increased thickness of dead skin cells before they reach the cells they can affect.
5. Exfoliating helps to fight signs of premature ageing
This is where those chemical exfoliants really set themselves apart. In fact, all types of exfoliants help to reduce signs of premature ageing but chemical exfoliators do that bit more!
What To Look Out For
A high-quality exfoliator is an important part of your skincare routine! With exfoliating, you can get rid of excess oil and reduce skin imperfections, among other benefits.
For people with dry skin, however, it is often a different story. Using the wrong exfoliator will result in irritation and redness. Your exfoliator needs to contain hydrating and non-irritating ingredients.
That is why you shouldn't exfoliate more than once to twice a week. This will prevent any premature damage. It will also likely result in a more naturally paced exfoliating and recovery for your skin.
More importantly, you need to choose the right exfoliator. For dry skin- moisturising, cream-based physical exfoliants (scrubs), and chemical exfoliants containing glycolic acid or lactic acid are your go-to. It's a plus if that acid-based exfoliator is also in a cream form!
My Thoughts
I hope you've learned more about exfoliating your dry skin, and more importantly what products you can use to exfoliate your dry skin with this list of 10 of the best exfoliators for dry skin!
There are loads that can do the job of exfoliating and more. And now all you gotta do is decide which one is the right one for you!
Hollie xx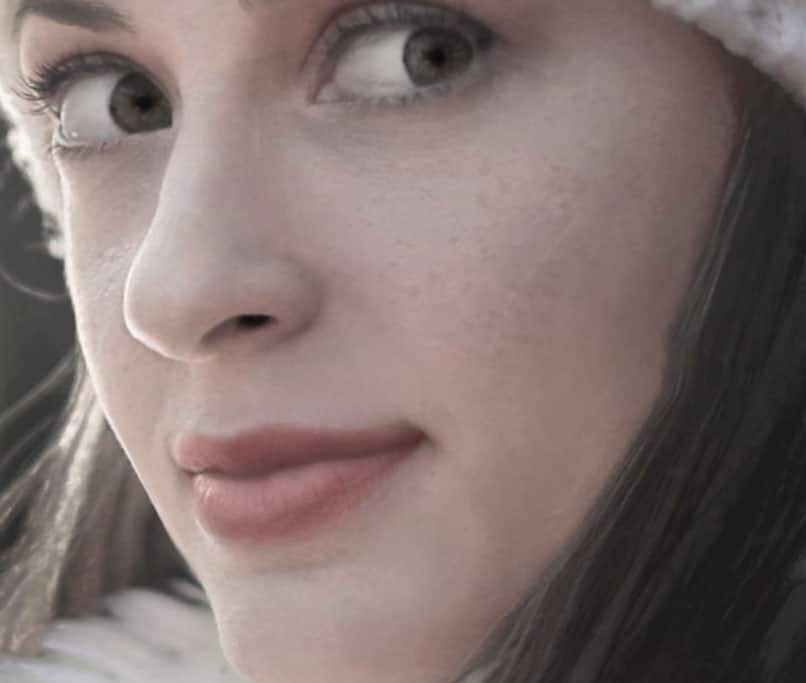 Hi, I'm Hollie, and I own BeautywithHollie.com. I love everything to do with beauty and love sharing my knowledge, advice, and beauty finds! Makeup and beauty are here to enjoy, and Beauty With Hollie is here to take the stress out of it!
---
---
Anastasia Beverly Hills bareMinerals Benefit Cosmetics Bobbi Brown CeraVe Chantecaille Charlotte Tilbury Clarins ColourPop Dermalogica Dior e.l.f. Cosmetics ELEMIS Estée Lauder Fenty Beauty First Aid Beauty Fresh Giorgio Armani Hourglass Jane Iredale L'Oreal Lancome La Roche-Posay Laura Mercier LORAC MAC Makeup Revolution Mario Badescu Maybelline Morphe Nars Natasha Denona Neutrogena NYX Origins Peter Thomas Roth Revlon Sigma Beauty Smashbox Stila Tarte Cosmetics The Ordinary Too Faced Urban Decay YSL
---