The 10 Best Body Creams and Lotions for Dry Skin in 2023
Do you suffer from dry skin? Well, you're not alone and the good news is that with the correct products, it's easily treatable! One of the best and undisputed ways to treat dry skin is to use a body lotion or body cream. Dry skin is never pleasant, but often it can be painful and uncomfortable too.
If that's what you're experiencing, don't leave it untreated. It's easy to fix and doesn't have to cost much either. Opt for a body lotion or cream depending on how dry your skin is.
Both lotions and creams are in the moisturizer family, they're just slightly different in texture and ingredients. A body lotion is lightweight in texture and dries quickly, making the process quicker and definitely less annoying!
A body cream is thicker in texture, making it better for very dry skin. However, a cream does take longer to absorb into the skin which can require more patience!
I've put together the best body lotions and creams for dry skin. From drugstore to luxury, there's something for every need and every budget!
Disclaimer: As an Amazon Associate I earn from qualifying purchases on Amazon and other affiliate programs. This means on some purchases, I make a commission. It doesn't mean you spend more, it simply allows me to keep this blog going!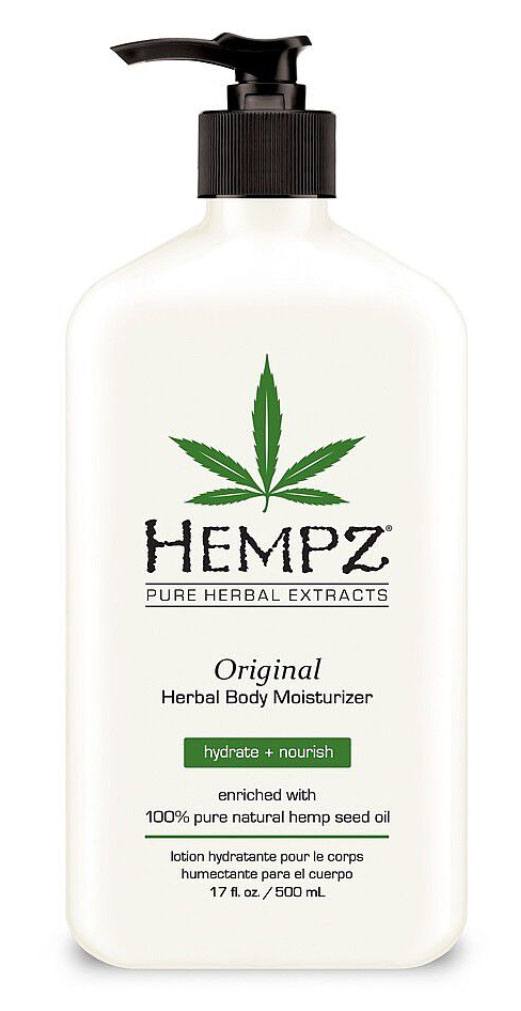 IN A NUTSHELL
Main Ingredients: Vitamin E, Vitamin C, Sunflower seed oil, Shea butter, Ginger root extract
Key Features: Hydrates, Helps support skin's natural oil barrier, Calms the skin and slows aging
Cruelty-free: Yes
Fragrance-Free: No
Is it for you?
Hempz Original Herbal Body Moisturizer is the best vegan body lotion for dry skin. Intensely hydrating, it calms the skin and improves the skin's natural barrier.
Affordable and effective, this is one of the best moisturizers to ensure your skin stays soft and hydrated throughout the cold winter months.
Its main ingredient is hemp seed oil- hence the name! But what hemp seed oil actually does is strengthen the skin barrier, giving longer-lasting results which in turn helps the skin look younger.
Made with other enriching ingredients, like shea butter and ginger root extract, which help protect the skin and calm it from environmental factors.
This non-greasy, fast-absorbing moisturizer is what you need when you want a boost of hydration to your dry skin!
---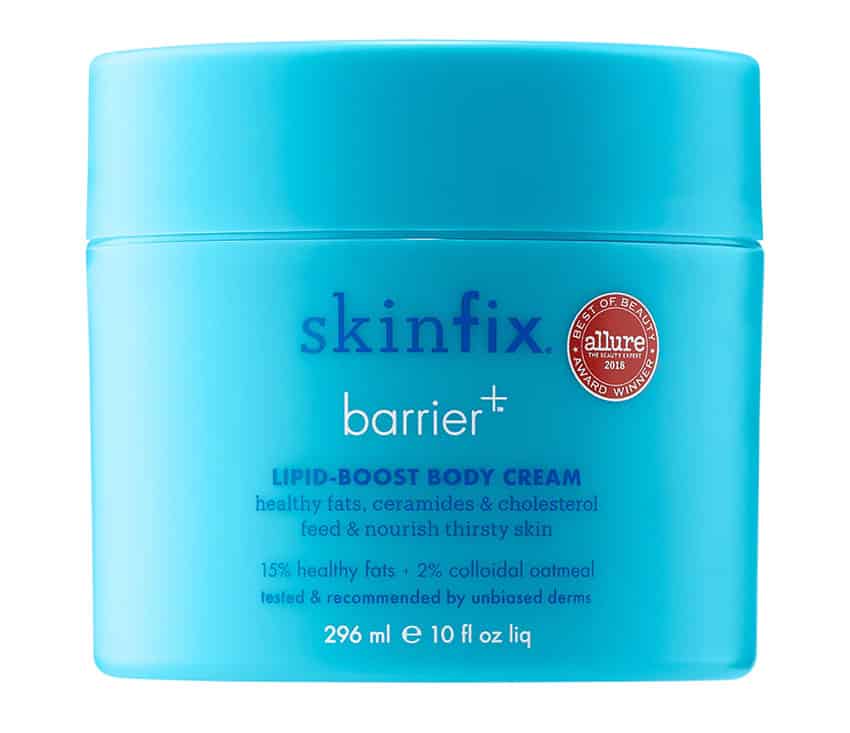 This bestselling body cream is at the high end when it comes to its price, and while we're all for affordable and drugstore moisturizers, sometimes you just need to splurge! Obviously, it's individual to everyone's needs, but this is one of those products that's worth the extra investment!
Intensely hydrating, the Skinfix Barrier & Lipid-Boost Body Cream transforms the skin from dry and flakey, to soft and supple in a matter of days.
Made with healthy fats, ceramides and colloidal oats, it has all the ingredients your skin needs to soothe it, protect it and lock in the moisture that it needs!
Even though it's a body cream and richer in texture than a lotion, it absorbs quickly and has none of the greasiness or itchiness that so often comes with body creams!
For those with dry and sensitive skin, The Skinfix Barrier+ Lipid-Boost Body Cream is one of those moisturizing products that you simply can't go wrong with!
---
La Roche-Posay is a household name when it comes to its skincare range. The products are ones which you can trust, made from good-for-you ingredients that are safe for sensitive skin.
Lipikar AP&M Triple Repair Body Moisturizing Cream is the perfect cream for those who don't like clutter.
Made for all ages, including babies, the cream can be used on the body and the face. It's an all-in-one cream for everyone and everything! Aside from the convenience of the cream, it's also extremely beneficial for dry and very dry skin.
Formulated with moisturizing ingredients like shea butter and glycerin, it also has the added benefit of niacinamide which helps fix the skin. It gives 48 hours of hydration which is far more than most moisturizers can claim!
Safe for sensitive skin as well as for those with eczema, this cream is the answer to your dry skin's prayers! It goes on smoothly, absorbs quickly and gives long-lasting relief to the skin.
---
Argan oil is a well-known ingredient to help with moisturizing. It helps improve the skin's texture as well as the skin's barrier. The Josie Maran Whipped Argan Oil is the ideal body butter for dry and sensitive skin, especially for those who suffer from eczema, psoriasis or chronic dry skin.
Argan oil is known to be the dream ingredient for many skin conditions! Aside from the argan oil, this moisturizer has other fabulous traits to brag about. Thick in texture, lovely on the skin, easily absorbed and luxurious to use are some of its qualities.
Available in 4 options, 3 scents- Vanilla Bean, Sweet Citrus and Vanilla Apricot, and an unscented option.
The fragrances are all-natural, which makes them a tad better for sensitive skin. However, if you have sensitive skin, opt for the unscented one. It's always better to be safe than sorry!
Although this body butter is pricey, those with dry and sensitive skin can't seem to get enough of it! It has all the qualities of a body cream, without any of the negatives! What's there to lose?!
---
If you are at your wit's end with your dry skin, this body lotion may be the product you have been looking for!
Intensely hydrating and filled with beneficial ingredients, this cream is like magic for dry skin. It instantly hydrates the skin leaving it soft and moisturized without any greasy feeling.
What's pretty unique about this lotion is that it's a 3-in-1 product. It moisturizes, exfoliates and conditions the skin! This is great for those with dry skin, not only because it moisturizes the skin amazingly, but also due to its gentle exfoliant.
This means you don't need to turn to any harsh exfoliants, and you can save space by not having extra products lying around! It's a win-win in every way.
One factor to be aware of with this lotion is that you need to use sunscreen or stay out of the sun after applying it. Its AHA ingredient makes it sensitive to UV rays.
---
CeraVe is one of the best brands to turn to for reliable, fuss-free skincare! That's not to say their products don't work. On the contrary, they have some of the best skincare products, made with minimal ingredients that are good for your skin!
CeraVe Moisturizing Cream for Normal to Dry Skin is one of their bestselling moisturizers. And to be frank, it's easy to see why! Their products do the job, don't harm the skin and are affordable! Can it get any better?!
This moisturizing cream can be used on the face and body. It gives the skin intense hydration for up to 24 hours. It contains 3 ceramides which help repair the skin as well as, hyaluronic acid that gives the skin its powerful hydration, leaving dry skin smooth and comfortable.
Gentle on the skin and not irritating, this cream is non-comedogenic and dermatologist-tested. Also approved by the National Eczema Association, it's the solution for many skin issues!
Spoil your dry skin with this lovely pampering moisturizing cream!
---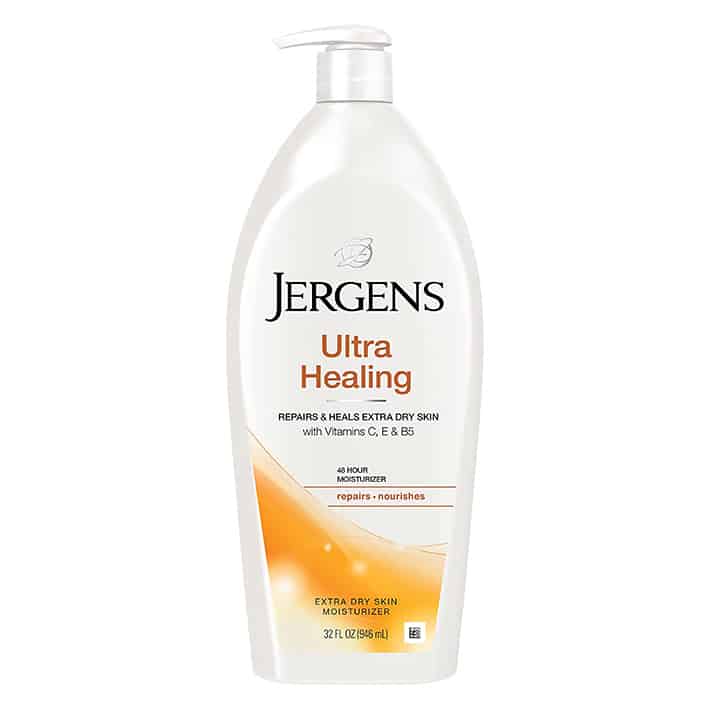 Deeply moisturize your skin with Jergens Ultra Healing Moisturizer. Ultra healing in name and in function!
It penetrates through 5 layers of skin to repair and heal dry skin. The hydration lasts for up to 48 hours giving you smooth and soft skin!
Unlike many moisturizers and body creams, Jergens Ultra Healing Moisturizer heals dryness from the source, helping to get rid of the problem, instead of covering it up!
Use it all over your dry skin, including areas like heels, elbows and anywhere else that needs a boost of hydration! Despite its amazing hydrating properties, it dries beautifully on the skin without leaving a residue or feeling sticky.
Made with Jergens unique HYDRALUCENCE® blend, it leaves the skin with a gorgeous illuminated finish. It's never been so easy to get luminous skin from within!
---
Moisturizing the skin without protecting and repairing the skin's barrier is honestly, pretty useless. It gives the skin short-term, superficial results and who wants that?!
Understanding the skin is complex and it's taken many years to get a better understanding of how it works and what the skin actually needs. And probably in 5 years' time, we'll be in a way better place than now!
But for now, we've got a lot to be grateful for, and Nécessaire The Body Lotion is one of those things!
Formulated with Niacinamide, it protects the skin's barrier, while the plant oils and peptides nourish the skin giving your firm soft skin!
Ideal for dry skin that suffers from loss of firmness, this lotion will do its magic to transform your skin to its former glory! You can use it on your face and body making it perfect for those who love a minimal lifestyle.
Lightweight, yet not oily, it absorbs beautifully into the skin and has the perfect combination that a body lotion should have.
It's labelled clean at Sephora making it safe for sensitive skin that's pro to irritation. It's also fragrance-free.
---
Coconut oil is known to be a really great moisturizing ingredient, but using it alone has some issues. Advanced Clinics has come up with a truly magnificent formula which gives you all the benefits of coconut oil, without any of the negatives!
Formulated with other beneficial ingredients like aloe vera and natural glycerin to give you a glowing, healthy complexion. The Organic Lavender Extract gives the cream a delicious, yet subtle scent!
Whereas regular coconut oil doesn't absorb well into the skin, the Advanced Clinicals Coconut Oil Moisturizing Cream does exactly the opposite!
It's lightweight, comfortable, absorbs quickly and doesn't leave any greasy feeling on the skin! Intensely hydrating, it cures dry skin and relieves itchiness and deeply cracked skin.
A convenient touch is that it has a pump dispenser making it easy to use. You can use it everywhere on the body and the face too. Expect your dry skin to transform into smooth, soft skin that you would never know was once dry!
---

When it comes to creams and lotions, Nivea is a household name. Known for its quality, fuss-free products, they're a brand you can trust and rely on.
Made for dry and very dry skin, Nivea Essentially Enriched Body Lotion provides 48 hours of deep hydration. After only one use your skin will be transformed!
It has a luxuriously rich texture that is hard to believe that it isn't oily or greasy! Leaving the skin soft without any residue or heavy feeling, it's the answer to many of those dry skin!
Enriched with moisturizing ingredients, like Almond Oil, Vitamin E and Nivea's own Deep Moisture Serum to protect the skin and deliver deep moisture!
Use this body lotion for your whole body as well as for all ages! Extremely affordable, it's a lotion you simply can't go wrong with!
---
Body Lotion Application Tips
Bad workers blame their tools. I know that's a little harsh, but sometimes all it takes is a few tips and tricks on how you apply your body lotion or cream, for it to change the results drastically!
Applying your skincare products incorrectly can give you the wrong results. That's a shame, especially after you do all the research, spend a lot of money and then you're left with skin that's irritated and blah at best.
These simple tips are easy to adapt and with the right skincare products, will give you soft and hydrated skin!
1. Don't shower in boiling water
One of the worst things you can do for your dry skin is to shower with boiling water. Water, in general, dries out the skin and the hotter it is, the more drying it is.
While we're not here to tell you to shower in cold water in the middle of the winter, what you can do is turn down the temperature a notch! However, hard that is, your skin will be a lot happier, less dry and less itchy.
2. Apply moisturizer on damp skin
Many moisturizing products like body creams and lotions, work better when they're applied to damp skin as opposed to dry skin.
The reason for this is that damp skin allows the moisture to seal into the skin allowing the product to do a better job. The result is softer, more hydrated skin. Apply your moisturizer after a shower when your skin is damp- not dry and not wet!
3. Let the moisturizer do its work
Let your body cream sink into your skin before putting your clothes on. While this can be annoying to hang around, fill the time by browsing on your phone, or even better, save time and brush your teeth!
4. Sensitive skin? Opt for a fragrance-free moisturizer
Having dry and sensitive skin can seem like quite a chore. And sometimes it is.
But, an easy way to reduce reactions from creams, moisturizers and the like is to avoid using skincare products that contain fragrance. Fragrance tends to make sensitive skin even more sensitive so always look for products that say fragrance-free on them.
5. Drink water
Hydrate yourself from the inside and it will reflect on the outside. The amount of water you should drink varies on many factors like your weight, the climate you live in as well as your age. Read on Healthline how much water you should be drinking.
My Thoughts
Getting soft and hydrated skin has never been easier! Get rid of your dry patches, whether they're on your elbows, knees, feet or anywhere else on your body, with these 10, easy-to-use, quality body lotions and creams!
With various prices, from drugstore to luxury and moisturizers with different ingredients, there's something for everyone and every dry skin type!
Hollie xx
UP NEXT: Reanimate Dull Skin With Olay Rinse-Off Body Conditioners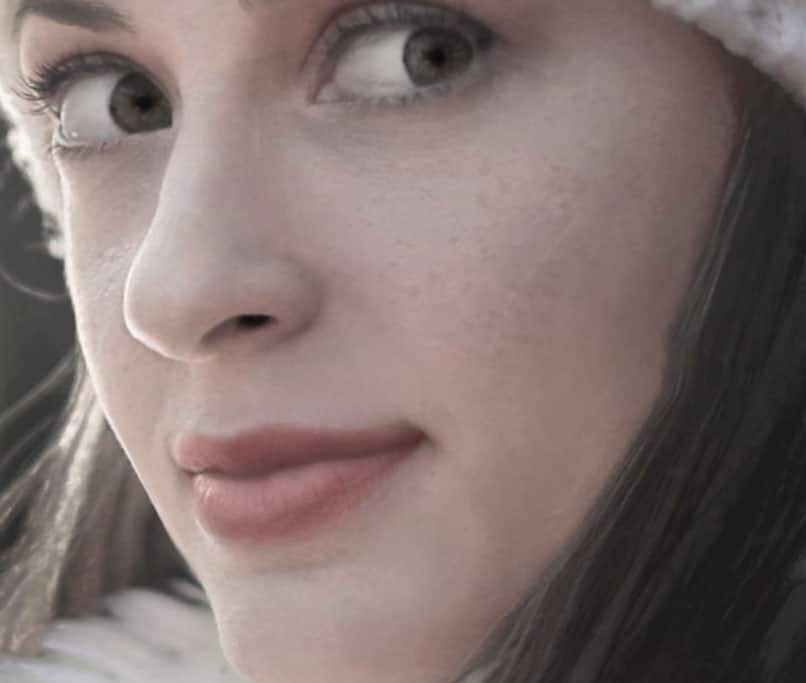 Hi, I'm Hollie, and I own BeautywithHollie.com. I love everything to do with beauty and love sharing my knowledge, advice, and beauty finds! Makeup and beauty are here to enjoy, and Beauty With Hollie is here to take the stress out of it!
---
---
Anastasia Beverly Hills bareMinerals Benefit Cosmetics Bobbi Brown CeraVe Chantecaille Charlotte Tilbury Clarins ColourPop Dermalogica Dior Dyson e.l.f. Cosmetics ELEMIS Estée Lauder Fenty Beauty First Aid Beauty Fresh Giorgio Armani Hourglass Jane Iredale L'Oreal Lancome La Roche-Posay Laura Mercier LORAC MAC Makeup Revolution Maybelline Morphe Nars Natasha Denona Neutrogena NYX Origins Peter Thomas Roth Revlon Sigma Beauty Smashbox Stila Tarte Cosmetics The Ordinary Too Faced Urban Decay YSL