Can the Charlotte Tilbury Magic Lip Oil Replace Lip Fillers?!
Everyone loves an exciting release, especially when they're decked in pretty packaging like Charlotte Tilbury products always are! Charlotte's Magic Lip Oil Crystal Elixir is no exception, it's pretty and classy which makes it all the more enticing!
It's marketed as a lip oil, not a lip balm, the difference being that it will bring anyone's lips back to life with its extra hydrating ingredients. On Charlotte's website, she says: 'LIP CONDITIONER by day; LIP MASK by night!'
Charlotte Tilbury Magic Lip Oil Crystal Elixir is infused with crystal ingredients and has some big claims. Dubbed as 'the only hydrating lip oil you need in your makeup bag, I just had to it try out and feed my curiosity.
Whilst I'm generally a fan of Charlotte Tilbury products, there have been a couple of products that have been a miss for me.
The Magic Lip Oil was released along with its duo in the Crystal Elixir line in mid-April.
The Lip Oil comes in an 8ml plastic squeeze tube, with a roller ball applicator. It's got a metallic tinted screw cap. Printed with gold and holographic designs on a plain white background, it's pretty simple and straightforward.
It's not as lux in comparison to the Magic Serum. However, I do like that it's a screw cap tube that prevents any spill accidents inside my bag or pocket. It's a good packaging design for travelling and on the go.
It's packed with all the good stuff like hyaluronic acid for lasting hydration, organic aloe vera enriched with enzymes, vitamin A and vitamin C. It also has antioxidants to protect the lips, condition them, and help generate newer cells for plumper and more youthful-looking lips.
It also has plant adaptogen ingredients like Resilient First Light Snow Lotus, Alpine Rose Extract, and Resurrection Leaf compounds that help the skin appear radiant by retaining all the moisture it gets.
Charlotte Tilbury also prides itself in including Ayurvedic Swertian Leaf extracts in lip oil. It's an "ultra-high-tech ingredient" that promotes smoother-looking lips. Much like some properties of collagen and retinol. Squsandryl is a trademarked formula of "supercharged superfruit extracts" that helps the lips become soft yet firm.
Since this product is a lip oil and not a lip balm, it is packed extra with the following oil ingredients that really triple the moisturising and smoothening effects.
Sunflower Seed Oil: Rich in Linoleic and Oleic Acid and moisturizing properties
Camellia Oil: Rich source of Palmitic and Omega-6 Linoleic fatty acids. It is non-greasy and an excellent all-around moisturizer
Shea Oil: High in fatty acids and vitamins for a nourishing effect
Evening Primrose Oil: Rich in fatty acids and has a skin-soothing effect
Rosehip Oil: High in Vitamin C, linoleic and linolenic acid, and easily absorbed into the skin
Using the Magic Lip Oil Crystal Elixir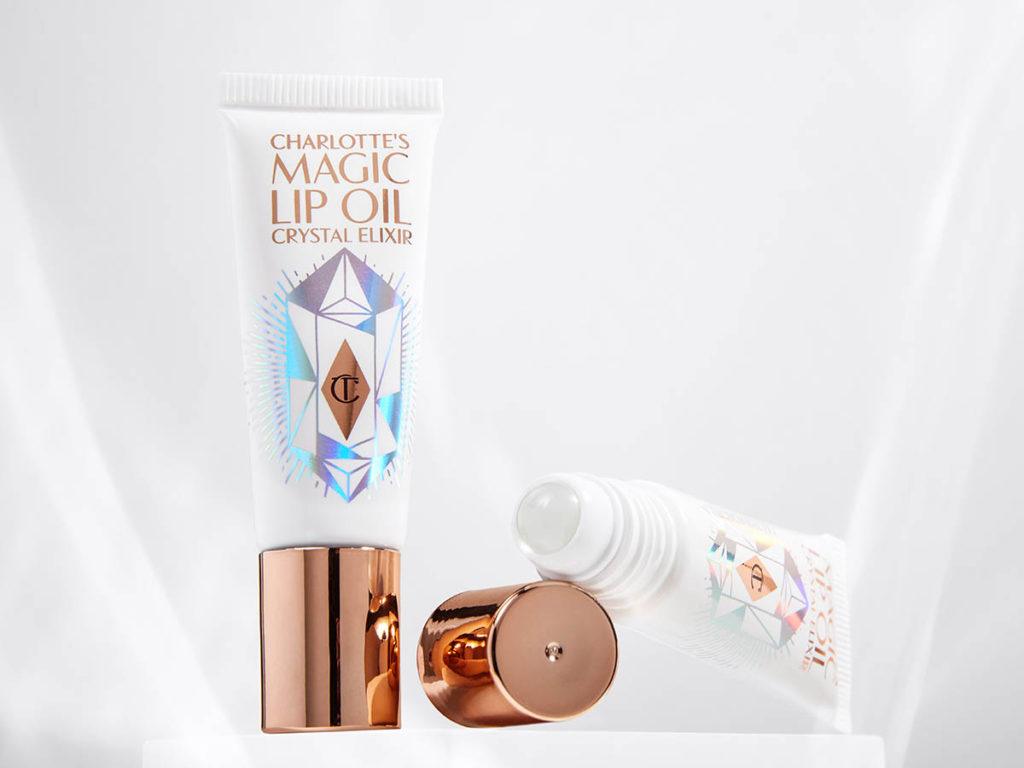 Before applying the Lip Oil to my lips, I tested out the roller on the back of my hand. Not a lot of the product comes out. It was very controlled and covers moderately whatever surface the rollerball comes in contact with. The rollerball applicator makes for clean and simple use without any excess residue.
The oil has a light smell to it, close to vanilla with a hint of some floral scent. I really like the fragrance, it's pleasant and not overwhelming. The taste is a bit like buttercream, and no, I didn't especially taste the product but when something is on the lips it will get tasted!
It's a nice little touch considering there's no way to totally prevent lip products from landing on the tongue (and that I've tasted one too many irksome lip flavours).
How does it fare?
It's definitely an oil. I don't think it can be compared to the texture of a lip balm or other lip products. The consistency feels like an opulent mix of water, oil and gel and it applies beautifully to the lips.
It doesn't feel creamy, gooey or even mildly thick for an oil-packed product. It really feels like a treatment and a treat for the lips with the perfect texture! I could get used to spoiling my lips like this:)
I've had dry lips on and off for as long as I can remember and it's always the same cycle. As soon as I don't apply any products, the dryness returns.
The Magic Lip Oil is quick to absorb and gives long-lasting hydration to my lips. I used the product for over a week and I noticed that it softened my lips and greatly reduces the flakiness. I am pleasantly surprised by the outcome. My lips look healthy and full.
As an overnight lip mask, I say it works delightfully well. Waking up to hydrated, perfectly conditioned and chap-free lips is bliss!
I find that wearing this day and night really helps with the overall appearance of my lips. They're no longer as rough as before. They look plump and in good shape, in just a week's worth of use.
The lip oil also leaves a slight gloss on the lips but all that shine is coming from the liquid product itself, not from the same thing that a lip gloss gets its shine. It's not a very shimmery shine, more of a subtle classy shine which honestly, I love!
I also tried it over lipstick, because I noticed in one of the promotional videos that Charlotte Tilbury released, that the lip oil was demonstrated being used on top of lipstick.
The product did not ruin my lipstick, but I don't really see the point of using it on top of lipstick. For that, you can simply use regular lip gloss!
It's really nice on its own and makes a great moisturising base. It also fixes lips pretty well!
Check out: 8 Easy Tips to Prevent & Cure Dry Chapped Lips This Winter
Final Thoughts
Overall, I really enjoyed the Magic Lip Oil, although it doesn't quite live up to the claim that I've had lip fillers as the marketing ad claims, it did provide amazing moisturisation. It's gotten rid of the constant dry layers on my lips and given my lips a healthier texture.
It's given me the effect of a powerful serum, and the nicely comforting texture of an oil. It's priced at £28 for 8ml worth of effective product which I think is good. Slightly pricey like all Charlotte Tilbury products, but definitely worth the try especially if your lips need some intense hydration!
Have you tried the Magic Lip Oil Crystal Elixir? Let me know your thoughts and questions in the comment section below.
Charlotte Tilbury Magic Lip Oil Crystal Elixir can be bought from Sephora / Cult Beauty UK
Hollie xx
---
---
Anastasia Beverly Hills Benefit Cosmetics Bobbi Brown CeraVe Chantecaille Charlotte Tilbury Clarins ColourPop Dermalogica Dior Dyson ELEMIS Elf Cosmetics Estée Lauder Fenty Beauty First Aid Beauty Fresh Hourglass Huda Beauty Jane Iredale L'Oreal lancome La Roche-Posay Laura Mercier LORAC MAC Makeup Revolution Mario Badescu Maybelline Morphe Nars Natasha Denona Neutrogena NYX Origins Peter Thomas Roth Revlon Sigma Beauty Smashbox Stila Tarte Cosmetics The Ordinary Too Faced Urban Decay YSL
---