These times truly call for doing everything yourself. From homeschooling, house management, to self-care. All from head-to-toe. And since scheduling appointments at the salon comes with difficulties, what are we to do with almost 3 months worth of untreated hair? Well, I found myself a neat solution in Briogeo Don't Despair, Repair Strengthening Treatment Hair Oil!
Briogeo Don't Despair, Repair Strengthening Treatment Hair Oil is exactly as it sounds- it's a hair oil that strengthens and repairs dry and damaged hair, and it's clinically proven to work on 88% of hair! Sounds like my kinda product!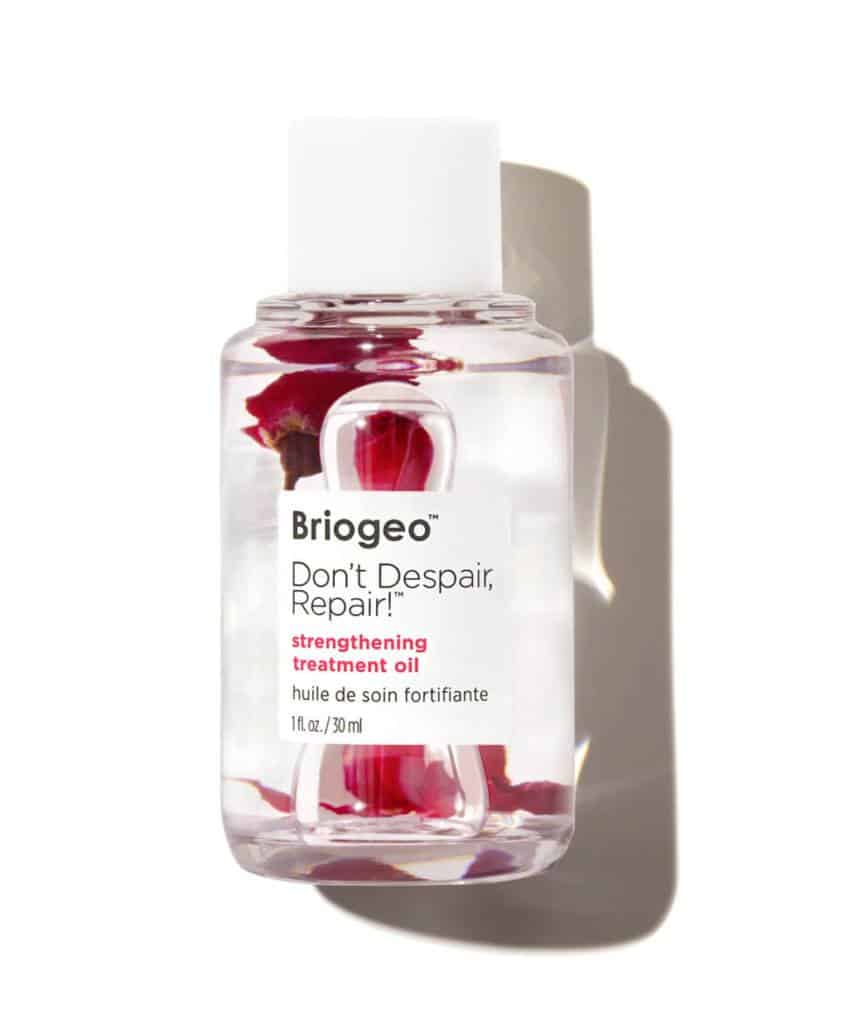 Before we get into the actual product let's just talk a little about the packaging. I mean, talk about unique, have you ever before seen a beauty product with a dried rose stem swimming inside it? I love originality and this hair oil definitely ticks the box there!
Briogeo intentionally put it there (obviously!!), it's a reminder of the products' ingredients. The main ingredients are rose flower oil, rose extract, and Rosa canina fruit oil (a.ka. rose hips). A lot of roses and that is very evident in the scent, which is a little on the strong side.
Key Ingredients:
Rose flower oil
Rose extract
Rosa canina fruit oil (Rose hips) 
Macadamia Nut Derivatives
Ceramides
Sweet Almond oil
Plum Seed oil
Hydrogenated Castor Oil
For $30 in the US, and £28 in the UK, you get 1 fl. oz. or 30 mL of the product. So it is pretty small and I thought it wouldn't even last me a month. But that was not the case…as you will soon see.
It's silicone-free and DEA-free, has no artificial dyes or harsh sulfates, and it is 97% natural! On top of all those excellent features, it is also safe for colour treated, keratin treated, chemically-treated, and relaxed hair.
Formula & Application
Briogeo recommends this hair oil for all hair types with dry and damaged hair. As in ALL. I've seen plenty of people who love it from hair Type 1 to Type4c hair! And it is one of the reasons that had drawn me to the product as well.
Their claimed dramatic results don't lack any momentum too as it promises to fix specifically 88% of hair damage, in just two uses! That is a pretty bold and brave claim to market out to the public. And typically, that only means two things: either they are lying, or it really works that way, right?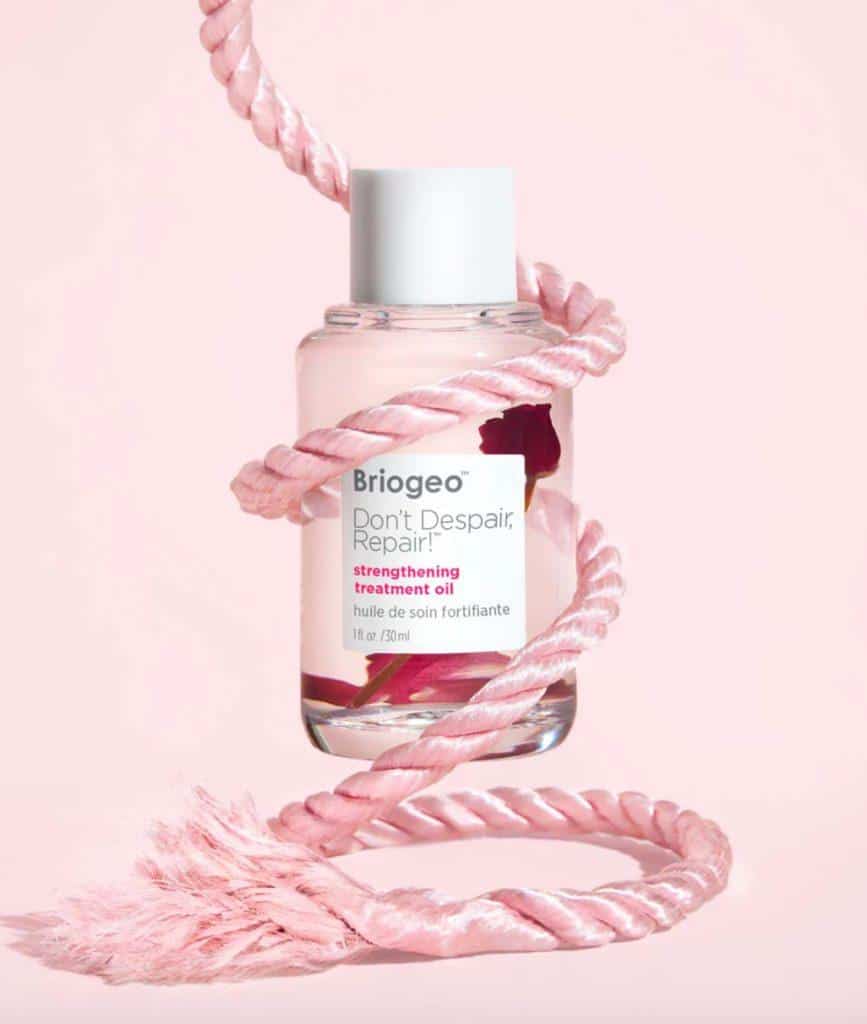 Fortunately, I found out the truth is exactly what they claim it to be. I have medium length hair that is pretty damaged from years of styling. It breaks easily and is really dry and coarse. It's always been coarse, it's simply part of my DNA! Thanks, Mom:)
The hair oil can be used in two ways. You can either leave it for 10 minutes and then rinse it out, you can simply apply the product and leave it in. I've tried both ways to get a full picture of the product.
Applying the oil couldn't be easier, I simply applied it to my hair right after the shower. The strengthening treatment is surprisingly light on my hair and it feels and looks silky smooth after the process of applying it. It doesn't feel thick or sticky, unlike many other hair oils.
To be honest, when it came to leaving the oil in my hair or washing it out, I preferred the latter option. The reason was, that when I kept it in all day, it kinda felt like I had oil in my hair the whole day. Which isn't the nicest feeling, I felt like I was walking around with dirty hair the whole day. Perhaps with frizzier and dryer hair than mine, it would work better.
However, when I tried the oil the other way and left it in for 10 minutes before rinsing it, my hair felt amazing!
The whole overall appearance of my hair dramatically improved and it felt much less coarse. It smells really lovely too and its rose fragrance had lasted a good 4 hours every time before it slowly fades.
Repair Strengthening Treatment Hair Oil really helps with the dryness, and it's also good at taming flyaways at the top of your head. I like that this is a clean product and am obsessed with how it makes my hair feel softer and shinier.
Within just a few uses, my hairs frizz and damage were significantly better and my hair has continued to get better with each use.
It has the right ingredients to help reduce split ends and make the hair stronger. There couldn't be a better time than now to discover a hair oil like this. Although salons are slowly opening up again since lockdown, it somehow feels safer to do hair treatments from the comfort of my home. I figured this would really do the trick to keep my hair in check and believe me, it did!
The only thing negative point I have to comment on is the opening of the bottle. It has a doughnut cap that is similar to some toners and alcohol bottles. The watery liquid comes right out easily on those products, but with a more dense substance like oil, you really need to shake out the product for drops of it to come out.
I find that to be a little wasteful, however, besides that, this hair oil is everything that it should be. It's a dream in a bottle for those with dry and damaged hair like mine!
Final Thoughts
If there's a product out there that'll keep me from asking Mr Google so many hair questions, then it's definitely the Briogeo Don't Despair, Repair Strengthening Treatment Hair Oil. It is undoubtedly on the higher end cost-wise for such a small amount of hair product, but the results from this product justify the splurge. (Even with the awful bottle opening!).
This was such a surprising treat for my hair. Being able to get soft and sleek hair without a trip to the hairdressers is not something I expected I could from my home. At least some good things came from Corona- discovering awesome hair products out there! Briogeo Don't Despair, Repair Strengthening Treatment Hair Oil is worth every penny! Check out some inspiring hairstyles for short and long hair as well as grey!
Briogeo Don't Despair, Repair Strengthening Treatment Hair Oil can be bought from Sephora / Beauty Bay
Hollie xx
---
---
Anastasia Beverly Hills Benefit Cosmetics Bobbi Brown Burts Bees Chantecaille Charlotte Tilbury Clarins ColourPop Dermalogica Dior ELEMIS Elf Cosmetics Estée Lauder Fenty Beauty First Aid Beauty Fresh Hourglass Huda Beauty Jane Iredale Krave Beauty L'Oreal lancome La Roche-Posay Laura Mercier LORAC MAC Makeup Revolution Maybelline Molton Brown Morphe Nars Natasha Denona Neutrogena NYX Origins Peter Thomas Roth Revlon Sigma Beauty Smashbox Stila Tarte Cosmetics The Ordinary Too Faced Urban Decay YSL
---