17 Blue Eyeshadow Looks For Every Occasion And Skill Level
With summer upon us, there's no better time for bright eyes that remind you of the blue sky and beach days! We've put together a whole load of blue eyeshadow looks for every occasion and for every skill level.
You don't need to be a makeup artist to pull off these eyeshadow looks- the idea is to have fun and let your creative juices flow!
1. Turquoise brown eyeshadow
Starting off the blue eyeshadow looks, we've got these beauties! Turquoise and brown used to be the height of fashion back in the day. I have to say, it's passed its sell-by date with clothes, but this eyeshadow look will rock any day!
One thing to watch out for with this look is not to mix the brown and turquoise, if you do, you'll end up with a muddy deeper brown. Instead, use a transition shade in the middle!
---
2. Dramatic blue smoke with a pop of green
Deep and dark, this eyeshadow is truly mesmerising! Of course, it helps to have beautiful blue eyes to match! Add a touch of bright green to the inner corner of the eye for a really popping effect!
Use the ColourPop Matte About Hue Eyeshadow Palette to get this look.
---
3. Impressionism inspired
Love impressionism? Here's your opportunity to incorporate your favourite art into your makeup!
All you need to do is throw on some blue shades and voila! Just bear in mind that to achieve the bold look, you need to use highly pigmented shades, otherwise, they'll all merge together.
---
4. Colbat lashes
Mascara doesn't always need to be brown or black, just look how effective this royal blue mascara is! Add some matching eyeliner to give it an even bolder look.
Use the gaya cosmetics Vegan Mascara in blue to get these lashes.
---
5. Baby blue eyeshadow
Sometimes adding is subtracting! These baby blue eyes are simple, yet elegant. This is one of the easier eyeshadow looks, you don't need to be an expert to get this eyeshadow right.
All you need is a good quality brush, some blue eyeshadow and for extra staying power, an eyeshadow primer!
To get this look we recommend the Elf Cosmetics Cookies 'N' Dreams Eyeshadow Palette.
---
6. Inside-out blue eyeliner
Who said that eyeliner needs to go right above the eye? Well, technically speaking eyeliner means it's lining the eye.
However, we're talking about creatives here and when it comes to creatives, there are no rules! The rules are only there for you to break them!
---
7. Fiery eyes
Something a little different for you is this fabulous fiery blue outline. It's probably not your every day going about your life look, but you've gotta agree it's a work of art!
It should probably go in the Halloween makeup lookbook, but I couldn't resist including it here!
---
8. See the sea eyeshadow look
Do you love the sea but don't get to spend enough time there? Don't fret, simply bring the sea to you! Well, to your eyelids. These stunning eyes relax me just by looking at them!
Easy to recreate, all you need is a deep blue, rich shade and a lighter blue for fading it out at the edges.
Get this look with the YSL Couture Colour Clutch Eyeshadow Palette in Marrakech.
---
9. Electric blue eyeliner
Another more daring look is this dramatic bright blue eyeliner that extends the whole way over the lids. I love geometric lines and that's exactly what this look is! It's all about the sharp edges!
Use the Urban Decay 24/7 Glide-On Waterproof Eyeliner Pencil in blue to get this look.
---
10. Smokey cat-eye
Blue and silver have always been a beautiful colour combination and this look proves that! Dramatic and out there, this look is for anyone who likes to test the boundaries.
It may not be the easiest look to copy, but I can guarantee it has the fun factor!
---
11. Mermaid's eyes
Although these eyes are technically teal, they were too beautiful to pass up. Anyway, teal is in the blue colour family, no?
Keep the eyelids simple with neutral shades and bring the drama to the lower lids with an intense shimmery shade. I think the results speak for themselves!
---
12. Shimmery glitters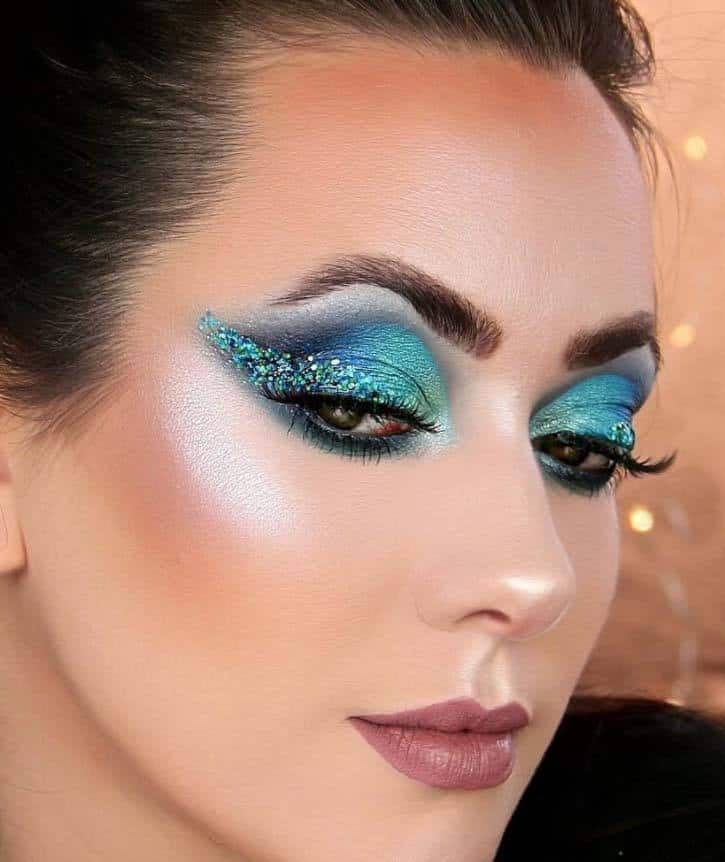 Do you love shimmer, glitter and sparkles? Then you need to try this dazzling eyeshadow look. You can try this with any colour, but how beautiful is it in blue?!
I love how the eyeliner is replaced by the most sparkling blue glitter! It really gives those festive vibes.
---
13. Navy eyeshadow
Deep, dark and mysterious define these eyes. It's a simple yet killer look that will get all heads turning! Simple, because, all you need is one shade and you're good to go! Don't forget to blend out the edges to soften the look.
Use the Nabla Cosmetics Cutie Palette in Midnight to get this look.
---
14. Feeling mystical
Dreaming of some magical mystical makeup? This is the eyeshadow look for you! It doesn't get more magical than this. These eyes are a bit trickier to pull off, but it's always worth a try.
All you need to do is create a blue smokey eye, add some light blue eyeliner lines and the final best part is the chrome flakes. I know it's easier said than done, but I believe anyone can do anything, as long as they try!
Use the Makeup Revolution Shadow Bomb Cream Shimmer Eyeshadow in blue to get the deep blue.
---
15. Ocean aura
Ocean eyes- the most perfect smokey eye ever! I mean, just look at how the eyeshadow flows and blends! Stick on some false lashes and it totally transforms the look. Yep, lashes can have that effect.
Use the Smashbox Always On Cream Eyeshadows for a matte finish.
---
16. Intense smokey look
Another smokey eye for you, but this one has a completely different effect than the previous one.
Instead of using just one shade, this look mixes an aqua shade with blue creating this fabulous eyeshadow. Take it all the way up to your brows for the full effect!
---
17. Periwinkle smokey eye
Is it purple, or is it blue? Yep, this eyeshadow look is one of those in-between shades, I looked it up on my friend Google, and it seems the best description of the lighter shade is periwinkle. I love the name and I love the look!
The colour is beautiful, the shimmer is gorgeous and who doesn't love a smokey eye? This smokey eye look is the perfect finish to this blue eyeshadow lookbook!
---
My Thoughts
I hope these blue eyeshadow looks have inspired you to get out there and test the limit with the looks that you can create! There's something for every skill level, from beginners to makeup artists.
We've included eyeshadow looks for every occasion too, be it for an everyday chilled look or for all-out glamorous party looks!
Hollie xx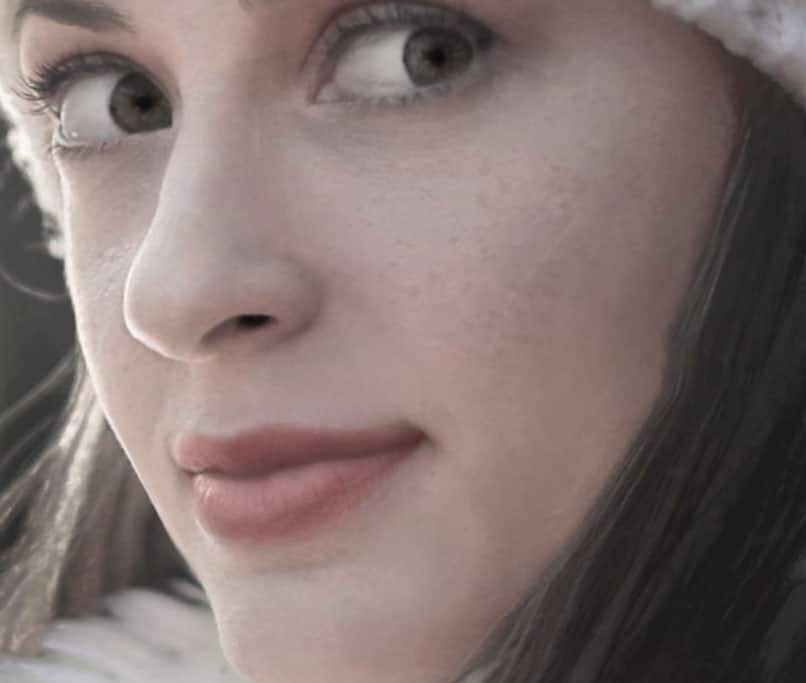 Hi, I'm Hollie, and I own BeautywithHollie.com. I love everything to do with beauty and love sharing my knowledge, advice, and beauty finds! Makeup and beauty are here to enjoy, and Beauty With Hollie is here to take the stress out of it!
---
---
Anastasia Beverly Hills bareMinerals Benefit Cosmetics Bobbi Brown CeraVe Chantecaille Charlotte Tilbury Clarins ColourPop Dermalogica Dior e.l.f. Cosmetics ELEMIS Estée Lauder Fenty Beauty First Aid Beauty Fresh Giorgio Armani Hourglass Jane Iredale L'Oreal Lancome La Roche-Posay Laura Mercier LORAC MAC Makeup Revolution Mario Badescu Maybelline Morphe Nars Natasha Denona Neutrogena NYX Origins Peter Thomas Roth Revlon Sigma Beauty Smashbox Stila Tarte Cosmetics The Ordinary Too Faced Urban Decay YSL
---