Glow Recipe Plum Plump Hyaluronic Serum Review
This new vegan and cruelty hydration powerhouse from Glow Recipe will knock your skin plump! The Glow Recipe Plum Plump Hyaluronic Serum stands by hydration so seriously, it's decided it will become your skin's foundation before your actual foundation.
Repetitive wordplay aside, I'm not kidding when I say you need to see how this tiny cute bottle will quench your skin with a season's worth of water.
The Glow Recipe Plum Plump Hyaluronic Serum freshens up your skin by filling each skin layer with intense, juicy hydration.
Its silky, water-gel texture is infused with juicy plum ingredients and 5 molecular weights of next-gen hyaluronic acid. It fills each of your skin layers with hydration for visibly plumper skin.
Combined with vegan collagen and vegan silk protein, this oil-free serum deeply hydrates dry, dehydrated skin and diminishes the appearance of visible fine lines for healthy, bouncy, youthful skin.
Glow Recipe is known to release cute packaging with contents made from unique ingredients like their Glow Recipe Banana Soufflé Moisture Cream and Glow Recipe Pineapple-C Bright Serum.
This time it's plum! And not just one kind of plum. Glow recipe has concocted this plum-thing with three different kinds of plums that harbour large amounts of antioxidants.
This summer stone fruit is super hydrating and does so by helping to synthesize your skin's natural hyaluronic acid production. So it doesn't just infuse your skin with hydration, it also helps to stimulate your skin to hydrate itself as a lingering effect!
This beastly concoction of antioxidant-rich plums is mainly made up of the Kakadu Plum. This has been a recent trend in skincare; one that supposedly can replace oranges because their vitamin C content is a hundred times more potent than that of oranges and other fruits!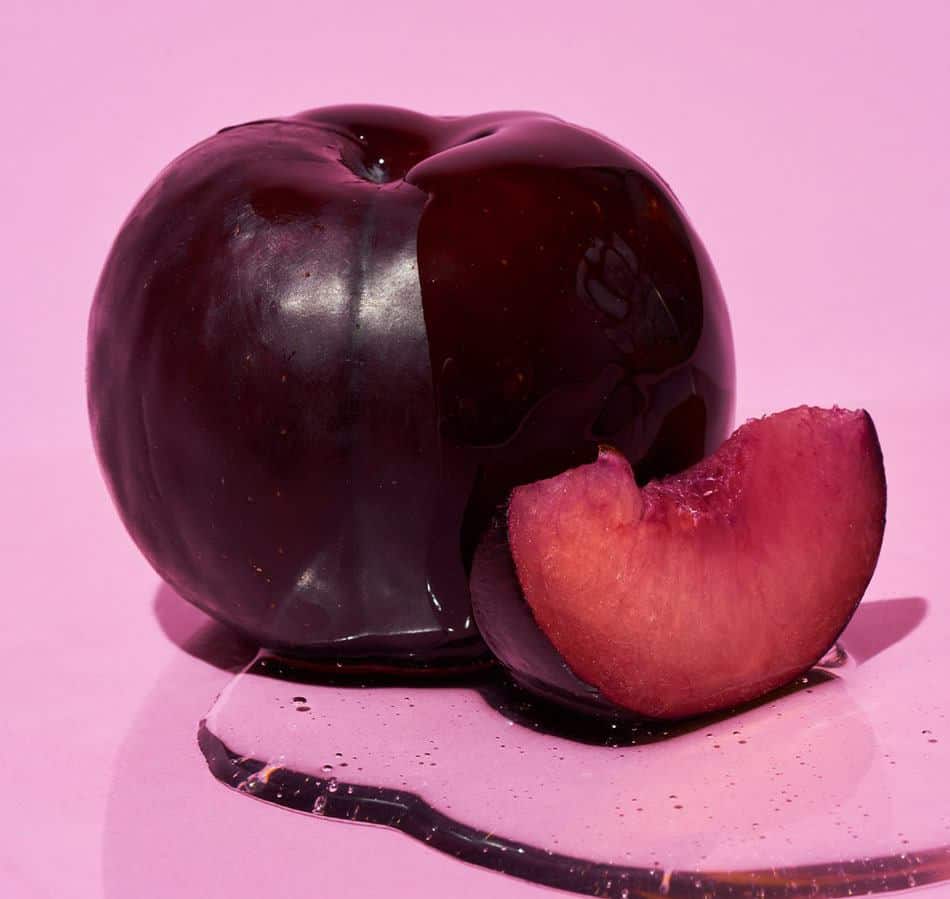 The second plum injected in this serum is the Illawarra Plum. It has tons of anthocyanins, a potent kind of antioxidant. Anthocyanins are what give fruits like blueberries and plum their deep bluish colour.
They're also incredible antioxidants that protect your skin from free radical damage and help in preventing signs of ageing.
The third is Burdekin plum; other than Vitamin C and other antioxidants, this plum is also rich in skin-balancing minerals like magnesium, calcium, zinc and potassium.
As you can see, this serum is filled with antioxidants and ingredients that help soothe your skin to a more youthful look, while fighting the effects of external and internal stressors.
In addition to the ingredients already mentioned, the serum is also infused with five different molecular weights of hyaluronic acid. This means that certain layers of your skin can actually be reached by hyaluronic acid thanks to the variety of the formula.
More layers of your skin will be able to draw and retain moisture and hydration, making the effects last deeper and longer in return.
There's more! In order to lock in all of that hydrating goodness, the serum's formula is packed with vegan collagen and vegan silk protein. They've put in vegan collagen that is made from the acacia plant.
The vegan silk protein they have used is a hydrogel peptide created by a fermentation process. Simply, it comes from plant sugars and is just as effective as the silk you'll find made by little silkworms.
Together, these ingredients help lock in all of the good stuff while protecting your skin from potential irritants. With a formula like this, Glow Recipe is that nagging voice in your head that reminds you to drink water, only it's through skincare!
The Benefits
Plum Plump Hyaluronic Serum is for all skin types. It can be used both morning and night, daily. You can mix this serum with other serums so you'll have fun upgrading your skincare from time to time.
As with most serums, it's best to apply this to damp skin. When the skin is damp, it absorbs the product more effectively.
Plus, when there's moisture already on your skin, the humectants (like hyaluronic acid) can then draw those plump and hydrate your skin to its full potential.
If your skin is more prone to oiliness, use this alone, or follow it up with your usual oil-free skincare products. And if your skin is a little more on the drier side, follow this up with a water-based moisturiser!
You'll enjoy the silky-tinted gel texture gliding over your skin. It has a smooth and soothing experience that satisfies all your senses. In addition, it has a chilling quality to it that instantly calms down your skin.
The serum will give you bouncy skin every morning! It just gives that glowy effect you know is a must-have for any hydrating product. It's a fairly great serum since it doesn't give any immediate negative effects nor does it lack in its hydrating claims.
Is It Any Special?
This is a serum that seriously delivers! You'll wake up with a selfie-ready face thanks to the glow you get from it. It hydrates your skin as you'll notice your face being softer, bouncier, plumper and with a better tone and complexion.
Is it special and is it any worth it, though? That honestly depends on your expectation of 'special' in a skincare product. For $42 or £37 per 30ml of product, I honestly think it's above average!
The reason I say above average and not amazing is that, while the formula is no doubt good, there are other good ones out there too. On top of that, many have twice as many products for the same price!
If we're not looking at the price tag, yes it's worth it. This serum is perfect for those times that you need extra without the extra weight. It's a good product for hot and humid contexts, and the formula, in general, is also a much better choice of hydration than oil-based ones.
My Thoughts
Glow Recipe Plum Plump Hyaluronic Serum is a good reliable hydrating serum that will give back to your skin the moisture that it needs!
The packaging is the cute packaging that we have all come to love from Glow Recipe. It's worth it for your Instagram alone:) It's a product that's hard not to like!
Have you tried the serum? Let me know your thoughts and comments below!
Glow Recipe Plum Plump Hyaluronic Serum can be bought from Sephora
Hollie xx
---
---
Anastasia Beverly Hills Benefit Cosmetics Bobbi Brown CeraVe Chantecaille Charlotte Tilbury Clarins ColourPop Dermalogica Dior Dyson ELEMIS Elf Cosmetics Estée Lauder Fenty Beauty First Aid Beauty Fresh Hourglass Huda Beauty Jane Iredale L'Oreal lancome La Roche-Posay Laura Mercier LORAC MAC Makeup Revolution Mario Badescu Maybelline Morphe Nars Natasha Denona Neutrogena NYX Origins Peter Thomas Roth Revlon Sigma Beauty Smashbox Stila Tarte Cosmetics The Ordinary Too Faced Urban Decay YSL
---