Is the Charlotte Tilbury Filmstar Bronze & Glow Worth It?
Before you splurge on expensive, luxury makeup like Charlotte Tilbury, it is only natural to want to know if it's worth it.
As a big sceptic of practically everything, I get it and that's why this review is a must-read if you're not sure whether the Filmstar Bronze & Glow is for you!
A couple of years ago, I got my makeup done by Charlotte Tilbury and the makeup artist used the Filmstar Bronze & Glow on my face. Well, the rest is history.
I fell in love with the palette and bought it on the spot, which was quite drastic for me! However, I have rebought it multiple times since!
The Charlotte Tilbury Filmstar Bronze & Glow is a contour palette that consists of a contour and a highlighter. It comes in 2 colours, light to medium and medium to dark. I got the light to medium, obviously!
The contour helps to sculpt and shape your face in the most subtle, natural-looking way possible. The highlight adds shimmer to the areas you want to accentuate.
The palette is beautiful, inside and out and is in classical Charlotte Tilbury style.
The palette comes in a brown/maroon coloured box and the palette is in its trademark gold art deco style. Totally glamorous and I love it:) But I'm not fooled by pretty packaging alone. Read on to see if the Bronze & Glow is for you!
Another really useful feature is that it has a nice-sized mirror too. This is especially useful if you're out and about and you want to top up your makeup. I like a brand that thinks of everything!
The palette is small enough for you to take with you when you're out and about and with the mirror, it ticks all the boxes for practicality.
Using The Palette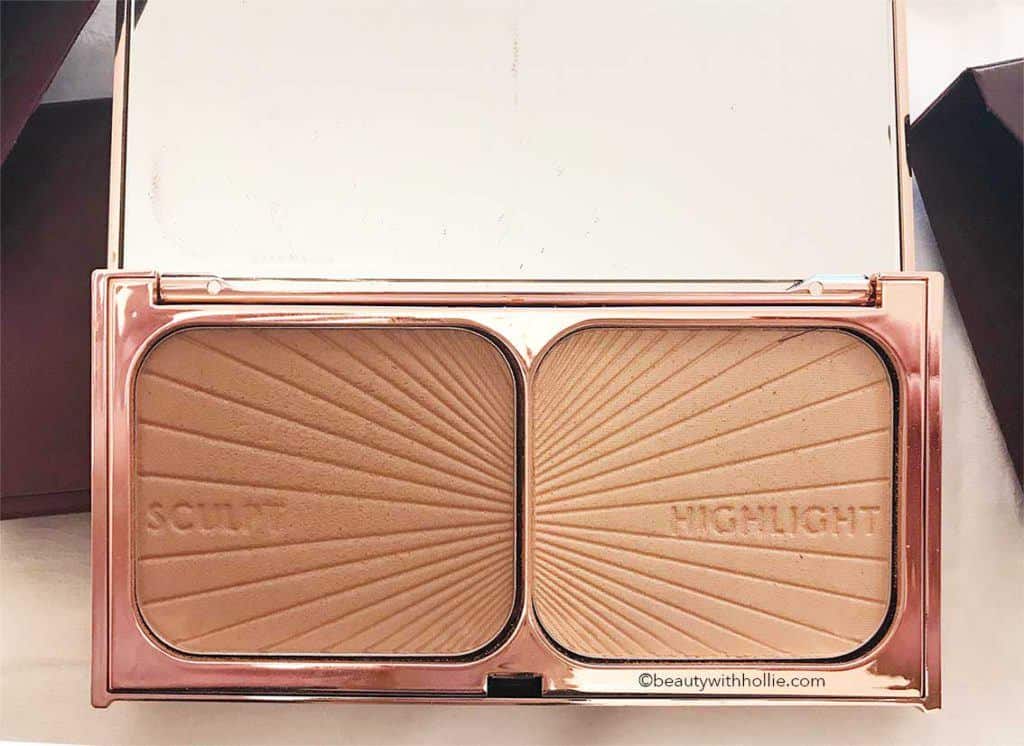 My favourite aspect about the palette is that the contour colour is so subtle and natural-looking. I read from a few people that they found the contour too orangey.
I have always hated contours that make me look orangey and since I am very pale, most contours do in fact make me look orange.
However, this is not the case with the Filmstar Bronze & Glow.
It does not make me look orange at all. It actually has the perfect colour balance. It's not orange or red, yet it still adds great definition.
I find that if you have pale skin this contour is much easier to use than other contours. The colour is so subtle and natural-looking.
If you want a stronger, bolder contour then you merely add layers, it is very buildable and blends beautifully with even coverage, there's no patchiness. And that's even after wearing it for a good 12 hours.
The Pros and The Cons
There are pros and cons to everything in life, including the Filmstar Bronze & Glow. I'll start with the cons to get them out of the way.
The obvious one is that the palette is very expensive for only the two shades in the palette. But these are Charlotte Tilbury prices.
You get quality but it comes with a price. And of course, you are also paying for the name. Charlotte Tilbury is designer makeup, and you're essentially paying for that.
Another issue I have with the palette is that I use more of the contour shade than the highlight one, and in fact, most people tend to. It's a shame they don't sell the shades separately or as refills.
A cleverer option is also to have the contour take up three-quarters of the palette and the highlight takes up a quarter.
I know it's not as aesthetically pleasing but it would be more cost-effective for most people. Not that Charlotte Tilbury cares about that:)
Another minor thing I noticed with the palette love is that the contour is slightly shimmery. This is a personal preference but I always prefer my contour to be matte, you see I'm more the matte kinda girl.
However, I still use the Filmstar Bronze & Glow every day because I think the advantages far outweigh the disadvantages! As you will see for yourself!
There are many pros to the palette. I love love love the packaging. It's glam and lux all the way.
The contour and highlight are both really nice, generous sizes. The palette lasts a long time, I've been using it more or less every day for about 3 years and I'm only on my third one.
It's so easy to use, applying the contour is a breeze and practically fool-proof.
With the Filmstar Bronze & Glow, I can assure you that you won't walk around looking like a clown. Even if you over-apply it, you'll never look orange. It really has the perfect color balance.
The highlight is a pretty shimmery highlighter, although, it's definitely on the darker side. Being so pale, I prefer a slightly lighter highlighter; however, it's still a gorgeous shade.
Is This Charlotte Tilbury Palette worth it?
It's a fabulous palette that sculpts the face really well. It gives you the defined features and high cheekbones that you want, without it looking like you've caked yourself in makeup.
The Filmstar Bronze and Glow palette is also perfect for beginners because it's practically foolproof. Like seriously, you will not be able to mess up your makeup with it!
It's really easy to use and it's hard not to love it! So yes, it's worth every pricey penny:)
However, it is pricey and there are loads of cheaper contour products that work for pale skin. Check them out here.
Charlotte Tilbury Filmstar Bronze & Glow can be bought from Sephora / Cult Beauty
Hollie xx
---
---
Anastasia Beverly Hills Benefit Cosmetics Bobbi Brown CeraVe Chantecaille Charlotte Tilbury Clarins ColourPop Dermalogica Dior Dyson ELEMIS Elf Cosmetics Estée Lauder Fenty Beauty First Aid Beauty Fresh Hourglass Huda Beauty Jane Iredale L'Oreal lancome La Roche-Posay Laura Mercier LORAC MAC Makeup Revolution Mario Badescu Maybelline Morphe Nars Natasha Denona Neutrogena NYX Origins Peter Thomas Roth Revlon Sigma Beauty Smashbox Stila Tarte Cosmetics The Ordinary Too Faced Urban Decay YSL
---