I have always loved products by Pixi. They seem to know exactly what a woman's skin needs and get it spot on every time. So when Pixi collab with the amazing skincare guru Caroline Hirons you know you have to get your hands on it! I'm sharing with you this Caroline Hirons Double Cleanse review because I think its a great cleanser. Any product of Pixi and Caroline Hirons is bound to be good:)
Double Cleanse
The Double Cleanse comes in a glass 2 in 1 jar. One side is a cleansing oil and the other side is a cleansing cream. The packaging is really pretty and the jar feels like its high quality and expensive. Inside, the two cleansers are side by side which is easy to use. The oil cleanser is to remove makeup and sun cream from your skin and the cream cleanser is supposed to actually cleanse your skin.
Cleansing Oil
My first reaction to seeing the cleansing oil was that it must be really hard to apply since it looks a lot like wax. However, I was in for a surprise:) It was very soft, and once applied to your face it turns into an oil like substance. Then massage it in and then you can wash it off either with water or a damp cloth. Once water touches the oil it turns into a creamy consistency and it feels simply amazing! It will leave your skin feeling clean in a natural way. If you're looking for a cleanser that removes ALL your makeup then this is the one:) The makeup literally falls off and it's SO gentle on the skin. I've never used a cleanser that removes makeup that quickly without irritating your skin. Seriously, I'm impressed!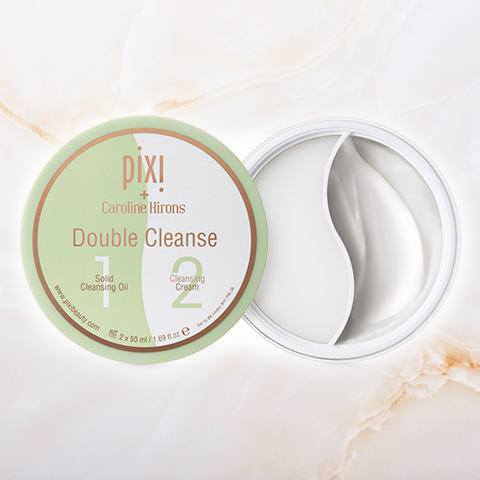 Cleansing Cream
Once you're done with the cleansing oil you apply some cleansing cream. Take a small amount (the size of a 5p coin is plenty) and massage it into your skin. Rinse off with water or a damp cloth. I found that the cleansing oil removed most of my makeup so there was nothing left for the cleansing cream to remove;) However, the cleansing cream left my skin feeling really soft and well nourished. Its a very gentle cream and leaves the skin glowing. What I really love about this cleanser is that both the cream and the oil don't leave my skin feeling oily. If there's one thing I hate in a cleanser it's when my face feel oily after I clean it. I seriously can't stand it! The double cleanser honestly made my skin feel amazing and healthy:)
The cleansing cream is also fragrance free. It has ingredients that help protect the skin, reduce lines and improve cell renewal and overall health.
Negative Points
So whilst I do love this Caroline Hirons Double Cleanse I do find one or two things slightly annoying. Firstly, I'm not crazy about having 2 steps in my cleansing process. As a busy Mom I often don't have much time to myself so I think a one-step cleanser would be more time efficient for me. However, if you have the time then this shouldn't be an issue for you.
Another thing I'm not loving about this cleanser is that it comes in a tub which you have to dip your fingers into. Before you think I'm some crazy hygiene freak, I'm really not! Firstly, a tub as oppose to a pump is exposed to air. Once the cleanser is exposed to air, the ingredients start to break down, making all those good ingredients become much less effective over time. Secondly, I don't love it that I have to dip my fingers in. Usually, my hands are wet which means the tub is also getting wet and also it tends to get a bit messy. And of course it isn't the most hygienic;)
However, like I said these are only minor issues and overall it is a great cleanser which thoroughly cleans your skin.
In Conclusion
To conclude this Caroline Hirons double cleanse review I would say that yes it's definitely a great product, when you use it you can feel it's really good for your skin.
What I love is that the makeup comes off really quickly, which is really useful when in a rush (which I usually am in!). Also the product will last for a really long time since you only have to use a very small amount for each use. I also love that both cleansers are fragrance free.
Overall I think there are more pros than cons and I think that its is an amazing product:) Have you used the Double Cleanse? How was your experience? How did your skin feel after using it? Would love to hear from you in the comments below:)
The Double Cleanse can be bought here for £24 or $30.50.
Hollie xx
Related Posts
Clarins Skin Care Reviews
Follow me on: Instagram, Facebook, Google+, Pinterest