Best Christmas Makeup Gifts Under $20
It may be the most wonderful time of the year, but it's also the most expensive! When it comes to managing finances, everyone acts differently.
There are those who start saving for the next Christmas on the 26th of December, and then there are those like me who instead of saving, start bargain hunting with only a few weeks to spare.
It's not that I don't plan on being organised, every year I plan to start a couple of months in advance (not 12!), but somehow it never happens!
A common misconception is that for a gift to be 'good', it needs to be expensive. Nope! You can get good gifts for cheaper and these makeup products prove that!
I have put together the best makeup Christmas Gifts for under £20. Get ready to save and at the same time, impress others with your gifts!
Disclaimer: As an Amazon Associate I earn from qualifying purchases on Amazon and other affiliate programs. This means on some purchases, I make a commission. It doesn't mean you spend more, it simply allows me to keep this blog going!
Best Makeup Christmas Gifts Under $20
Get into the Christmas feel with this set of 3 lip glosses that smell and taste like Christmas and will also give you beautiful, plump-looking lips!
This gift set comes in a set of 3 mini lip glosses that will give your lips the look of lip injections without the needles and pain involved! I've got a full review of the Original Lip Injection here.
What I love about these Too Faced lip glosses is that they are true to their word. They claim to give you the appearance of fuller lips and they do.
One thing you need to keep in mind though is that after one use, you may not have the desired effect. Use it a couple of times and you will notice a difference.
Another thing I love about these lip glosses is how hydrating they are on the lips. All too often, lip glosses dry up the lips causing them to crack- not a pretty look so it's exciting to come across lip glosses that do the opposite- help your lips stay softer!
The set comes with the original which doesn't have a flavour, the other 2 lip glosses are Sugar Cookie and Pumpkin Pie. I think their flavours are pretty self-explanatory!
Too Faced Lip Injection Extreme Plump & Tasty Trio can be bought from Too Faced
---
2. Urban Decay All Nighter Setting Spray and Urban Decay Eyeshadow Primer Potion
Ok, so I kinda cheated here. When it comes to Urban Decay, I have 2 favourites and I simply can't choose which one I prefer. Mainly because they do very different tasks.
Either way, both the setting spray and the eyeshadow primer are staples in my makeup drawer! I simply can't manage without them and they would both make great gifts for any makeup lover!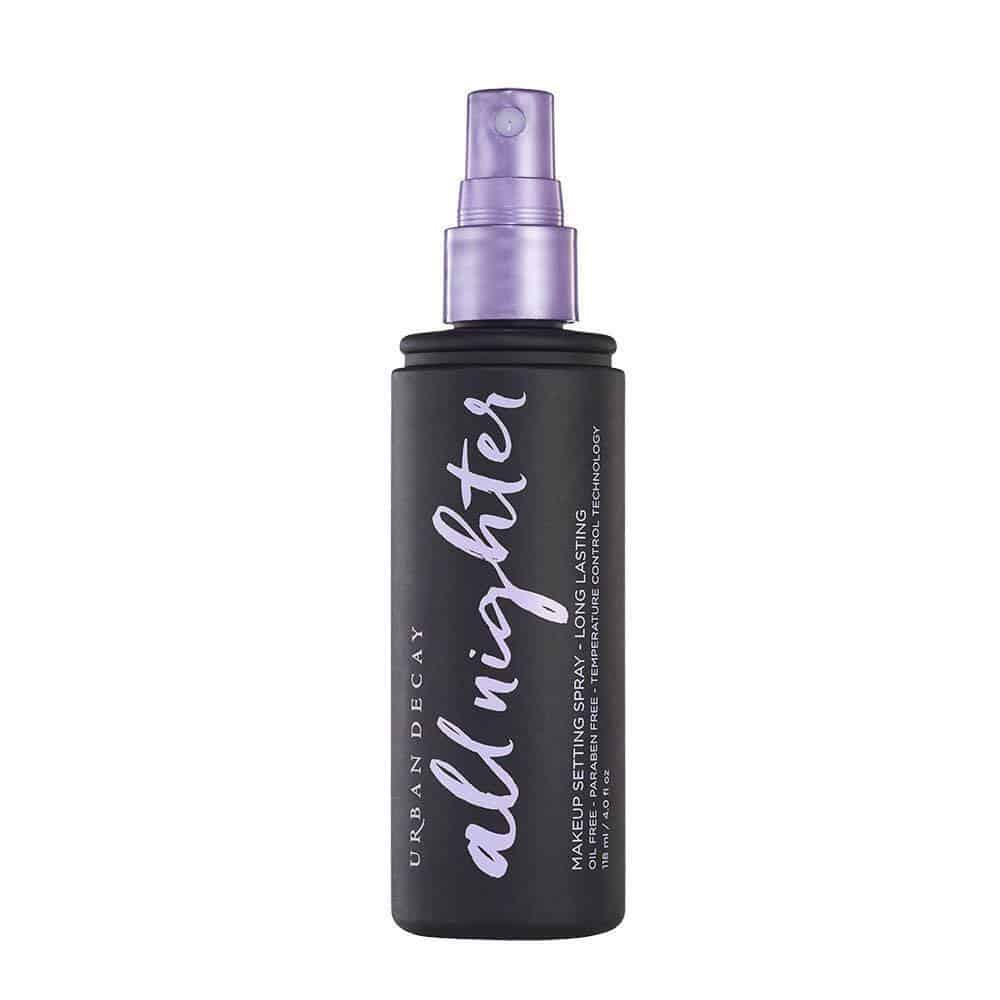 I am probably beginning to sound a bit repetitive because this setting spray has been featured in quite a few reviews of mine, like here…and here!
If you are bored with it, I apologise! Simply scroll past this review- I promise there are other products mentioned in this post too!
The reason this setting spray is a frequent visitor to my blog is that it is seriously good! I love how lightweight it is to apply, at first you feel it because it's wet, but after a couple of seconds it dries and you won't feel the spray at all.
All it does is keep the makeup on better and longer without any of the negative side effects like stickiness and heaviness. It dries a lovely matte without any shine.
It lasts for up to 16 hours and (sadly!), I can vouch for that. Yes, I wore my makeup for 16 hours to see if it really lasts that long and…it does!
I took the test a little further and applied my makeup in the evening and slept with it on to see how it would wear overnight. I know wearing makeup overnight is a no-no, but for the sake of testing, we gotta do what we gotta do! And there were no surprises, the setting spray lasted the night!
My next favourite Urban Decay product is their Eyeshadow Primer Potion. It's not the strongest eyeshadow glue on the market, but for everyday use when I don't actually want the strongest glue, it is the best!
The original one is good for those who aren't looking for extra pigmentation from their primer. It dries clear and matte. But they're all just as fab, all of them have the same formula and they do wonders for those with oily eyelids.
I have some of the oiliest eyelids around and this primer has saved me many a time. It stops my eyeshadow and eyeliner from transferring to my eyelid, saving me the appearance of a black eye and lots of embarrassment! It's a really good primer and it doesn't irritate sensitive eyes.
Urban Decay All Nighter Setting Spray and Urban Decay Eyeshadow Primer Potion in travel size can be bought from Urban Decay
---
3. NYX Professional Makeup Diamonds and Ice Please Gift Set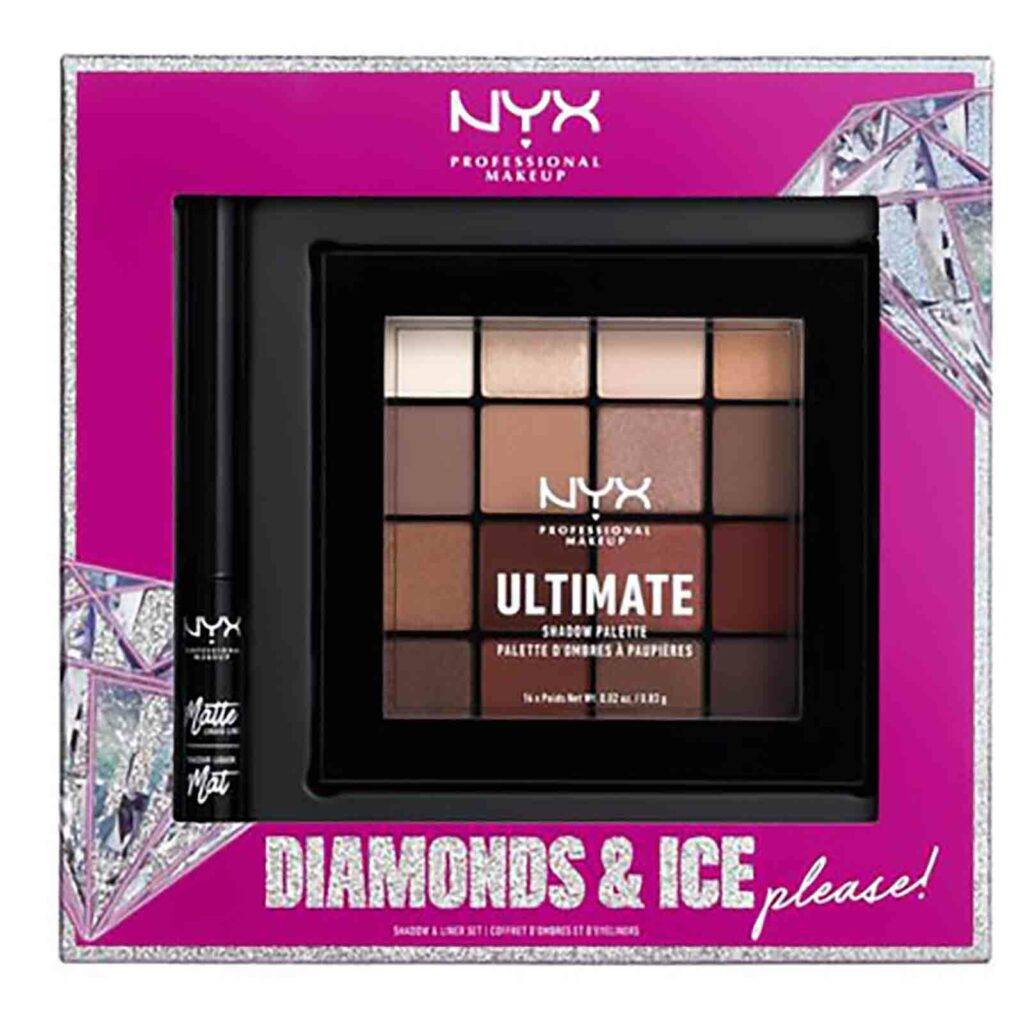 NYX is known for their affordable, yet reliable makeup but when it becomes even more affordable, you know you've struck a deal! The NYX Professional Makeup Diamonds and Ice Please Gift Set is worth £30 but is being sold for £20. It comes with a full-sized neutral eyeshadow palette that every nude lover will love and a matte liquid liner.
It's not a new palette but it's a good one! It comes with 12 warm neutral shades in a range of finishes including metallic, shimmer and satin. The colours and tones are very fitting for the holiday season, they feel festive, yet cosy!
The eyeliner comes in an intense black with a super-fine tip so that even those who are most prone to smudging can have an easier time! It's water-resistant and really easy to use- you don't need to be a professional!
NYX Professional Makeup Diamonds and Ice Please Gift Set is currently sold out
---
I love Makeup Revolution products, they are highly affordable and the quality is equally as impressive. Because of that, you'll find they feature quite a bit on my blog.
The Revolution Pro New Neutral Eyeshadow Palette is one of their most beautiful palettes. It features 18 shades ranging from purples and pinks to reds and browns. It's a very versatile palette, it has mattes, shimmers and reflective pearls making it a palette you can use for any occasion.
The palette strongly reminds me of the new Huda Beauty Naughty Nude Eyeshadow Palette.
The colours are strikingly similar with the main difference being the colour of the packaging. Could it be Huda was inspired by Makeup Revolution? Who knows! Either way, this is a great eyeshadow palette dupe!
Revolution Pro New Neutral Eyeshadow Palette can be bought from Revolution Beauty
---
I didn't really want to include travel-sized products in this review because usually, they're pretty small. However, the Benefit Cosmetics Dandelion Twinkle Powder Highlighter is different.
I received it as a gift a while ago and I honestly love it. The travel size is bigger than some of my other highlighters that aren't travel-size, and I think it's a very generous amount for a highlighter.
I love the packaging and I love how it comes with a really cute and useful brush. The brush is the perfect shape to apply highlighter with and it's pretty good quality too.
The highlighter is nude pink in colour and has the most beautiful shimmer to it. It's a subtle colour that's effective and one that would suit most skin tones.
Even though the highlighter is their 'mini' size, I think it's a good size that's not so mini! It would make the perfect gift for friends or family. You simply can't go wrong with it!
Benefit Cosmetics Dandelion Twinkle Powder Highlighter Travel Size Mini can be bought from Benefit Cosmetics
---
Honest Beauty is one of those beauty brands that you can trust that they're being honest with you! Pun intended!
They are all about transparency in makeup and using ingredients that are good for you and good for the environment! Something that a lot of brands are slowly coming around to.
For those with sensitive skin, their products are ideal. They choose their ingredients with care, keeping in mind those with sensitive skin.
The great thing about this is that more and more people are becoming aware of what we put on our faces, and even those without sensitive skin are opting for products that are 'healthy'.
More and more people are turning to brands like Honest Beauty. Even better, their makeup is good! They have beautiful products!
Honest Beauty Crème Cheek Blush comes in 4 shades. Plum Berry is a deep plum colour, Peony Pink is a pretty neutral pink, Coral Peach is a bright coral shade and Rose Pink is a muted pink shade.
They have a lightweight formula and they are easy to apply and blend out. The blushes have a beautiful dewy finish. I would say these are for normal to dry skin types- I generally think oiler skin should stay away from cream products.
Honest Beauty Crème Cheek Blush is made without all the bad stuff and is cruelty-free, dermatologist tested & hypoallergenic.
Honest Beauty Crème Cheek Blush can be bought from Amazon
---
When it comes to mascara L'Oréal leads the way with many of their mascara being bestsellers. They really nailed them, with the L'Oreal Paris Makeup Voluminous Original Volume Building Mascara being one of their best yet!
L'Oréal Paris Makeup Voluminous Original Volume Building Mascara comes in 11 variations. That's an awful lot for one mascara to come in, but you know what? That's what makes it all the more popular! It tailors to everyone's specific needs and preferences!
The mascara comes in 3 waterproof blacks- black, black-brown and carbon black. The other shades are all washable with 3 blacks; black, black-brown and carbon black as well as a few more original colours; blue, burgundy, green and violet.
It's not only the shade range that's remarkable- the volume and thickness are equally as impressive. The mascara plumps up the lashes to 5x their thickness without causing clumping. They glide on smoothly and easily and they are suitable for those with sensitive skin!
L'Oreal Paris Makeup Voluminous Original Volume Building Mascara can be bought from Amazon
My Thoughts
These are just a few of the fabulous Christmas makeup gifts that you can buy for under £20. A lot of makeup is pricey, but there are plenty of affordable options too. Sometimes all it takes is looking past the designer brand name to see the true worth of a product.
These makeup products may not have the designer factor but they are just as good! Go and get your friends and family makeup that is useful and that won't break the bank this Christmas! Trust me, they'll love you all the same:)
Hollie xx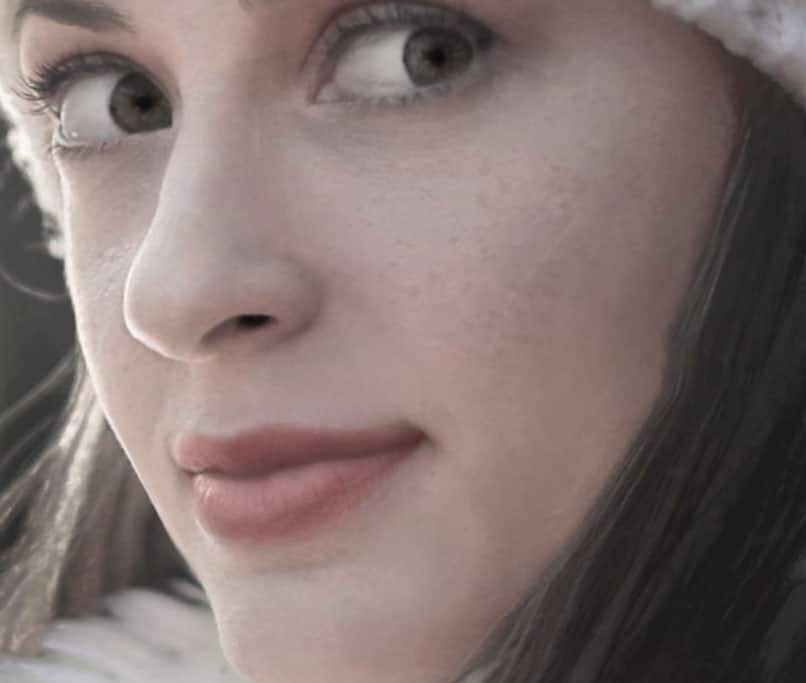 Hi, I'm Hollie, and I own BeautywithHollie.com. I love everything to do with beauty and love sharing my knowledge, advice, and beauty finds! Makeup and beauty are here to enjoy, and Beauty With Hollie is here to take the stress out of it!
---
---
Anastasia Beverly Hills bareMinerals Benefit Cosmetics Bobbi Brown CeraVe Chantecaille Charlotte Tilbury Clarins ColourPop Dermalogica Dior Dyson e.l.f. Cosmetics ELEMIS Estée Lauder Fenty Beauty First Aid Beauty Fresh Giorgio Armani Hourglass Jane Iredale L'Oreal Lancome La Roche-Posay Laura Mercier LORAC MAC Makeup Revolution Maybelline Morphe Nars Natasha Denona Neutrogena NYX Origins Peter Thomas Roth Revlon Sigma Beauty Smashbox Stila Tarte Cosmetics The Ordinary Too Faced Urban Decay YSL
---