Best Hair Masks for Damaged Hair in 2023
Damaging your hair is easier than you think. All you need to do is use a styling product every so often and your hair will have some damage to it. Another common cause of damaged hair is dying the hair which dries it out, thereby causing breakages easier.
Hair is sensitive, and heating and colouring products force your hair to do what it's not naturally designed to do. But, don't get me wrong, I'm not saying you should ditch your styling products. Looking and feeling good is far too important!
However, what you should do is help and protect your hair at the same time. One of the best ways to do so is to use a hair mask regularly.
This topic is a personal one for me because my hair in its natural state is coarse, frizzy and thick. On top of that, I have been styling my hair since I was about 10. Do the maths! It equals very damaged hair.
What makes it even worse is that for years I didn't use any products except shampoo and conditioner. Now I know better and I use hair masks, they really help to strengthen and protect the hair. Here I have put together the best hair masks for damaged hair that have really helped my hair and I hope will help yours too!
The rundown on hair masks
Before we get into the best hair masks for damaged hair, some of you may be wondering what exactly a hair mask is and what it does.
Hair masks are similar to hair conditioners. They nourish and hydrate the hair, just in a much more intense way called deep conditioning. Hair masks are designed to stay in your hair for at least 3-5 minutes. This is so that your hair can absorb all of the ingredients.
If you have dry or damaged hair then you can leave your hair mask on for longer, I recommend about 20 minutes. And no, you don't need to wait in the shower! What I often do is rinse the mask out over the sink. For optimal results when using the hair mask, cover your hair with a shower cap. It helps the product sink into your hair better.
For really dry hair you can leave the mask on overnight. However, this is only for you if you have tried the mask for less time without seeing results. You can actually harm your hair if you leave it on for too long and your hair doesn't need it. If your hair is getting too much moisture, your hair will weaken and this can also cause breakages.
Using a hair mask is really simple. It's the same as using your conditioner, only with a longer waiting time. After you have rinsed out your shampoo, simply apply your hair mask, wait a few minutes and then rinse it off. Don't skip the waiting time or you won't get the full benefits of the mask.
The last tip that you need to know about hair masks, is careful not to overuse them. Use up to twice a week for best results!
Disclaimer: As an Amazon Associate I earn from qualifying purchases on Amazon and other affiliate programs. This means on some purchases, I make a commission. It doesn't mean you spend more, it simply allows me to keep this blog going!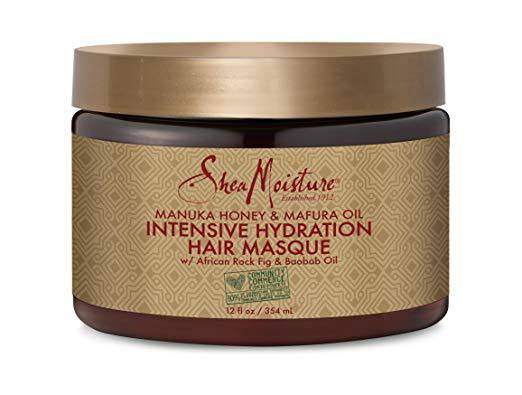 Often known as the holy grail of hair masks, the SheaMoisture Manuka Honey & Mafura Oil Intensive Hydration Masque can tackle even the dryest, most damaged hair.
With its thick and honey consistency, it replaces tired and worn-out hair with buttery soft and fantastic hair.
The hair mask is packed with good-for-you ingredients. To name a few, it is made with honey, shea butter, Baobab Oils and Mafura which are blended together with antioxidant-rich African Rock Fig.
All these fabulous ingredients help to lock the moisture into your hair and tame and soften even the frizziest, driest and most damaged hairs. Basically, all you could possibly want from a hair mask.
From fine thin hair to African-American hair, this hair mask is a must-have. It will transform your hair into soft, bouncing curls. It also does wonders to hair that's damaged from styling and colouring products.
All I can say is, prepared to be amazed when using this hair mask. If you don't see results straight away, check you are using it correctly and give it another shot. It will be worth it!
Pros
Silicone-free
Smells amazing
Very affordable
Tames the frizziest and dryest hair
Cons
Some complaints of stickiness when using the mask
---
The Royal Formula Argan Oil Hair Mask has a lifetime guarantee. That means if at any point when you are using it you aren't happy with the results, then you get your money back.
That tells me one thing. This product must work and you're gonna love it.
The hair mask is made from 100% organic oils which is another reason to love it. It's free of all harmful chemicals and ingredients. It's paraben-free, sulphate-free, sodium-free and cruelty-free.
I particularly like this hair mask because it can be used on kids. Unfortunately, my 4-year-old daughter has been blessed with my fabulous hair. Using this hair mask on her has been a game-changer.
Her hair has improved drastically. From limp lifeless hair, she now has a bounce to her hair. It looks are feels healthier and perhaps it's just my hunch but I think her hair has been growing quickly too.
The Royal Formula Argan Oil Hair Mask works for all types of hair including greasy-prone hair. Providing you wash the mask out properly after use, your hair will not feel oily.
This hair mask is worth every penny, and remember if you're unhappy with it all you have to do is return it and you get all your money back.
Pros
Lifetime guarantee
Silicone-free
Paraben and sulphate-free
Cruelty-free
Made from 100% organic oils
Suitable for all hair types
---
OGX products are some of my favourite hair products at the moment. Their motto is 'OGX is what hair wants'.
Bringing out the best in your hair is their claim. They help your hair live the fullest that it can, no matter the type of hair that you have.
One of my favourite features about their hair products is how heavenly they smell. I know a good smell isn't enough to keep hair healthy, but OGX has you covered.
It's packed with ingredients that will do all the hard work. From argan oil of morocco to silky proteins, they will work hard to repair and strengthen any dry or damaged hair.
The hair mask has a lovely consistency, not too thick and not too thin, making it very easy to apply to your hair.
If you hate products that make your hair look greasy, you don't need to worry, this mask will not make your look hair greasy. It simply adds shine, and volume and gives damaged hair its life back!
Pros
Smells heavenly
It has the perfect consistency
Helps fix dry and brittle hair
Affordable
---
If you want soft and silky hair then you need to check out this Hydrating Argan Oil Hair Mask by Arvazallia. Not only is it highly effective, but it is also highly affordable. This is one of the best hair masks for dry and damaged hair on the market.
The hair mask will revive, restore, repair and strengthen damaged hair. That's not to say it will fix split ends, because only a haircut can actually get rid of split ends.
However, if you use the hair mask regularly, it will protect your hair from future breakages.
People call it the miracle hair mask for obvious reasons. From dry and damaged hair to fine and thin hair, it works on everyone. Some hair masks will make your hair oilier at the roots, this one does the exact opposite.
If your hair prior to using the hair mask is oily then be prepared to be surprised. The hair mask helps to control oil and will help to reduce it.
This hair mask proves the point that expensive is not always better, the Hydrating Argan Oil Hair Mask is far superior to many expensive hair masks.
Pros
Softens and fixes hair
Good value for money
Gives hair a beautiful shine
Cons
Not cruelty-free
The smell is ok but could be better
---
My first reaction to this hair mask was that more people need to know about it. A product this good needs more noise.
With everyone being more aware of health, it is not a surprise that more and more people are looking for products that are made with 'healthier' ingredients. This includes staying away from nasty chemicals and the like.
Amplixin is one of those brands that does exactly that. Their products are made without any harmful chemicals, and they are made in the USA. Amplixin prides itself on using a unique blend of ingredients that together nurture your hair from the inside to out.
I like the idea that, instead of treating the problem, they tackle the root of the problem, pun intended! Generally speaking, having healthy roots means that your hair is healthier.
The hair mask has a refreshing earthy smell to it. It is extremely easy to use and has a lovely texture.
It really is the real deal! It gives another lease of life to dry and damaged hair. After using it you can expect to see a new bounce and sparkle to your hair. The hair mask will also strengthen your hair. I can't recommend it enough!
The only negative the Amplixin Hydrating Hair Mask has is that it is a little on the pricier side.
However, don't get put off by the price, in my opinion, it's worth every penny. And besides, since this hair mask works to fix the actual problem, you won't have to use a hair mask forever. Your hair will graduate;)
Pros
Cruelty-free
Sulphate and paraben-free
Works for all hair types
Fixes the problem from the inside out
---
Moroccanoil makes a hair mask specifically for damaged hair called Restorative Hair Mask. Even though the Intense Hydrating Mask isn't targeted especially for damaged hair, I've found it does the trick better than their Restorative Hair Mask.
The Intense Hydrating Mask is designed to improve texture and manageability as well as hydrate dry hair. One of the main ingredients in the hair mask is argan oil, which is a common ingredient in hair masks because of its abundant benefits. Argan oil is rich in antioxidants, nutrients and all good things.
It is the perfect ingredient to restore elasticity and softness to dry and damaged hair. Another plus is that it absorbs very quickly making it a fast-acting ingredient to solve your hair problems.
The mask has a pretty thick texture so a little goes a long way. It's a little on the pricier side for a hair mask, yet, you're not going to need to replace it too often.
Many people have said that after colouring their hair for years, this was the only product that brought their hair back to life. It softens, restores and repairs any dry and damaged hair.
The hair mask is for all hair types and indeed, it works on all. However, I recommend that if you have fine, limp hair then be very stingy with the amount you use at a time. You don't want to overwhelm your hair. It is ideal for thick, coarse hair.
Pros
Sulphate-free
Smells wonderful
Suitable for all hair types
---
TruePure is another brand that doesn't get enough attention! Their products are all-natural and their mission is an honest one. Their brand was created to help people solve their hair problems in the most natural way possible.
They believe that nature is best and I'm not one to argue with that. Their products are made for everyone, men and women alike and for all types of hair.
TruePure Natural Hair Mask is made in the US, is sulphate and paraben-free, fragrance-free and made with only non-GMO ingredients.
One thing you can be sure of when using this hair mask is that you will only be putting good stuff on your hair. The mask has a lovely subtle fresh sort of scent which makes it really pleasant to use. It also has a good consistency, not too thin, yet neither too thick. It's really easy to use.
It does wonders on dry and damaged hair, fixing brittle hair and transforming it into soft hair that's full of life.
Pros
Smells amazing
Free of all bad chemicals
Sulphate-free, paraben-free and fragrance-free
All naturally derived ingredients
---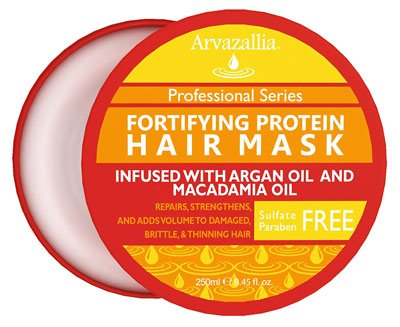 A mask with protein means that it's going to help minimize damaged hair. Protein helps to strengthen each strand of hair to help prevent breakages. And this product really works, you can literally feel your hair is stronger after using the hair mask.
However, word of warning: overusing products with protein can cause an overload of protein which will do more damage than good. It will cause breakages, so be sure you don't use this hair mask more than once or twice a week.
This hair mask is perfect for coloured and damaged hair because the results are so instant. You get healthier and softer hair almost immediately. Use it for a few weeks and you won't recognise your hair.
This hair mask is definitely one of the best hair masks on the market for damaged hair. It's true, that using natural products is better all around. But sometimes your hair needs a solid kick to get it back into place and that's where this hair mask comes into the picture.
Pros
Sulphate and paraben-free
Strengthens hair
Smells lovely
Does miracles with damaged hair
Good price
---
My Thoughts
I feel like I say this a lot, but I will say it again anyway! There is no one product that fits everyone, the key is to find the one that fits you best! I hope that these hair masks for damaged hair that I have put together here have helped you find that one for you.
It may have sounded to you that the hair masks are all similar. Well, in reality, they actually all overlap in their functions. These hair masks are the creme de la creme of hair masks.
Each of these hair masks is really good, they are all designed to improve elasticity, strengthen hair and restore it to its former glory. However, at the same time, they all have their differences in their texture, price or ingredients. It all boils down to your individual needs, preferences and budget.
Hollie xx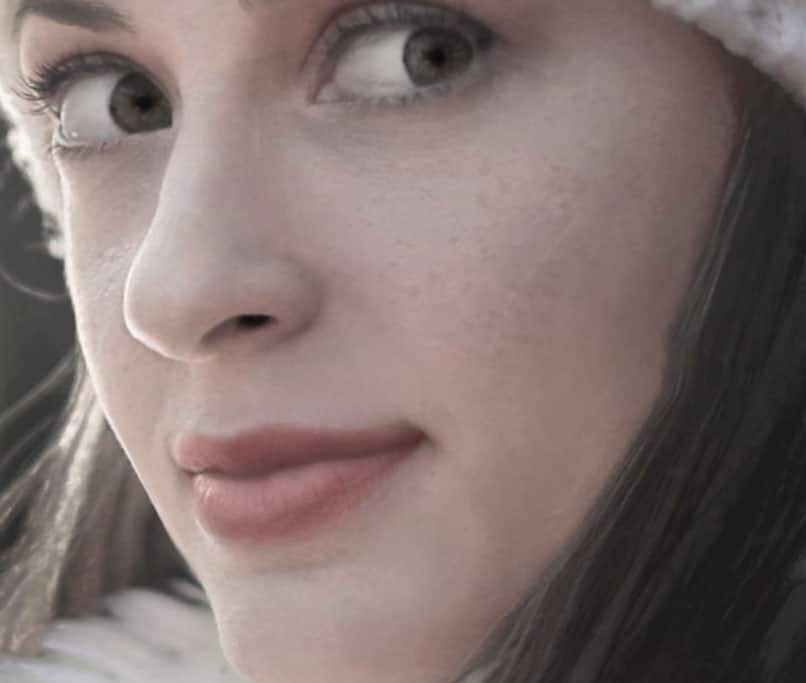 Hi, I'm Hollie, and I own BeautywithHollie.com. I love everything to do with beauty and love sharing my knowledge, advice, and beauty finds! Makeup and beauty are here to enjoy, and Beauty With Hollie is here to take the stress out of it!
---
---
Anastasia Beverly Hills bareMinerals Benefit Cosmetics Bobbi Brown CeraVe Chantecaille Charlotte Tilbury Clarins ColourPop Dermalogica Dior Dyson e.l.f. Cosmetics ELEMIS Estée Lauder Fenty Beauty First Aid Beauty Fresh Giorgio Armani Hourglass Jane Iredale L'Oreal Lancome La Roche-Posay Laura Mercier LORAC MAC Makeup Revolution Maybelline Morphe Nars Natasha Denona Neutrogena NYX Origins Peter Thomas Roth Revlon Sigma Beauty Smashbox Stila Tarte Cosmetics The Ordinary Too Faced Urban Decay YSL
---