Why Giorgio Armani Luminous Silk Foundation is a Must-Have
Ok, so I am completely blown away by this foundation. Giorgio Armani Luminous Silk Foundation is one of those foundations that you need to try out yourself, to really appreciate its true worth. It is honestly one of the loveliest foundations I have ever used. And I have used many…
If you think the silk part is an exaggeration, it's not. Applying the foundation literally feels like you're applying a silky cream, yet it doesn't have any oily feel to it. I have never come across a foundation with a texture quite like this one.
Before I get into how the foundation looks and lasts let's start the review by seeing what the foundation is all about.
Giorgio Armani foundations are known for their superior quality and price! But don't be put off by the price.
I'm not one of those people that believes all designer wear means the product is actually better. However, in this case, the Luminous Silk Foundation really is worth every penny. It's a cut above the others.
Giorgio Armani Luminous Silk Foundation comes in 30 impressive shades. The colour range for light skin is really good, it has a shade for even the palest skin. The darks also look like a nice colour range, although I don't think the darkest is dark enough for some.
Each foundation colour comes in warm, neutral and cool to match every skin tone.
The foundation was inspired by charmeuse silk which apparently is the fabric of emperors. Giorgio Armani aimed to get the foundation to feel like the softest silk fabric, and they did a very good job at that! It definitely feels like silk.
It's formulated with an exclusive Micro–fil™ technology which helps to brighten and sculpt the face. I honestly can't tell you what exactly it is and how it works, what I can tell you is that it definitely works! Oh YES!
Using the Silky Foundation
So I have a little disclaimer.
Perhaps I'm late in discovering this secret, but most makeup shops when asked will give you a sample to try out at home.
I love this because instead of buying an expensive foundation and then regretting it, you can ask for a sample and then use it at home for a few days to see if it works for you.
Giorgio Armani is one of those brands that's worth trying out before spending the full amount because it is on the pricey side.
I went to my local Fenwicks and got a small sample that has actually lasted me a week now since all you need is a small amount each time.
All I can say is that after giving the Luminous Silk Foundation a fair amount of time to get to know, I absolutely love it. I will definitely be ordering the full size.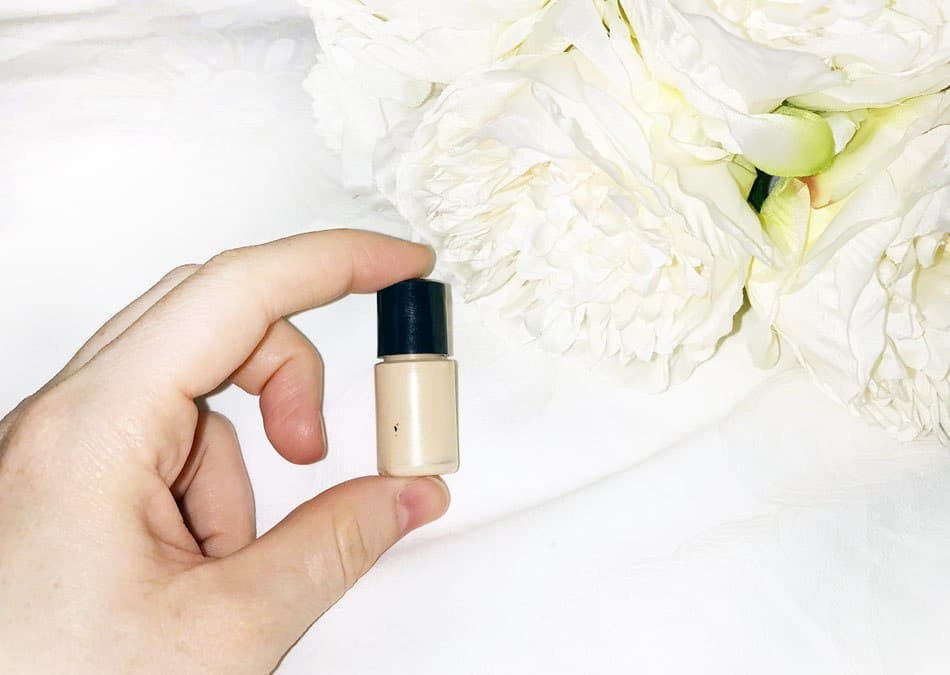 Anyways, on to using the actual foundation. Aside from the silky feel to it, it has many other features that I love too.
The foundation glides on smoothly and literally blurs every line and pigmentation. What's more, is that the foundation blends into the skin so perfectly that you can't see you're wearing foundation at all. It is one of the most natural-looking foundations on the market.
The coverage is a light to medium coverage, however, it is very buildable so if you are looking for a full-coverage foundation you simply apply a few extra layers to your skin and blend it well.
The foundation has a matte-luminous finish to it. That means it's a matte dewy, radiant finish, and it stays that way the entire day.
I wear my foundation for about 12 – 14 hours at a time and it doesn't move. I'm serious, at the end of the day, my foundation looks exactly the same as when I applied it in the morning. It doesn't get oily or sticky either.
What Skin Type is the Foundation for?
The Giorgio Armani Luminous Silk Foundation is a must-try for any makeup lover. It is particularly good for mature and ageing skin as well as dry skin. This is because it will never look thick or heavy on the skin, and it won't exaggerate any lines or blemishes.
It's literally Photoshop in a bottle, or in my case a sample! It's also perfect for sensitive skin.
Applying the Foundation
Like most foundations, you can apply it with whichever method you like best. I found that because the Luminous Silk Foundation is so creamy and silky, it applies really easily and therefore does not need a sponge.
Everything absorbs perfectly with a brush or even your fingers.
I do recommend using a primer before applying your foundation, it creates a barrier between the foundation and your skin which is always a good idea.
I also recommend using a setting powder, because, if you can help your foundation stay on longer and better then why wouldn't you?
The Negatives
Why do all products have negatives?! Sadly, they usually do:(
In this case, I'm sure you can guess what it is. The price! Yep, it is expensive. I'm sure if the price would be a high street price, the foundation would always be out of stock. But, it's not.
However, I still believe the Luminous Silk Foundation is worth every penny. If you can't afford it then start saving because honestly, it is so lovely.
My advice is to help the bottle stretch for as long as possible. A little goes a long way so don't use 3 pumps in one go, try one and add a little more if needed.
I hope you love it as much as I do, I'm pretty sure you will:)
If you have any comments or questions on the product, please leave me a line in the comment section below.
Giorgio Armani Luminous Silk Foundation can be bought from Look Fantastic / Nordstrom
Hollie xx
---
---
Anastasia Beverly Hills Benefit Cosmetics Bobbi Brown CeraVe Chantecaille Charlotte Tilbury Clarins ColourPop Dermalogica Dior Dyson ELEMIS Elf Cosmetics Estée Lauder Fenty Beauty First Aid Beauty Fresh Hourglass Huda Beauty Jane Iredale L'Oreal lancome La Roche-Posay Laura Mercier LORAC MAC Makeup Revolution Maybelline Molton Brown Morphe Nars Natasha Denona Neutrogena NYX Origins Peter Thomas Roth Revlon Sigma Beauty Smashbox Stila Tarte Cosmetics The Ordinary Too Faced Urban Decay YSL
---