Best Beauty Advent Calendars 2020: Including MAC, Charlotte Tilbury, Jo Malone, Molton Brown and Many More
And I'm back! Well, kind of. While I've recovered from COVID, it's left me with some very unwelcome symptoms, like a constant headache, nausea and dizziness.
I'm trying as much as possible to get back to normal but I think I need to be patient with myself and not overdo it. I'd love to be back to posting regularly but it's going to take time and my family is my priority! So hang in there with me!
On to more exciting news- it's almost December and that means…it's almost Christmas! One of my all-time favourite things of the holiday season is the advent calendars! Who doesn't love opening presents every day?! I may be an adult but I still have some kid inside of me:)
I've put together the best beauty advent calendars of 2020 including all your favourite brands like MAC, Charlotte Tilbury, Kiehls, and NYX to name a few. There's an advent calendar for every budget and taste!
Disclaimer: As an Amazon Associate I earn from qualifying purchases on Amazon and other affiliate programs. This means on some purchases I make a commission. It doesn't mean you spend more, it simply allows me to keep this blog going!
1. MAC 2020 Advent Calendar
Starting off with a bang we've got this fabulous dream-worthy advent calendar by MAC! MAC sure know how to make its advent calendars enticing and exciting.
From the packaging to the products inside, it's irresistible. Their advent calendars are always a sell-out, so much so that they now put a limit on it- it's 3 advent calendars per person!
Worth over £300, it costs £125. You get 24 products for 24 days to Christmas. The packaging is pink and frosted with fireworks in the background. MAC calls it a firework-frosted keepsake case, I think it's cute and original!
Included in the calendar are lipsticks, lip glosses, mascara, eyeshadows, primer, brow sets and more!
---
Known for its natural beauty products originating in the South of France, L'Occitane has gone all out with its advent calendar this year. The packaging is an illustration of a typical market in Provence. Travelling may be banned but with this advent calendar, you'll feel like you've been transported to the South of France! Close your eyes and you'll almost hear the waves!
Included in the L'Occitane Holiday Advent Calendar are 24 natural beauty products. There are hair masks, shampoos, body creams, hand creams, foot creams and overnight oils to mention a few! There's no better way to get your body ready for winter than with this advent calendar! I also love how the products are generously sized, you'll get multiple good uses out of each one.
L'Occitane Holiday Advent Calendar can be bought from Amazon
---
3. Charlotte's Bejewelled Chest Of Beauty Treasures Advent Calendar
No Charlotte Tilbury product is complete without some bling and this Bejewelled Chest is no different! Encased in a gold shimmer chest with diamond drawer handles, prepare to be bedazzled!
Charlotte Tilbury is all about making her 'darlings' happy. This advent calendar comes with 12 of her best products with 3 of them being full-sized products! You can expect heaps of exciting products from the Bejewelled chest including the iconic Magic Cream, Magic Serum Crystal Elixir, highlighters, lipsticks, primer and eyeshadows, to mention a few!
Charlotte's Bejewelled Chest Of Beauty Treasures Advent Calendar can be bought from Charlotte Tilbury
---
4. Molton Brown 2020 Luxury Advent Calendar
Molton Brown is all about luxury and this advent calendar oozes with it! The packaging is simple, yet classy and elegant. It comes with 24 gifts that will set your pulse racing!
My favourite thing about Molton Brown is not only how beautiful the products look, but mainly how heavenly they smell. Included in this advent calendar are their signature smells in hand washes, bath and shower gels, Eaux de Toilette as well as fun baubles to hang on your trees!
Molton Brown 2020 Luxury Advent Calendar can be bought from Molton Brown
---
5. NYX Professional Makeup Diamonds and Ice Please Advent Calendar
NYX has gone all bling with their 2020 advent calendar! Buy this for any makeup-obsessed girl and they will love you forever! After all, diamonds are the way to a girl's heart!
Out of the 24 gifts that this advent calendar comes with, 12 of them are stunning lip shades ranging from neutral nudes to party reds. The other 12 products are eyeshadows, setting powder, highlighters and some more!
This is one of the more affordable beauty advent calendars so grab it while it's still in stock!
---
6. Armani Beauty Advent Calendar 2020
Now it's your chance to feel pampered with the holiday season with this fabulous advent calendar! One of the pricier advent calendars on the market, Armani will set you back a whopping £249. However, if you speak to a die-hard fan of Armani then they will tell you it's worth every penny!
The Giorgio Armani Beauty Advent Calendar comes with 24 beauty and fragrance gifts of which 6 are full-sized products. Included are some of their iconic makeup and skincare products as well as their new fragrance Icon My Way Eau de Parfum.
---
7. bareMinerals 24 Days Of Clean Beauty Advent Calendar
BareMinerals have gone green this holiday season with their no-nonsense, planet-friendly packaging. Help save the planet one step at a time, starting with your advent calendar!
The packaging is all recyclable and it has cute seasonal drawings on it to make it appear like a wrapped gift! It's a fun touch that will have my kids reaching out for their coloured markers!
Included in the advent calendar are 24 mini travel-size gifts, ranging from eyeshadows and bronzers to primers and serums.
---
8. Jo Malone Christmas Advent Calendar
Another luxurious advent calendar for you! Jo Malone is one of my favourite brands, their products smell amazing! Since buying one of their candles once, anything else is simply inferior. Jo Malone has set a high standard for me, something that my bank account is not so happy about! That being said, their products are worth every penny, I simply can't get enough of them!
The Jo Malone Christmas Advent Calendar comes with 24 luxurious surprises ranging from mini candles to colognes and bath and body products. It will set you back a fair £320, so yes, it's on the pricier side of things.
---
9. Ted Baker Ladies House of Blooms Advent Calendar
Ted Baker is known for their floral and pretty patterns that feature on all its merchandise, be it clothes or beauty products! Their advent calendar is no different! Decked in floral and pink, you can see from a mile away that these are Ted Baker products!
The advent calendar comes with sheet masks, body washes, lotions and useful tools like tweezers and a nail filer!
---
10. The Body Shop Make It Real Together Ultimate Advent Calendar
The Body Shop really outdo itself each and every year when it comes to its advent calendars! The Make It Real Together Ultimate Advent Calendar features a Christmas tree with all the family together. I'm not sure how appropriate that is for this year when who knows if we'll be allowed to be together, but the idea is definitely cute! Where most brands only give 24 gifts in their advent calendar, The Body Shop goes all the way with 25 gifts- one for Christmas Day!
The advent calendar comes with all of their bestsellers including face masks, shampoo and conditioner and their lovely, non-greasy body butter! Check it out to see the full range of their surprises!
---
11. Too Faced Enchanted Advent Calendar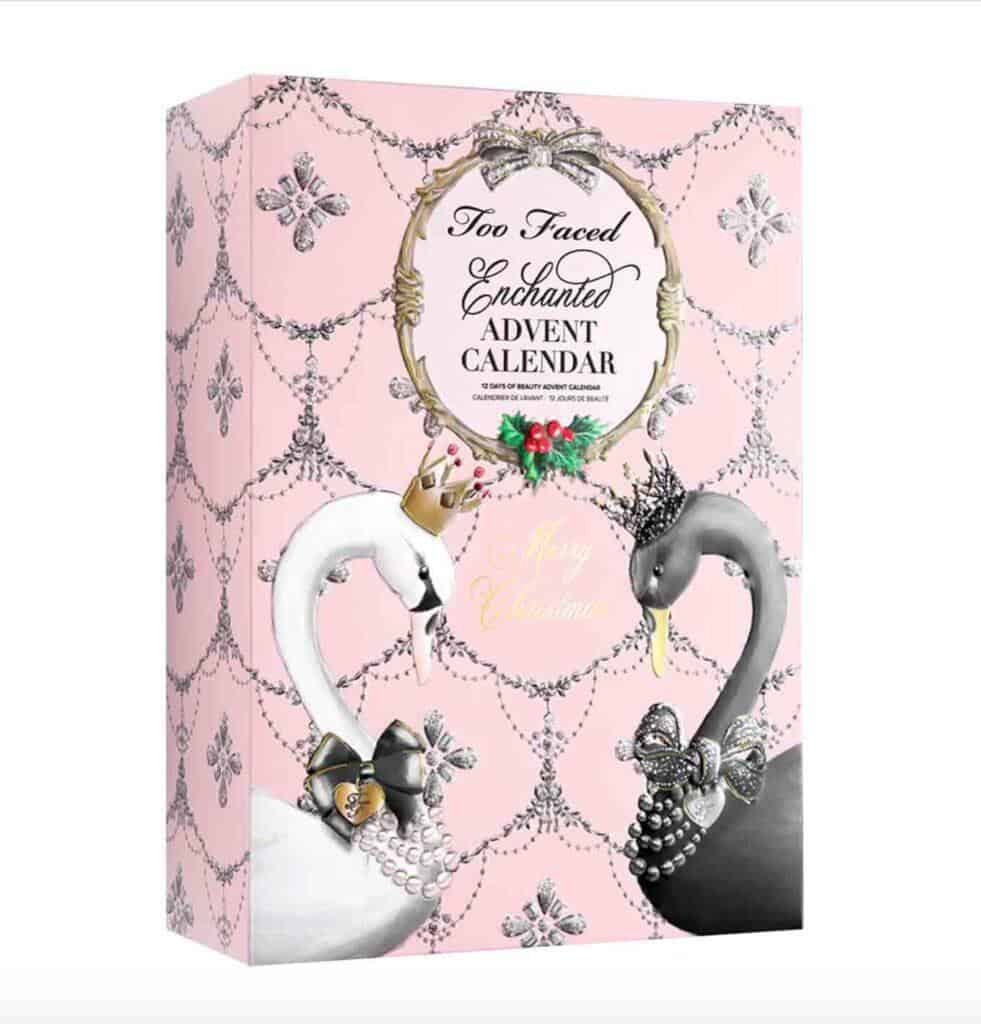 Too Faced brought out a huge Christmas Collection which I've reviewed in full here. A piece of the collection is this super-cute Enchanted Advent Calendar. It features 12 of their fabulous products with 5 of them being full-sized! Yup, you heard that correctly!
Included in the advent calendar is a full size of their Better Than Sex Mascara, a full-size Damn Girl! Mascara, primers, lip balm and their iconic Pillow Cream- to name a few!
---
12. Fresh 12 Days of Beauty Advent Calendar
If you have never tried Fresh's skincare products, there's no better time than now. Their products are exactly as they sound- Fresh in every way! Made to help your skin be the best it can be without harmful ingredients.
Fresh 12 Days of Beauty Advent Calendar comes with mini masks, moisturisers, lip treatments and lots of more exciting treats!
---
13. Selfridges Beauty Advent Calendar 2020
You can always expect big stuff from the big shops! Their advent calendars are always wow! You don't even need to open the Selfridges Advent Calendar to be impressed, the packaging is breathtaking in itself. It features the outside of their flagship store and if you've ever been there, you'll know how impressive it is!
Included in the advent calendar are 25 gifts- one for Christmas Day too! You can expect a bit of everything beautiful in this calendar, from masks to hairsprays and makeup removers to scrunchies!
---
14. Kiehl's Limited Edition Advent Calendar
Do you know how when you look at a product and you instantly know what brand it is without seeing the name? That's Kiehl's products in a nutshell and their advent calendar fits in like a glove! It screams Kiehl's all over it!
Kiehl's Limited Edition Advent Calendar comes with 24 skincare gifts featuring all of their bestselling products! It comes with serums, colour correctors, face wash and creams as well as many other favourites!
---
15. Makeup Revolution Advent Calendar 2020
Makeup Revolution's advent calendar may be simple in packaging, but the products inside without a doubt make up for it! It features 25 surprise gifts.
Check out my review on the new Makeup Revolution Princess Collection here!
The difference between the Makeup Revolution advent calendar and most others is that this advent calendar doesn't feature any old products. Every single product is new, be it the shade or the product itself. I love that they've done this, it makes opening the gifts so much more fun! I think every brand should do this- what do you think?
Makeup Revolution Advent Calendar 2020 can be bought from Revolution Beauty
---
16. Dior Advent Calendar
The Dior 2020 Advent Calendar gushes with luxury, but be prepared to pay an arm and a leg for it! Designer products don't come cheap, but if you're a fan, they're definitely worth it!
It features 24 luxury surprises scattered over an image that is almost too hard to see the doors to your gifts! The packaging is absolutely stunning, it's worth keeping! It's an illustration of their flagship shop in Paris.
The gifts range from fragrances to skincare and makeup like their iconic lipsticks and mascaras.
---
17. Bomb Cosmetics Christmas 2020 Tinsel My Fancy Advent Calendar
For those who love their bath bombs, this is the ultimate bath bomb gift set!
It comes with 24 Christmas-inspired bath bombs that will seriously get you into the holiday spirit! I can already picture my dreamy baths leading up to Christmas (friends and fam- anyone?!)!
---
18. Elemis 25 Days of Spectacular Skin Advent Calendar
Elemis has some of the loveliest skin care products around that smell amazing and seriously work! Their advent calendar is filled with 25 award-winning skin and body products. Spoil your skin this holiday season and it will thank you after!
Included in the Elemis Advent Calendar are night creams, oils, masks and lots more exciting products!
---
19. Nars Advent Calendar
Nars packaging is original, fun and classy and I love it! The Nars Advent Calendar features 12 full-sized gifts of their favourite lip products. Get this for any lip-obsessed friend and they will love it!
---
20. Lancôme Beauty Advent Calendar
I think we can all agree that when it comes to the packaging of this year's advent calendars, Lancôme has hands down won! Each of the gifts is encased in a glittery building that you need to open to get the gift. It's super original and exciting!
Included in the advent calendar are some of their bestselling makeup and skincare products from night creams to lipstick, they've got you covered!
---
My Thoughts
Advent calendars are becoming more and more popular each year with more brands doing them every year. They're a great way to get into the spirit of the holidays and they are always big money savers.
They are always worth more than they are sold for which makes them like (partially) free gifts! And anything free I love!
Beauty advent calendars sell out really quickly so make sure to act fast!
Hollie xx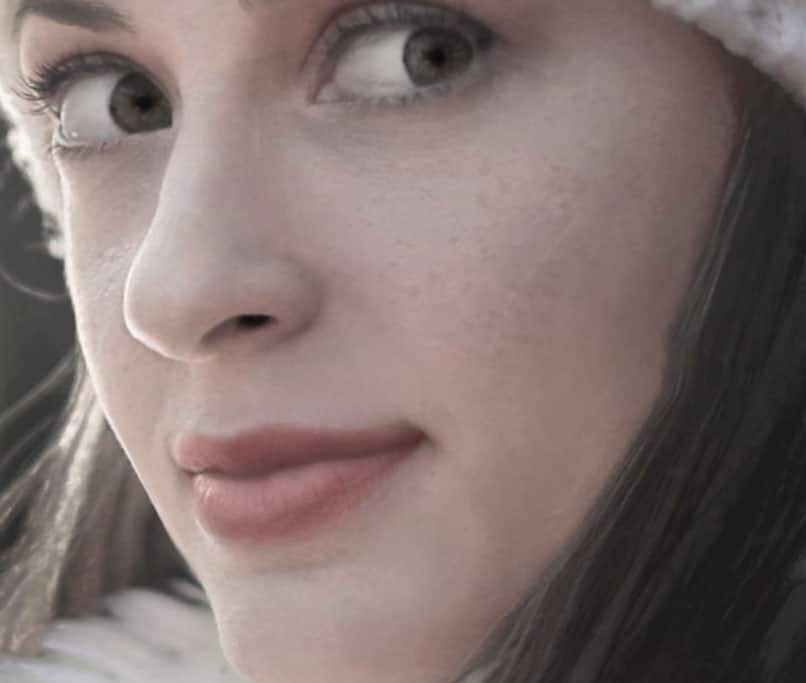 Hi, my name is Hollie, and I own BeautywithHollie.com. I love everything to do with beauty and love sharing my knowledge, advice and beauty finds! Makeup and beauty are here to enjoy, and Beauty With Hollie is here to take the stress out of it!
---
---
Anastasia Beverly Hills Benefit Cosmetics Bobbi Brown CeraVe Chantecaille Charlotte Tilbury Clarins ColourPop Dermalogica Dior ELEMIS Elf Cosmetics Estée Lauder Fenty Beauty First Aid Beauty Fresh Hourglass Huda Beauty IT Cosmetics Jane Iredale L'Oreal lancome La Roche-Posay Laura Mercier LORAC MAC Makeup Revolution Mario Badescu Maybelline Morphe Nars Natasha Denona Neutrogena NYX Origins Peter Thomas Roth Revlon Sigma Beauty Smashbox Stila Tarte Cosmetics The Ordinary Too Faced Urban Decay YSL
---