What is a Microcurrent Facial? The Best NuFACE Facial Toning Device
At-home facial and beauty devices are on the rise and it's no surprise. We're a generation who never wants to age and when devices like these are released, many of us are curious! You can use them from the comfort of your home and they are very cost-effective!
One particular brand that has been making big waves with beauty technological advances over the last few years is the NuFACE Facial Toning Device! It helps reduce fine lines and wrinkles through facial stimulation.
For many of us, we don't have the time and money to regularly go to dermatologists and specialists. Facial toning devices are our best bet! They are cost-effective and time-effective. In this review, I cover the NuFace Trinity and the NuFACE Fix.
Before getting into the nitty gritty of the NuFACE and the microcurrent facial toning devices, you really need to understand what microcurrent facials are and their benefits.
Disclaimer: As an Amazon Associate I earn from qualifying purchases on Amazon and other affiliate programs. This means on some purchases, I make a commission. It doesn't mean you spend more, it simply allows me to keep this blog going!
What is a Microcurrent Facial?
Microcurrent Facial is a "natural" or "non-invasive" facelift. It is basically electricity that stimulates the muscles in your face. These are weak electrical signals – low-voltage enough that it is painless and 'micro' that you can't really feel it.
Microcurrent works sub-sensory, the treatment is soothing, and usually, you don't feel anything at all. It is a completely safe and painless treatment! I don't know about you, but a painless facelift certainly sounds tempting to me!
On a cellular level, these electric signals mimic your body's electrical current, which repairs damaged skin and stimulates collagen and elastin production. It stimulates your facial muscles to give a natural lift and triggers an increase of collagen that will tighten and smoothen your skin's appearance.
In basic terms, a microcurrent facial is simply a facial toning or a workout for your face. The way that microcurrent facial works is pretty similar to exercising – skin cells break down and then grow back stronger, just like what muscles do when you are lifting weights.
Studies have shown that microcurrent facials really work and that they are effective in improving your skin! And it's not just studies that have shown that these facial devices actually work. People have been raving about these NuFACE devices and claim they have taken years off their faces. From fewer lines and wrinkles, it's like we're ageing backwards. And I'm not complaining!
Do you want to know what the overall result is? A healthier, toned and younger-looking skin. Who doesn't want that?
Benefits of a Microcurrent Facial
Safe and Painless
Fast Results
Helps Erase Fine Lines and Wrinkles
Firms Skin
Define your Features – Pronounced Cheekbones and Defined Jaw Line
Improve Muscle Tones
Tighten Pores
Increase Cellular Activity of Skin
Performs Lymphatic Drainage
Who are Microcurrent Facials for?
The short answer to that is – everyone! There's no limit to who can benefit from these devices. However, for best results, I recommend starting in your 20s, this way you are preventing the problem before it even becomes a problem!
If you're looking to enhance and also fight ageing, getting a microcurrent facial will help your skin phenomenally well.
Be aware that pregnant women or anyone with any heart conditions should avoid microcurrent facials.
Microcurrent Facials: Professionally vs. At-Home
There are Microcurrent Facial devices for home use, and there is also the option of going to have it done professionally. I've made a small chart below so you can decide what treatment is most suited for you.
| | |
| --- | --- |
| Professional | At Home |
| Expensive | Affordable |
| 10 to 15 sessions, 2 per week | 3 to 5 sessions per week for at least 2 months to get the best results |
| The practitioner will perform the session based on your skin condition | Personally learn and follow the instructions of the device which is configured upon receiving the product |
| Regular maintenance every 4 to 8 weeks | Doing regular sessions per week will give an improvement in results, you can drop the sessions to 2 to 3 times a week |
| Results are more noticeable and faster | Results take months to build |
| Need regular maintenance sessions | |
Getting it done professionally, definitely has its perks. However, with an at-home device, you will be able to have it on hand and do facials whenever you need some upkeep. Also, it's a one-time payment, unlike booking sessions and having maintenance sessions to keep your face toned.
While professional devices give faster results, for many like me, a home device is much more practical. A home device gives me the flexibility I need to use it when I want and from the comfort of my home!
Let's dive into NuFace facial toning devices and see how they pioneered microcurrent into the daily lives of an everyday woman.
Who is NuFACE?
Launched in 2015, NuFACE is from the genius of Carol Cole alongside her daughters Tera Peterson and Kim Morales. Spanning a 30-year career in aesthetics and beauty, Carol Cole is a pioneer of microcurrent technology. During her aesthetician days at Golden Door Spa in California, she often received concerns from clients about loss of definition in the face, sagging eyelids and more of the regular ageing concerns.
With that in mind, she made it a mission to develop a home device that will be able to do the same professional microcurrent facials professionally. Out came – The Trinity Facial Toning Kit which has now become a cult-beauty favourite, with NuFace being a leader in microcurrent and at-home beauty devices. They have award-winning products that are sold in over 1,600 spas around the world.
NuFACE was founded by women for women. They are wholly centred on helping transform skincare that is clinically proven, effective and non-invasive for the skin.
NuFACE Facial Toning Devices
The NuFace Trinity is one of the first microcurrent facial devices on the market and in fact, is an award-winning product. This device is a true innovation that has been clinically tested to improve facial tone and definition.
It was made to contour, smooth and tone your face. I.e. get rid of wrinkles, lines and sagginess.
In the box:
NuFACE Trinity Device
NuFACE Trinity Facial Trainer Attachment
NuFACE Hydrating Leave-on Gel Primer 2 fl oz / 59 mL
User Manual & Quick Start Guide
Charging Cradle
The NuFace Trinity is really easy to use and comfortable to hold. Do you know those devices that tire your hand out? Yes, I hate them too, with the NuFace Trinity you don't need to worry about your arm getting tired because you won't be having such problems.
With the help of a gel primer, the device passes a 335 microamps (μA) current through your skin. The current is broken down into 5 settings that you can easily adjust. The process mimics the bioelectricity of your body, which then gives a little boost production of adenosine triphosphate or ATP. In simple English, it helps your skin rejuvenate itself!
The cells then use this to strengthen collagen and elastin, heal and improve muscles on your face. The result? A much healthier and younger appearance plus improved facial contour and reduced wrinkles. A dream device if you ask me!
For its sessions, you can do a 5-minute to a 20-minute microcurrent treatment, the device will auto-shutoff at 20 minutes.
Claims:
Contours – improves the definition of facial features
Smoothens – enhances the look of fine lines and wrinkles
Tones – enhances the appearance of sagging skin
Part light therapy device, part facial toner, part wrinkle reducer
Reduces Wrinkles
Gives Face a Radiant Glow
Youthful-Looking Skin
A big advantage to the NuFace Trinity is that it's multi-functional and you can decide what skin problem to target and when. It has a few different attachments for different skin concerns. Do note that they do not all come included in the box of NuFACE Trinity devices, some need to be bought separately.
The attachments are:
Facial Trainer attachment – two rounded silver bulbs that improve the contours of the face. (this comes with the device.)
ELE attachment – two antenna-like attachments which target fine lines and wrinkles. This attachment targets harder-to-reach areas like around the eyes and lip line. The level of power changes to 208 Micro Amps since it aims to be gentler in delicate areas.
Wrinkle Reducer attachment – has 32 LED Lights in red and infrared that target fine lines.
The Red Light has been shown to help with skincare conditions like eczema, and you can use it on the face, neck and the rest of your body. Try not to use this around the eyes.
With the Wrinkle Reducer Attachment, the session is 21 minutes, and it is recommended to do this treatment before the microcurrent facial.
How To Use the Trinity Device:
Use this 5 minutes a day per area of your face. For the first 2 months, use 5 days per week.
After 2 months, you can reduce to 2-3 days per week for maintenance.
For the facial toning and ELE attachment, you will need to apply a thick layer of the Gel Primer, which comes with the device. The primer will help the device to move easily on your face and improve the flow of microcurrents to penetrate your skin better. Plus, the gel has hyaluronic acid which will keep your skin hydrated. If you're using the Wrinkle Reducer attachment, you won't need to apply the Gel Primer.
There are helpful videos on NuFace's Youtube channel on how to use the NuFACE Trinity. They have a 5-minute method as well as a 15-minute method, the choice is yours.
In the video, Tera Peterson, Co-Founder & CEO of NuFace, demonstrates how to use the Trinity, effectively.
Step 1: Cleanse Your Face With An Oil-Free Cleanser

Make sure that you are entirely removing any makeup, dirt and oil

Step 2: Apply The Gel Primer Included

When applying the gel, make sure to apply as much as you can almost a mask-like amount onto your face and neck.

Step 3: Start Lifting

Starting at the centre, slowly glide the device upwards until you hear a beep. Do this 3 times.

Step 4: Tap in the remaining gel primer to hydrate your skin.

In her demonstration, she starts on the neck. You can start on whichever part of your face you prefer.
If you have a little bit more time and want to make the most out of your Trinity device, there is a 15-minute method that will maximise Trinity's potential.
15-Minute Method
Step 1: Cleanse your face well with an oil-free cleanser and make sure that you are completely removing all makeup, dirt and oil that is on your skin.
Step 2: Apply the gel primer that is included

When applying the gel, apply a lot, as you would for a face mask.

Step 3: Lift and Hold

Place both spheres of the attachment on the specific area and hold them there for 1-2 beeps. Then move to the next position in the area and hold once again for 1-2 beeps. Remember to place the device in the area where you want your skin to be lifted.

Step 4: Tap in the remaining gel primer to hydrate your skin.
The NuFace Trinity is one of the best microcurrent facial devices available for home use. This device will effectively deliver its claims to contour, smooth and tone your face.
It is gentle on the face and will be a super relaxing way for you to improve your skin. Don't forget that in order to see the desired results, make sure you use it consistently.
It is quite an investment, but it will save you time and money in the long run. In my opinion, that's a win-win! It gives you the convenience of being able to tone your face at any time of the day or night, no matter where you are. The Trinity will also give you the maximum benefits and target your whole face and neck.
PROS
Ease of Use
Ergonomically-designed
Helps Strengthen The Muscles on Your Face
Multi-Functional
---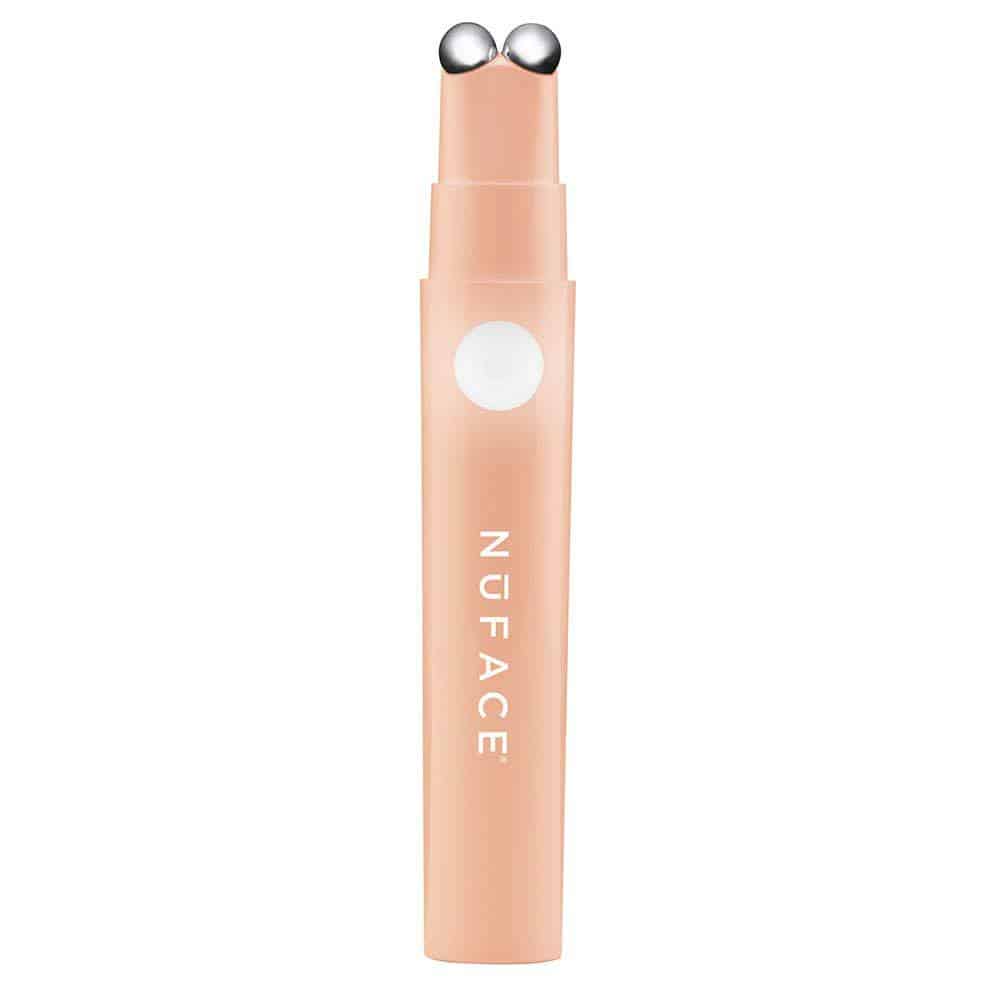 The NuFACE Fix is a much smaller version of the NuFace Trinity. It comes in a wand-like shaped device that is very easy to carry with you. Unlike the Trinity, the Fix focuses on a smaller area, such as your lips, eye and forehead.
The NuFACE Fix is a thin, portable version of NuFACE Trinity. It is best used for targeting the appearance of fine lines and wrinkles in just three minutes. Since it is a lot smaller than the Trinity, you will be able to reach the harder areas on your face, like around your nose and under your eyes.
What's in the box:
NuFACE FIX Device
NuFACE FIX Serum 0.25 oz / 7.4 mL (avg. 30-day supply)
Protective Cap
Micro USB Charging Cable
User Manual & Quick Start Guide
1-Year Warranty
Since the Fix is smaller than the Trinity, it is also less powerful. That is on purpose! The Fix is designed to be a quick fix for fine lines and wrinkles and all you need is three minutes. Fix by name and fix by nature!
Claims
Brightens – helps achieve a more radiant-looking skin
Firms – improves the skin's strength
Smoothens – enhances the look of fine lines and wrinkles
The Fix is compact and you can even throw it into your purse to use on the go. You can use it during the day, and the night after cleansing your face and applying the NuFACE Fix Serum that comes with it. The serum activates the microcurrent treatment of the device, and at the same time, it helps with moisturising and firming your skin.
Unlike the Trinity, Fix doesn't come with other attachments. Instead, you have the Facial Trainer attachment, just like the one that you see with the Trinity. These are smaller circles compared to the Trinity.
The Fix also includes a NuFACE Fix Serum that is different from the gel primer available with the Trinity.
The NuFACE FIX Line Smoothing Serum is the first-ever Microcurrent Skincare formula, that has supercharged active ingredients which help with smoothing, tightening, brightening and moisturises. Although you can use other serums or primers, it is recommended to use this serum for maximum benefits.
According to their website, the NuFACE Fix Serum has three key ingredients that NuFACE claims no other product has. Its special formulation will "effectively deliver bursts of energy and will continue those skin benefits throughout the day."
The NuFACE Fix Line Smoothing Serum contains:
"PŪRE ENERGY™ BLEND A proprietary complex with magnesium enriched gemstone, snow mushroom extract, and Hyaluronic Acid to recharge skin with bursts of microcurrent energy while locking in moisture.
SMART PEPTIDE SYSTEM Maximise efficacy by targeting and fighting the look of expression lines helping to smooth the look of skin.
IONISED FORMULA Delivers supercharged skincare benefits at every level by interacting with your skin's natural charge to help restore its firmness and suppleness."
How To Use:
Just like the Trinity, NuFACE also has a helpful demo video on how to use the Fix. It includes 4-steps that are easy to follow.
Step 1: Start With Clean Dry Skin
Step 2: Apply the NuFace Fix Serum on the area that you want such as the eyes or lips. Apply the Serum generously.
Step 3: Use "feathering and eraser-like" motions on undereye wrinkles or crow's feet. It is 3-minutes per area and will shut off after
Step 4: Tap in any excess Serum
If you are looking for a more compact device, The NuFACE Fix will be the right choice for you. This device will also be great if you're on a bit of a budget and still dipping your toes into facial devices. With Fix, it will effectively target smaller areas of your face which The NuFACE Trinity would not be able to do if you don't have the ELE attachment.
It is also a lot less time-consuming as you get 3 minutes per area as you use the Fix. If you're looking for a quick fix, that's exactly what this device will give you!
PROS
Pen-form
3-Minute Use
Easy To Travel With
Cheaper
CONS
Does not cover a large area of the face
No other attachments
---
Comparison of the models: Trinity and Fix
The Trinity uses a low-level electrical current of 335 MPA which is great for facial stimulation.
The NuFACE Fix, however, uses an even lower level of a microcurrent of 207 MPA and targets areas around the eye, lip and forehead. You can compare its functions to an ELE attachment which also works on some regions of the face.
The differences are pretty easy to understand. Really it all boils down to your budget and facial concern.
My Favourite Devices
My Thoughts
I know that's quite a whirlwind of information! But when it comes to choosing the best NuFace Facial Toning Device, you need to really understand what you're in for!
These devices are an investment, but they are a great solution when you don't have the time and money for professional services.
I personally love the Fix! It is compact, and quick and gets the job done in less than 5 minutes. But for the long-term effect, the NuFace Trinity is the one to go for. It will help improve the skin and give the proper toning that the face needs.
When it comes to anti-ageing and skincare, the earlier you start, the better! Taking care of our skin is vital to looking great and feeling great. The time to start is now!
Not sure if the NuFace devices are for you? Check out the CurrentBody Skin LED Light Therapy Mask and the Ziip Beauty Nano Current Skincare Device!
Hollie xx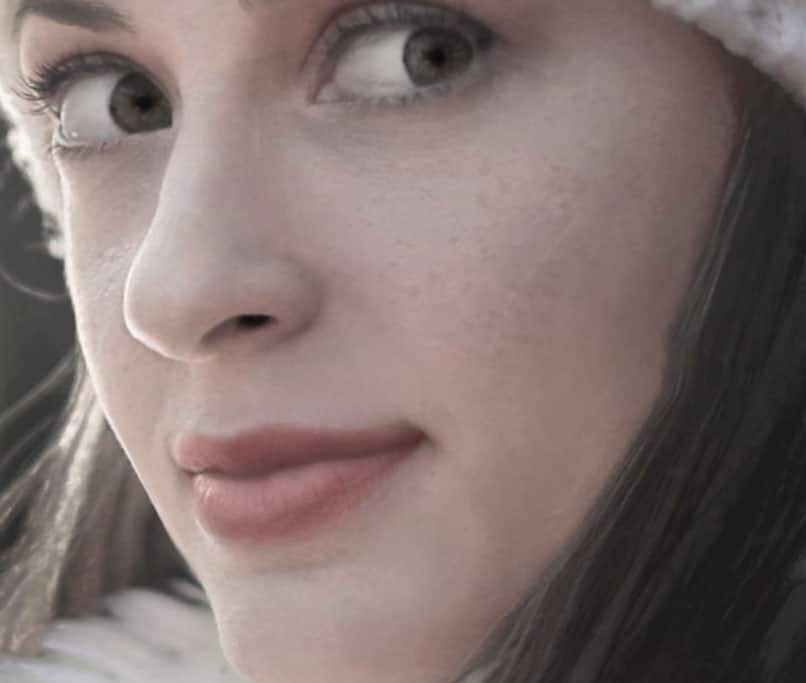 Hi, I'm Hollie, and I own BeautywithHollie.com. I love everything to do with beauty and love sharing my knowledge, advice, and beauty finds! Makeup and beauty are here to enjoy, and Beauty With Hollie is here to take the stress out of it!
---
---
Anastasia Beverly Hills bareMinerals Benefit Cosmetics Bobbi Brown CeraVe Chantecaille Charlotte Tilbury Clarins ColourPop Dermalogica Dior Dyson e.l.f. Cosmetics ELEMIS Estée Lauder Fenty Beauty First Aid Beauty Fresh Giorgio Armani Hourglass Jane Iredale L'Oreal Lancome La Roche-Posay Laura Mercier LORAC MAC Makeup Revolution Maybelline Morphe Nars Natasha Denona Neutrogena NYX Origins Peter Thomas Roth Revlon Sigma Beauty Smashbox Stila Tarte Cosmetics The Ordinary Too Faced Urban Decay YSL
---