What You Need To Know About Summer Fridays Soft Reset AHA Exfoliating Solution
Summer Fridays are well known for its fab skincare products. They've got quite the reputation with skincare lovers! But their recent product release is a new venture for them making things a bit more exciting!
The Summer Fridays Soft Reset AHA Exfoliating Solution is a powerful exfoliating solution that sounds pretty promising!
Acids are really popular these days, and for good reasons, they do remarkable stuff for the skin. The Soft Reset AHA Exfoliation Solution from Summer Fridays is a powerful 3-in-1 nighttime acid treatment that exfoliates, brightens skin and reduces the appearance of pores.
It's formulated with a staggering concentrated solution of 16% AHAs! It comes in a baby blue plastic bottle that is true to Summer Fridays aesthetic from top to bottom.
This new product from Summer Fridays is a mix of lactic acid and glycolic acid that helps to promote natural cell turnover, lifting dead skin cell layers and revealing luminous, soft skin.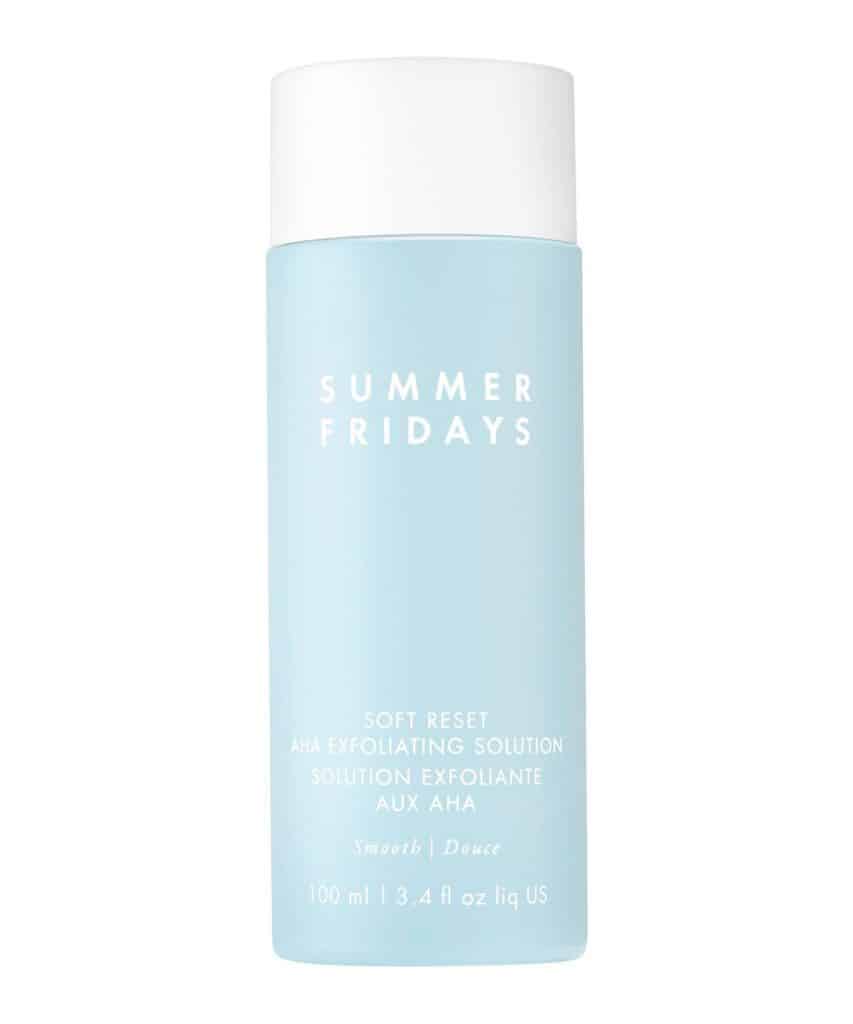 It's a clean beauty product, made without parabens, synthetic dyes or fragrances and sulfates. It is 100% vegan and cruelty-free! The Soft Reset AHA Exfoliating Solution is an overnight treatment for your skin.
It has an exfoliating power that helps to smooth and refine your skin's texture. While its moisture-drawing humectants help plump up your fine lines and its natural botanical extracts keep your skin comfortable and soothed.
It's the perfect reset button to go along with your nightly skincare routine and beauty sleep. And if anything, exfoliators and cleansers should help clear the way for your skin to get the most optimal benefits from your moisturiser— which is exactly what this does!
Formula
The 16% amount of AHAs and niacinamide packs a mighty punch. It's safe to say that even the most experienced acid skincare users had to take a step back and look again.
While the potent mix sounds rough on the skin, it's not all that frightening. If you follow up this powerful treatment with an equally powerful hydrating moisturiser, you can get the most out of its benefits.
It deeply exfoliates without inflaming your skin, especially on the oilier and more sensitive areas like around your nose, T-zone, and chin. Having said that, before using any AHA product, I always recommend doing a spot test to make sure your skin isn't sensitive to it.
This unassuming blue bottle hides within it a worthy liquid solution that needs to sit right on your daily skincare routine shelf, if not weekly.
The mix of AHAS is the following:
Lactic Acid
This is a plant-derived alpha hydroxy acid (AHA) that helps smooth the look of fine lines and in reducing other visible signs of ageing. It also helps treat hyperpigmentation, age spots, and other factors that contribute to a dull and uneven complexion. It is a milder AHA than glycolic acid.
Niacinamide
This multi-functional, water-soluble form of vitamin B3 helps clarify and refine your skin's texture and minimises the look of pores for a smoother, more even-toned appearance.
Glycolic Acid
A powerful AHA that works to retexturize and brighten the skin. Its exfoliating properties help visibly diminish fine lines and discolouration while keeping pores clear. It also helps plump up your skin for a youthful appearance by stimulating collagen production, making it feel firmer and with minimised fine lines and wrinkles.
Benefits
To start off on your road to an effective nightly skincare skin reset with this product, you gotta cleanse first. I recommend using a gentle, pH-balancing cleanser. Then follow it up with the Soft Reset AHA Exfoliating Solution.
Even though this exfoliating solution is sold as an overnight treatment, I think for the majority using it as a 10-minute treatment may be more accurate.
The formula is strong and even those who are used to it may find leaving it on overnight a little too much for their skin.
Most AHAs, especially those with glycolic acid, do sting at the beginning for about the first 10-20 seconds. This is normal and nothing to panic about-it doesn't mean your skin is too sensitive for the product.
It simply means that the product is doing its job well! Word of warning though- don't apply this product to any area of your face with broken skin- not only will it hurt, but it's also not good for your skin.
You need to build up your skin's sensitivity in order to use this every night. It's recommended to build it up slowly over 2-4 weeks. Starting out twice a week and slowly built it up.
Using a product like this will do wonders for your skin, it will deep clean your skin from the inside out, bringing all the gunk and dirt to the top. It will clean out your pores making your skin brighter and smoother.
Is It Worth It?
For $54 / £49 per 3.4 oz or 100 mL a bottle, it's a little heavy on the wallet that's for sure! But I think it's worth it, especially for die-hard acid fans and users.
For those starting out with acids, however, I say skip this one, and go check out The Ordinary acid instead. Then come back to this, The Ordinary one is lighter on the skin (as well as the pocket!)!
What's great about this is, unlike some acid formulas out there, this is alcohol-free on top of being vegan. It also contains glycerin and aloe leaf juice which I attribute to the non-horrifying experience.
For an acid-packed hefty 16% solution, it's just a mild tingle more than a noticeable "sting".
Final Thoughts
Summer Fridays Soft Reset AHA Exfoliating Solution is an impressive formula, and other than the price, I don't have anything bad to say! I so far haven't noticed all the deep cleansing claims but the thing with AHA's is that patience is a must.
It can take a couple of weeks to see proper results from them, so be patient! Having said that, while I do like the product a lot, I still prefer The Ordinary AHA 30% + BHA 2% Peeling Solution. It's highly effective and highly affordable too! Another great option is the Eve Lom Peel Pads, it's pricey but gives fabulous results!
Summer Fridays Soft Reset AHA Exfoliating Solution can be bought from Sephora
Hollie xx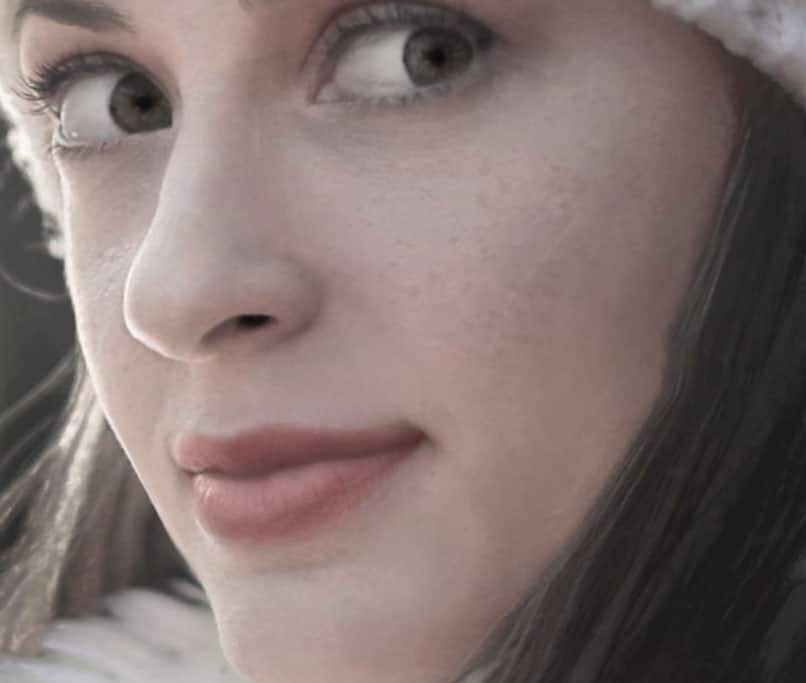 Hi, I'm Hollie, and I own BeautywithHollie.com. I love everything to do with beauty and love sharing my knowledge, advice, and beauty finds! Makeup and beauty are here to enjoy, and Beauty With Hollie is here to take the stress out of it!
---
---
Anastasia Beverly Hills bareMinerals Benefit Cosmetics Bobbi Brown CeraVe Chantecaille Charlotte Tilbury Clarins ColourPop Dermalogica Dior Dyson e.l.f. Cosmetics ELEMIS Estée Lauder Fenty Beauty First Aid Beauty Fresh Giorgio Armani Hourglass Jane Iredale L'Oreal Lancome La Roche-Posay Laura Mercier LORAC MAC Makeup Revolution Maybelline Morphe Nars Natasha Denona Neutrogena NYX Origins Peter Thomas Roth Revlon Sigma Beauty Smashbox Stila Tarte Cosmetics The Ordinary Too Faced Urban Decay YSL
---