Best Razors for Women with Sensitive Skin in 2023
Using a razor for hair removal is a practical and cheap option. Great choice! Razors are easy to use and it tackles all the hairy spots without feeling the hellish pain of waxing strips.
But for those with sensitive skin, using a razor can leave some unwanted side effects, like dryness and itchiness.
Don't be put off using a razor if you have dry or sensitive skin, it's true shaving increases the sensitivity but there are ways around it.
Choosing the right razor will make all the difference. We've rounded up the best razors for women with sensitive skin in 2023.
Disclaimer: As an Amazon Associate I earn from qualifying purchases on Amazon and other affiliate programs. This means on some purchases, I make a commission. It doesn't mean you spend more, it simply allows me to keep this blog going!
Type: Refillable
Number of Blades: 5
Refills Included: 2
You won't need shaving cream for this thanks to its SkinElixir lubrastrip ribbon of moisture surrounding the 5 diamond-like coated and extra thin blades. It is a beautifully designed piece.
The razors are big enough to cover areas in no time, and just the right size to ergonomically go over your curves without giving you a single scratch.
Made for those with extra sensitive skin, this razor is super smooth on the skin and gives a really close shave.
The blades are easy to change and although they're sharp (obviously!) you don't need to worry about them cutting you. Its SkinElixir feature takes care of that!
Pros
Has lubrastrip aka moisture strip
Pivoting Head
Soft-grip gel handle
Affordable
Suitable for face and body (including bikini line)
Gillette Venus Extra Smooth Sensitive Women's Razor can be bought from Amazon
---
Type: Disposable
Number of Blades: 3
Packages: 1-pack, 3-packs, 6-packs
This is a good value-for-money razor pack and perfect for taking on the go with you. It has a moisture strip that surrounds the 3 curve-hugging blades, which guarantee to give you a close smooth shave without further irritating your sensitive skin.
It's dermatologist tested and really does the job of shaving your hair, and not your skin! Perfect for those with sensitive skin!
The razors are surrounded by a lubricating strip formulated with vitamin E and lanolin for a seamless glide.
For disposable razors, they have a pretty long shelf life so you'll be able to get good use out of it! These razors are definitely great value for money!
Pros
Has moisture strip
Gives a close shave
Great value for money
Flexible blades
Suitable for face and body (including bikini line)
BIC Soleil Scent Disposable Razors can be bought from Amazon
---
Want a more permanent hair removal solution? Check out these home laser machines!
Type: Electric, rechargable
Number of Blades: 4
Refills Included: 2
If you are not a fan of hairy debris, the Remington Smooth and Silky Electric Shaver is one of the best electric razors you'll ever use to remove your unwanted hair.
It's non-abrasive and designed to give you the utmost control over shaving your sensitive skin.
Using the razor is equivalent to a body treatment that takes you no more than ten minutes for salon-like results!
The Remington Smooth and Silky Electric Shaver can be used for wet or dry shaving setups. It has a special strip infused with almond oil that moisturises your skin during and after you shave.
Additionally, its angled head with hypoallergenic foils is more than capable of gently close-shaving any part of your body.
Pros
Hypoallergenic
Cordless Runtime: 30 Minutes
Dual-Sided Foil Trimmer
Gentle close shave
Remington Smooth & Silky Electric Shaver can be bought from Amazon
---
Type: Electric, Battery-operated
Number of Blades: 1
Accessories Included: 7
Say goodbye to unwanted and out-of-place hair with the Veet Sensitive Precision Beauty Styler! It helps gently trim and shave your delicate body parts, such as eyebrows, bikini lines, underarms, and even awkward facial pubes.
Similar to the brand's dermaplaning facial kit, it gives you maximum control over shaving your sensitive skin with its thick, non-slippery handle. You can also adjust the detachable accessory head to different angles for accuracy.
Each Veet Sensitive Precision Beauty Styler Kit contains a waterproof universal device handle and a 2-sided precision adjustable head (16mm and 6mm blades on each side) for optimal eyebrow shaping.
1 horizontal trimming head. A cleaning brush. A 2-sided detachable comb accessory for styling your brows (2mm and 4mm on each side), and two additional detachable horizontal comb accessories for styling your hair in different lengths (2mm and 4mm on each side).
The set also comes with a beauty pouch! Basically everything you need to be free of hair in the easiest way possible!
Pros
Blades are great even for manual use
Suitable for face and body (including bikini line)
Great Value Price
Multiple functional accessories
Works great for fine hairs
Great for sensitive skin
Convenient to use
Cons
Not a close shave
Not as good on thick hair
Veet Sensitive Precision Beauty Styler Expert can be bought from Amazon
---
Type: Disposable
Number of Blades: 5
Packages: 1-pack, 4-pack, 10-pack
For maximum benefit, get yourself a triple-blade design that flexes to adapt to the curves of your body! It helps you get a clean shave on your front legs, your elbows, and back!
A curved shaver is really a must and surprisingly there aren't many razors out there with a blendable blade as impressive as this one. It makes shaving much safer, especially for those intimate extra sensitive areas.
The blades last really well and don't rust quickly at all. This disposable razor will serve you more than your money's worth. The strip also helps protect your skin against irritation and in the long run, serves as your after-shave conditioner.
No need for shaving cream and moisturiser especially if you are on the go. If you have extremely dry skin, I do recommend using some moisturiser after because it can only help!
Pros
Has moisture strip
Suitable for face and body (including bikini line)
Great value for money
Works well on fine hairs
Great for sensitive skin
Doesn't dull or rust quickly
Cons
Not as good on thick hair
Solimo 5-Blade Razor for Women can be bought from Amazon
---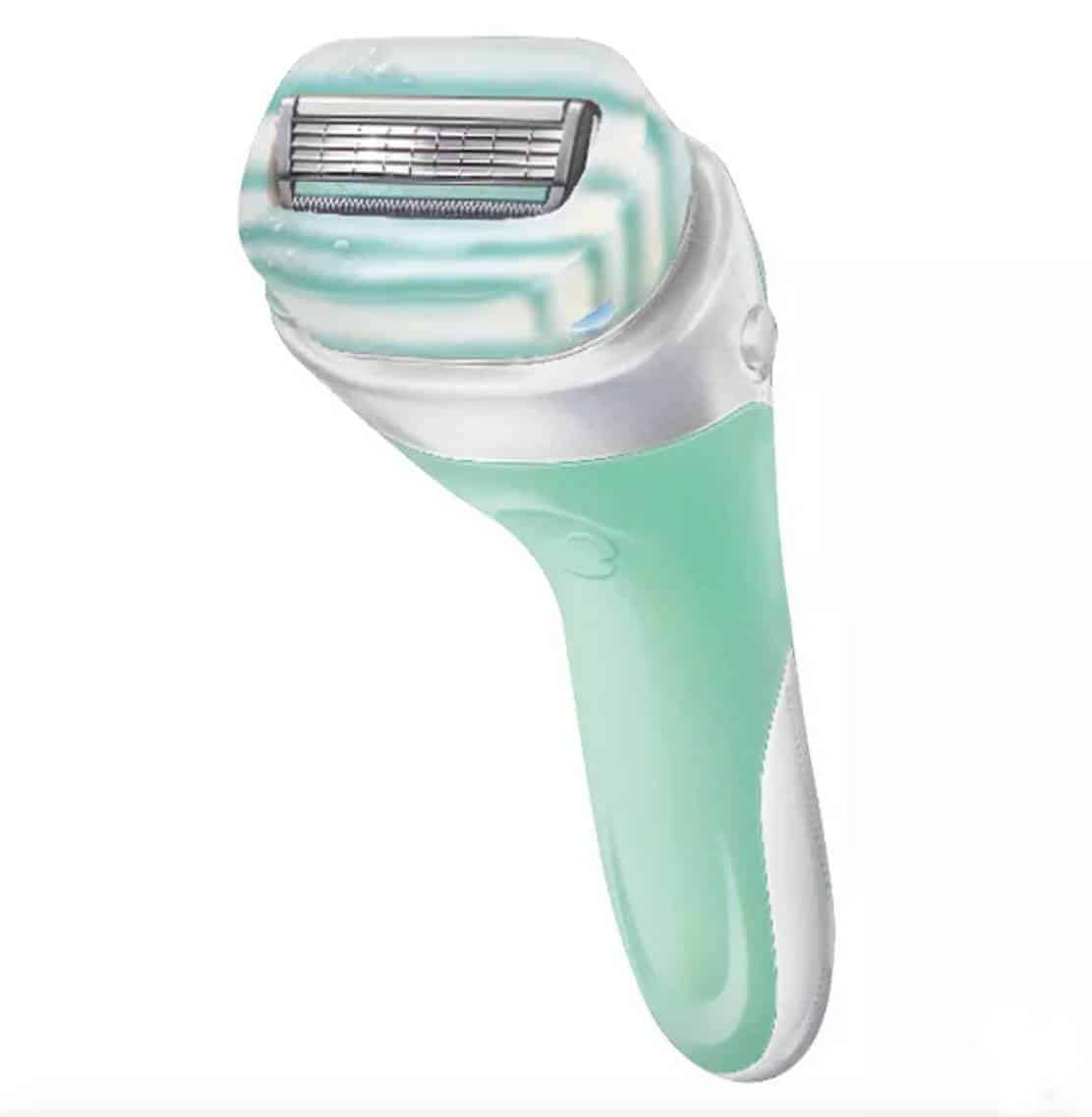 Type: Refillable
Number of Blades: 4
Refills Included: 2
One of the best points about this razor is that you can skip the soap and lather step. That is thanks to the Vitamin E and Aloe Vera enriched moisture strips that lather your skin when it glides on your wet skin.
You don't need to spend extra on shaving cream. However, if you still insist on shaving cream, you can actually put shaving cream directly on the razor and it will still work 100% perfectly.
The head pivot gives you more accurate coverage of the contours of your skin and minimizes cuts. It is hypoallergenic and certified gentle on sensitive skin.
The handle is smartly designed for all hand sizes making sure you don't lose grip because no, that would not be fun!
Labelled as the best razor by many, this is one of those razors that you're gonna love! Forget waxing, this shaver is far superior and less painful!
Pros
Has moisture strip
Suitable for face and body (including bikini line)
Affordable
Hypoallergenic
Pivoting head
Great for sensitive skin
Easy-grip handle
Cons
Difficult to clean
May be bulky for some
Schick Intuition Sensitive Care Razor can be bought from Amazon
---
Type: Refillable
Number of Blades: 4
Refills Included: 1
I'm all for pivoting razors because we all know there is not a single flat surface on our bodies!
This refillable razor is fused with Aloe, vitamin E and pro-vitamin B5 that will leave your skin glowing, soft and cared for— without all the extra steps because shaving should be as simple as swipe and rinse!
It's very similar to the Schick Intuition razor but here you'll have the option to refill with different blades. The handle is optimized to contain the Intuition Ultra Moisture razor blades, Summer Variety Blades, and Dry Skin blades.
Easy to grip and clean, you won't ever worry again every time you see your sinister cold-weather coats sprouting.
Pros
Has moisture strip
Suitable for face and body (including bikini line)
Affordable
Hypoallergenic
Great for sensitive skin
Easy grip handle
Universal handle (different Wilkinson blades can be attached)
Cons
Refilling blades need care and practice
Wilkinson Sword Intuition Sensitive Female Care Razor can be bought from Amazon
---
Type: Disposable
Number of Blades: 3
Packages: 3-pack, 6-pack, 8-pack
This disposable razor features three pivoting and flexible blades that individually adjust to your curves and help you evenly distribute pressure. So it doesn't just bend, it pivots too!
Its lubricating strips are enriched with Vitamin E and Aloe that enhance gliding across your skin.
It ensures you won't lose your grip, big hands or not, because of the ergonomic rubber handle. It will also fit into small pouches for those of us who love to be equipped with our kitchen sink even if it's just a trip to the supermarket!
This shaver is particularly good for sensitive skin (like all the razors in this review!). Many claim this razor has changed their view on disposable razors for sensitive skin!
With one glide instead of a few, it gets rid of the hair which greatly reduces the sensitivity and dryness.
Pros
Flexible blades and pivoting head
Suitable for face and body (including bikini line)
Great for sensitive skin
Hypoallergenic and dermatologist tested
Has curved blades
Has moisture strip
Affordable
Wilkinson Sword Xtreme 3 Beauty Disposable Razors can be bought from Amazon
---
Type: Refillable
Number of Blades: 5
Packages with refills: 3-pack, 6-pack, 8-pack
If a flexible and pivoting blade that adapts to the curves of your body isn't impressive enough, wait till you smell the sweet tropical coconut aroma that will accompany you during your shaving session.
When used, the razor's moisture strip brilliantly activates a scent that masks your whole bathroom including you, with a delicious coconut fragrance.
The lubricating strip is thoroughly infused with Coconut Oil and Olay cream formula. And the only side effects you will ever experience are smooth legs and refreshed skin!
Pros
Smoothening and moisturising
Suitable for face and body (including bikini line)
Great for sensitive skin
Close shave
Gillette Venus Comfortglide with Olay 2-in-1 Women's Razor can be bought from Amazon
---
Type: Refillable
Number of Blades: 5
Refills Included: 2
For the ultimate sensitive skin razor, get to know the Schick Hydro Silk Sensitive Skin Razor.
It has 5 titanium blades and moisture strips that are hypoallergenic with a moisturising serum infused with shea butter, to help protect skin against irritation and unwanted damage.
And let's be honest, with a product name like that, who wouldn't be drawn to wanting hairless silky skin with its help?
Marketing gimmicks aside, this dermatologist-tested razor is possibly the best one out there for sensitive skin. It offers you the moisture and lubrication you need, even for the most unpredictable no-cream situation. It's no wonder it's a bestseller!
The blades on this razor will last for ages and will help you achieve smoother legs without any reactions. This makes it ideal for sensitive skin!
Pros
Suitable for face and body (including bikini line)
Great for sensitive skin
Hypoallergenic and dermatologist tested
Curved blades
Safe blade cartridge design
Schick Hydro Silk 5 Sensitive Skin Razor for Women can be bought from Amazon
---
Expert Recommended Shaving Routine For Sensitive Skin
Invest in the right razors
As we grow older we're probably getting into the gist that quality matters. And don't get me wrong. Quality is quality, pricey or not. Using quality razors that will take care of your needs and skin at the same time is a must.
Dull blades will shave more than just what you're asking for. They'll scrape away healthy skin layers too! Invest in a sharp, reliable blade that will last long. Make sure you dispose of or replace the blade as soon as it gets blunt.
Whether refillable or disposable, there are many superior razors in both categories that will serve as your trusty hair sword.
Be gentle
When shaving, follow your hair's direction. Don't get too peevish about stubbles sticking out. Go over them again whilst following the direction of your hair. Resist the temptation to get a clean cut by gliding once on the opposite.
You may think you've successfully achieved smooth skin, but chances are the hair grows back twisted and inflamed. Worst case scenario, you'll get cuts and painful ingrown hairs.
That happens even with the sharpest blade in hand. Contradicting the hair direction is like deliberately driving offroad with all the rocks and bumps when there's a conveniently paved highway just beside it.
Apply the lightest pressure with the razor as close as you can get, then glide. You shouldn't experience ingrown hairs with a gentle technique and if you do there is a simple solution- exfoliate.
Check out my article on the best exfoliators for oily skin. Targeted for oily skin, however, many of them can be used on all skin types.
Shave Strategically
Those with truly sensitive or irritation-prone skin know they're not suited to shave every day. That is why you can either shave less often or consider your condition and use oil as your shaving cream.
With clear oil, you are able to see which areas are shaved and not; in which direction your hairs grow, and you'll minimize having to go through reapplying and wiping shaving cream. The latter can get very corroding on sensitive skin.
Oil is the best lubricant for a seamless glide. Shaving strategically can really make the experience relaxing and even therapeutic. In the long run, you'll avoid hurting yourself, and possibly getting infections, particularly for sensitive skin.
The Aftershave
Moisturize, moisturize, and moisturize! Shaving not only gets rid of unwanted hair, but you are also essentially scraping off your dead skin too. What you're left with is a new, bare surface. That new surface needs a lot of TLC in the beginning.
Lather your raw skin with balms, moisturizers, creams, or whichever you prefer. Check out my post on the best moisturizers for dry skin.
The lubricant strips surrounding the razors can only do so much during your shave, but afterward, you will need reinforcement. Remember that dry and sensitive skin is generally thirstier than average and sucks up moisture very quickly.
Check out more shaving tips here.
Disposable Razors vs Refillable Razors
Disposable
Disposable razors are just that. Disposable! But that doesn't mean that they don't work as well as other razors. They're simply for one-time or limited uses.
Generally, they last from 2 to 10 shaves. Just like refillable razors, the best indicator of when it's time to get rid of your disposable razor is when the blades become dull.
Disposable razors are great for traveling and as extra on-hand items for house guests. Hospitals also use disposable razors because of their hygienic convenience. And similarly, disposable razors are recommended for those who are health-compromised.
Many high-quality disposable razors are built similarly to reusable razors. Which ones you choose is mainly about personal and hygienic preferences.
Refillable
Refillable razors have handles that you can keep, while they have detachable blade cartridges that you can refill as needed.
Refillable razor blades typically last longer than your disposable razors, but the same rule applies to when to get rid of them, as soon as you feel the blade is blunt. My indication is when my skin starts to get too itchy post-shave, I know it's past its sell-by date.
Refillable razors are great for any time. Some refillable razors can even adapt if and when your shaving needs change because different types of blade cartridge refills can fit the same razor handle.
Many on our list today offer interchangeable handles and cartridges. Depending on your skin type, contours, hair condition, and so on, refillable razors are best for customization.
Of course, using a refillable handle is better for the environment because you throw away less plastic. That being said, you need to weigh up your options and choose what's best for you!
Manual vs Electric
Electric Shavers
Electric razors are electrically powered devices that work to trim away body and facial hair, just like manual razors. They can come with or without a cord, battery-operated or rechargeable.
Electric razors last longer than all other razors, hence they are more expensive. If you are looking for a cheaper solution, in the long run, electric razors are your best bet. Electric shavers rely on vibration for cleaner cuts that's why they are not manufactured as sharp as manual razors are.
Since they vibrate a lot there is a slightly higher risk of getting cuts, you have to be really careful when using one and pretty experienced too.
Honestly, there are many downsides to electric razors, but you need to consider what shaving item works best for your lifestyle and shaving needs.
If you want a more long-term permanent solution check out my post on the Best Laser Hair Removal Machines for Home Use. Laser machines are the best solution for dry and sensitive skin because, in the long run, you can stop shaving and permanently get rid of that pesky hair!
Manual razors
Manual razors can either be disposable or refillable. And they are the fastest way to shave.
It is easier to get a close shave with a manual razor than with an electric razor. But using a manual razor gives you a higher chance of irritating your skin and getting cut, this is because of the proximity the blade has to your skin.
With that being said, you can prevent cuts and unwanted results by shaving properly and following a good shaving routine. Just follow our guide and you'll be good to go!
Both razors effectively remove body hair, and either razor type can work as long as you keep in mind quality, and follow a fool-proof shaving guide.
What's most important really is choosing whichever shaving tool that works best for you and your preferred body hairstyle. At the end of the day, it really comes down to personal preference.
Final Thoughts
Taking care of your skin is about so much more than vanity. It's about taking care of your health, preventing premature aging, helping your skin age gracefully, and improving your confidence so you can catwalk away.
Don't think that because you have dry or sensitive skin you can't shave. There are options for everyone, it's all about finding the right products and routine. I hope you've found the best razor for you and your sensitive skin.
Hollie xx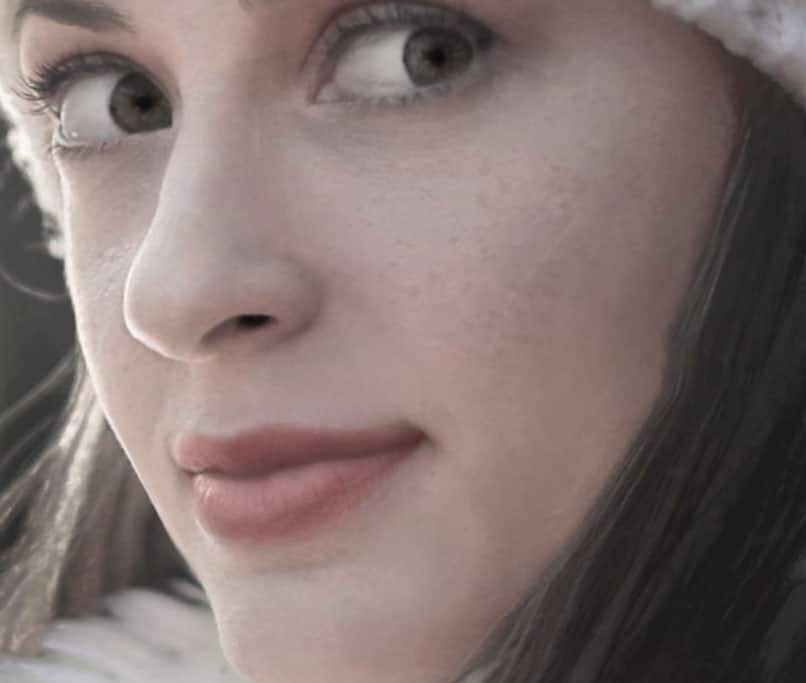 Hi, my name is Hollie, and I own BeautywithHollie.com. I love everything to do with beauty and love sharing my knowledge, advice and beauty finds! Makeup and beauty are here to enjoy, and Beauty With Hollie is here to take the stress out of it!
---
---
Anastasia Beverly Hills Benefit Cosmetics Bobbi Brown CeraVe Chantecaille Charlotte Tilbury Clarins ColourPop Dermalogica Dior ELEMIS Elf Cosmetics Estée Lauder Fenty Beauty First Aid Beauty Fresh Hourglass Huda Beauty IT Cosmetics Jane Iredale L'Oreal lancome La Roche-Posay Laura Mercier LORAC MAC Makeup Revolution Mario Badescu Maybelline Morphe Nars Natasha Denona Neutrogena NYX Origins Peter Thomas Roth Revlon Sigma Beauty Smashbox Stila Tarte Cosmetics The Ordinary Too Faced Urban Decay YSL
---