Fenty's New Skincare Line is here! Is Fenty Skin a Hit or Miss?
And we're back at it again with celebrity skincare! Fenty Beauty has just released its new skincare range- Fenty Skin!
We've seen it. We've heard it. We've all been rattled by the notifications containing promo emails and the news all over the beauty world!
I was a little excited myself. Not because it's celebrity skincare, but because will it be anything as revolutionary as Fenty Beauty?
Personally, I don't think skincare and makeup products have the same rules. But okay, let's find out what Fenty Skin is really all about!
In all honesty, I resonate with the sentiment that celebrity skincare (and makeup) lines are money grabs. So naturally, I would expect it to be worth the grab!
However, I do like Fenty Beauty makeup a lot. I think she's delivered with makeup and there are not a lot of Fenty products that I would say missed it.
But to venture into skincare makes me bring out the British in me, and point my nose up!
Fenty Skin first launched with three cardinal products: a cleanser, toner, and sunscreen! Not too bad. I'll give it that. It's quite nice that the brand is at least taking things slow, and with products that are basic, yet essential. Ones that really start off a skincare routine with 'skin' and 'care' in mind. No unnecessary makeup wipes or more stretching products like ampoules, essences and whatnot!
The three that are out on the market are cleverly "formulated" for all skin types and all ages.
The Fenty Skin Total Cleans'r Remove-it-all Cleanser is simply a 2-in-1 oil-free makeup remover-cleanser that gives you the much-needed deep clean that Rihanna recommends: to always remove makeup before you sleep!
The next product in the line is the Fat Water Pore-Refining Toner Serum. It is yet again another 2-in-1 product. A toner-serum combo that targets pores, improves the look of dark spots, brightens, smooths, and fights shine—all without allegedly stripping your skin.
And lastly, there is the Hydra Vizor Invisible Moisturizer Broad Spectrum SPF 30 Sunscreen. It's another clever move from Fenty. Release three products that are all multi-use or multi-functional!
The Hydra Vizor Invisible Moisturizer is a 2-in-1 chemical sunscreen and moisturiser that is lightweight, oil-free, and truly invisible on all skin tones.
This means no white casts, which is usually the go-to for people with coloured or deeper skin tones. I'm seeing patterns and I guess that's where Miss Fenty reiterates her inclusivity goal on top of these products being tailored for all.
All three products are claimed to be clean, vegan, and gluten-free.
The Packaging
It seems to me Rihanna has learned from the mistakes of others. I still have my doubts about the packaging, but you have to admire the effort her team has put into creating it!
First off, the cleanser comes in a wide tube bottle that you squeeze to get the product out of a small opening hole right in the centre of the cap. You'll have to twist the cap to open up the hole and squeeze the cleanser out.
If not for that interesting twist cap detail, the packaging would've been typical. It seemingly looks like your usual clear plastic toner packaging with the clichéd minimal branding.
The sunscreen's packaging is giving me major wow factors. I didn't really anticipate it to be well-designed, honestly. But I'm glad I am proven wrong. This sunscreen is a refillable product and the whole outer facade is a reusable case.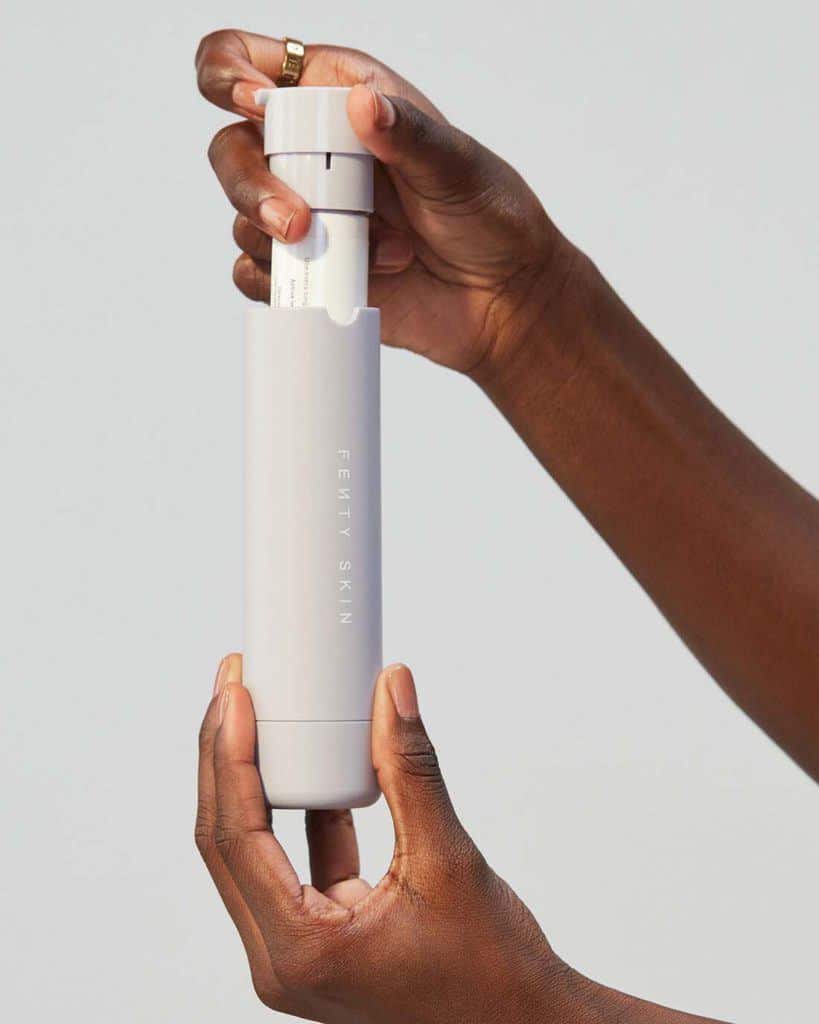 Twist the bottom part of the case to release the plastic cartridge (also recyclable plastic) and replace it with a new full product.
While it doesn't completely stop anyone from throwing away plastics into landfills or the ocean, it is still a significant step to help people reduce plastic waste.
Given that, not a lot of skincare products have been launched with anything half of what you'd truly call recyclable! Fenty really likes to shake things up in the industry.
And lastly, the cleanser. While it's standard, it still looks very pleasing. A refreshing take against the pinks and rosegolds littered everywhere in design trends these days! It's the most "normal" among the three, but that doesn't mean it lacks any surprises.
It also comes in a twist cap which I think is very convenient for in-shower moments! The packaging is made with 40% Post-consumer Recycled Material (PRC) and can be recycled just like the rest.
The powder blue theme and branding logo are also consistent aside from the environmental-friendly aspects of the packaging. All three products come in streamlined packaging for less waste— no box or shrink-wrap!
That's it for the packaging, and I am quite… impressed. It's very neat. The concepts, design, message, and overall identity the brand gives off are imposed just from the packaging alone. And I think it's something I can support.
However, I'd like the actual products to be able to deliver too! It is skincare after all!
The Ingredients
Fenty Skin Total Cleans'r Remove-it-all Cleanser is a cream-to-foam formula loaded with antioxidants ingredients.
It is made with key ingredients Barbados cherry (acerola), an ingredient packed with more vitamin C than an orange to help brighten your skin; Ginkgo biloba, a tree extract antioxidant and skin-soothing agent that also helps control oil and clarify skin; Green tea, which is rich in antioxidants to help defend against environmental stressors; Fig, a desert-loving fruit that's rich in antioxidants; and Quince, a rare fruit that thrives in rough, dry climates and is infused with minerals to help condition and hydrate your skin! It is oil-free and ideal for everyone.
These ingredients are pretty great! They're not too strong, nor will they overly strip your skin of the necessary ingredients! It's a thorough formula and there isn't anything bad to say about it.
The chemical sunscreen is made with the active ingredients avobenzone (3%), homoslate (9), and octisalate (4.5%). Fenty Skin has steered clear of oxybenzone to brand the product coral reef-safe and it's wonderful to see consistency in her campaign.
The sunscreen is moisturising, but not enough to fill both its 2-in-1 roles perfectly. It's made with key ingredients, like glycerin, safflower, niacinamide, hyaluronic acid, and so much more! It's also non-comedogenic and oil-free.
The toner really does have a unique thick liquid texture that's very comfy to spread all over the face. The ingredients are pretty okay too.
It's got Niacinamide (a form of Vitamin B3) that helps reduce the look of dark spots, even skin tone, and fight excess shine; Barbados cherry (acerola); Australian lemon myrtle and witch hazel water, both help reduce oil and refine pores.
It also contains Japanese raisin tree extracts. It's been used for over 1,000 years in Asia as a recovery treatment from long nights of partying; which means it helps in detoxifying. And more importantly, de-stresses your face like your go-to hangover beverage.
This serum toner also contains Cactus flower, Green tea and fig; all of these are rich in antioxidants to help defend against environmental stressors!
Final Thoughts
To be completely fair, for a celebrity skincare range, it's better than I thought it would be! That doesn't mean that I would gush over my checkout button every time Fenty Skin restocks online. No.
It's not super expensive, and I appreciate that Fenty Skin isn't going for a hard knock at people's wallets. I admire the things she's trying to target with her businesses. It's a good skincare line.
However, other than the packaging, it's about as special and unique as the next indie skincare brand with a specific identity to share. And it really is probably most useful for Fenty Skin's main demographic! But for now, I'll stick to The Ordinary products until my skin's had enough!
Hollie xx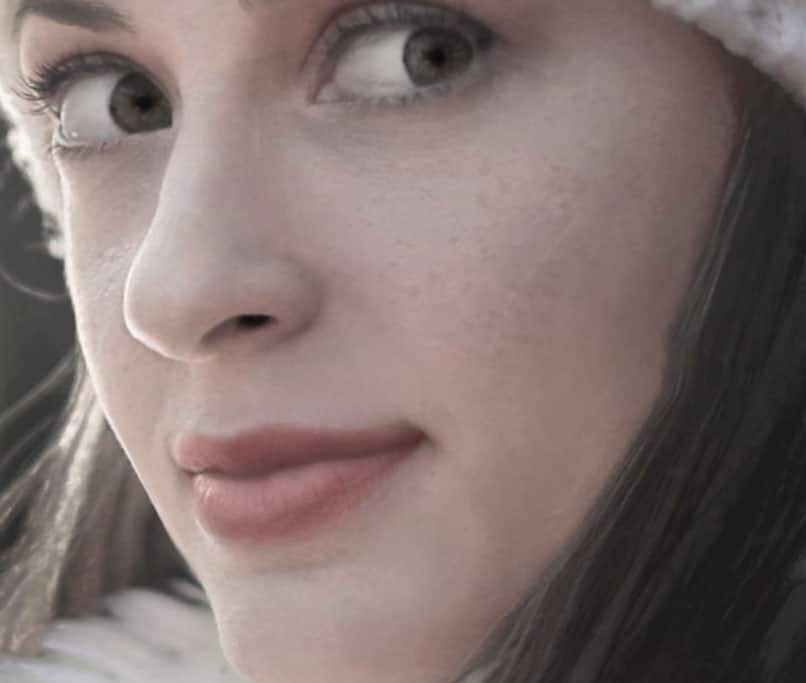 Hi, I'm Hollie, and I own BeautywithHollie.com. I love everything to do with beauty and love sharing my knowledge, advice, and beauty finds! Makeup and beauty are here to enjoy, and Beauty With Hollie is here to take the stress out of it!
---
---
Anastasia Beverly Hills bareMinerals Benefit Cosmetics Bobbi Brown CeraVe Chantecaille Charlotte Tilbury Clarins ColourPop Dermalogica Dior e.l.f. Cosmetics ELEMIS Estée Lauder Fenty Beauty First Aid Beauty Fresh Giorgio Armani Hourglass Jane Iredale L'Oreal Lancome La Roche-Posay Laura Mercier LORAC MAC Makeup Revolution Mario Badescu Maybelline Morphe Nars Natasha Denona Neutrogena NYX Origins Peter Thomas Roth Revlon Sigma Beauty Smashbox Stila Tarte Cosmetics The Ordinary Too Faced Urban Decay YSL
---