If you do a survey and ask people if they get enough sleep at night, most will say they don't. Because, that's how most of us are, constantly in a race against the clock, and sleep is usually the first thing to go. Well, the Elemis Peptide4 is to the rescue! With some magic the Elemis Peptide4 makes your skin look like you've slept 8 hours. If you can't get it, at least you can fake it!
What are the Elemis Peptide4 products and how do they work?
The Elemis Peptide4 comes with 3 products. They are the Peptide4 Eye Recovery Cream, the Peptide4 Night Recovery Cream-Oil and the Peptide4 Thousand Flower Mask.
You're probably wondering how these products do their magic. The whole range is inspired by the body's inner clock and follows its natural triggers. At night our skin cells naturally renew and repair, when our sleep is interrupted, this affects our skin and the repair cycle gets interrupted too. With the help of Peptide4 which is made from four amino acids, the skin can get its refreshed and revitalised look back.
In addition to Peptide4, Elemis use two flower seed oils made exclusively for them. Night Scented Stock is rich in Omega-3 fatty acids and Vitamin E. Star Avensis is rich in Omega-3 and Omega-6. Both these oils help the skin to be more hydrated and smoother and they help to reduce lines.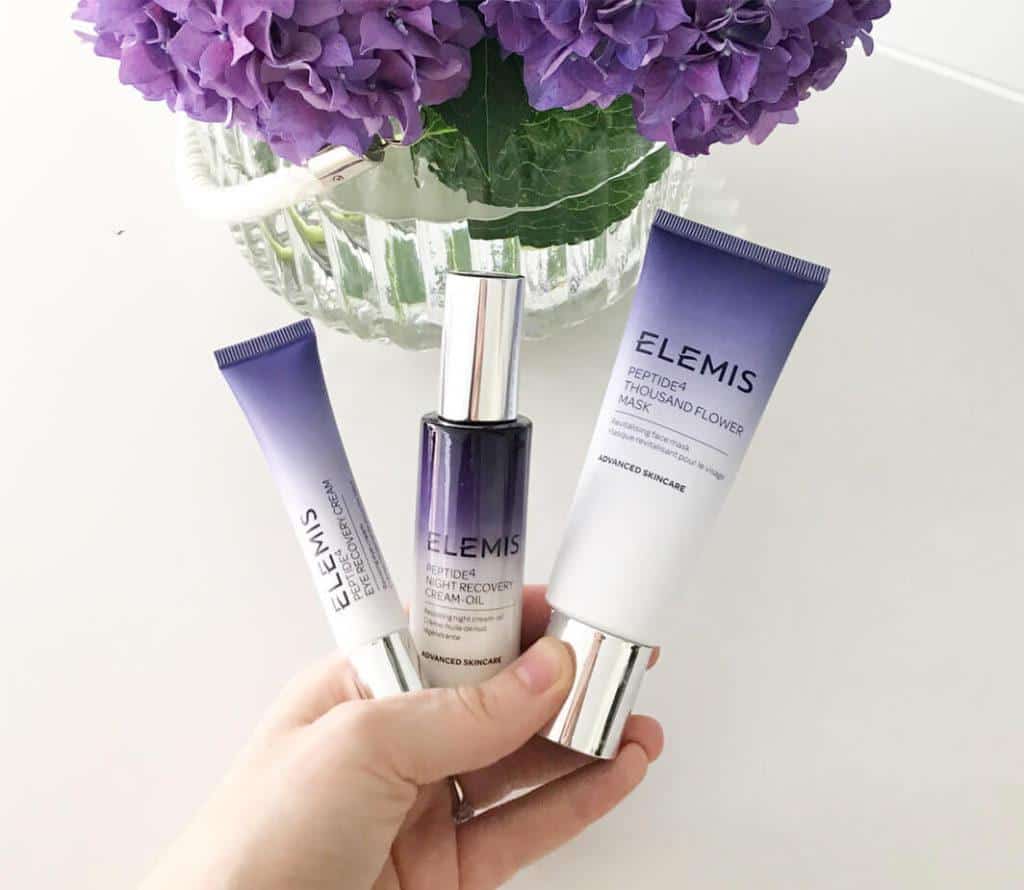 Peptide4 Eye Recovery Cream
This cream is pure magic! After only using it a couple of times, the circles under my eyes reduced dramatically. The whole appearance of my eyes is younger and less tired. And that's after applying only a couple of times. You are supposed to apply it every morning and evening but I'll be honest with Y'all, I don't always have the time to do everything in my skincare routine. So sometimes (more like often), things get skipped?
Peptide4  Night Recovery Cream-Oil
Apply this cream every evening before you go to sleep. With the Peptide4 Recovery Cream-Oil, the results weren't as fast as the Eye Recovery Cream. But over a couple of days, I definitely noticed a difference. My skin has a glow and it feels firmer.
Peptide4 Thousand Flower Mask
The first time I used the mask I have to admit my kids got a little shock when they saw me!  The mask is black in colour, something you don't expect from the packaging. Apply this once a week and leave on for 15 minutes. A little tip- be careful when removing the mask so that you don't ruin any towels. My advice is to use cotton wool pads when cleaning it off, or even better, a black flannel! Aside from the colour, this is my current favourite mask. It smells amazing and makes my skin feel so soft and looks glowing. It's luxury all the way:)
Elemis Peptide4 can be bought here for £124
Alternatively, you can buy each of the products separately.
Peptide4 Eye Recovery Cream can be bought here for £38
Peptide4 Night Recovery Cream-Oil can be bought here for £49
Peptide4 Thousand Flower Mask can be bought here for £37
For Free Worldwide shipping you can order from lookfantastic.com.
Currently, they only stock the Eye Recovery Cream and the Night Recovery Cream-Oil
My Thoughts
The Elemis Peptide4 products are gold! A little on the pricey side but worth every penny. The products are generous and the way I see it is that over time it's cheaper than going to the spa. And the Peptide4 products feel a lot like going to a spa. My only complaint is that I wish I would have more time in my day so that I can apply them as I should. Let me know your thoughts below:)
Have a great day,
Related Posts