This Customised Eyeshadow Palette Will Set Your Heart Racing
When Beautonomy contacted me asking if I wanted to create my own custom-made eyeshadow palette, my answer was an immediate YES!
Customised palettes are so much fun, and it means you get a palette with all the useful shades that you will use- after all, you chose them!
When you buy a ready-made eyeshadow palette, there are always a couple of colours that you don't end up using. Not only is it wasteful, but it's also a shame to spend money on an eyeshadow palette and not get the maximum use out of it.
With the Beautonomy eyeshadow palettes, you won't have this problem!
Beautonomy is not unique in the concept of customised eyeshadow palettes. They are unique in their customised palettes inside and out.
With Beautonomy you get to choose the whole palette including the packaging and you have the option of adding personalised text.
Disclaimer: This review is not sponsored. While Beautonomy did gift me the palette, they did not pay me for it, nor did they ask for this review. This review is my opinion and thoughts on the palette and the brand.
The palette I ordered was actually a gift for a good friend of mine. I know how she struggles to find her 'perfect' palette and she hates having clutter in her room. She really needed one palette with all the colours that she would use. Beautonomy was made for her!
The ordering process couldn't have been easier. First, you chose your shades and place them on the palette in the order that you desire.
Below is a screenshot of how it works. It's really easy to navigate, the eyeshadows are split up into finishes making it clearer for the consumer.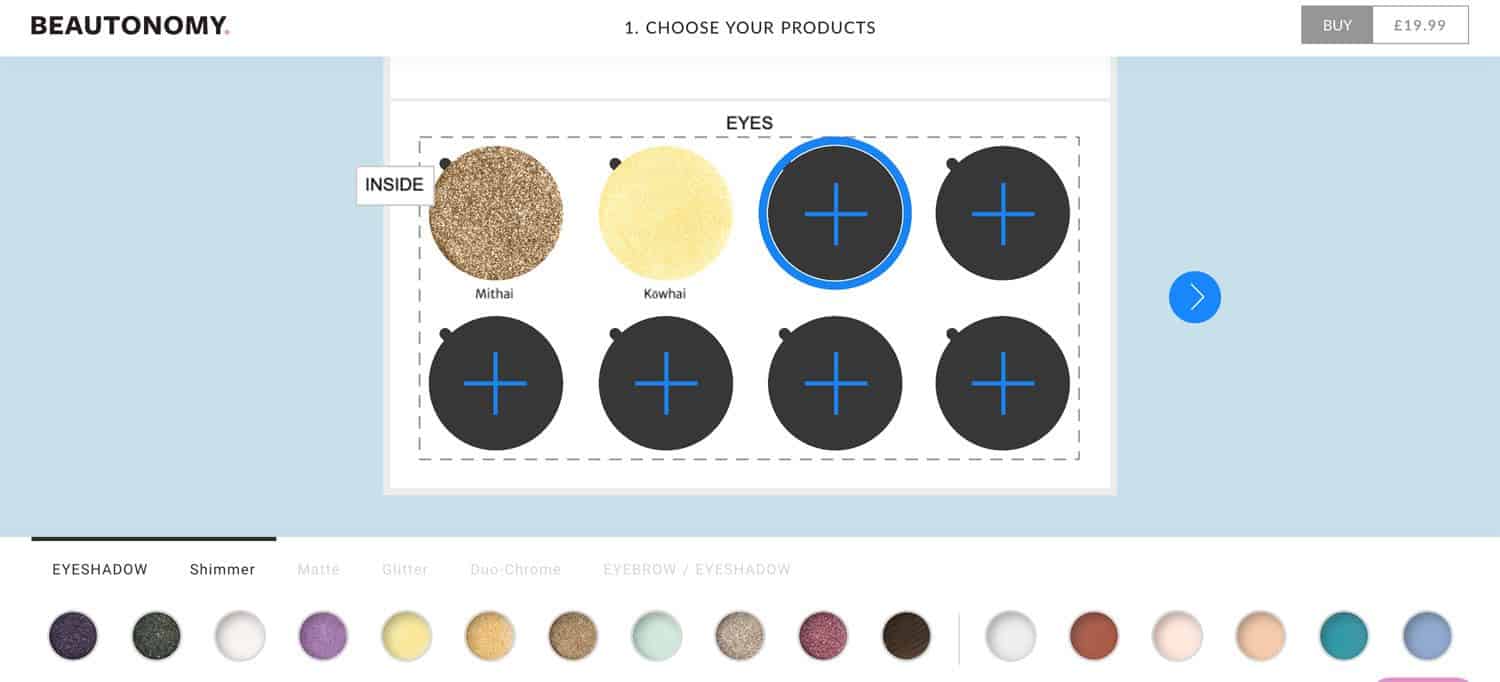 Once you've chosen your shades and you're happy with them, then you get to choose the eyeshadow case. There are a few options to choose from.
You can either upload an image of your own, or you can choose a block colour and the last choice is to choose one of their patterns. They have really cute patterns that would add spunk to any makeup collection!
Once you've chosen your packaging you can add your personalised text. Obviously, if you don't want text, you can just skip out on this part. Although, come on, how cute is a personalised eyeshadow palette?! I know I wouldn't pass on it:)
Do you love luxury eyeshadow palettes but not the price? Check out the best eyeshadow palette dupes and save big!
And that's it, you're personalised eyeshadow palette is complete. If you aren't happy with the colours you can still change it all provided you haven't checked out. The process couldn't be simpler and it's very affordable too!
On to the palette I designed…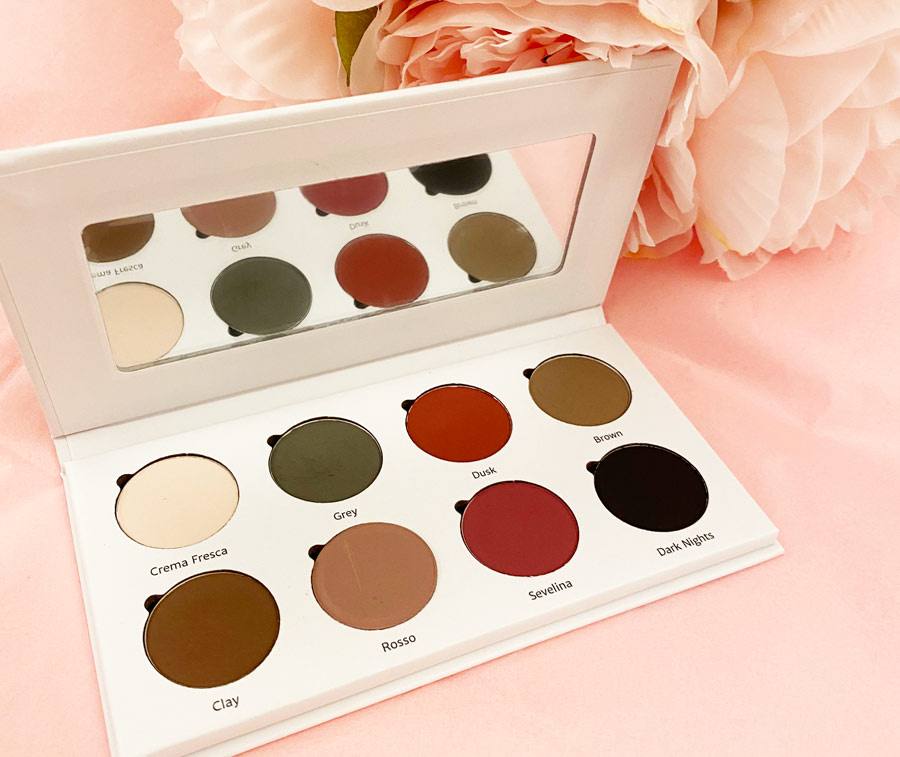 As you can see I went for all mattes. My friend hates all glitter and shimmer, so mattes it was. She also is a neutral lover like me, so I tried to stick to neutrals as much as possible. Although I did add a bit of colour to give the palette a bit of spunk.
When it came to the eyeshadows, I have to admit, I did struggle a bit with the matte range of colours. Their range is good, but rather small and when you are only looking for mattes, it's even smaller.
They don't have a large collection of neutrals either. I guess what I'm trying to say is that their eyeshadow choice is still pretty limited. I imagine as the brand grows, it will have the opportunity to add more shades and colours to its collection.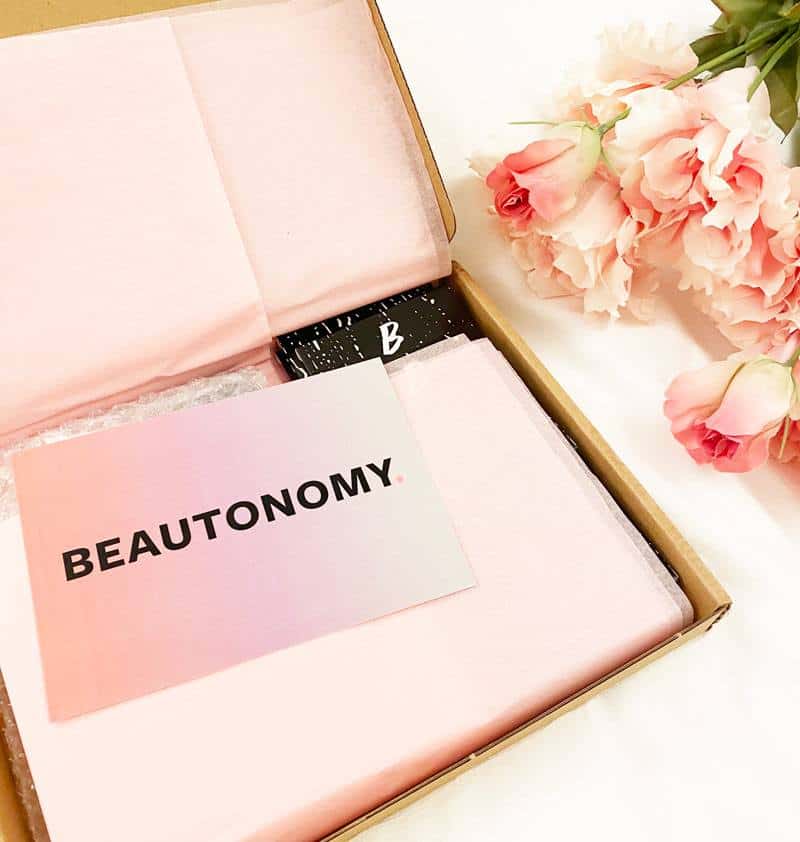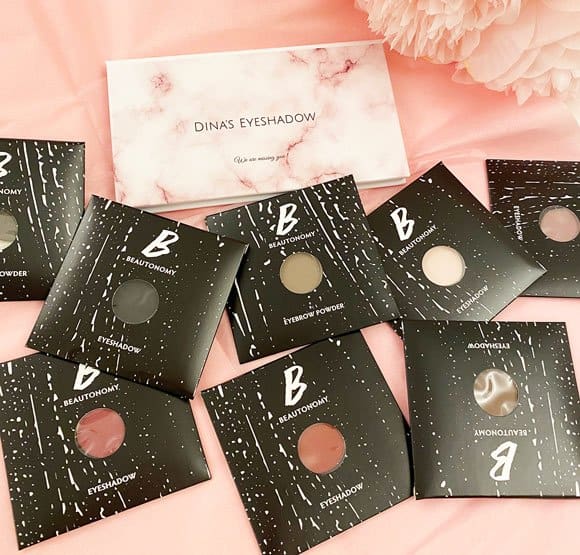 For the packaging, I went with a classic marble in pink. You can never really go wrong with marble, nor with pink and yes, my friend absolutely loves it!
The inside of the eyeshadow palette has a good-sized mirror, which as you know, is a must-have for every decent eyeshadow palette.
For the writing on the eyeshadow palette, I went with black text and a simple font. However, you could choose from quite a few fonts and colours as well as sizes.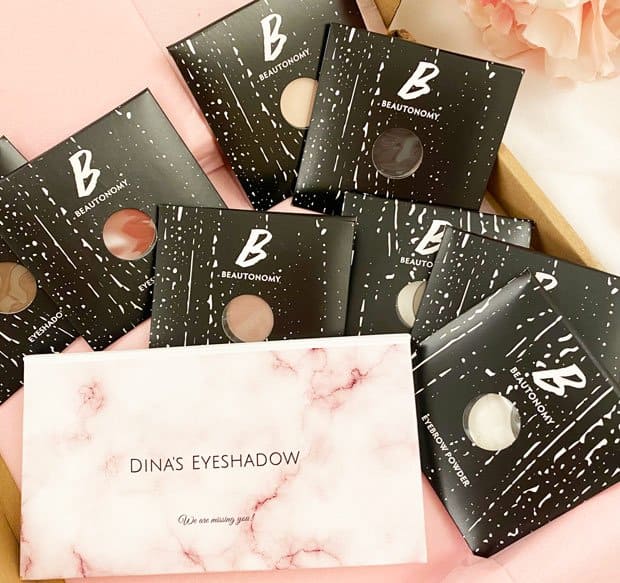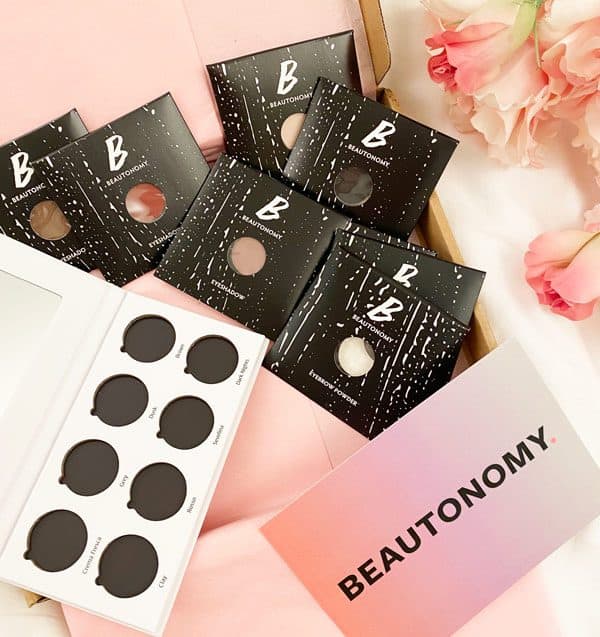 As you can see, all the eyeshadows came separately, packaged in their own little packaging. The packaging is really neat and elegant, and it gives the whole eyeshadow palette a really classy touch!
The palette is really easy to set up, the palette comes with the names of the shades already on it, all you need to do is match it up with the loose eyeshadow shade and put it in the right place.
The eyeshadows don't click into the slot so it may be a good idea not to turn the palette upside down, or they may fall out.
You know your friend is makeup obsessed when they give a present…and then they ask for it back to swatch it! Sorry, Dina! Well, it was either that or opening the palette before giving it. I thought asking for it back was the better option:))
When it came to swatching the shadows, I have to admit, I was really blown away. After just one swipe of the finger, look at the results I got! These eyeshadows have serious pigmentation!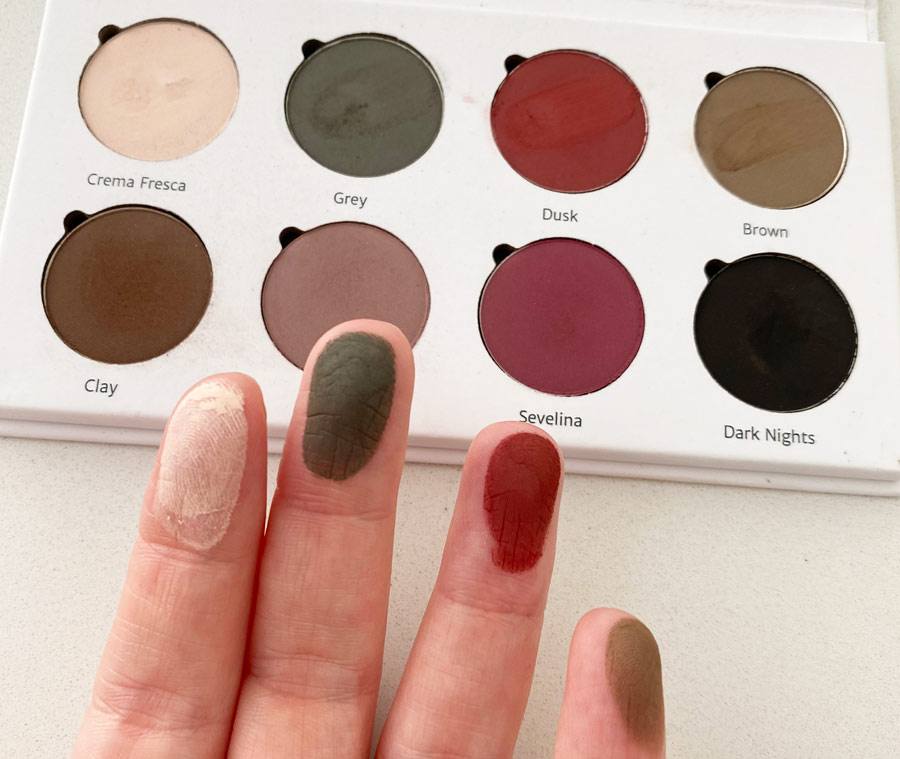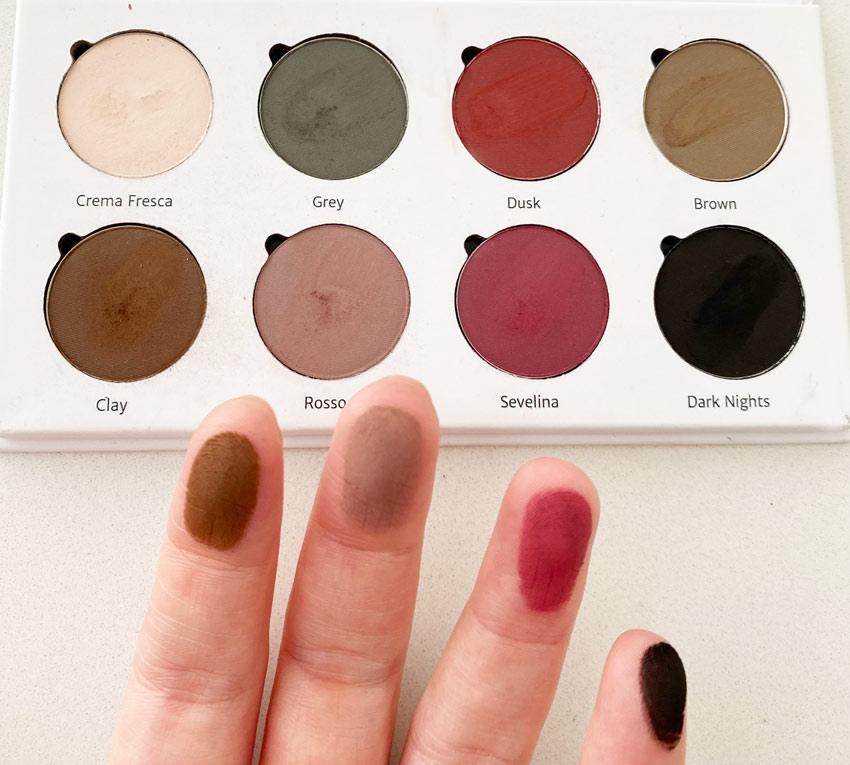 Aside from the amazing pigmentation that these shades have, applying them to the eye and blending them out was pure bliss. They are really smooth, buttery and easy to blend out with very little fallout. Basically, the perfect eyeshadows!
When I ordered the eyeshadow palette, I thought it would be a cute gimmicky palette that makes a great present. I wasn't expecting the quality of the eyeshadows to be all that great, because let's be honest, gimmicky and quality don't usually go together.
However, I am happy to be proven wrong and in this case, I couldn't have been more wrong.
Not only does the palette make a charming present, but it is also of amazing quality.
Is it for you?
If you like good quality eyeshadows with a customised palette and shades then the Beautonomy eyeshadow palette is a must-have! To top it all off, the eyeshadow palette is really affordable retailing at £19.99.
One thing I would like to see from Beautonomy is a wider range of shades, but as I already said, I'm sure as the brand grows, so will its colour range!
Beautonomy is cruelty-free and none of its products is tested on animals.
UPDATE: Beautonomy has closed down, but the good news is that ColourPop now has a 'build your own palette' option. Get your favourite ColourPop shades in one palette now!
Hollie xx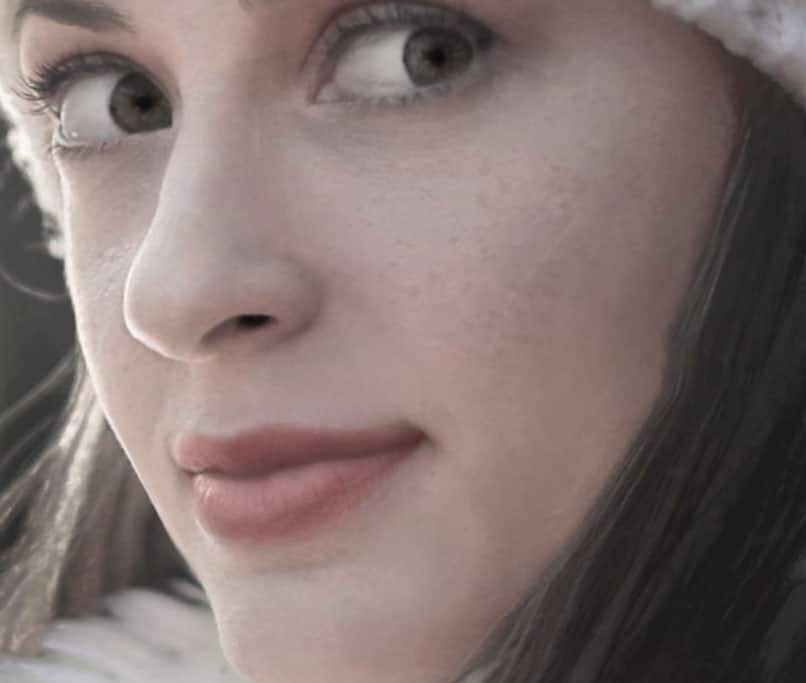 Hi, I'm Hollie, and I own BeautywithHollie.com. I love everything to do with beauty and love sharing my knowledge, advice, and beauty finds! Makeup and beauty are here to enjoy, and Beauty With Hollie is here to take the stress out of it!
---
---
Anastasia Beverly Hills bareMinerals Benefit Cosmetics Bobbi Brown CeraVe Chantecaille Charlotte Tilbury Clarins ColourPop Dermalogica Dior Dyson e.l.f. Cosmetics ELEMIS Estée Lauder Fenty Beauty First Aid Beauty Fresh Giorgio Armani Hourglass Jane Iredale L'Oreal Lancome La Roche-Posay Laura Mercier LORAC MAC Makeup Revolution Maybelline Morphe Nars Natasha Denona Neutrogena NYX Origins Peter Thomas Roth Revlon Sigma Beauty Smashbox Stila Tarte Cosmetics The Ordinary Too Faced Urban Decay YSL
---