Best Shampoos For Grey Hair in 2023
Having grey hair is nothing to be ashamed of, (says me who tries to pull out every grey hair, it's a terrible habit, I know!). All jokes aside, embracing the inevitable is a much healthier way to live.
I simply think the age of 32 is way too young to have so many grey hairs! Too bad we don't get to choose! The reality of life is that we'll all have to face grey hair at some point, and 1 in 2 will have grey hair by the age of 50.
What many people don't realise about grey hair, is that it's not only the colour that changes, it's also the texture. Grey hair is often coarse, and rough and frizzes easily. That's where these shampoos come in! They will soften coarse hair and make managing grey hair a completely different ballgame!
I've put together here the best shampoos for grey hair in 2023. These shampoos will help reduce dullness in grey and silver hair and help to brighten it up. They will also help to strengthen your hair and give your hair back its life and bounce! Age gracefully with these shampoos that will bring out the best in your grey hair!
Disclaimer: As an Amazon Associate I earn from qualifying purchases on Amazon and other affiliate programs. This means on some purchases I make a commission. It doesn't mean you spend more, it simply allows me to keep this blog going!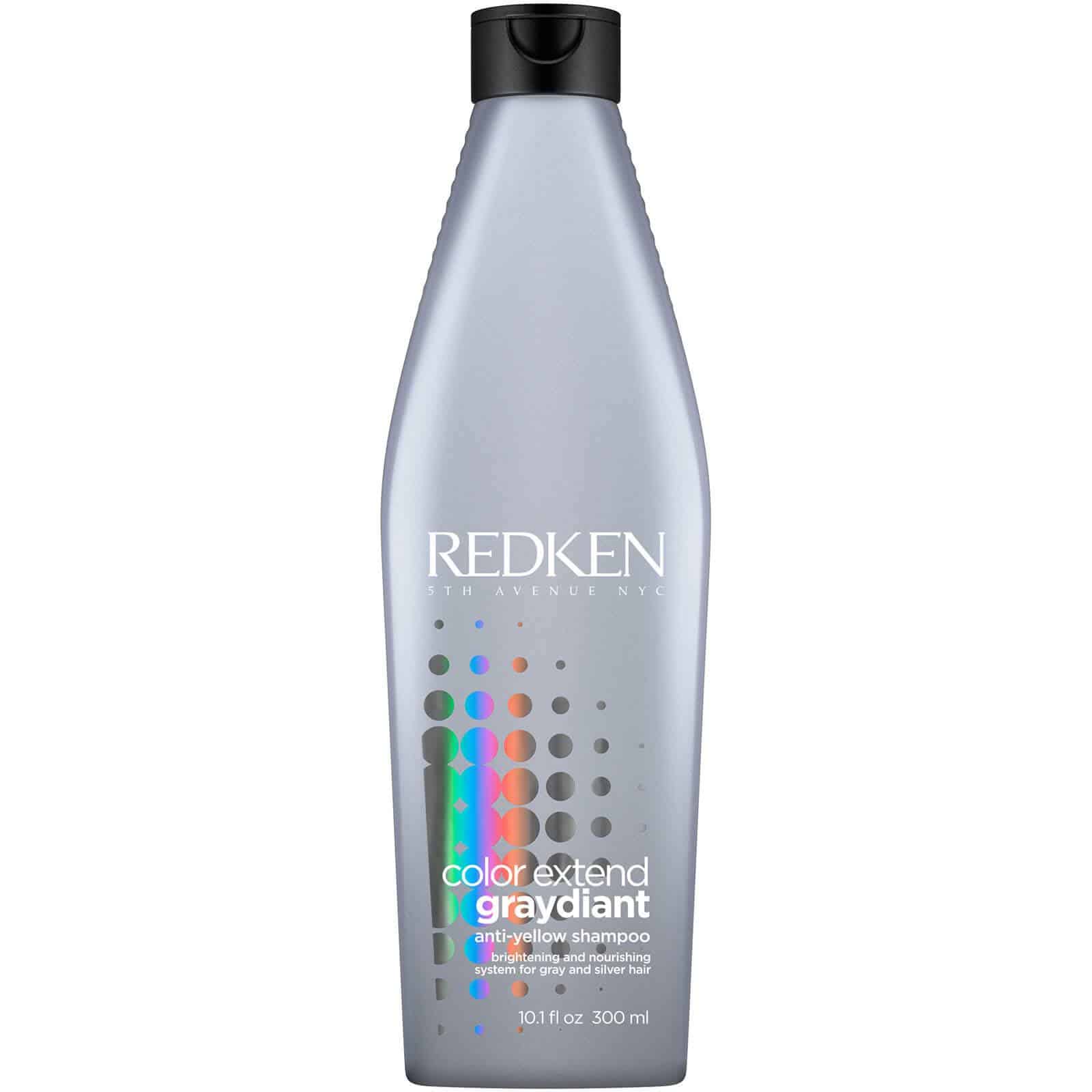 This shampoo will transform grey hair including even the coarsest and dullest of hair! Redken shampoos are the real deal when it comes to hair colour control, and this one is no exception! You can expect silky, soft hair with the added touch of a beautiful shine.
Many people who have ashy highlights love this shampoo too, it neutralises any yellow brassiness in the hair and leaves it a beautiful, silvery grey. The shampoo is purple, which is the complementary colour of yellow, so logically it makes sense that it helps remove any yellow, bright colours.
For best results, use this shampoo a couple of times a week. If you use it too often, you risk getting some pink or purple hues in your hair! So I don't recommend it!
Pros
Will transform your hair in a couple of washes
Professional shampoo
Cons
Expensive
Not cruelty-free
Redken Color Extend Graydiant Purple Shampoo can be bought from Amazon
---
Another winning shampoo is this Pantene Sliver Expressions shampoo. It will neutralise any blonde and brass tones, and give your grey hair its vibrancy and shine back.
A 'healthier option to the Redken Color Extend Graydiant Purple Shampoo, Pantene Silver Expressions is free of parabens and silicone. It's also a gentler shampoo and can be used daily without any negative side effects on your hair.
It may be a purple shampoo, but you don't need to worry about any purple staining to your hair or your bath. It washes off without leaving any residue. The only thing it will leave you with is brighter grey and sliver hair that looks salon-worthy!
Pros
Silicone-free
Paraben-free
Affordable
Smells good
Pantene Silver Expressions, Purple Shampoo and Hair Toner can be bought from Amazon
---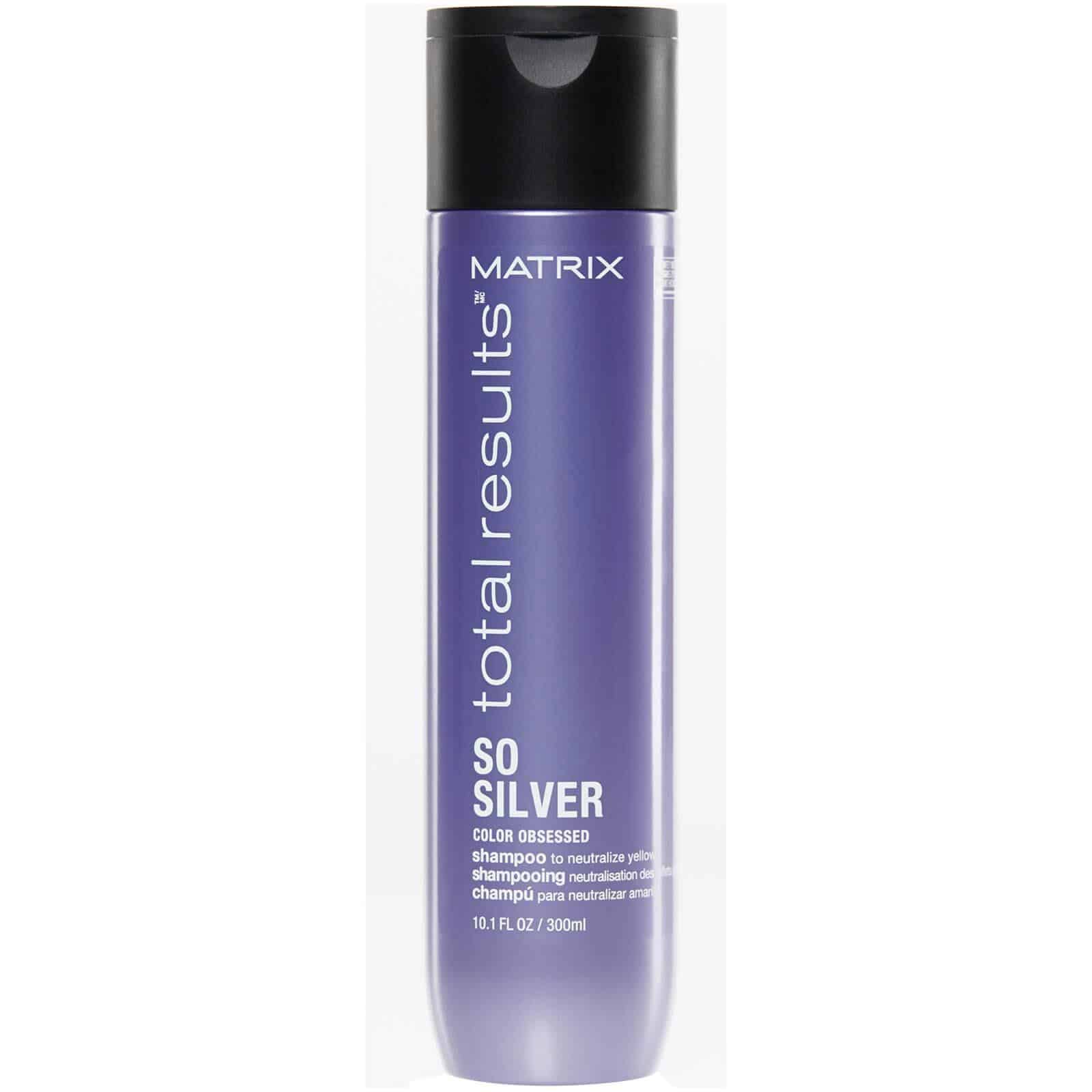 Matrix is known to make shampoos that help every hair colour and every hair challenge. Whether you want to get rid of red streaks or yellow ones, they have it all! They are one of the most reliable hair brands today, their products are of good quality and often used by salons and professionals.
Matrix Total Results So Silver is used by young and old, white and blonde! It removes any brassiness in your hair colour and turns the blonde, yellow and dull grey tinges into bright tones.
This shampoo is ideal for people with grey hair, as well as those with blonde hair who want to get rid of the yellow tones. It works amazingly on balayage, those who use it say they can't live without it!
It's another professional shampoo, recommended by the pros and used in many hairdressers and salons.
Pros
Removes brassiness
Works on blondes
Affordable
Cons
Some find it makes their hair greasy
Matrix Total Results So Silver can be bought from Amazon
---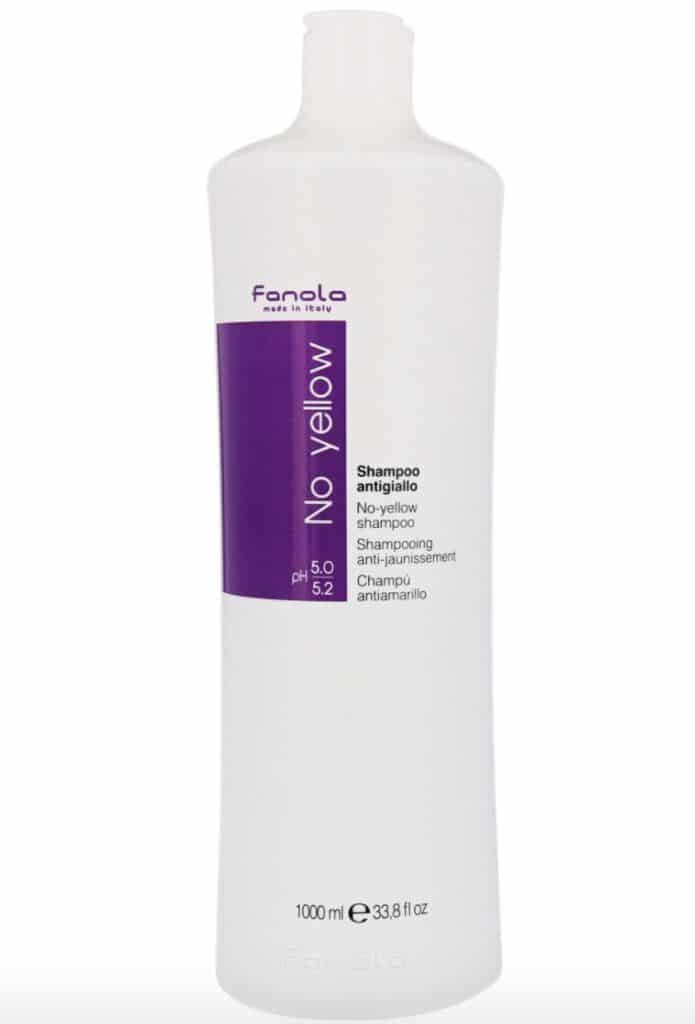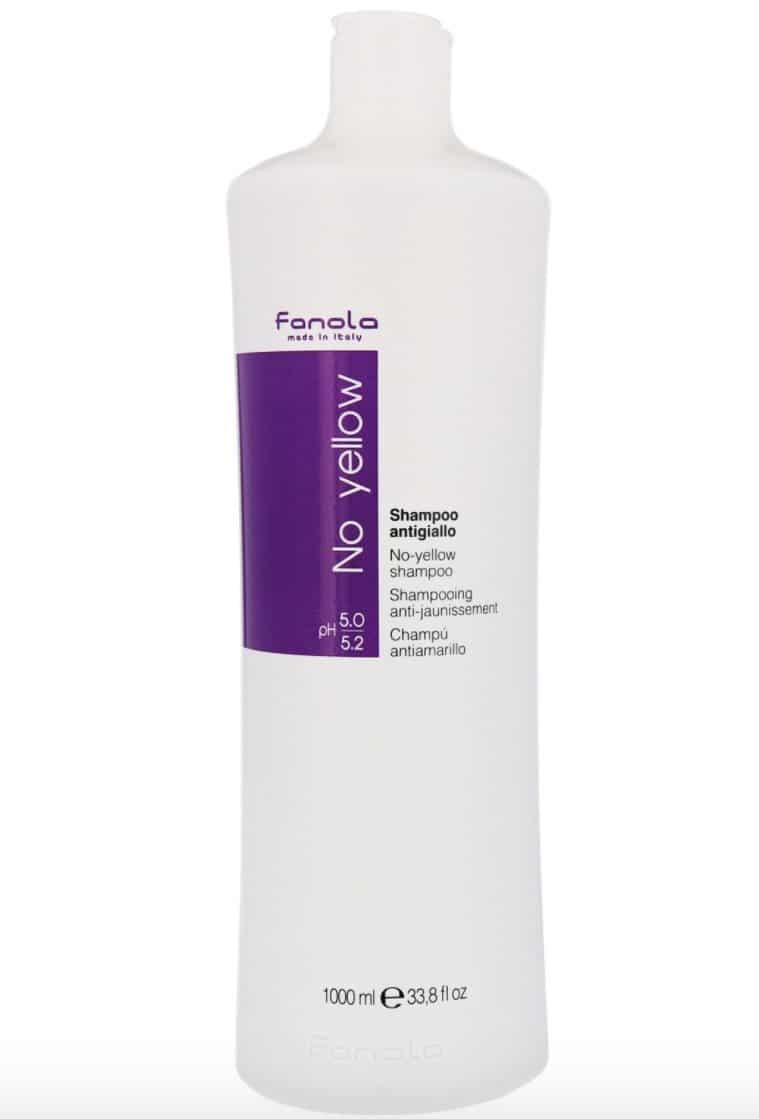 One of the most pigmented shampoos on the market, Fanola No Yellow Shampoo knows how to remove brassiness. Use this shampoo to get rid of any bleached colours that have developed from dying it too often, or for grey hair that has become dull and brass-like.
Don't use this shampoo too often or you will be left with purple streaks. Yes, it's that strong! When using, let the shampoo sit on your hair for 1-3 minutes for the best results.
To use, simply apply the shampoo when your hair is damp or wet. Also, don't forget to use gloves or your hands may get stained. These may sound like faff, but the instant results are well worth the extra effort!
Pros
Gets rid of all brassy streaks in greys and blondes
Affordable
Salon quality
Cons
Doesn't target any other hair issues
Can stain hands
Fanola No Yellow Shampoo can be bought from Amazon
---
One of the bestselling shampoos for colour-correcting brassy tones, this Loreal shampoo is a real winner! It's one of the most affordable shampoos for blonde and silver hair and it seriously does the job!
Formulated without sulphates means that it doesn't have the harsh chemicals that many colour-correcting shampoos are made from. This shampoo has gentle ingredients to ensure the best possible results for your hair!
It gets rid of all bleached colours in your hair and in your highlights. It won't affect the hair that's not bleached, it simply targets the brassy hair and neutralises it.
This shampoo will leave your hair feeling soft, shiny and as if someone has just given you a new head of hair! That's because of its moisturising ingredients that give your hair maximum benefit.
Use once to twice a week when your hair is starting to look a little brassy. Apply to wet hair as you would apply your normal shampoo, make sure to rinse thoroughly and get all the shampoo out. For best results follow up with their Everpure Brass Toning Purple Sulfate-Free Conditioner.
It's easy to see why this shampoo is a bestseller- it's made with good and nourishing ingredients. Unlike many colour-correcting shampoos, it's not only made so that it will take away brassiness in blondes and greys but it's also made to keep the hair healthy! On top of that, it's super affordable!
Pros
100% Sulfate-Free
Paraben-Free
No Harsh Salts
Vegan
Cruelty-free
Affordable
L'Oréal Everpure Brass Toning Purple Sulfate-Free Shampoo can be bought from Amazon
---
Joico is a brand that is all about bringing the 'Joi' back into hair! Their motto is that hair should be beautiful and there's nothing in the world like beautiful hair.
Their products are made to bring back your hair's vibrancy and life by making your hair stronger each time that you use their products! A brand on a mission and I like it!
Joico Color Balance Purple Shampoo will remove all brassy colours from blonde and grey hair whilst preserving your hair at the same time. What does that mean for your hair? Well, it means that you can use this shampoo and know that your hair is benefiting from it in so many ways, not just colour-correcting alone!
The shampoo is designed to help with damaged hair, this includes styling products as well as environmental factors. It also helps the hair with dehydration. It packs in hydration which is really essential for grey hair that tends to get dehydrated very quickly.
Pros
Hydrating
Damage control ingredients
Cruelty-free
Long-lasting results
Joico Color Balance Purple Shampoo can be bought from Amazon
---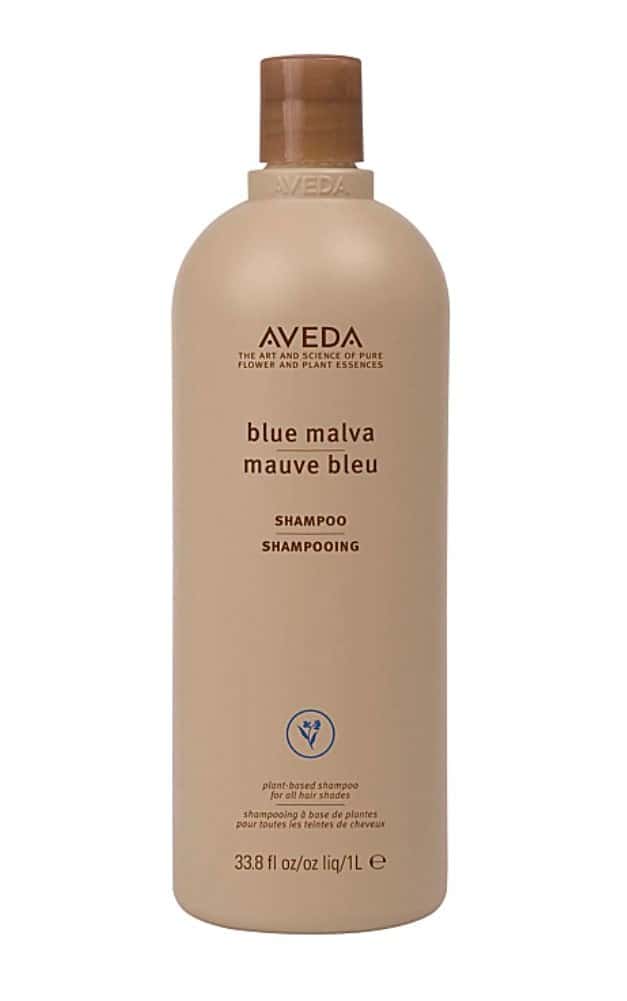 The only blue shampoo on this list, but it works just as well! Well, blue and purple are right next to each other on the colour wheel so it makes sense. What's unique about the Aveda Blue Malva Shampoo is that it's made from naturally derived ingredients. It's a more 'conscious' shampoo but it does come with a price tag.
It's formulated with blue malva, which is a flower that contains blue pigment. Before chemicals were used in hair dyes, all of the hair dyes contained naturally derived ingredients like blue malva.
Most brands haven't kept that up because it's a lot more expensive than using chemicals. Another ingredient used in this shampoo is coneflower, which helps to intensify the colours.
This shampoo can be used on all hair colours, it targets the nasty brassy hairs and brightens them while removing the brassiness. It works amazingly on silver and grey hair and will bring your hair back to life in no time!
Although pricey, a little goes a long way and for most people, it lasts over a year even with everyday usage. When you do the maths, is it even pricey?
Pros
Cruelty-free
Made with natural ingredients
Lovely smell
Suitable for all hair colours
Aveda Blue Malva Shampoo can be bought from Amazon
---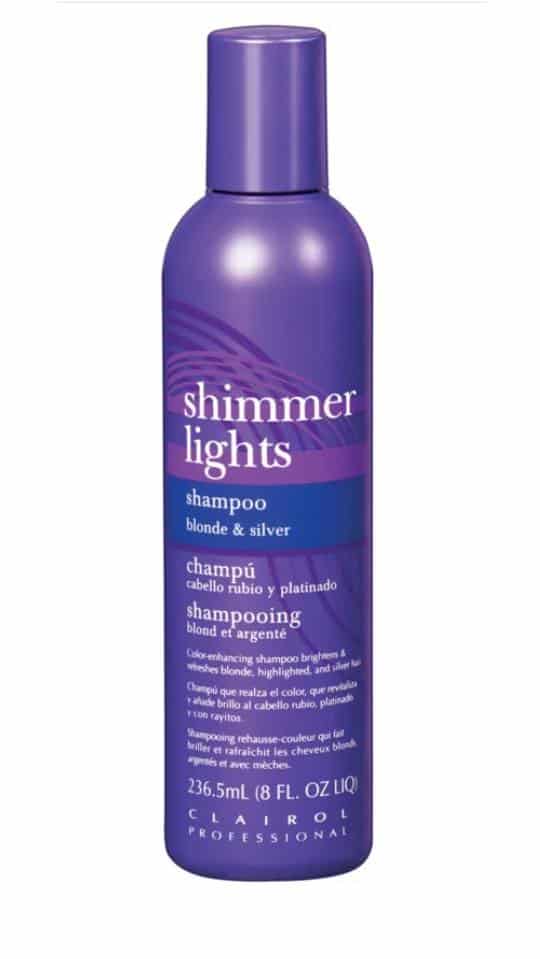 One of the first shampoos ever made to help with brassiness, Clairol Shimmer Lights Shampoo knows how to treat hair! You can use this shampoo on natural brassiness in hair or chemically treated hair- it does the job on both!
This shampoo helps soften coarse hair as well as improve its colour. It contains a rich blend of emollients, moisturisers and of course, colour improvers.
Apply to wet hair and leave on for 1 minute before washing off thoroughly. It works marvellously well on greys and blondes, the shampoo transforms dull colours into bright and beautiful ones!
Pros
No brassiness
Works on chemically treated hair
Moisturising
Clairol Shimmer Lights Shampoo for Blonde and Silver Hair can be bought from Amazon
---
Pro Tips For Grey Hair
When your hair goes grey, it's not only the colour that changes- it's everything about your hair that goes through a personality change from the texture to the lack of pigmentation. Because of that, your hair needs a new treatment plan.
Here are some pro tips to help you manage your grey hair and bring out the best in it.
1. Use the right products
Since grey hair lacks pigmentation, the texture of the hair changes too. It becomes frizzier and wirier. Using the products that you've used your whole life may not work with your grey hair. Choose products that are made to help grey hair- starting with the right shampoos!
2. Choose flattering hairstyles
Obviously, there's no right and wrong way to style your hair. However, when you get older and especially when you go grey, you will notice that shorter hair looks classier and more elegant. It's also easier to manage the rougher texture with shorter hair. Get inspired with these grey hair ideas.
3. Use products with UV protection
White and grey hair lacks pigmentation which means they are more susceptible to UV damage. Use protective hair products so that your hair doesn't get sun damaged.
4. Use anti-frizz products
The main enemy of grey hair is dryness. To combat this problem you should regularly use anti-frizz products. Not only will they take away the frizz, but they will also help your hair to feel softer.
5. Swap up your makeup
With pigmentation and colour gone from your hair, it's time to add some to your makeup. Use colours that compliment grey hair and tones. Embrace your natural grey state and you will look gorgeous!
My Thoughts
With a market so saturated with products, it's easy to get lost and confused about which product you should buy.
There are loads of good shampoos for grey hair but after doing a lot of research, these are the best ones on the market. From removing brassiness to adding moisture, these shampoos have it all!
Most of these shampoos work well on all colour hair, not just grey and blonde. This is because they target the brassy colour in hair and don't affect the other colours making them ideal for grey hair!
Hollie xx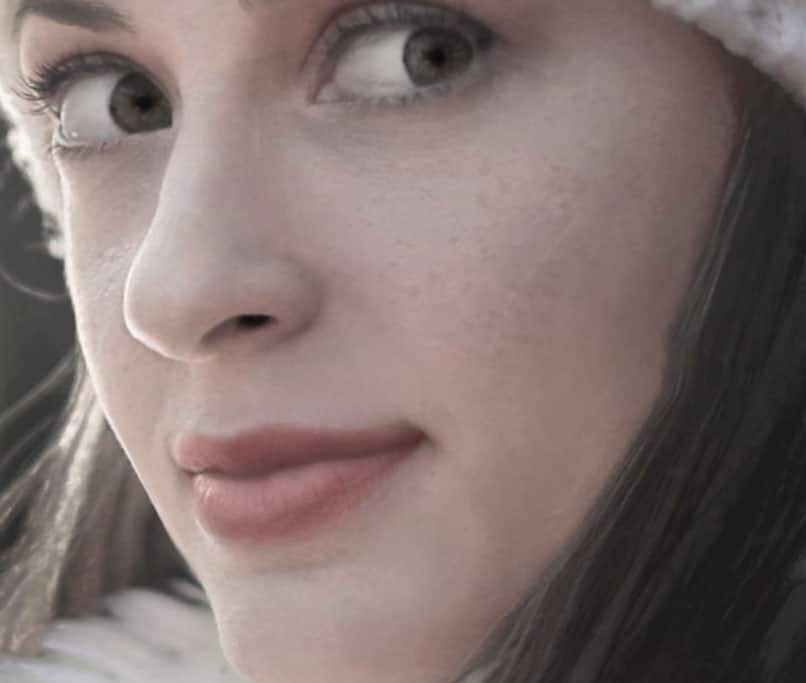 Hi, I'm Hollie, and I own BeautywithHollie.com. I love everything to do with beauty and love sharing my knowledge, advice, and beauty finds! Makeup and beauty are here to enjoy, and Beauty With Hollie is here to take the stress out of it!
---
---
Anastasia Beverly Hills bareMinerals Benefit Cosmetics Bobbi Brown CeraVe Chantecaille Charlotte Tilbury Clarins ColourPop Dermalogica Dior Dyson e.l.f. Cosmetics ELEMIS Estée Lauder Fenty Beauty First Aid Beauty Fresh Giorgio Armani Hourglass Jane Iredale L'Oreal Lancome La Roche-Posay Laura Mercier LORAC MAC Makeup Revolution Maybelline Morphe Nars Natasha Denona Neutrogena NYX Origins Peter Thomas Roth Revlon Sigma Beauty Smashbox Stila Tarte Cosmetics The Ordinary Too Faced Urban Decay YSL
---