Too Faced Born This Way Foundation Review
I am seriously loving the Too Faced Born This Way Foundation. Finding the right foundation isn't always easy, especially in this fast-changing world of makeup.
The minute you think you've got your makeup routine and makeup products sorted, a ton of new products come out or your skin reacts to the products you are using.
You need to stay on the ball when it comes to your makeup routine and this includes switching up your makeup a little. For me, it was time to change my foundation.
Until not long ago I was using the Lancome Teint Idole Ultra 24H foundation which I really love. However, I was wearing it for quite a few years and I felt it was starting to look a bit blah on me.
It was time for a change.
I hate change.
This time, however, the change was really smooth and positive. That's because I started using the Too Faced Born This Way Foundation. And…I love it!
What to look out for in a foundation
Before you look for the perfect foundation you have to know the different features that they have.
The type of coverage- full, medium or light
Is it oil-based or water-based
What type of finish- matte or sheer
Is it long-wearing
Do you want a photo-friendly foundation
Is it heavy or lightweight to wear
Does it work on sensitive skin
Do the ingredients contain bad stuff
Does it come in your colour
These are just a few things to consider before you buy a foundation. If I have missed out on any others please do let me know in the comments below!
As I have already mentioned, I simply love it!
It's medium to full coverage and very buildable too if I may add. The foundation is extremely lightweight, I barely notice it when I am wearing it.
I hate it when I feel that I am caked in makeup. Makeup has to look natural and feel natural, if it doesn't, you're most probably wearing the wrong makeup.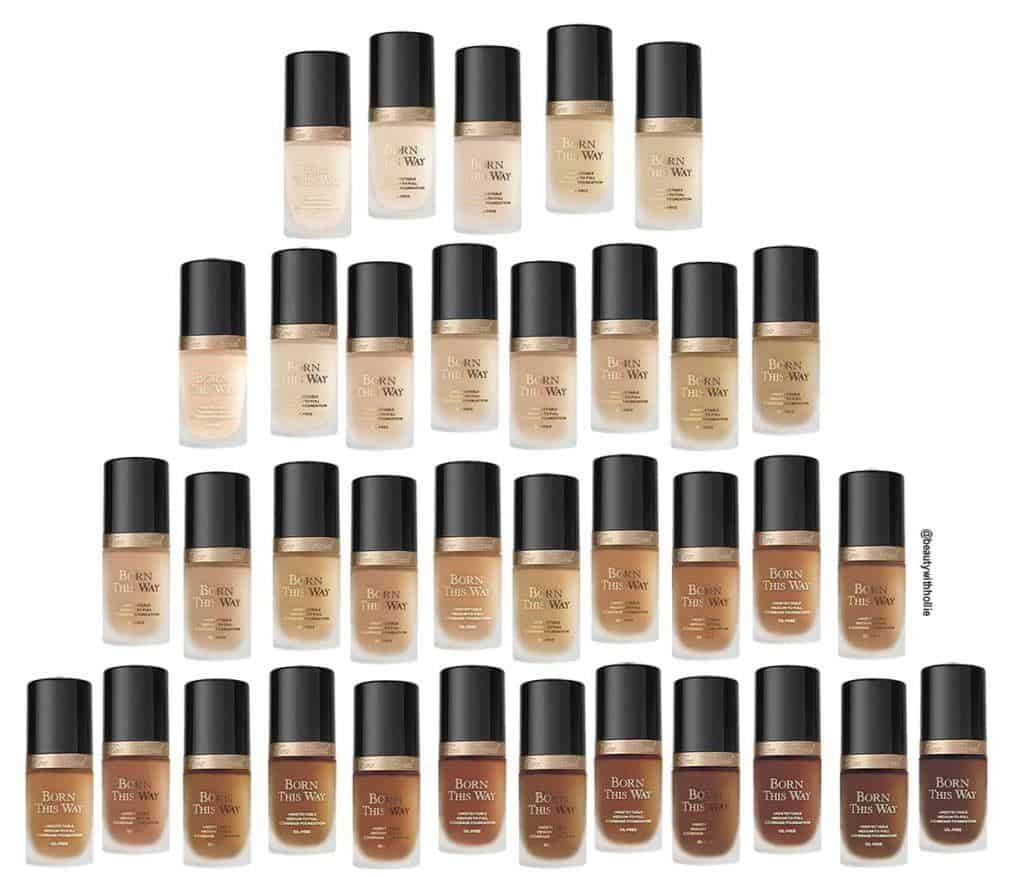 Born This Way Foundation comes in a ton of colours, 35 to be exact. It would be hard not to find a colour that matches your skin shade.
They have different undertones for each shade- I love that because I think it's the different undertones in everyone's skin that often makes foundations hard to match.
The Ingredients are Good for You
More often than not our makeup products contain ingredients that are harmful to us. This is the opposite of the Too Face Born This Way Foundation. Not only aren't the ingredients bad for us, but they are actually good for us.
The foundation contains Coconut Water. This helps to replenish our skin's moisture level, so you don't have to worry about it drying out your skin since it does the opposite.
It also has Hyaluronic Acid which helps to give the skin a smoother more youthful look. And let me tell you, this really works! The foundation sits so seamlessly on my skin that it's almost hard to believe I'm wearing foundation at all.
Another fab ingredient that can be found in the foundation is Alpine Rose which helps the skin's overall health and resilience.
These are the main good-for-you ingredients, but it's not only what the foundation contains that counts, it's also what it doesn't contain that you need to know about.
The foundation doesn't contain any gluten or parabens. It's cruelty-free and suitable for vegans.
My Experience with the Born This Way Foundation
The best way to get the right colour is to try the foundation on your skin. Usually, I am the lightest shade available, but I didn't want to take the risk of buying the wrong shade, so off I went to my local John Lewis.
The staff were super helpful and very knowledgeable about the brand they were selling. Don't assume this is always the case, I've experienced quite the opposite with other brands. The sales lady helped me pick out the perfect shade which wasn't even the lightest to my utter shock.
It's always helpful to have another opinion when trying to match foundation to your skin colour because the lighting is often not good and it can be hard to see yourself.
The shade I bought is Swan, it's the second lightest shade and it blends into my skin beautifully. Naturally, my face is a little darker than my neck and this foundation blends perfectly into both. You can't see where it begins and where it ends.
Why you need this Too Faced Foundation
There are so many reasons why this foundation is one of my favourite foundations! I'll start with the coverage.
It doesn't look heavy, yet it still covers every imperfection on my skin. It evens out the skin tone and any other discolouration, and literally blurs imperfections. This is all with natural coverage!
One of my favourite things about this foundation is how at the end of the day, my skin looks exactly the same as at the beginning of the day. My foundation does not budge. I'm not exaggerating!
With other foundations by the of the day, my face feels oily and all I want to do is rub the whole thing off (which is what I often end up doing!). Born This Way Foundation is extremely lightweight and lasts seamlessly the whole day. It looks perfect in photos too. There is no shine or reflection with it.
A few people have complained that the foundation looks very cakey. This is usually because you are using the wrong primer or no primer at all. The foundation needs something to cling to. When foundation sits on the skin it will never look flawless and smooth.
You need a primer and it needs to be a good one. At the moment I am using the Too Faced Hangover Primer. So far it is doing a really good job, I have only just started using it so I will update you when I have been using it for longer.
The reason I bought the Too Faced Hangover Primer is that firstly it is silicone-free. Keep away from silicone in any product that sits on your skin. It's really one of the worst things you can do to your skin.
Another reason I bought it is that it acts as a moisturising skin cream as well as a primer. It's full of good ingredients to help your skin. A full review will come shortly!
Some of the many attributes of the Too Faced Born This Way foundation:
It's extremely lightweight
Oil-free
Lasts perfectly throughout the day
Comes in 35 shades
Photo-friendly
Evens out the skin
Blurs imperfections
Luminous finish
Cruelty-free
Natural coverage
Do you have mature skin and haven't yet found the right foundation? Check out the best foundations for mature skin here!
My Thoughts
Too Faced Born This Way Foundation is perfection in a bottle. I love everything about it and I can't recommend it enough! My only regret about it is that I didn't buy it sooner!
The idea of the Born This Way Foundation is to fool people into thinking you were truly born this way;) I think I've fooled many and you can too!
Too Faced Born This Way Foundation can be bought from Sephora / Look Fantastic UK
Hollie xx
---
---
Anastasia Beverly Hills Benefit Cosmetics Bobbi Brown CeraVe Chantecaille Charlotte Tilbury Clarins ColourPop Dermalogica Dior Dyson ELEMIS Elf Cosmetics Estée Lauder Fenty Beauty First Aid Beauty Fresh Hourglass Huda Beauty Jane Iredale L'Oreal lancome La Roche-Posay Laura Mercier LORAC MAC Makeup Revolution Mario Badescu Maybelline Morphe Nars Natasha Denona Neutrogena NYX Origins Peter Thomas Roth Revlon Sigma Beauty Smashbox Stila Tarte Cosmetics The Ordinary Too Faced Urban Decay YSL
---