The Sigma Beauty Untamed Eyeshadow Palette Review
The Sigma Beauty Untamed Eyeshadow Palette could be the icebreaker you need. The colour story is quite interesting and offers a decent mix of different finishes. While this palette came out with the whole Untamed Collection, I'll leave the brushes and lip products alone for now and focus on the star of the show: the Untamed palette!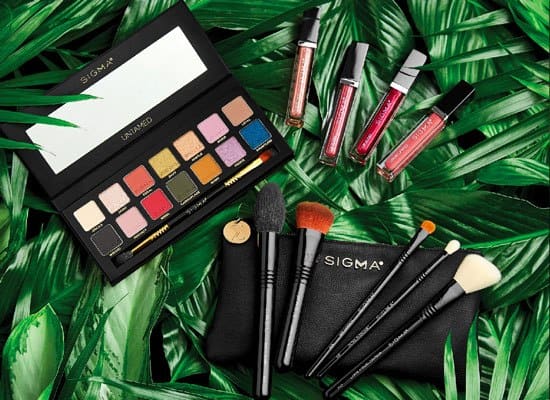 The Sigma Beauty Untamed Eyeshadow Palette contains 14 vegan eyeshadows. It is free of all harsh chemicals and probably one of the 'cleanest' palettes out on the market!
With the shades offered, Sigma wants this palette to urge you to embrace every aspect of your personality. It has a myriad of colour combinations that you can mix to achieve whatever mood you're after!
Whether you're feeling soft and romantic, edgy and dark, bold and unexpected or responsible and tame, this eyeshadow palette has got you covered!
Packaging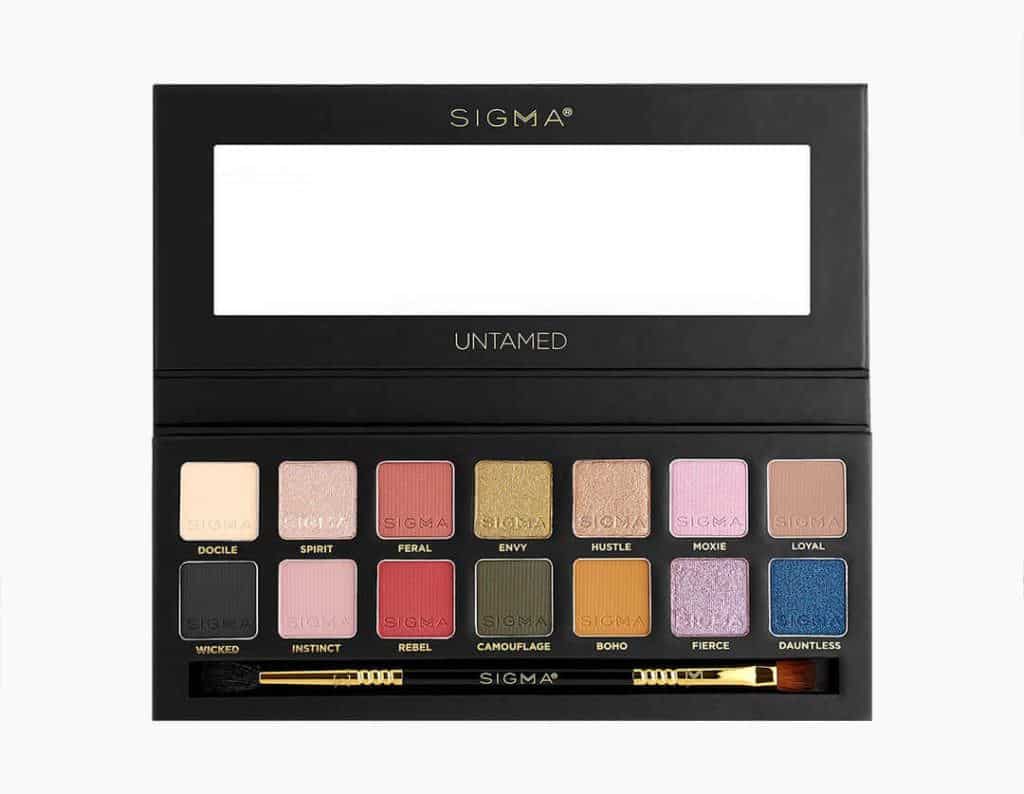 Similar to their Spring-release palette, the Untamed Eyeshadow palette comes in printed cardboard packaging. It's matte black with raised tiger strip details. Truly portraying a Tiger persona which Sigma associates the word "Untamed" with.
The raised strips have a velvety texture and for a cardboard casing, it's not too shabby. The lush velvet, tiger stripes make up for the cardboard!
The palette also has a useful mirror inside which is always convenient and in my opinion should come with every eyeshadow palette.
No Sigma palette is complete if it doesn't come in with their signature brushes! The Untamed palette comes with a full-sized, double-ended, patented waterproof brush.
It's the same Sigma E38 Diffused Crease brush and E54 Medium Sweeper brush combo that really makes this palette worth the cash. The brush itself even comes with a 2-year warranty!
These are perfect for application and blending. Both brushes work amazingly well and pick up the eyeshadows with very little fallout.
It also features the ever-thoughtful detail of having an illustrated summary of the shades at the back of the packaging, for an easy time when following tutorials.
For $49 in the US, and £45 in the UK, the palette and brush are ready to unchain your makeup look fantasies!
Formula
I was really impressed with the Cor de Rosa palette formula and even more so with this new one!
The mattes are gorgeous and I don't know if they've done some magic, but the metallic and shimmer shades have improved by a lot. They're beautiful to wear and make playing with the eyeshadows too much fun!
Below are the shades broken down:
8 Mattes
Docile – Buttermilk beige matte
This shade applies as a pale cream colour. The formula is incredible. With the brush that came with the palette, there was barely any fallout. It spreads easily and layers beautifully without any patching or crumbling.
Feral – Rich ochre matte
Feral goes on the eyes with a clay terracotta colour. It is a gorgeous shade that can really be worn anytime any day.
Loyal – Sienna brown matte
This shade is a neutral sienna brown colour. It's a great transition shade for the rest of the palette and I think works just as wonderful when used for eye contouring.
When you layer this shade, it's not too loud but the pigment is there. And even with a light hand, the pigment already shows!
Wicked – Blackest black matte
This shade is a black colour with a satin-like finish to it. It's not patchy like the rest of the shadows and easy to layer.
Instinct – Fair mauve matte
This shadow has instant pigment. It's the easiest shade I've worked with on this palette and to think that they're all hassle-free formulas at this point. One dab on the pan to your eyes and bam! Instant eyeshadow colour.
The shade itself is very pretty and is a true mauve colour with neutral undertones. And the formula is so buttery. I can see this shade working on any skin tone!
Rebel – Brick red matte
When it says brick red, it means brick red! This buttery matte formula is packed with saturated pigment and the red hue is perfect! Who says reds are hard to create? Not Sigma Beauty!
Camouflage – Forest green matte
Another green! This shade is a deep army green with a pretty satin-like finish. It's also a unique shade in terms of the finish because it catches the light perfectly and looks vibrant on the eyes.
Boho – Warm bronze matte
Boho is a popping ochre shade when worn on the skin. It's very beautiful and has a neutral undertone. This yellow shade can be worn even by really pale skin!
Sigma Beauty's matte shadow formulas are great. I'd say similar, maybe even better, than Jeffree Star's matte formula! No chalkiness, minimal fallout and wonderfully buttery.
4 Metallics
Envy – Olive green metallic
Envy looks like a dark gold colour on the pan, but on the skin and eyes, it actually looks like a metallic olive green with gold-toned shimmers. It's almost like a duo-toned shadow formula but it's not.
Green colours can be hard to work with, especially for pale skin tones. This shade, however, looks very sophisticated. It's just as pigmented as the mattes and shows a muted but pretty metallic finish.
It's not over-the-top gleaming. But still holds its own even without any light for reflection.
Hustle – Luxe gold metallic
Hustle goes on the eyes with a colour very similar to an actual rose gold coloured jewellery item. It is stunning! And the formula is very consistent. It's very saturated and looks a lot more pigmented on the skin than it does on the pan.
It's an extremely appealing colour and not a very common one even though golds make their way into most palettes. That's a surprising bonus.
Moxie – Poetic pink metallic
This shade looks like a vibrant lavender-pink colour on the skin. It's equally saturated and has this white/ivory sheen when worn. Super pretty and make my eyes look charming and youthful.
It has a richer colour when applied wet, but I think even without water, it still works beautifully.
Dauntless – Vibrant cobalt metallic
This shade is the colour counterpart for Rebel! It's equally saturated and buttery. The metallic finish makes you look like a bombshell. It's so hot and classy at the same time. I am absolutely stunned by this shade. It's a bright navy blue colour and the metallic finish combo on it is to die for!
Sigma Beauty's metallic shadow formula is incredible. I hope they stick to this formula because it's just top quality. They have this perfect balance of metallic shimmer going on, and consistently have this duo-tone finish to them.
They catch the light perfectly and create a highlight and shadow on the eyes! I love the formula!
2 Shimmers
Spirit – Brilliant ivory shimmer
This shade is a great topper for the rest of the eyeshadows, and can even be worn alone. It sticks and spreads nicely on the eyes without clumping, even when applied dry. It's very pigmented and really shows in just one layer when applied wet.
Fierce – Light amethyst shimmer
Similar to Spirit, this shade is as pigmented and great to layer. It makes lilac— a pastel colour even more pastel! The shade has beautiful white and pink shimmers to it.
The shimmer shades are amazing. When applied wet, they have this almost foil-like sheen to them which makes it all the more stunning.
Looking for a more affordable eyeshadow palette? Check out my review on the best eyeshadow palette dupes!
Is it worth it?
A lot of the eyeshadows aren't true to colour, but that's the best part about this eyeshadow palette. Instead of being disappointed that the shades don't look how you expect them to, the results will go above and beyond!
The shades are stunning and saturated and cause no issues at all when worn on the skin.
The dual-ended brush is a wonderful treat too! Sigma brushes are quality products and you know they'll last a long time. On top of that, it has its own warranty. A warranty that lasts longer than my phone's! That just makes this palette all the more special.
My Thoughts
The Sigma Beauty Untamed Eyeshadow Palette is definitely a palette worth knowing. It's a palette filled with quality eyeshadow formulas. And I'm telling you already, don't sleep on this palette!
Try it and feel for yourself how amazing the shadow formulas are. My favourite shades for each formula are easily Feral, Dauntless, and Fierce!
Sigma Beauty Untamed Eyeshadow Palette can be bought from Beauty Bay
Hollie xx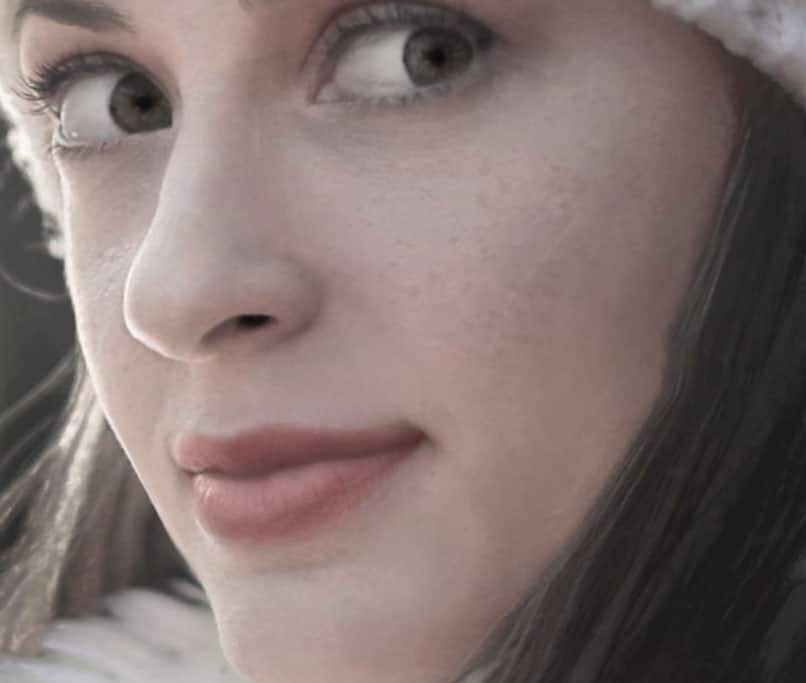 Hi, I'm Hollie, and I own BeautywithHollie.com. I love everything to do with beauty and love sharing my knowledge, advice, and beauty finds! Makeup and beauty are here to enjoy, and Beauty With Hollie is here to take the stress out of it!
---
---
Anastasia Beverly Hills bareMinerals Benefit Cosmetics Bobbi Brown CeraVe Chantecaille Charlotte Tilbury Clarins ColourPop Dermalogica Dior Dyson e.l.f. Cosmetics ELEMIS Estée Lauder Fenty Beauty First Aid Beauty Fresh Giorgio Armani Hourglass Jane Iredale L'Oreal Lancome La Roche-Posay Laura Mercier LORAC MAC Makeup Revolution Maybelline Morphe Nars Natasha Denona Neutrogena NYX Origins Peter Thomas Roth Revlon Sigma Beauty Smashbox Stila Tarte Cosmetics The Ordinary Too Faced Urban Decay YSL
---