Recently I have become completely obsessed with my brows. I haven't been happy with them for a while and I felt I needed a new product which will give them the WOW factor. I went to my local Fenwicks where I tried out about 10 different eyebrow products from about 10 different brands. In the end, I settled for Brow Lift by Charlotte Tilbury and I am loving it! It's the best long lasting eyebrow pencil that I have come across.
What is the Brow Lift?
The Brow Lift is a 3 in 1 eyebrow tool to achieve shape, lift and shade. Start with the shade, use the angled shaped pencil to fill in your brows. Next, shape your brows using the brush to get rid of excess colour, it will also give your brows a smoother, more finished look. The last feature is the lift, this is a highlighter, you use it under the brow and it instantly lifts and defines your brows.
The Charlotte Tilbury Brow Lift comes in 5 different colours. From dark to light they are Naomi, Super Model, Brooke's, Rita and Grace K. The colour I bought is Brooke's, its a medium brown which goes perfectly with my ashy coloured eyebrows.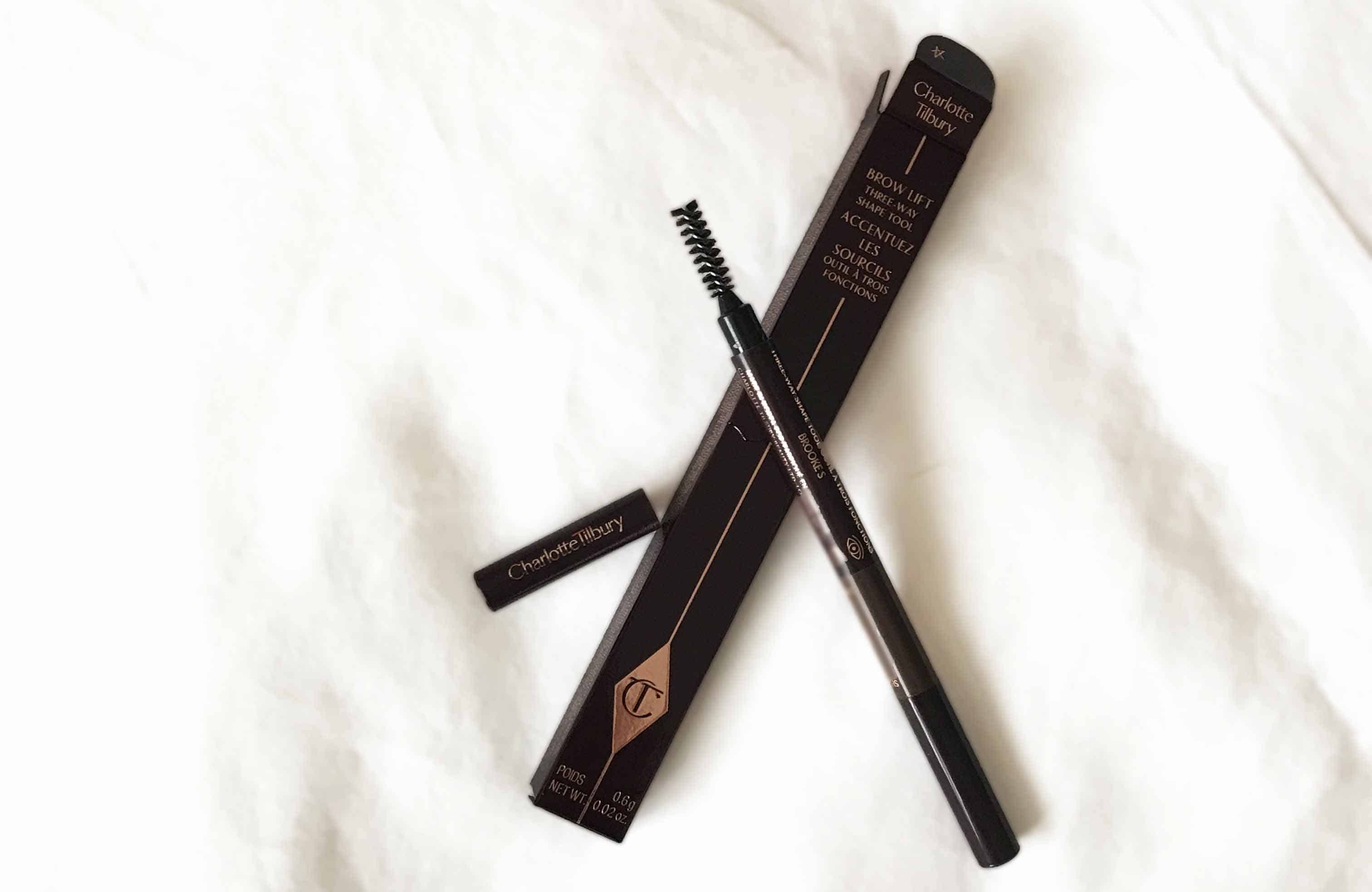 Why I love this Long Lasting Eyebrow Pencil
Unlike other eyebrow pencils which are completely powder based, the Brow Lift is part gel based. This means that it lasts for longer and it helps your eyebrows look more natural too. Over the duration of the day, powders tend to lose their effect whereas, this eyebrow pencil doesn't because it has that gel combination so it lasts beautifully. With a gel pencil, it is also easier to get a more accurate result and there's no powder fallout.
Another feature that I love is the angled tip of the pencil. One tip of the pencil is slightly thicker than the other, this makes it so much easier to get a natural look. The thin tip is perfect for those areas where there is a hair missing and you want to draw in hairs. The thicker end of the tip is perfect for a softer filled-in look.
The Brow Lift is honestly, the easiest and most natural looking brow pencil I have used and it's really long lasting too. I've even tested out how long it lasts for. I applied my makeup early in the morning at around 7:30 and I kept it on until around midnight. And guess what, my eyebrows still looked flawless at the end of the day, exactly the same as they had looked in the morning when I applied them.
The Downers 
Like more or less every product, the Brow Lift also has its negatives. For me its the highlighter. Maybe my skin is too light and the highlighter would look good on someone darker, I don't know! But on me, it was way too yellow to use as a highlighter under my brows. It just looked wrong. I find often when a product tries to be too much, something gives. It's a shame because it does take away from the product a bit and I think it would have been so easy to get it right.
However, despite the highlighter not quite being right I still love this long lasting eyebrow pencil and if you're looking for that perfect pencil, I highly recommend checking the Brow Lift out. If you go to your local Charlotte Tilbury counter, the makeup artists there are usually very helpful in finding the right colour.
To finish off the look you can use Charlotte Tilbury's Legendary Brow. This is a gel which you brush over your brows with and it keeps every hair in place.
BUY NOW: Charlotte Tilbury Brow Lift for $30 / £22.50
Happy Valentines Day!!