Fenty Beauty Cheeks Out Freestyle Cream Bronzer Review
Rihanna is at it again! She's just released a new line of blushes and bronzers in a cream formula and they look utterly delightful! We're going to review here the Fenty Beauty Cheeks Out Cream Bronzers collection.
I am really excited about these bronzers. I have to admit, I was initially set back by their prizes and I would've looked the other way if not for the fact that they're by Fenty Beauty. I generally love their products, they're fun and high quality!
Disclaimer: This article contains affiliate links. If you purchase using these links, you don't pay more, I simply earn a small commission!
The Cheeks Out Freestyle Collection includes 10 shades of cream blushes, 7 shades of cream bronzers, and 1 contouring brush. This isn't the first time Fenty made blushes and bronzers, but it is a first take for creating them in cream formulas, which is a welcoming change.
Packaging
The bronzers come in a copper metallic-tinted hexagon packaging. When opened, the back of the lid is a mirror and the rest of the inner packaging is sturdy white plastic. The packaging is in true Fenty Beauty style, minimal and classy, something I love!
The size of the bronzer is pretty standard 0.22oz or 6.5mL worth of product.
It's pretty normal for cream products, in general, to become moist on the surface because some of the oil ingredients evaporate through the mix when it is exposed to a warmer than the recommended environment.
Shades
The 7 shades are as follows, from the lightest to darkest:
Amber – Cool undertone for fair skin tones
Butta Biscuit – Neutral to warm undertones for fair to light skin tones
Macchiato – Neutral to warm undertones for light to medium skin tones
Hunnie Glaze – Warm undertone for medium to tan skin tones
Teddy – Neutral undertone best for tan skin tones
Chocolate – Warm undertone for medium and deep skin tones
Toffee Tease – Neutral to warm undertones
Formula & Application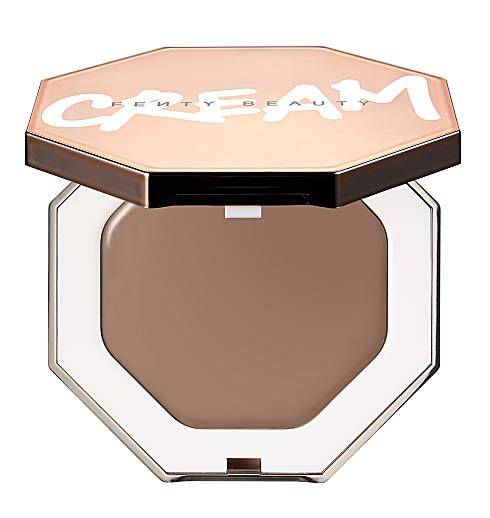 This shade is a taupe-grey colour that sets to a satin-matte finish. And it goes well with those who have neutral-to-cool undertones. It looked very maturing on my fair skin although I'd say it was a bit too grey for my liking.
When applied with just a single layer, the texture feels sheer and lightweight and shows to have light coverage. But not too light or sheer at all. I think one layer with this bronzer is a moderate amount of tint.
For a more full coverage bronzer/contour look, two to three layers definitely give off that coveted contour pigment.
This particular shade is a relatively warm-toned, brown shade almost close to the colour of brown sugar. It sets off to a semi-matte finish.
The formula on this bronzer is quite sheer, and it took me about four layers to really see its actual tint on my skin. Turns out it had a rather peachy, apricot colour.
While it did take a lot for me to get results, I love how buildable this bronzer is. Four layers didn't make the bronzer patchy or even my foundation. I think it combines seamlessly with my other makeup and blends beautifully to a natural gradient.
Macchiato is very close to a cinnamon brown type of shade and it's got neutral to warm undertones. On my skin tone, it looked a little bit too peachy, or even a little orangy. It dries to a semi-matte finish similar to Butta Biscuit.
At one layer, coverage is at a medium level. And again, blends out consistently onto the rest of the surface. I think two layers is enough for this shade to really show off the colour.
The colour itself may not be suited for my cheeks as a bronzer, but I did try it on my lids as an eyeshadow and it was a nice complimentary summer shade to combine with neutral shadows. Who says you can't multi-task makeup products?!
Hunnie Glaze is a super warm-toned Caramel brown that sets off to a dewy wet-look finish.
This shade is perfect for deeper skin tones with really warm undertones. Since I'm really pale, it's not for me. However, it's a beautiful shade!
Formula-wise it is amazing. The challenge of controlling and blending out the formula was a breeze. I didn't have a hard time spreading the lotion-like texture on my cheeks at all.
Teddy is a shade similar to tan with neutral undertones and a dewy finish.
This is a chic brown shade that works well for most skin tones including mine. It's very neutral, uber pigmented and shimmery too!
One layer was enough to shape my cheeks the way I wanted to and applying the product was too easy. I was expecting this particular bronzer to patch even just a little because of the evident amounts of shimmer and tint but apparently, I was proven wrong. As with the rest of the shades so far, it distributes to a flawless gradient.
Similar to the colour of Hershey's Milk Chocolate, this shade is a true brown with a really warm undertone. And sets to a semi-matte finish.
Just like Hunnie Glaze, the undertones to this bronzer is a tad too warm for me to have fun with layering, but a pleasure to blend with. It applies to my skin like cool gel.
Although it doesn't work on my skin, I think it would look fab on those who are darker!
Toffee Tease is a muted deep brown with cool undertones and a satin-dewy finish. It almost resembles the colour of mahogany. For one layer, it had a nice, diffused medium coverage to it. You can get away with a nice contour with one layer of it.
What's surprising about this is, for a really deep dark shade, it ended up looking magnificent on my fair skin tone. It doesn't come on too dark at all.
Because this shade was very easily blendable, I was able to seamlessly control the pigment in contrast to my skin. When it settled, the texture was really close to the look and feel of naturally moisturised skin.
Still looking for the ideal winter bronzer? Check out these best bronzers for a healthy winter glow!
Overall Formula
The general consistency of all the bronzers is very creamy. Imagine a water-based lotion grazing your skin. That's how these bronzers feel on the skin. Despite that, the formula isn't sticky, greasy or wet to the touch.
They spread evenly across the skin without getting blotchy. The gel-cream texture (when applied to my skin) spreads smoothly and equally over my bare skin as well as over the foundation.
Since it's a cream product, I'm wary of it smudging or melting and spreading out of place throughout the day. But surprise! It stayed intact and lasted for ages. It's not one of those cream bronzers that decide to become some weird overspread contour five hours into the application. It doesn't disappoint.
Final Thoughts
Fenty Beauty's cream bronzer formulas are top-notch! Of course, not all of the shades would fit one type of skin tone. But throughout my trial with these bronzers, one thing remained consistent and that is that they blend oh so wonderfully. The creamy texture was no obstacle at all and the coverage coming from one layer is impressive!
Fenty Beauty Cheeks Out Freestyle Cream Bronzer are definitely worth the price. Even though they are on the pricey side, they do the job incredibly well. There is no need to worry about using it too quickly either. One layer goes a long way and lasts fabulously throughout the day.
Fenty Beauty Cheeks Out Freestyle Cream Bronzer can be bought from Fenty Beauty / Harvey Nichols
Hollie xx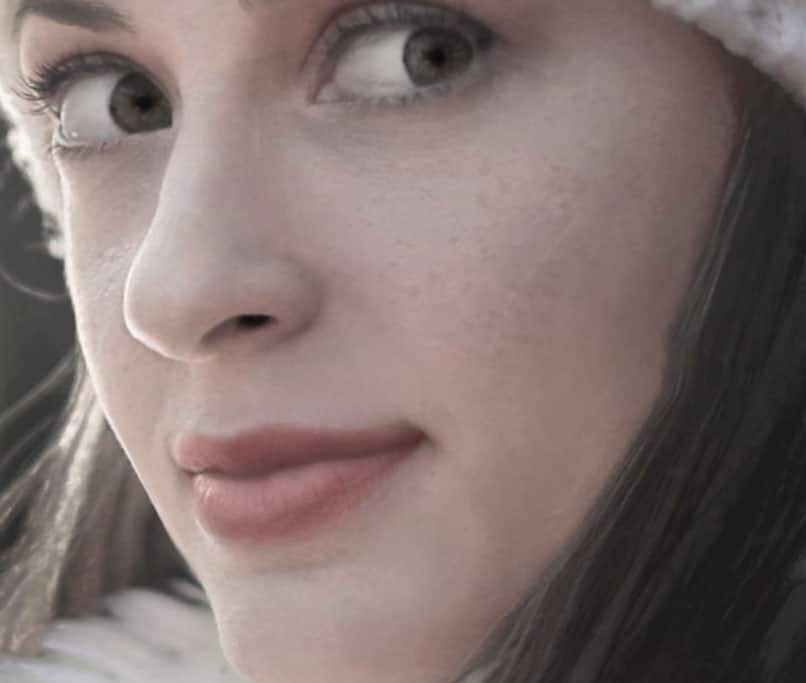 Hi, my name is Hollie, and I own BeautywithHollie.com. I love everything to do with beauty and love sharing my knowledge, advice and beauty finds! Makeup and beauty are here to enjoy, and Beauty With Hollie is here to take the stress out of it!
---
---
Anastasia Beverly Hills Benefit Cosmetics Bobbi Brown CeraVe Chantecaille Charlotte Tilbury Clarins ColourPop Dermalogica Dior ELEMIS Elf Cosmetics Estée Lauder Fenty Beauty First Aid Beauty Fresh Hourglass Huda Beauty IT Cosmetics Jane Iredale L'Oreal lancome La Roche-Posay Laura Mercier LORAC MAC Makeup Revolution Mario Badescu Maybelline Morphe Nars Natasha Denona Neutrogena NYX Origins Peter Thomas Roth Revlon Sigma Beauty Smashbox Stila Tarte Cosmetics The Ordinary Too Faced Urban Decay YSL
---