When I say this is the best waterproof liquid eyeliner on the market, I am not exaggerating! Obviously, I haven't tried out all the eyeliners out there, but I've tried out a fair bunch and the Mac Liquidlast Liner beats all of them. If you want your eyeliner to last you all day, and not smudge at all, then this is the eyeliner that you need!
How to Use
The Mac Liquidlast Liner comes in a small tube with a brush applicator. The brush applicator is very thin, which makes it easier for applying with. The one downside of this eyeliner is applying it. If you don't have a lot of practice with liquid liners, it can get a bit tricky and it does take some time getting used to. You also need a very steady hand to get it right. However, practise makes perfect and after practicing a couple of times, anyone can get the hang of it. Simply start from the inner corner of your eye and follow your eye round. A trick that I was taught when I was just starting out with eyeliner is to make a dot to dot. Draw dots on your eyelid and then all you need to do is connect them. This trick worked amazingly for me and really helped me stay in line:) After a while it kind of becomes second nature and you'll find you no longer need to do dot to dot.
Why the Mac Liquidlast Liner is the Best Waterproof Liquid Eyeliner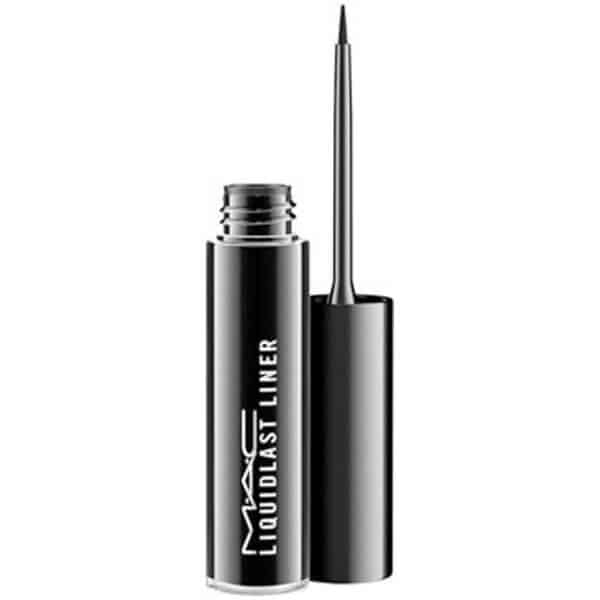 The main reason why I love this eyeliner is because it simply does not budge. Once its applied and dried, it lasts for ages and ages. I decided to test it out to see how long it can last for and the results were astonishing. I applied the eyeliner at about 3pm and kept it on until about 5pm the next day. Probably not great for my eyes, but never mind, it's worth it for my blog!
From 3pm until I went to sleep the eyeliner stayed on perfectly, but what's amazing is that the next morning my eyes still looked flawless. And no, I don't only sleep on my back! My midday there were one or 2 places that I could have had some touching up, but it still looked totally fine. When 5pm came and I had been wearing the eyeliner for 26 hours I decided it was enough time to see that this eyeliner really lasts. At 5pm my eyes still looked more or less intact minus a few places where I on a regular occasion I probably would have touched up. However, my eyes still looked fine, so fine in fact that I would have walked out the house like that.
What I also love about this eyeliner is that it never transfers to my eyelids. I have pretty oily eyelids and most eyeliners slowly, throughout the day make their mark on my eyelid. I hate this and I'm always self conscious about it. With the Mac Liquidlast Liner this never happens!
Some Tips
It's not called waterproof for no reason, try washing the eyeliner off with water, nothing will happen and it will not budge. Also when you apply the eyeliner be careful because if any of it goes on your hands or you make a mistake on your eye, once its dried it will not come off except with eye makeup remover. I am always cleaning my hands with my eye makeup remover:)) The one I'm loving at the moment is the Clarins Instant Eye Make-up Remover. Its extremely gentle and non-irritating.
Another tip when using this eyeliner is that because its a liquid liner it creates a very sharp black finish. Many people love this look but personally, I prefer a softer finish. To fix this I simply take my angled brush with my black powder and I go over the edges to make it a little bit softer. You can also use a pencil to get the same effect. It only takes about half a minute so its totally worth it and it looks fab!
I hope you have enjoyed this post on why the Mac Liquidlast Liner is the best waterproof liquid eyeliner and I hope after reading this you agree;)) I'd love to hear what your favourite eyeliner and method is and why! Let me know in the comments below:)
BUY NOW: Mac Liquidlast Liner can be bought from lookfantastic.com for £16.50