Setting Powder vs Setting Spray: When and How To Use Them
Makeup can be confusing, and I totally get that! Certain makeup products, for example, foundation and blush, are easy to understand their role and how they work. But then there are products like setting powder and setting spray which tend to be more confusing.
Do you need a setting spray and powder? What's the difference? How to use them? These are a few of the common questions people ask about setting powder and setting spray. I answer all of your setting powder and setting spray questions in this blog post. I've also included product recommendations as well as application tips!
What is Setting Powder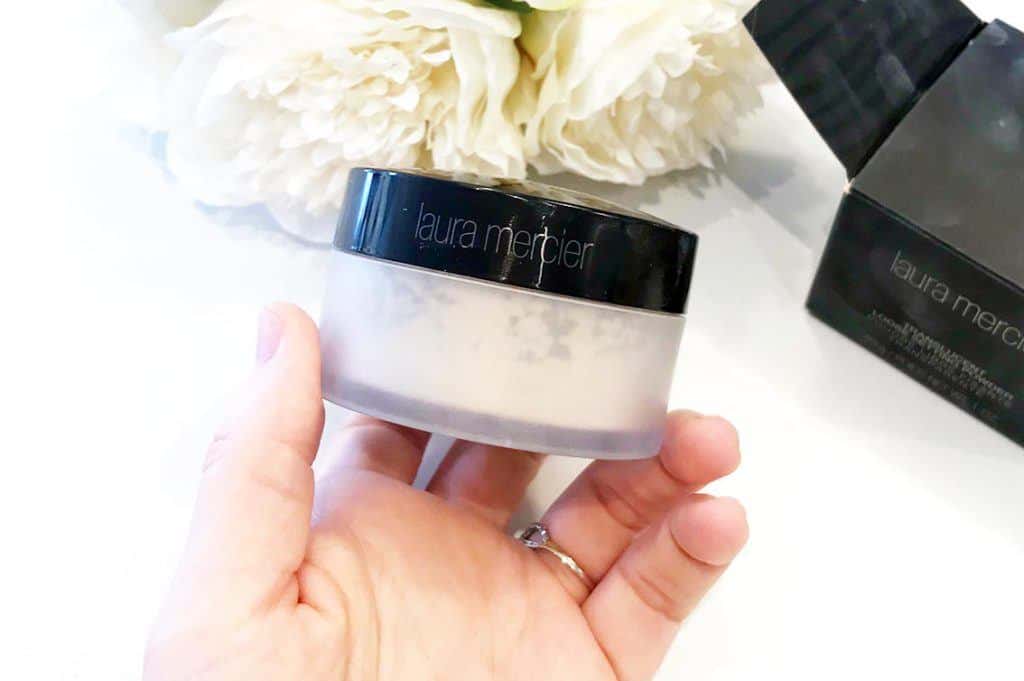 Setting powder, also known as translucent powder, face powder and loose powder is a facial powder used to set makeup. Depending on the desired results, it comes in both tinted and non-tinted options. Aside from long-lasting makeup, setting powders help to control shine and give the complexion a flawless, airbrushed finish.
What Is the Difference Between Pressed and Loose Powder?
Setting powder comes in 2 forms: loose powder and pressed powder., but what's the difference between the two?
According to Glo Skin Beauty, pressed powder is better for precise application and easier to use for beginners in makeup, and for on-the-go. It's the better option for easy, mess-free touch-ups.
Loose powder is better for a lighter, more flawless finish. It tends to absorb more oil over the day and provides more extended wear. My favourite loose powders are Laura Mercier Translucent Loose Setting Powder and Rodial Glass Powder. Loose powder can also be used for the baking technique in makeup.
How to apply setting powder
Apply setting powder after concealer and foundation, before blush and contour. Make sure to apply the setting powder before your base makeup dries. The wet texture of the foundation and concealer fuse together with the dry setting powder to create a bond that gives you long-lasting makeup.
Setting powder can be applied all over your face to set your makeup. Apply a thin layer and slowly build up to the coverage that you want.
If you have dry skin, opt for one of these finishing powders for dry skin. Also if you have dry skin, a clever setting powder hack is to skip applying powder on the very dry areas. I skip the powder around my nose and stick to the T-zone.
What is Setting Spray
If you've bought setting spray and you don't know why you've bought it or how to use it, you're in the right place! That fine mist, also known as finishing spray that you spritz on your face isn't to only feel nice and cool, it actually has a vital role in keeping makeup lasting longer. As Loreal says– "The whole purpose of using a makeup finishing spray is to help prevent your makeup from sliding, smudging, creasing, or fading quickly".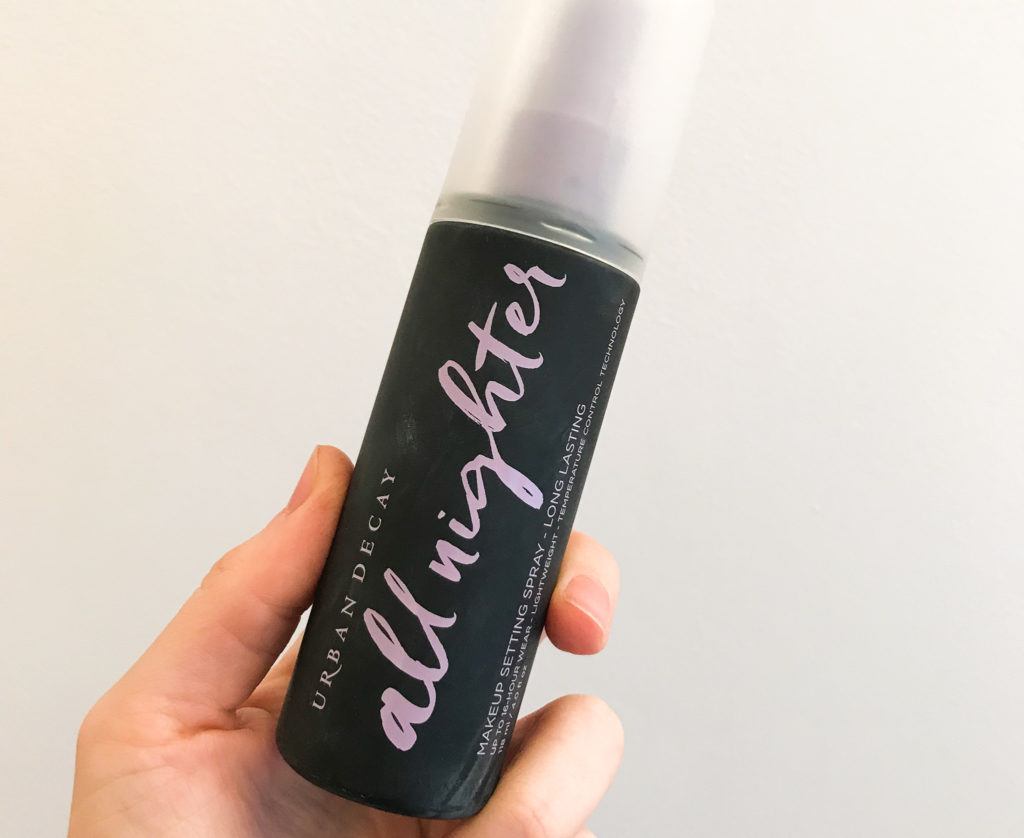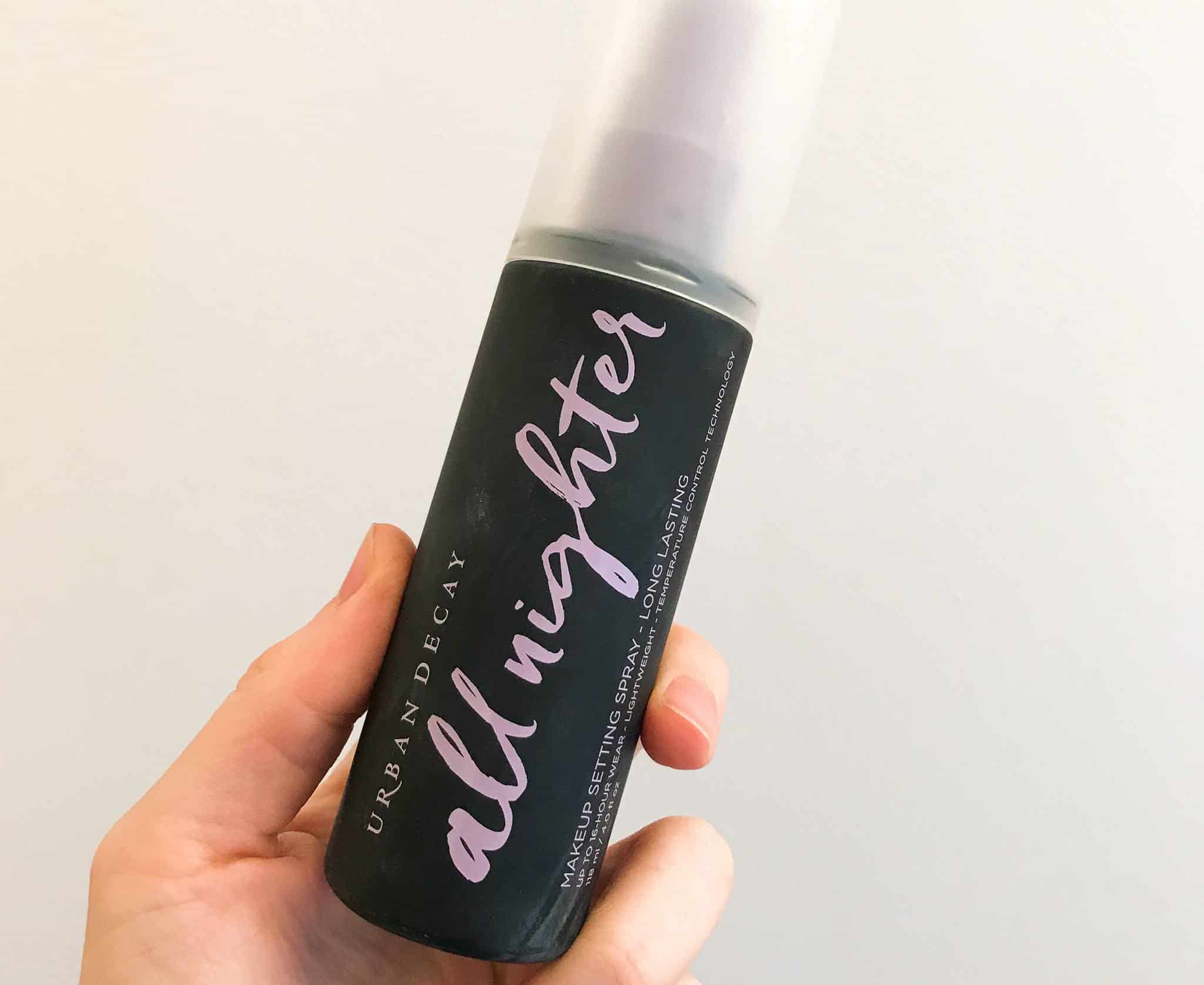 Eventhough the idea of setting spray is to keep your makeup from moving, there are many different setting sprays that have different benefits and target different needs. Some are hydrating, some are mattifying, some are glowing, some have skincare benefits…you get the gist! My personal favorite at the moment is the Urban Decay All Nighter Setting Spray.
For those who are sceptical that a setting spray can really help keep the makeup on longer and better, let me reassure you it makes an absolutely huge difference! Instead of topping up my makeup midday, setting spray keeps it from moving all day. And that includes my mascara and eyeliner on my oily eyelids!
How to Apply Setting Spray
Apply your setting spray as the very last step in your makeup. Shake the spray and hold it about 6-8 inches away from your face and spray all over your makeup. For extra-lasting makeup, repeat the process once the first layer has dried.
What's the Difference Between Setting Powder and Setting Spray?
Both setting powders and setting sprays have the same goal in mind- to extend the longevity of your makeup. Traditionally, setting powder was designed to help keep shine at bay, hence was more targeted at oily skin and setting spray was designed to be non-drying on the skin, making it more suitable for dry and mature skin.
However, nowadays since there are hydrating setting powders and mattifying setting sprays, any skin type can benefit from both options. It all depends on the finish you are after.
Should You Use a Setting Spray or a Setting Powder?
If you have dry, oily, acne-prone skin, mature skin or open pores, you will probably benefit from a setting powder or setting spray. Choosing between a setting spray and setting powder boils down to your personal preference.
For me, a setting powder is a must because it blurs my open pores and gives me a more flawless finish than a setting spray can achieve. That being said, I also use a setting spray because it keeps the makeup locked in place better than any setting powder can! Yes, you can use both!
My Thoughts
Both setting sprays and setting powders play a vital role in makeup, but they're not necessities, especially for those who don't suffer from makeup disappearing, smudging or creasing! While I use both options and can't live without them, I know friends and family with amazing skin who don't need either of them, because their makeup lasts all day!
Hollie xx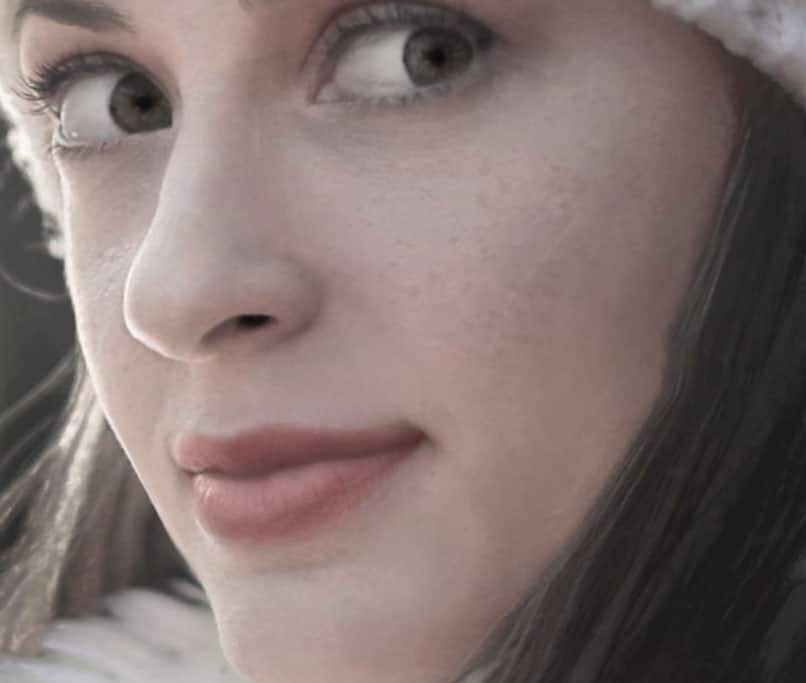 Hi, I'm Hollie, and I own BeautywithHollie.com. I love everything to do with beauty and love sharing my knowledge, advice, and beauty finds! Makeup and beauty are here to enjoy, and Beauty With Hollie is here to take the stress out of it!
---
---
Anastasia Beverly Hills bareMinerals Benefit Cosmetics Bobbi Brown CeraVe Chantecaille Charlotte Tilbury Clarins ColourPop Dermalogica Dior e.l.f. Cosmetics ELEMIS Estée Lauder Fenty Beauty First Aid Beauty Fresh Giorgio Armani Hourglass Jane Iredale L'Oreal Lancome La Roche-Posay Laura Mercier LORAC MAC Makeup Revolution Mario Badescu Maybelline Morphe Nars Natasha Denona Neutrogena NYX Origins Peter Thomas Roth Revlon Sigma Beauty Smashbox Stila Tarte Cosmetics The Ordinary Too Faced Urban Decay YSL
---