New XX Revolution Brand Summer Collection Review
Revolution has released a brand under its main brand Makeup Revolution. It's called XX Revolution and it looks fabulous, it may sound X rated, but I promise, it's for everyone! The new sub-brand was announced earlier this year in March. In this article, we'll be looking at the new XX Revolution CompleXXion Face Palettes, XX Revolution XXtasy Blush Palettes, and the XX Revolution Bronzer Powders. These products were part of the line's "opening" collection after its official launch at the start of June. I'm more than excited to share these products with you! The XX Revolution collection is impressive!
Whether you have a love or hate relationship with Makeup Revolution and all its sister brands, there isn't much negativity you can say about their products when it comes to quality over affordability.
The new XX Revolution looks like a more deluxe line that caters to the same Revolution Pro audiences. It's tin metal and acrylic aesthetic dupes mid-end cosmetics brands. And if we're talking about truths, I say it doesn't look tacky at all. Precisely the reason why I have been desperate to try them out!
The XX Revolution CompleXXion Face Palettes are a one kit powder contour and glow face fix for the easiest colour schemed looks.
At the moment it comes in four palettes, each with a trio of a matte bronzer, an illuminating highlighter and a shimmering blush. A perfect combination for a face palette to make you look lit from within.
Honestly, I'm obsessed with the packaging, it's so cute, feels amazing quality and gives off a slightly retro feel to it. A bonus point is the full backline mirror that it comes with!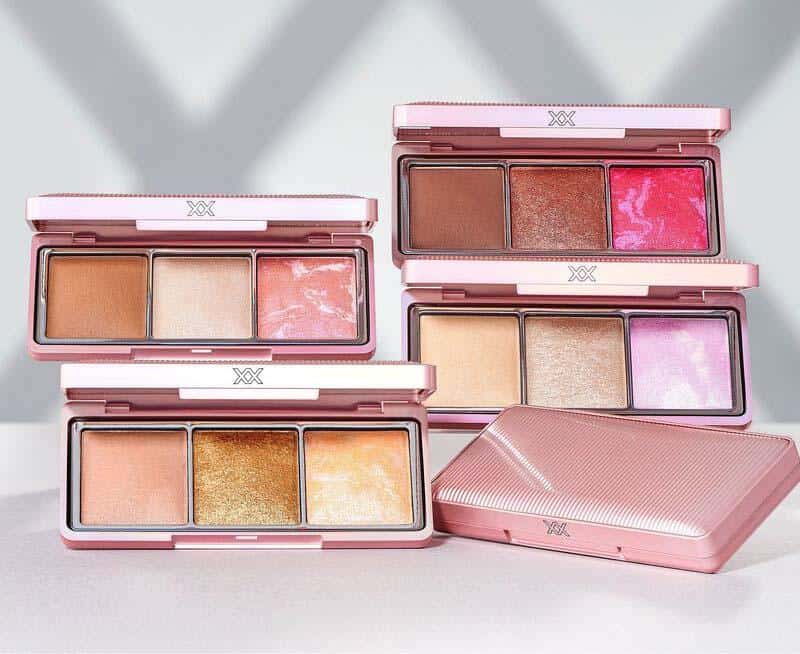 The four CompleXXion Face Palettes are:
Elemental – Geared towards our pale girls (yay!) who want a controlled glow. It has a muted shade of warm-toned peach bronzer, a champagne toned highlighter, and shimmer dusty rose blush. This particular one goes on very buttery, and while I was expecting some heavy fallout which I have come to expect from Makeup Revolution, it didn't have any! They have some serious pigment on these shades so be prepared! Not only are they highly pigmented, but they are also extremely easy to blend.
Gravitate – This palette is for mid-toned, olive skin types who prefer a touchup to their already tanned skin. It's a flattering palette that will add a glow without overdoing it. It contains a warm-toned chocolate bronzer, a cream coloured shimmer highlighter, and a flushed coral blush.
Intrinsic – For the ultimate summer bronze look, this trio imitates the beach aura naturally achieved by spending some time under the sun. It has a warm-toned light tan bronzer, a deep golden coloured highlighter, and shimmering peachy blush.
Dimension – This is your must-try shade for a defined contour on deep skin. It has a deep brown matte bronzer, a copper highlighter with pink undertones, and a bright pink, fuchsia blush.
Get a flushed glow with six multi-use cream blushers and highlighters, all part of the XX Revolution XXtasy Cream CompleXXion Blush Palettes. They have two variations, one for peach and pink lovers, and the other for us nude and bronze babes.
These pigmented cream blushes give a natural blush and radiance that melts seamlessly into your skin. It's a vegan cream formula that sensitive skin types would do well with.
The palettes feature a beautiful pink marble design on the lid and look really opulent for a drugstore product. The pans each contain 2g of product, with a mirror in the lid.
The two blush palettes are:
XXtasy Indulgence Blush Palette– This palette consists of rose golds, shimmering blush tones, and glistening pinks. The shades included are a neutral-toned mauve, a cool-toned icy pink, a cool-toned berry pink, a light peach, a pinkish red, and cool-toned rose gold. It's a non-sticky velvet formula and the subtle shimmer finish is divine when applied right. Under natural light, the colours look very natural and well blended on the skin. They're not runny like some cream product and I've found the pigments to last really well.
XXtasy Overload Blush Palette– This palette has a collection of champagne shimmers, rose golds and light bronzes. It's got a lightly cream tinted shimmer, a deep pink mauve, a copper hue with cool undertones, a cream tint with a warmer undertone, a honey golden shimmer, and warm-toned rose gold.
These bronzers are going to make it on your summer makeup bucket list! It comes in 10 dreamy shades with the perfect coloured undertones for any skin. Not to mention the beautiful packaging! Revolution is really stepping up their game with the new brand. While I wouldn't say they've outdone themselves, yet, I am very impressed so far.
The XX Revolution Bronzer Powder is a range of ultra-deep to super fair bronzers to give instant warmth to any skin tone. They are vegan and very pigmented and buildable. You can use these bronzers on your face and body for the ultimate glowing tanned skin!
These bronzers come in ten skin-true, creamy satin-matte shades:
Aphotic – Matte deep almond
Chaos – Matte caramel
Command – Matte cool brown
Demo – Matte chestnut
Morose – Matte golden bronze
Nocturnal – Matte deep brown
Phantom – Matte tan
Spectre – Matte warm russet
Vestige – Matte warm tawny
Vignette – Matte mocha
The shades, Demo, Morose, and Vignette suit my fair skin the most. Demo is a beautiful brown mauve that pairs well with my everyday neutral eye makeup. Morose gives me a cool-toned true tan bronze that doesn't turn into an orange look.
The shade vignette I found to be THE bronzer colour to use all around my face and on my contour areas. It looks a very natural shadow for my fair skin. It leaves such a lovely sheen to your face, not glowy like a highlighter, but more like a skin finishing powder. Love it!
Final Thoughts
If you've noticed, the bigger brands have been slowly and steadily releasing new makeup. Some have delayed these releases due to COVID, and some have simply cancelled their releases altogether. But not our drugstore brands. Revolution is one of the many affordable brands I'd say included in the cosmetics industry's lifesavers. It's managed to release something exciting and worthwhile in the midst of disappointing beauty hiatuses. I love their new XX Collection, it has a fun twist to the classic Makeup Revolution brand!
XX Revolution Face, Blush and Bronzer palettes can be bought from Makeup Revolution
Hollie xx
---
---
Anastasia Beverly Hills Benefit Cosmetics Bobbi Brown Chantecaille Charlotte Tilbury Clarins ColourPop Dermalogica Dior Dyson ELEMIS Elf Cosmetics Estée Lauder Fenty Beauty First Aid Beauty Fresh Hourglass Huda Beauty Jane Iredale L'Oreal lancome La Roche-Posay Laura Mercier LORAC MAC Makeup Revolution Mario Badescu Maybelline Molton Brown Morphe Nars Natasha Denona Neutrogena NYX Origins Peter Thomas Roth Revlon Sigma Beauty Smashbox Stila Tarte Cosmetics The Ordinary Too Faced Urban Decay YSL
---